Chuck Talk Features—Winter/Spring, 2019

Personal Stories and Opinions, Chucks Fashion and Lifestyles, and Chucks in the Media
What's New At

The ChucksConnection

. ChuckTalk Archives.

New or Updated Photo Galleries:


Red Hot Chili Pipers, R5, Rozzi Crane, People Wearing Red Chucks, Bow Wow, Nicky, Ricky, Dicky & Dawn, YG, Guys Wearing Red Chucks, Sabrina Carpenter, Mac Miller, Guys Wearing Black Chucks, Guys Wearing Optical White Chucks, Cobra Kai, Coolest Chucks Moments in Film, Jessie Reyez, 2018 Black High Top Chucks, 2018 Maroon High Top Chucks, Deep Blue High Top Chucks, Red Days Ahead High Top Chucks, Jessie Reyez, Graduates Wearing Chucks, Ariana Grande, SZA, Young Sheldon, Red Converse Chuck 70 Vintage Canvas High Tops, Allessia Cara, Chris Brown, Victoria Justice, Wordmark High Top Chucks, Red Stonewashed High Top Chucks, Lil Wayne, The Game, Zendaya, Vince Staples, Tyga, Kenrick Lamar, Ice Cube, Camilla Cabello, 2017 Core Red High Top Chucks, Golden State Warriors High Top Chucks, Sangria Waterproof Chuck Taylor Boots, Marvin the Martian High Top Chucks, YouTubers Wearing Chucks, Indigo High Top Chucks, Dark Atomic Teal High Top Chucks.

Videos and Short Films With Chucks:

Hare, Island in the Sun, All the Marbles, Sabrina Carpenter and Rowan Blanchard's Forever Chuck Ad, Converse Advertisement, The Groundskeeper, La Vida Loca, Never Land, Sunnyside Drive. Go to the Videos and Short Films with Chucks page.


TV Page Features:

New listings with an article: Deadly Class, Iron Fist, On My Block, The Temptations, Rise, Grown-ish, How I Met Your Mother, Mom, Parks and Recreation, Game of Silence, Stranger Things, Season 2, Greenhouse Academy, The Carmichael Show, Sha Na Na, Preacher, Friday Night Lights, Sun Records, Hunter Street, 13 Reasons Why, Drake & Josh, Riverdale.

Other recent listings are: Catastrophe, Nicky, Ricky, Dicky & Dawn, Single Parents, Cobra Kai, Young Sheldon, Fargo, Goosebumps, Puzzle Play. Go to the Television Shows with Chucks Index Page.

Music Video Reviews:


Murder Was the Case, Gangsta Luv, Higher, What's My Age Again?, Light It Up, The Great Escape, Cool, Here With Me, Hello, Anxiety, REEL IT IN, Swang, Please Me, Dirty Little Secret, That's Not My Name, Take Me On, Sugar, We're Goin' Down, Blackjack, Song About You, Take It Off, Best Day Ever, One Sweet Love, Christmas Everyday, Good Form, Walk My Way, She's Kinda Hot, Ric Flair, Trust My Lonely, Africa, Black Magic, Friends, Cruisin' for a Bruisin', Hollaback Girl, Lucky You, When Can I See You Again, Fatlip, Campfire, Side Effects, Brand New, High Top Shoes, I Love LA.




Film Reviews:

Always Be My Maybe, Shazam! Like Mike, Not Cinderella's Type, Don Quixote, Age of Summer, Wildlife, Under the Silver Lake, Un Viaje a la Luna, Wadjda, All These Small Moments, Happy Log, Different Drummers, The Bye Bye Man, Rockaway, Kin, The Loved Ones, The House With a Clock In Its Walls, Breaking Brooklyn, Jurassic World: Fallen Kingdom, Boarding School, Summer of 84, The House of Tomorrow.

New listings: American Exit, Assimilate, Brightburn, Rim of the World, Little Men, Pet Sematary, Le Nouveau, Once In a Blue Moon, Giant Little Ones, God's Not Dead, How to Be a Man, Beautiful Boy, Christmas Wonderland, Getting Even, Goosebumps 2, F.R.E.D.I., Lucas. Go to the Chuck Taylor in Films Index Page.




Articles:

The Shoe Outlook for 2019 has been updated with more seasonal models of chucks. Chucks and the Hip-Hop Culture has been added to the Marketing Strategies for Chucks article. The Chucks Sightings page, Chucks Appearances in Commercials and Unusual Places and the Core Chucks page have been updated. The Honor Roll for Actors Wearing Chucks in Films and Television Shows has been updated with the addition of Riley Smith and seven other actors. Go to the Articles about Chucks Index Page.

How to Participate in Chuck Talk. Let us know what you think! We are also happy to try and answer your questions and inquiries about chucks, and listen to what you are thinking about. If you have some opinions, information, pictures, suggestions, or an article to submit, just click on the link, How to Participate in Chuck Talk to access our email address.
Tom and Jerry Chucks
Bring out your inner kid this summer with a pair of Tom and Jerry print high top chucks. The sneakers come in all typical chucks sizes so men, women, and kids can all purchase and wear a pair. The high tops feature an elaborate color print mosaic of Tom and Jerry cartoon images, white foxing, shoelaces, and toe caps with black racing stripes, and a sewn on ankle patch in black and white. They retail at $70.
Stepping out in a pair of Tom and Jerry high top chucks.
The low top pair is made on an all white foundation, with no visible racing stripes and a much simpler print design on the upper canvas, that features the image of Tom extending onto the white foxing on the right shoe while Jerry is printed on the left sneaker. These chucks come with white shoelaces and the words Tom and Jerry on their tongues. Retail price is $65.
A right foot Tom and Jerry low top chuck.
Carnival Colorblock Chucks
Two new series of chucks meant to brighten up your summer have been released by Converse, the Chuck Taylor All Star See Thru and the Chuck 70 Get Tubed sneakers. See Thru high tops come in three colors: Racer Pink, Vintage White, and Black. Each model has the standard white outer wrap and foxing and black racing stripes on the sides and toe caps. The outer soles are in pastel colors and the ankle patches are only in outline. See Thru chucks feature a partial mesh upper instead of all canvas, with the mesh part placed between regular canvas eyelet strips and arched back support. Low tops come in two colors, Illusion Green and Black. Like their high top companions they feature pastel outer soles in neon pink or lime and have traditional white foxing and black racing stripes. This series is meant for women. On the Converse website they are only shown in women's shoe sizes.
Black Chuck Taylor All Star See Thru high top.
The Chuck 70 Get Stoked models are unisex in design and shown in both women's and men's sizes. The high top models come in a Racer Pink/Gnarly Blue (who comes up with these color names!) 2-tone design and a Black/White partial print upper, both with standard white foxing and black racing strips. Unlike other 2-tone models, the uppers are split vertically between the color combinations. The shoes have complete Chuck Taylor ankle patches but only in black and white and black heel patches. The tongue of the racer pink model is gnarly blue and it also has a black ankle stripe in the back of each shoe. The black model has a wiggly white line on its ankle stripe.
Black Chuck 70 Get Tubed high top.
If these designs are a little too much for you, there are plenty of seasonal colors in the traditional Chuck Taylor design in both high and low top models. Right now these colors are on discount pricing. You can see pictures of these chucks on our Outlook page, which shows this year's seasonal colors. High tops are available in Aphid Green, Maroon, Bold Citron, Punch Coral, Light Zitron, Washed Indigo, and Electric Purple. Low top colors include Lemon Chrome, Electric Purple, Maroon, Amazon Green, Pink Foam, Barkroot Brown, Ridgerock, Mineral Teal, Violet Ash, Aqua, Pale Vanilla, and Strawberry Jam.
The Perfect Summer Chucks
Looking for the perfect pair of chucks to wear this summer? While there are hundreds of options and it can be overwhelming at times to pick just one pair for the summer, the perfect chuck is one of the most famous — the optical white Chuck Taylor All Star High Top. A pair of new shoes can change a person's attitude, their day and look, and a pair of white shoes can be the freshest and cleanest pair of any shoe you have, white shoes just pop.
Get a pair of optical white high tops this summer.
Chucks are no different in this aspect, so this summer, embrace your inner Jerry Seinfeld and get yourself a pair of optical white chucks. This is what Converse has to say about these iconic sneakers: "We could tell you that it's the OG basketball shoe, created over 100 years ago. Or that the design has largely stayed the same, because why mess with a good thing. Or how it became the unofficial sneaker of all your favorite artists and musicians, who each made it their own. Yeah, we could share a lot of stories, but the one that matters most isn't ours—it's yours. It's how and where you take your chucks. The legacy is long, but what comes next is up to you. We just make the shoe. You make the stories." There are many amazing new additions to the chuck family every week, with different creations and collaborations, but sometimes, nothing beats a classic.
It's All In The Cards
Any day that you get a new pair of chucks, it's a lucky day. However, your luck may be a little bit better if you get a pair of these new Chuck Taylor All Stars Queen of Hearts high tops and low tops. With many high and low tops, there isn't much of a difference from the pairs other than height, but these chucks give a bit of versatility between the two. The low top pair has a black upper base with an egret midsole and bottom. The design of the egret spades and red hearts and diamonds flows on the upper and midsole. The playing card suits are screen printed onto the chucks.
Black low cut and egret white high top Queen of Hearts chucks.
The low tops are pretty inexpensive for a newly designed chuck, currently running just $55 on Converse's website. The high top is a bit more eye popping with a egret upper, midsole and bottom that looks beautiful with the screen printed card suits. The card suits are black spades, with red hearts and red diamonds. Like most high tops, these high tops are five dollars more than their low top counterpart, at $60. Converse's website says this about the new pair: "These Chucks have style in spades. The classic details you know and love remain the same, while eye-catching graphics bring luck to the legacy." These new chucks are certainly a perfect purchase for someone looking to get a unique chuck look, but not wanting to spend a lot of extra money to get it.
Make Graduation Perfect
One of the most special and important life events that people have is the day they say goodbye to school and say hello to the rest of their lives. It sounds cliché, but graduation is an amazing day, remembering all the hours spent writing that essay, or the friendships made along the way. No matter if the graduation is high school or college, it's coming up soon, and a custom pair of chucks could make your graduation outfit perfect.
Converse is doing a "Caps Off Converse On" campaign to get graduating students to customize their own chucks this season. There are a few ways to go about it. There is, of course, the simple version which is to get a pair of chucks and shoelaces that match your school colors. That is a great way to show school spirit while wearing chucks that you might already have. There's the color combo trick, which is to get both color chucks that represent your school or university and wear one of each, or just get one pair with the two different colors using the customize tool.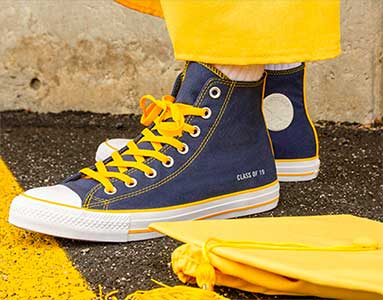 Class of 2019 high top chucks in blue and gold.
Then there is the all-out option, which is to take that extra step to make the graduation look perfect. The customization can be as easy as making them the school colors and then adding the school's emblem, class of 2019, or even adding a graduating quote. Any way you do it, make it something memorable. If you're someone who has worn chucks most of your life and are about to graduate, think of this as going out with a huge goodbye to all of those school days where you got your chucks dirty and wear a pair that best represents all of those years.
Pride Chucks
Converse is for everyone, that's always been a selling point with chucks; everyone wears them, and they transcend cliques. No matter what walk of life you come from, someone will be wearing a pair of All Stars or a pair of Chuck '70s. In the coming weeks and months, millions of people will march in celebration of Pride parades across the United States and the world alike. Converse's inclusion of a pride collection started in 2014, and they are "Converse is committed to supporting movements for positive social change and amplifying youth voices as they spark progress to build the future they believe in." which is what the company has to say on their official website.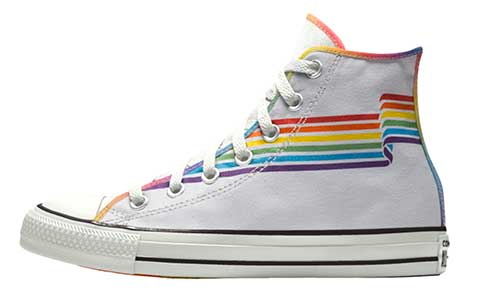 White pride high top with rainbow graphic.
Now there are new pairs to add to the collection, Chuck Taylor All Star Pride Low and High Tops. The new pairs are a celebration of the 50th anniversary of Pride. The new chucks come in white high and low top and black high and low top models. The white pairs have a white upper canvas with a pride and transgender inspired flag designed on the canvas, LGBTQ+ special edition patches, and a rainbow outsole. The black pairs differ a bit in design, with the low tops having a solid black canvas with rainbow laces, while the high top chucks have a unique rainbow lightning bolt design across the canvas with white laces. Both pairs contain a rainbow midsole and a rainbow outsole that are just like the white pairs.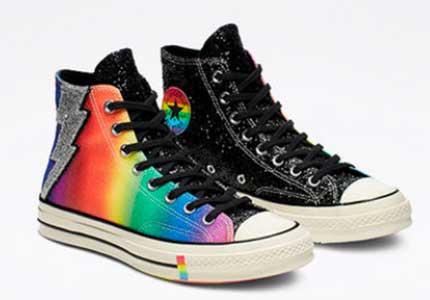 Black Pride high tops.
Contributions goes to the It Gets Better Project and OUT MetroWest. If you are looking to march this year, these new chucks are the perfect sneakers to show your pride in. However, if these pairs don't suit your fancy, there are plenty more selections in the pride collection to look through on the Converse website.
New Films With Chucks
2019 promises to be another good year for films with chucks. Already released this year is Shazam! the latest remake in that DC Comics series. In it, Austin Asher plays Billy Batson, the streetwise fourteen-year-old foster kid who is given incredible superpowers activated by the word Shazam. Billy is seen wearing black high top chucks throughout the film, and in an interesting coincidence, Shazam, the adult superman who Billy turns into by saying that word is played by Zachary Levi, who starred in the series Chuck on television. Also released is Pet Sematary, based on the Stephen King novel. In the film Dr. Louis Creed and his wife, Rachel, relocate from Boston to rural Maine with their two young children, Ellie and Gage. The family soon discovers a mysterious burial ground hidden deep in the woods near their home. Jeté Laurence plays young Elie and wears red low cut chucks in the film.
John Lithgow and Jeté Laurence in Pet Sematary.
Coming out in May is Brightburn, about a boy who mysteriously appears on earth to a childless couple, ala Superman, but appears to be a force for evil rather than good. Jackson Dunn who plays Brandon Breyer likes the color red, which include wearing a pair of red high top chucks in the film. Netflix will be releasing Rim of the World about four misfit teenagers who join forces to save the world when an alien invasion interrupts their summer camp. Allessio Scalzotto, one of the four teens, is shown wearing black high top chucks in the preview stills.
Austin Asher about to discover the powers of Shazam!
Two films being released in June have to do with the world of music. In Yesterday, Himesh Patel plays Jack Malik, a singer-songwriter from England who wakes up after an accident to discover that the Beatles never existed. Malik begins to write the Beatles songs and becomes famous off of their music but may lose his best friend Ellie in the process. The poster for the film even recreates that famous cover of Abbey Road, but instead of crossing barefoot, Malik is wearing black high top chucks. The Dirt is the story of how the American band Mötley Crüe came to be one of the most notorious rock 'n roll groups in history. Mchine Gun Kelly plays Tommy Lee in the film, and he is seen wearing black high tops, as did the real Tommy. You can keep informed about all the latest films with chucks in them by regularly checking our comprehensive The Chuck Taylor in Films page and What's New at The ChucksConnection on this page for the newest listings.
JW Anderson Americana High Tops
Chuck fans are no stranger to JW Anderson x Converse collaborations. The British fashion label is responsible for numerous chucks, but the new collaborations are all about the United States with the inspiration coming from the country's flag. The new pair is the highly anticipated Converse x JW Anderson Americana Chuck 70 High Top. The new model has a mismatched look with two different colors in the upper canvas. The combination of the two chucks creates the look of the US flag. One shoe represents the stars while the other shoe represents the stripes.
The new chucks are only in high top and give a unique take on the chucks 70s classic. One shoe is a Mood Indigo color with stars and grid logo reading J.W. Anderson across the entire canvas. The other shoe has Garnett and Egret stripes that finish the American flag look which makes these chucks so unique. These shoes also have the grid logo reading J.W. Anderson across the entire canvas.
Outside view of JW Anderson Americana chucks.
The Converse website had this to say about the new pair of chucks: "An American classic. Meets a British fashion hero. Classic canvas Chuck Taylor upper. The heritage star design. The Converse x JW Anderson Americana Chuck 70 is a shoe that celebrates — and pushes — what an icon can be." If you are feeling patriotic, or need the absolute perfect pair of chucks for the 4th of July, or just love a unique pair of chucks, these are for you. Note, these chucks will come at a steep price, going for about $120 per pair.
Split the Difference
A cut-and-sew take on an all-time classic.
Sometimes you need two shoes at the same time. Sometimes a classic needs something new. That's what you will get with the new Chuck Taylor All Star 70 Restructured. Part style, part statement, these unique chucks combine two different colored chucks together with a stitched look and come only in high tops. Converse's site says this about the new pairs: "A boldly stitched fusion of contrasting Chucks.The iconic Chuck 70 you know and love meets – you guessed it – another Chuck 70. These two-tone Chucks merge neutral colors to create a scrappy, standout look."
White/Egret Restructured Chuck 70
There are two different pairs of the restructured chucks, a white/egret and a black/grey pair. The black and grey pair is much more subtle in the difference in colors but the stitches stick out much more clearly in them as opposed to the white pair. The white pair is much more clear in the different colors. The heel to the middle is a typical white color but is then stitched with a egret or natural color that gives the pair a completely new look. This pair could go great to complete a punk look, or pair them with ripped jeans and t-shirt. These pairs could also be the best shoes to break out during Halloween due to their Frankenstein like design.
Black/Grey/Egret Restructured Chuck 70
Besides the contrasting uppers, the shoes have extra stitching on the tongues, ankle patches, and back ankle support, dual colored outer foxing and outer soles. Converse's site only allows one purchase per customer, so make sure to keep that in mind when purchasing the sneakers. The pairs are much more costly than average chucks, going for around $120, which is nearly double that of a regular chuck 70 pair.
Website Upgrade
Recently The ChucksConnection has upgraded our site to a new secured server with an SSL certificate so that you can be assured that all of our numerous site pages, articles, reviews, photo galleries, and other features are safe for your browsing pleasure. We have never stored any personal data on our website, even before this change, and all ecommerce transactions have always been conducted on secure pages monitored by our shopping cart and credit card affiliates. Now you can see that every page throughout The ChucksConnection website is secured with the lock symbol in the header. Pardon our dust if you have experienced any outages while we made the changeover. We hope you will continue to enjoy this website with all of its features about chucks and people wearing them, and as a resource for purchasing chucks and shoelaces to wear on them.
Chuck 70s Psy-Kicks
Life is all about balance, and the new Chuck 70s Psy-Kicks provide that balance. The new chucks give a psychedelic spin to the classic Chuck '70s with its unique yin-yang design for the classic Chuck Ttaylor logo. The pairs also come with yin-yang laces and a yin-yang outsole to represent balance. The new chucks come in low top and high top. The low top colorways are butter yellow and fresh yellow as well as Bleached Coral and Dusty Peach colorway and a Turf Orange and Melon Baller combination.
Each of the pairs has their very own colored "license plate" on the chucks. The Converse website had this to say about the pairs: "By 1970, Chucks were considered the best basketball sneaker ever. The Chuck 70 is based on that original design, with extraordinary attention to detail. Now with a harmonious twist, we've remixed the icon with muted summer colors and yin yang accents. It's all about balance."
Chuck 70 Psy-Kicks High Top in Aphid Green and Black
The high top features an Aphid Green and Black combination, a black and white pair, and a wild lilac and black colorway. The colors for the high tops are much more subtle than the low tops and provides a light and simple color to an already unique shoe. The chucks run at a usual cost of $85 and combine a uniqueness to them with the spirit of summer that so many of us are ready to enjoy now.
Spring Colors
Let's bring out some bright colors because spring is finally here. Spring is the time of the year to wear some colors that may not typically be in your wardrobe, and by that, it means any and all colors. Spring chucks should be any color, but importantly, solid colors. This is the time of the year to break out your Chuck Taylor All Stars or some Chuck 70's that you've had for years and pair them with white, grey, and bright colors. Solid red, green, yellow and blue chucks are perfect for spring. Of course, you don't want to be wearing five different colors so make sure to know that a balance is vital.
Converse Spring Chuck 70s Collection.
Our advice for the spring is let the chucks have the spotlight and keep it cool with the shirt and jeans. Green, yellow, and even purple chucks are not commonly seen, and spring is the time to wear them. This is also the time to wear tie-dye and pastel chucks, like the new chuck 70 beach dye model. If you're looking to bring some unique colors to your spring, think about some of these colors: punch coral, icon violet, blue hero and a never fail choice, the create your own chuck. (You can create your own custom made chucks on the Converse website.) So, this spring, branch out a little bit from the average color and spice things up, it might bring a whole new positivity to your life.
You'll Never Need to Chuck Your Chucks
Here's one correspondent's views about chucks: "There is an awesome culture surrounding your chucks, but that's not the most important thing when finding new footwear. What matters most is how they benefit the single person investing in them. This is how they worked for me:
"I originally encountered chucks shortly after I turned thirteen. Several years earlier, my mom bought my older brother a pair of white low tops which didn't fit him properly. Realizing that my shoe size had finally reached that of the shoes in question, my mom pulled them out of storage and offered them to me. Finally being offered my first fashionable shoe, I quickly slipped them on and wore them nigh exclusively for a whole month. After changing what I wore on my feet, my entire image of my own fashion changed and I became more confident in my style and presentation.
A pair of chucks can change your sense of fashion.
"This one pair of chucks is with me even to this day, nearly a decade later. They have been a foothold (pun intended) in keeping my look up to date every single one of those years. I will always be grateful to these shoes for introducing a just beginning to be fashion-conscious boy to the idea that I could be proud of what I put on my feet. Now, when I look at the family of chucks, I can say confidently that the shoe fits."
Don't Be April Fooled!
While most people ae good at picking out genuine pairs of chucks to wear when buying at a store or through a reputable online dealer, we often receive requests to identify pairs puchased at auctions or found on someone's closet, or at a garage sale. The first way to make sure you are getting a genuine pair is to take a good close look at them. Do they look like real chucks or is something not quite right? Then look inside the tongues to see if there is a product label. All genuine pairs made since the mid-1990s will have that label. Knock off brands won't have that label or the authentic heel patch or ankle patch on a high top or license plate logo on a low top.
Does your high top have all these features?
Just go through this check list to be sure. All the things you like about a genuine pair of chucks will be there, from the outer sole to the upper stitching. When you are buying a new pair of sneakers, don't skimp and by a lesser knock-off brand. The few extra dollars you may pay are well worth it in both looks and endurance.
A$AP Nast Jack Purcell Chukka
As spring quickly approaches, it's time to ditch the heavy coats, turn off the heater and enjoy the outdoors again. Now there is a chuck to embrace the outdoors as Harlem rapper A$AP Nast of A$AP Mob has a new collaboration with Converse. This isn't the first collaboration between Converse and Nast. The pair unveiled a new One Star sneaker back in 2017. This time the "Trillmatic" rapper put his own spin on the class Jack Purcell Chukka, adding unique colorways and adding a mid profile instead of a low profile.
The collaboration includes two different colorways. One colorway is called pumpkin spice, which is perfect for the spring as the leaves are still on the ground and the sneakers will blend right in. The other colorway is beechnut; the beechnut model is perfect for the weather and the ground because it blends perfectly with the color of bright spring grass. Both models embrace the spring weather and the look and feel of being outdoors.
Guy lounging in Pumpkin Spice A$AP Nast Jack Purcell Chukka sneakers.
A$AP Nast Jack Purcell Chukkas were released on March 22 and are currently going for $100. The new sneakers are just one part of the entire A$AP Nast x Converse collaboration, a collaboration that also includes sweatshirts, sweatpants, and t-shirts. Available online, and depending on your location, may be available at your nearest PacSun as well.
Chucks To Dye For
The latest chucks to hit the market are to die for, or more accurately, to dye for with the new Chuck Taylor All Star Dip Dye. The new dip dye chucks come in both high tops and low tops. Both styles of chucks provide a unique colorway and style on an already classic look, fading the colors of each chuck from the toe to the tongue on the chucks. Both still have the classic aspects of the Chuck Taylor All-Stars such as the Chuck Taylor patch, lightweight canvas and the All-Star label on the tongue.
The low top chucks come in an enamel red that fades into an active fuschia color providing probably the best contrast in colors from all models, a papyrus to egret colorway, and a celestial teal to teal mint colorway. Converse describes their new low tops on their website as, "The laidback legend since 1957, the Chuck Taylor All Star Dip Dye Low Top sneaker combines classic elements with modern ombre detailing. Sun-drenched shades of varsity colors bring a faded remix to this fan-favorite style."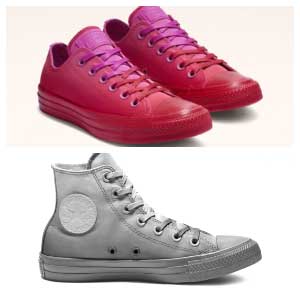 Active Fuschia/Enamel Red Chuck Taylor All Star Dip Dye Low Top
and Mason Chuck Taylor All Star Dip Dye High Top.
The high tops colorways include a pink foam to pink rise fade and a mouse to mason gray that gives the sneaker a cool steel or spraypaint look. When describing the high tops, the website has this statement, "Undisputed since 1917, the Converse Chuck Taylor All Star High Top shoe is the definitive sneaker. You already know the iconic details— a canvas upper, diamond outsole, and of course the Chuck Taylor ankle patch. Dipped and dyed in sun-drenched hues, an ombre upper remixes the original with varsity colors." The low tops typically cost around $60 while the high tops generally are $65, so the costs leave fans with an ability to get one of the most unique chucks at a regular retail price.
NIGO x Converse Addict Chucks
Japanese fashion designer Tomoaki Nagao, also known as NIGO, and founder of Bathing Ape and Billionaire Boys Club has collaborated with Converse to release a new Chuck '70 series of high tops. The new chucks are the NIGO Chuck Taylor All Star Zip Hi and are sold through the Japanese fashion-forward line, Addict. The chucks have a throwback feel to them with much of the influence and design from the 1960 Chuck Taylor All Stars, giving it a feeling of an old school basketball Chuck Taylor that you could see Wilt Chamberlin or Jerry West playing in. Like other Chuck '70 models, these chucks have a "player's name" tag you can fill in on the back of the tongue. The shoelaces, toe cap, heel label, stitching, and the upper reinforcement all have the look of the 1960s All Star chucks.
Beige NIGO x Converse Addict high tops.
The colorway of the chuck is beige and white. The upper canvas is beige and is suede which looks like it could blend into an NBA court from yesteryear or a modern court. The chucks have a complete white midsole, with a Vibram outsole, Poron insole, and a thermo-insulated Outlast lining, The top zipper entry is the standout feature of the chuck as NIGO gives a new, and creative spin on a classic look. The shoes also come in brown, white, black and camouflage models.
White NIGO x Converse Addict high tops showing interior details; brown model in the background.
The new NIGO x Converse Addict chucks will be released on April 10th and will only be available in Japan, and online. The new chuck will be highly expensive and highly coveted, being marked as ¥30,000, which is about $270. If you are interested in what Converse of Japan is doing, they have an app you can download for your iPhone.
Chuck Taylor All Star Frilly Thrills
Converse has a new style of chucks with their Chuck Taylor All Star Frilly Thrills. The sneakers come in low and high tops and feature a frill edge and eye-popping colors to give a feminine look, making these chucks the perfect for a woman who wants a pair of chucks, but still wants to have a feminine flair to her shoes. The frilly thrills all feature a suede upper, soft foam sock liner, a unique scalloped edge, gold eyelet and a mono color tongue.
The low tops come in pink foam, blue, egret, and field surplus. All of the pairs also feature a gold eyelet. There is the low top platforms, which have the gold eyelet and come in black, egret, and pink foam. With the platform feature, the chucks have double stacked rubber sole, giving it that platform look. The high tops pairs come in natural ivory, black and a unique celestial teal color that is clearly a different choice when comparing the low tops to high tops.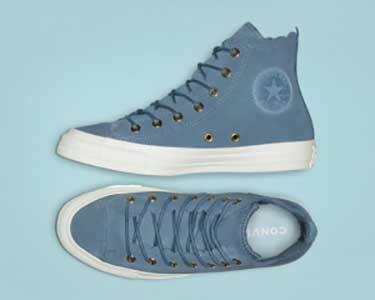 Blue Chuck Taylor All Star Frilly Thrills high tops.
Converse described the new release on their website: "A delicate balance of classic and chic, the Chuck Taylor All Star Frilly Thrills sneaker puts a feminine spin on a timeless silhouette. Featuring scalloped edges and premium suede in an understated color palette, these shoes are sure to brighten any outfit." These chucks can be found at the Converse website, Macy's website, and possibly at other store locations and sneaker selling websites. The price typically ranges from around $70-80 and come in women sizes.
Part Hiking Part Fashion
The Chuck Taylor '70 shoe is iconic and one of the most popular sneakers in the world, one of the sneakers that made Converse recently number seven in the most valuable brands in the world. Chucks are known for a lot, whether that be for fashion, sports, culture, and now there is a new model for hiking. A hiking sneaker might not be seen as a fashionable shoe, but that was until design J.W. Anderson got his hands on it. J.W. Anderson/Chuck partnered up with Converse to bring us the Chuck '70 Run Star Hike sneaker. Converse describes the sneaker as "Taking cues from zig-zag lugged hiking boots, the Run Star Hike is designed with exaggerated tooling and color pops, bringing high visibility to any look."
The sneaker features a white upper canvas with a colossal sole that looks not only like a hiking boot but a sneaker that found its way back home from the 1970s. The shoe looks as though it has enough traction to go up Mt. Everest. The sole is a combination of blue, white, and a butterscotch color to give it an old school feel with JW Anderson across the sole. There is a single black star on the back of the heel, and the iconic All Star logo on the ankle is black and white with the number 70 below the star.
Converse x J.W. Anderson Run Star Hike Chuck '70.
The new Chuck '70 sneakers were released on February 12th, 2019 and are currently sold out on Converse.com, but may be available at other department stores. If you want to get your hands on these chucks, it will take some effort, but for many fans, it is well worth it.
Chuck 70 Translucent Midsole High Top
The classic Chuck 70 high tops have some new spins on their classic looks with the new Chuck 70 Translucent Midsole High Top Chucks. The new look chucks have three different variations, including a plaid pair, a red, white and blue pair, and a black and white pair. All pairs, of course, feature a translucent midsole. Nike described the new sneakers on their website as: "A fashion-forward take on an all-time classic, the Chuck 70 Translucent Midsole sneaker combines premium comfort with translucent accents for visual interest. Featuring prints inspired by looks from around the world, these shoes bring an extra special look to your everyday style."
The plaid pair is a grey, green, black and red colored plaid pattern with a red translucent midsole, toe and ankle patch. The red, white and blue pair has a primarily white upper canvas on the sneaker with a red color heel patch. The sneakers feature a translucent blue midsole, toe, and then a blue tongue as well. The final pair is a black and white graphic upper canvas pattern with a black translucent midsole, toe, and ankle patch.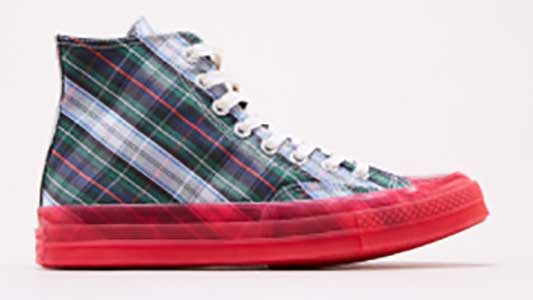 A new grey, green, black, and red plaid Chuck 70 Translucent Midsole High Top.
All pairs come with the Chuck Taylor classic All Star patch on the heel like all chucks. The new pairs of chucks can be found on the Converse website, or Urban Outfitters or other retailers. Each pair costs around $120, so these pairs are going to be a bit harder to afford.
Black History Month Chucks
February is Black History Month, and Converse has issued new models of chucks to celebrate the occasion. The new Black History Month collection contains two new chuck 70s high top sneakers. Both sneakers contain African pattern print and patchwork. The official Nike website describes the new pair and design as, "inspired by an assortment of national African patterns, brought together onto modernized prints in a theme of Afro-futurism in sport."
One of the new pairs has a fully covered upper African pattern, with colors of teals, yellow, pink and black. The pair has a black, glossy midsole with the same color for the toe with a yellow outsole. The pair also has a 'BHM' emblem on the top of the tongue. The other pair contains African pattern patchwork on the heel, collar, and toe with the rest of the upper canvas being a solid black color. It has a white midsole with a yellow outsole. Both sneakers feature the classic Converse symbol that is known with chucks.
Chuck Taylor 70 BHM Patchwork High Top.
These pairs of chucks are a part of the larger Black History Month collection that Nike unveiled that also featured Nike Kyrie "BHM," Nike LeBron 16 "Equality," and Nike PG 3 "BHM," among many other sneakers. These sneakers were released on January 21st, and go for around $100.
A Love for Chucks
Valentine's Day is coming up, which means it is time to get a loved one a gift to show your love. What is better than a pair of chucks? Luckily, Converse has their own Valentine's Day collection.
If you are looking for something a bit different for this holiday, there are the white Chuck Taylor All Star fringe leather high tops. It indeed is a statement chuck and is the most unique out of the Valentine's Day collection. One of the other All Star pairs is has an iridescent black look, and the last pair is a red monochromatic low top chuck. Each pair also has a gold metallic heart pendant.
Converse Valentine's Day Collection.
A perfect pair would also one of the Converse x Play Comme des Garcons Chuck Taylor All Star high tops. It is one of the most popular collaboration chucks in recent memory, and we have covered the pairs previously on the site. The pairs are an off-white color with the signature Comme des Garcons heart logo which makes perfect sense for Valentine's Day, while the other pairs are black and white and black polka dot pair. It is a perfect pair if you want something for Valentine's day, but also a high end, favorite sneaker. If you want to go more of a traditional style, a perfect pair would be either a core red or pink Chuck Taylor All Star, in high tops or low tops.
Chucks Are For Everyone
For any chucks fans, it's no secret that chucks are not for one specific group or culture. Part of the popularity of the sneakers is the amount of acceptance they have throughout cultures, style, and people. The Chuck Taylor All Star (the first chucks) was initially designed to be a basketball shoe, but now is typically viewed as a leisure and everyday wear shoe. No matter if you associate the sneakers with basketball, punk music or a child, chucks are meant for everyone. Maybe that's one of the reasons why Chuck Taylor All Stars were Instagram's fifth most shared shoes.
Jesse, from Ohio, says, "I love chucks because they are for everyone, it feels good to wear something that is all in compensating and is for everyone. I see everyone in chucks. I have five pairs now. I suppose it's a good idea to get two more to have one for every day of the week now."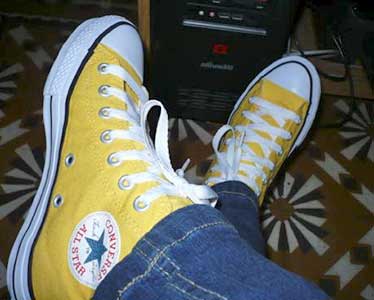 Yellow high top chucks.
Bartosz Kiełbaszewski from Poland went into detail about his love of his favorite chucks. "I wear chucks cause they look really cool and they are pretty comfy. My favorite chucks are of course yellow ones; I don't wear any other shoes, even during winter. I used about eight pairs during the last ten years (I wear them to their death), and some of my friends ask me if it's the same pair I'm wearing since 2008. I'm using inserts to prevent foot damage, cause chucks aren't that health friendly, but I don't mind that now. I just hope I can wear them forever."
New Seasonal Chucks
There are four new chucks for 2019, with vibrant and unique colors that will surely be a match for chuck lovers, especially for women. Two of the new seasonal Chuck Taylor All Stars are high tops, coming in Bold Citron and Moody Purple colors. The Bold Citron offers a unique color that is more mustard than lemon. The color will pair well with black clothing better than a brighter yellow would. The Moody Purple color is less vibrant and more subtle, giving an almost grape look to them, and can match with complementary outfits.
Moody Purple and Bold Citron high tops, Teal Tint and Pink Foam low tops.
The other two models are Chuck Taylor All Star low tops in Teal Tint and Pink Foam. These chucks have a more subdued and faded look to them that should have good fan appeal. Both colors are good beach colors. The teal tint color is nearly a light blue. The pink foam color is perfect for younger people but is still great for older people who want a new color that makes a statement. All these pairs of chucks have the same components that are commonly found with All Star high top and low top chucks, a padded insole, rubber toe cap, canvas upper and the Converse license plate logo on the heel of the shoe. The high tops have single color ankle patches. The new pairs of chucks can be found through Converse's website or local retailers like Tilly's or Nordstrom, as well as many other online sites. The price should range from around $50-60. For other seasonal colors visit our shoe outlook page.
Happy New Year!
As 2019 begins, we start by wishing all of our site visitors a happy new year and remind you of the many things you can expect from The ChucksConnection in the new year. We will continue to keep you informed of new models and colors of chucks as they become available and provide frequent information about your favorite pairs of chucks in core colors. Chucks are recognized these days as cool footwear for people of all ages, from toddlers to seniors. Your chucks are now considered appropriate wear at all kinds of events and activities — from casual to formal — at home, out in the community, and at work. We encourage you to stay laced in chucks as much as you can in the new year.

Enjoy wearing chucks in the new year like these people do.
We will continue to report on people wearing chucks in the media, as seen in films, television series, music videos, and worn by celebrities and others in the news. Our Chuck Taylor in Films page currently lists over 850 films, with several hundred of those films reviewed and more to come in the new year. Our All Star Television Shows page lists over fifteen dozen series, many with photos or feature pages. Our Music Videos With Chucks page now lists over 200 songs in different popular musical styles and our Musicians Who Wear Chucks page lists over 200 bands and recording artists who wear chucks in their daily lives and on stage. We will keep on adding to our galleries containing thousands of photos of chucks and people wearing them.
For your personal needs, The ChucksConnection will continue being a great source for shoelaces to wear with your chucks and provide you with links to buy new pairs of chucks or pairs of chucks used in our photo galleries. If you love your chucks like we do, drop by chucksconnection.com often for the latest information and features about your favorite sneakers.
New "My Half" Chucks
Wearing chucks every day causes wear and tear to them no matter what, so even if your sneakers are taken care of, they will eventually deconstruct. The new Feng Chen Wang and Converse collaboration are made to do just that, deconstruct. The new "My Half" collection designed by Feng Chen Wang was previewed at her Shanghai Fashion Week show. Without a doubt, the new chucks are one of the most creative and unique designs in recent sneaker memories. The collaboration will feature high top and low top versions of Chuck 70s sneakers with a new twist.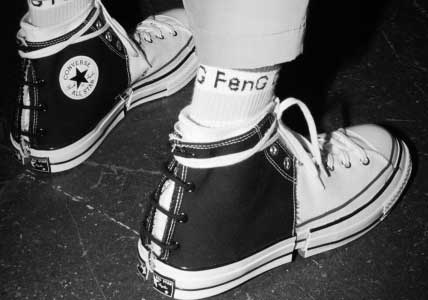 New Black and White High Top "My Half" Chuck 70s.
The low top versions will come with a functioning strap across tongue and laces, as well as an open back to give the look of a sandal. The pair come in a red/white, black/white, blue/white and all white colorways. One high top pair gives a rope lacing system in the back of the shoe at the heel with either a black, blue or military green half tied to a white chuck 70s sneakers to give the look of deconstruction. The other high top pair is a unique exoskeleton like canvas to give the appearance of deconstruction. The pair come in a pink/white, black/white, and green/white colorway. The pair also comes with a pair of Feng Chen Wang socks sown inside the sneaker. The new "My Half" chucks are set to be released sometime in 2019.
Chucks Could Be Back In The NBA With Kelly Oubre Jr.
For most die-hard chucks fans, the history of chucks and basketball is a story they know all too well. Chucks became the premier basketball shoe for over five decades when Chuck Taylor designed the shoe himself to perform better on the court and put his signature on the ankle patches. Since the 1980s, chucks became less of a basketball shoe and more of a skate or just casual sneaker. However, it looks like chucks may be back in the NBA as Converse signed newly acquired Memphis Grizzlies player, Kelly Oubre, Jr. Oubre reportedly had discussions with several shoe companies after his deal ended with adidas, including Puma (who recently signed rookies, Marvin Bagley, and DeAndre Ayton) and New Balance (who recently signed Kawahi Leonard), until he ultimately decided to sign a multi-year deal with Converse.
Kelly Oubre, Jr. wearing orange high top chucks.
In an interview with ESPN, Oubre said, "It's not necessarily someone trying to come in and disrupt the game, or someone trying to step onto the scene as newcomers again. [Converse] started this, and it's cool to be a part of something with the exclusivity to work with this company, start a partnership and a foundation." While the CMO of Converse, Sophie Bambuck, told ESPN, "It just felt like the right time for us to re-energize the brand, dimensionalize the brand and bring a different point of view to our consumer around basketball. Kelly felt like the right person to do that with, not only as an athlete, but as a person."
Oubre is one of the most standout athletes when it comes to fashion and becoming the only NBA player wearing chucks in a game can bring recognition to himself, the brand, and whatever edition of chucks he decides to wear. Oubre will be wearing Nike's basketball shoes until a design is made for the court. When the model is finally done, there will likely be many chuck fans excited to see an athlete wearing their favorite sneakers in the NBA again.
Shrimps Collaborates with Converse
The British label, Shrimps, has collaborated with Converse to make two new pairs of sneakers, with one of the pairs being a new Chuck 70 high top. The new pair of Chuck 70 high tops are covered with a doodle of faces print all over the canvas uppers, bubblegum pink shoelaces and faux fur on the strip of the heel.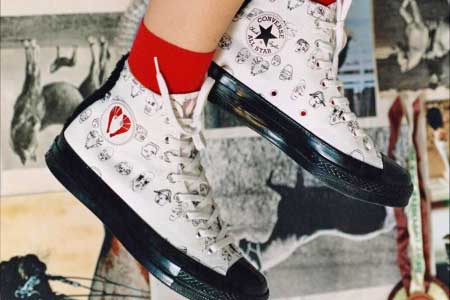 New Converse x Shrimps Chuck 70 High Top.
The artist behind the chucks, designer, and founder of Shrimps, Hannah Weiland spoke with Nylon.com about making a collaboration with Converse: "I had so many pairs of Converse growing up—my brothers and sisters and I would all wear them," This isn't the first time Shrimps has done a collaboration with Converse, as they worked on a pair for a London Fashion Week show, "We didn't sell those shoes, so this time around, we really wanted to make them available to our Shrimps and Converse customers. It's a really fun, ongoing collaboration. I love everything the Converse brand stands for, and this time it was really exciting to add in a few jersey pieces."
All the sizes for all the collaboration are in women's sizes, so be aware of that while purchasing. The chucks go for about $110 currently. The other Shrimps and Converse sneaker pair is an all-pink Converse One Star low top with their famous roses prints. The collaboration also includes a pullover hoodie, women's long sleeve t-shirt, long sleeve top, and women's open-hemp pants.
These Boots Are Made For Hiking
The new Chuck 70 Teck Hiker is a unique combination of style and comfort. The new pair of chucks is a change in an already classic design. Many admirers of chucks are used to the Chuck '70s as one of the most popular sneakers out, but this new pair adds durability and is perfect for the harsh weather conditions.
With a look that is a combination of hiking boots and classic chucks, these new pairs are a unique take on high tops and boots; it's no question that these chucks were made for wearing outside. The revamped Tech hikers are detailed on Converses' website as "durable woven upper and a cushioned design for an extra layer of comfort that adds to the trekking feel of these bold boots." With rope laces, Gore-Tex waterproof material and elastic straps over the tongue, it certainly adds some new elements and make the chucks feel very similar to hiking boots without taking too much away from the original design of the chuck 70s sneakers.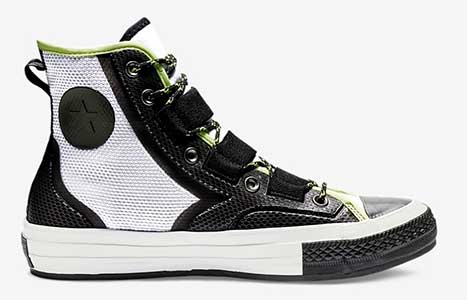 Chuck 70 Tech Hiking Boots in White/Black/Lime, and Grey/Black.
The Chuck 70 Tech Hiker's come in a good amount of variety of color combinations including a red and blue design, grey and black, Mason and herbal, teal and orange, and a white, blackand green design. All the pairs of the Chuck 70 Tech Hikers are in high tops. The price is a bit higher than a regular pair of chucks but less than most hiking boots, typically sitting at around $110. So if you are in the market for some chucks to fight the cold and snowy weather, these are perfect. Alternatively, if you are trying to find some more stylish looking hiking boots, for a fraction of premium hiking boots cost, the new Teck Hiker chucks might be the perfect pair for you.
The Commitment Is Key
An essential part of why chucks have been so popular for so long is the loyal fanbase that surrounds it. Chucks are not just a popular choice among a "punk rock" crowd, they are beloved worldwide, with fans with serious dedication.
There's Finn, a loyal fan from New York who has been wearing chucks for most of his life: "I started wearing them because when I was a kid, my feet were too big to shop in the kid's section like other kids in my class. It sucked being a little kid with grown-up sized feet. But everything got better when I discovered the world of chucks. Any color, any size, any style, I could count on Converse to have it for me. The only downside was that my mom didn't like paying $50 to $80 a pair, so I nagged Grandma instead. She caved in and got me a pair of brown high tops, my very first pair." And Finn is attempting to add to his already impressive collection: "Over a decade later, I've collected about 150 pairs from this brand. I neglect to keep a proper count because I keep ordering these shoes monthly and I have parcel forwarding mailboxes in other countries that I send international finds to. My goal is to out-shoe the world record holder for the most Converse. 2000 more shoes to go!"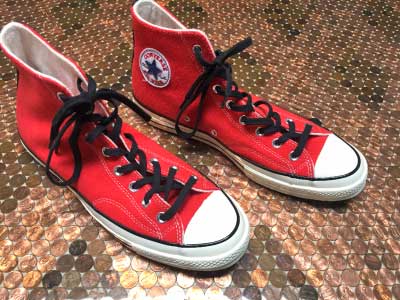 Derick Lehman's red high top Chuck Taylor All Stars.
Derick Lehman from Indiana has continued the themes of dedication to the brand with his love of chucks: "I love the individuality of Chuck Taylor's, the nearly infinite colors and styles. They are ever-changing, yet classic. I wear them every day." And Lehman has his favorites as well: "I tend to wear my red or navy ones the most often, but that's only because they match the most shirts. I'm not sure I have a favorite pair. I try to pair them with my shirts. I have a little over 50 pairs." Conor from Virginia has had a love for chucks from a young age starting with a red pair as a kid: "I wear chucks because I love the style. It's the perfect in-between from wearing like Jordan's and Dad shoes. Vans are in the same category of that perfect in-between, but when I got my first pair of real shoes when I was little they were red chucks. Then I stopped wearing them, but now I'm back. Vans didn't do what I wanted."
Chucks for Anyone
Chucks are some of the most popular sneakers of all time, and with that comes stories of what they mean to the people that wear them. These are some of the stories of loyal chuck wearers who wear black low cut chucks.
Talking to Colton, a chuck fan due to the meaning behind Machine Gun Kelly's music and symbolism he uses with chucks. "The reason I wear chucks is that one of my favorite musicians wears them and pretty much based his movement behind them. That musician is Machine Gun Kelly. When I put chucks on, I feel like I can do anything, whether it be skating, running a game of basketball or just the right thing to top off an outfit. Chucks are for people who don't care about sneaker cleanliness, and the dirt is what gives them their personality. Not the colorway or the price tag, but the person who puts them on. That's why I wear chucks."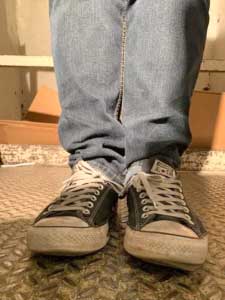 A pair of black chucks from Colton.
Then there is Izabella, who has worn chucks her whole life. "I love chucks because they embody everything about what it means to be an individual. From different colors to patterns and even Fandom designs there is no shortage of ways to find that perfect pair of shoes to express yourself. No matter what outfit I am wearing, I know I can throw on my chucks and pull the look together!"
There's also Justin, a fan of chucks from England. "Chucks are huge here, they have always just fit the style I was wearing when I grew. I would wear a pair of black chucks to match what I was wearing, and as my outfits changed, the chucks stayed. I'll always wear them." The look of chucks will never go out of style, and the stories that the fans have with them will continue to carry their legacy and popularity for years to come.
Indoor Activities With Chucks
With winter coming up, rain and snow are becoming more frequent. With that in mind, you may have to start playing your favorite sports and working out inside where it's warm and dry from now on. This offers chuck lovers the chance to put their All Stars to use playing and working out indoors. We all know that the Chuck Taylor All Star was originally a basketball shoe designed by player/spokesperson Chuck Taylor. It was an immensely popular choice amongst collegiate and pro players throughout the 1950's, 60's and 70's, but fell by the wayside with the rise of Nike, Adidas, and Jordan in the 80's and 90's. However, the Chuck Taylor is still a viable basketball shoe for anybody playing a pickup game down at the rec center. Why buy an expensive pair of new basketball shoes when you can wear the same classic pair you wear everyday? If the shoes worked for players like Wilt Chamberlain and Bob Cousy as they won NBA Championships, then they'll work for you down at the local rec center or gym.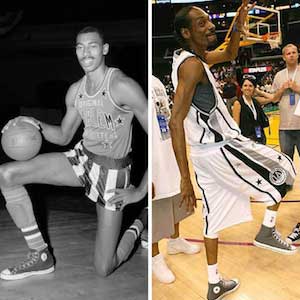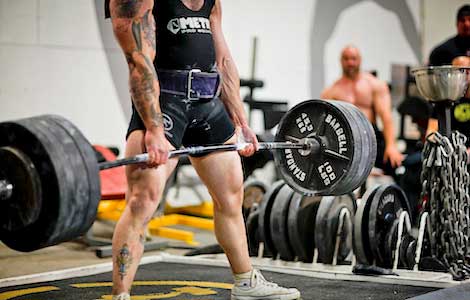 A classic that can still be played on the court today. Chucks make for an ideal weightlifting shoe.
Over the years, chucks have been adopted by other indoor sports that are a far cry from their basketball origins. The best example of this has been the appropriation of the Chuck Taylor All Star into weightlifting culture. Chucks have been a favorite of weightlifters for their classic style and flat, un-padded sole, which was difficult to find for a time in this age of ultra padded and contoured soles. This is a key aspect for many lifters choosing a shoe as padded soles disperse and displace energy, which impedes the force applied to the ground when lifting. The connection between a weightlifter and the ground must be solid so the body can tell where to implement the right amount of force, and padded soles in modern shoes simply don't allow that kind of connection. In recent years many companies have been offering minimalist soles much like the Chuck Taylor, but for many lifters, the simple chuck is still king in gyms across the country, proving that the simple things are sometimes the best option. So this winter, make sure to keep a pair of chucks in your gym bag and on your feet as you take your physical exercise and recreation indoors.
Updating Your Chucks Collection
Converse has recently suggested that you introduce new pairs of chucks into your regular rotation. With that in mind, let's take a look at some different colors and designs you can introduce into your shoe lineup today. Let's start with some different ideas for the Fall and Winter seasons. If you're a sports fan then you know that the NFL, NBA, and NHL seasons will be dominating your schedule in the coming months. Now is the perfect time of year to show off your team pride by adding team color chucks to enhance your game day look. For NBA fans, you may know that Converse has recently released a whole new NBA lineup of chucks. However, if you'd rather not splurge on these pre-made models, you can always create your own through the chucks customizer. Combine team colors of your favorites to create the perfect game day look.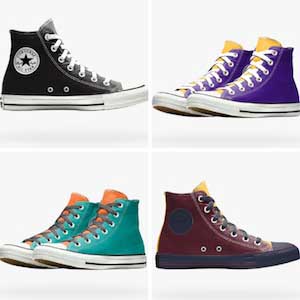 (left) Chucks for the Oakland Raiders, Los Angeles Lakers, San Jose Sharks, and Cleveland Cavaliers (right) The chucks color possibilities are endless!
If you're not a sports fan, but you're tired of the wearing the same classic black chucks every day, try adding a pair of seasonal colors or maybe something bold and different you've never worn before. Spice it up with colors that aren't your status quo, like bright purples, golds, oranges or pinks. Try out a different design pattern like camouflage, floral, or a branded pattern like DC's Justice League to have your chucks really stand out. A true chucks super fan could have different pairs of chucks for specific outfits, and step up their game by having fully coordinated outfits that highlight the different chucks they own. Different colored shoelaces can provide another inexpensive way to sport team colors. It's easy to get to this kind of fandom through our affiliate stores or create custom made chucks on the Converse website. The possibilities are near endless and are only limited by your sense of style and creativity.
Gift Ideas For That Chucks Person On Your List
Finding the right gift at the right price is often difficult, especially if you are on a budget. If you know (or are) someone who is an enthusiatic fan and wearer of chucks, what do you get that person besides a new pair of chucks? These days a new pair is a big gift, with the prices ranging between $50 to $100 for most new pairs. Luckily The ChucksConnection is here to assist you with a short list of credible gifts that range in price from $2 to $20 and appropriate for people of all ages. Go to our Gifts Page to see the complete list of our recommendations.
Videos and Short Films with Chucks
We have started a new feature on The ChucksConnection that addresses videos and short films where actors wear chucks. These films are normally seen on websites like YouTube and Vimeo and made by amateur or aspiring filmmakers. Too short to be included on our Chuck Taylor in Films page and not released to the public through paid streaming, DVD or BlueRay, these videos and films are free for viewing, and we provide links to them on our new Videos and Short Films with Chucks page.
Check these out on our new page.
Like our other media pages, Videos and Short Films with Chucks is a work in progress. If you know of a video or short film that qualifies for this new page, send us the information and link to films@chucksconnection.com.
How to Participate in Chuck Talk
Do you have some things to say about Chuck Taylors? If you have an article or other interesting information about chucks to submit to this website, please contact us at mail@chucksconnection.com.
Chuck Talk Archives

ChuckTalk articles from previous years