March Madness Is Cancelled But You Can Still Support Your Team

New or Updated Photo Galleries:


Amanda Seyfried, Victoria Justice, Taylor Swift, Washed Indigo High Top Chucks, Midnight Barq High Top Chucks, Bright Crimson High Top Chucks, Jessie Reyez, Side Pocket High Top Chucks, People Wearing Red Chucks, Paul McCartney, George Harrison, Chuck Taylor PC Boots, Coolest Chucks Moments in Film, Magenta Renew High Top Chucks, Zendaya, Austin Asher Stills from Shazam!, Washed Denim Blue High Top Chucks, Red Hot Chili Pipers, R5, Rozzi Crane, Bow Wow, Nicky, Ricky, Dicky & Dawn, YG, Guys Wearing Red Chucks, Sabrina Carpenter, Mac Miller, Guys Wearing Black Chucks, Guys Wearing Optical White Chucks, Cobra Kai, Coolest Chucks Moments in Film.

Videos and Short Films With Chucks:

The Bend, The Glass Castle, Summer '78, RC Cola Ad, Under Stars, RCA, The Bat, Kid, the Moon, We Are Boys, 12 Ways to Style Converse Sneakers, Customize your Converse All Star with Hydro Dipping!, How to Style Converse Chuck Taylor High Top Sneakers for men and women, Midnight Marathon, Muse, Radio Shack Ad from 1994, I Love Sarah Jane, Growth, The Businessmen, Fractured, Bottle Cap Kick Challenge, Snake Bite, The Unidentified, Delivery, Granbad, The Hug, Hare. Go to the Videos and Short Films with Chucks page.


TV Page Features:

Many listings have been updated. New listings with an article: All-American, Hollywood, Stranger Things, Season 3, Deadly Class, Iron Fist, On My Block, The Temptations, Rise, Grown-ish, How I Met Your Mother, Mom, Parks and Recreation, Game of Silence, Stranger Things, Season 2, Greenhouse Academy, The Carmichael Show, Sha Na Na, Preacher, Friday Night Lights, Sun Records, Hunter Street, 13 Reasons Why.

Other recent listings are: Designated Survivor, Almost Paradise, Locke and Key, Ragnarok, NCIS, Euphoria, The Boys, Shameless, Catastrophe, Nicky, Ricky, Dicky & Dawn, Single Parents, Cobra Kai, Young Sheldon, Fargo. Go to the Television Shows with Chucks Index Page.

Music Video Reviews:


Justin Timberlake Medley, 100 Grandkids, Lost in the Echo, Go To Church, Music Everywhere, MAYBE (Deconstructed), I Rep That West, I Want to Know What Love Is, Prima Donna, I Want Crazy, You and I Both, So What?, Go Loko, All For Us, Any Kind of Guy, The End of the Game, Never Catch Me, Boomerang, Motivation, Time in a Tree, Dreams, Young, Wild, and Free, Señorita, Murder Was the Case, Gangsta Luv, Higher, What's My Age Again?, Light It Up, The Great Escape, Cool, Here With Me, Hello, Anxiety, REEL IT IN, Swang, Please Me, Dirty Little Secret, That's Not My Name, Take Me On, Sugar, We're Goin' Down, Blackjack, Song About You.




Film Reviews:

Los Scavengers, Four Kids and It, The Quarry, Adventure Force 5, My Mistress, Kid West, The Adventures of A.R.I.: My Robot Friend, All the Bright Places, To All The Boys: P.S. I Still Love You, Spider-Man: Into the Spider-Verse, What Love Looks Like, Flight of the Innocent, A World Away, Blinded by the Light, Baywatch, Ready or Not, The Santa Clause, Good Boys, Billions for Boris, Billy Owens and the Secret of the Runes, The Lego Movie 2, Spider-Man: Far From Home, Yesterday, Bark Ranger, The Kids from 62-F, Always Be My Maybe, Shazam!.

New listings: The Rodriguez and the Beyond, Drought, The Wild Soccer Bunch 6, Young Hearts, Breathing, The Wretched, The Current, A Doggone Adventure, Dummie the Mummy and the Tomb of Achnetut, Brittany Runs a Marathon, What the Waters Left Behind, Grantham & Rose,I Still Believe, The Turning, The Lost Medallion: The Adventures of Billy Stone, Northern Lights, Last Chance Detectives, A Fairy's Game, The Atoning. Go to the Chuck Taylor in Films Index Page.




Articles:

The Outlook for Seasonal Chucks page has been updated for Spring, 2020. The Honor Roll for Actors Wearing Chucks in Films and Television Shows has reached 103 honorees with the addition of Tanner Buchanan. Go to the Articles about Chucks Index Page.

How to Participate in Chuck Talk. Let us know what you think! We are also happy to try and answer your questions and inquiries about chucks, and listen to what you are thinking about. If you have some opinions, information, pictures, suggestions, or an article to submit, just click on the link, How to Participate in Chuck Talk to access our email address.
Celebrate Pride Year Round with Chucks!
The Supreme Court recently ruled that Title VII of the Civil Rights Act that bars discrimination based on sex extends to LGBTQ+ workers. The landmark ruling offers protection to millions across the country who can no longer be discriminated against by employers on the basis of their sexuality or gender. This comes in the middle of Pride month in the U.S., and has been a welcome celebration during these challenging times. As most Pride celebrations were cancelled because of COVID-19, many have taken to their homes and social media to celebrate Pride by donning the outfits they would have worn to Pride at home. Now if you're looking to celebrate Pride through your chucks, Converse has got you covered as they have unveiled their annual "Pride by You" line.
Just a few of the design options available in Converse's "Pride by You" line of chucks.
The "Pride by You" line features a slew of predesigned chucks celebrating Pride. These can be enhanced even further by using the Converse customizer to add more Pride designs to almost every aspect of the shoe. This allows you to go as bold as you like on whichever part of your chucks you want. There are also flag designs for other sexualities, including Transgender, Pansexual, Bisexual, Asexual, and Non-binary. These custom chucks range in price between $75-$105, depending on the style. There are also children's options priced at $55. So while Pride month may almost be over, by getting your own pair of custom chucks, you'll be able to celebrate year round in your own custom style. Live your life with pride and Happy Pride!
Spider-Punk Fighting Crime in Spider-Chucks
In Marvel Comics, there is the multiverse. The multiverse is the concept that apart from the main Marvel Universe, there are endless alternate realities that feature alternate versions and histories of the heroes we know and love. Perhaps no hero has utilized the multiverse more than the Friendly Neighborhood Spider-Man. There have been many alternate versions of the Wall Crawler over the years, with the 2018 animated film Spider-Man: Into the Spider-Verse showcasing some of the most popular Spider-people. However, one character has quickly become a fan favorite despite not yet having his own comic: Spider-Punk. Hobart "Hobie" Brown is a homeless teenager that, after being bitten by an irradiated spider, became the Spider-Man of Earth-138. His costume is inspired by punk-rock culture, as is the gorgeous the classic red and blue onesie that Spider-Man is known for. He has a stylized unitard that features a built in spiked mohawk, which he wears a denim vest and red chucks over. His red chucks help him stand out because most versions of Spider-Man forgo shoes altogether.
Spider-Punk action figure with his webbed guitar and custom chucks (Top Left), Spider-Punk as he appears in the PS4 game Spider-Man (Bottom Left), Spider-Punk as he appears in the comics (Right)
While Spider-Punk has yet to receive his own solo comic run, he has made quite a few appearances since his debut in 2015. Appearing in the Spider-Man comic events Spider-Verse and Spider-Geddon, Spider-Punk was a vocal character who proved to be valuable in both battles against the blood sucking Inheritors. Spider-Punk has also appeared as an unlockable character in the mobile game Spider-Man Unlimited, and as an alternate costume in the 2018 PS4 game Spider-Man. These appearances and his punk look have made Spider-Punk a cosplay staple at conventions, and is a great option for those who want to cosplay as Spider-Man but also want to incorporate chucks. With a memorable and easy to cosplay punk aesthetic, it's easy to see how Spider-Punk has become a quick fan favorite of Spider-Man fans.
Twisted Vacation High Top Chucks
Twisted Vacation chucks are an all over tie dye design meant for wear during the summer months. The sneakers come in two different colors, raspberry pink with royal blue shoelaces and black with lemongrass yellow (or standard white) shoelaces. The tie die design is radial, emanating from the inside ankle patches. Like all of the seasonal designs, they have black and white ankle patches, heel patches, white outer foxing and black racing stripes. The uppers are a combination polyester and canvas mix. One nice feature is that the shoes come with ortholite insoles that match their basic color. Twisted Vacation high tops retail at $60.00.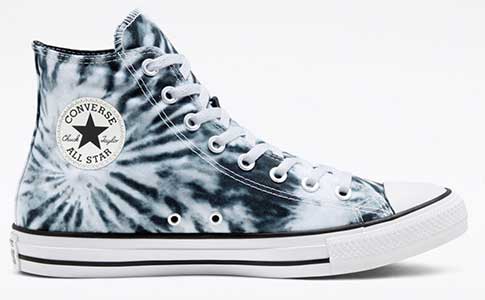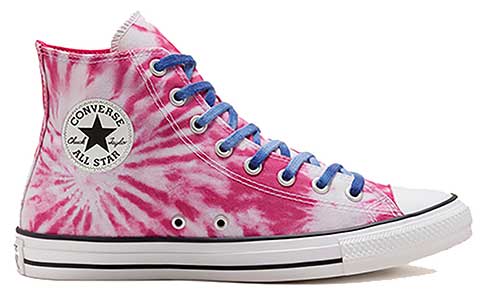 Black and Pink Twisted Vacation high top chucks.
Twisted Vacation chucks also come in two low top models. There is a game royal blue model with pink shoelaces, the same colors you see in the high top but reversed, and a malachite green with either game royal or white shoelaces. These pairs retail for $55.00.
Soleful: Sneaker Stories
Recently Hal Peterson (author of the book Chucks! The Phenomonon of the Converse All Star Chuck Taylor) was a guest on the UK podcast Soleful: Sneaker Stories, hosted by sneaker experts Kish Kash (@kishkash1) and Jason Coles (@madebyjase) 'Soleful' is a weekly deep dive into the world of sneakers and sneaker culture. The topic was All Time All Star: The Hundred Year Old Shoe. Kish and Jason talk to Hal about the best selling sneaker of all time, the Converse Chuck Taylor All Star, and learn about the origins of the shoe, its five decade dominance in basketball, and why, despite recently celebrating its 100th birthday, it remains so popular. (This podcast was recorded remotely due to the Covid-19 pandemic.) Twitter: @Soleful_Podcast, Instagram: @Soleful_Podcast, and on Apple #SolefulPodcast.
Soleful Sneaker Stories is a Goalhanger Films production,
produced by Jon Gill, Joey McCarthy, and Executive Producer Tony Pastor.
Here are direct links to the podcast:
Apple: https://podcasts.apple.com/gb/podcast/soleful-sneaker-stories/id1509493785
Spotify: https://open.spotify.com/show/4baBPlvPp4MUdaaJy8zbgO
Google Podcasts: https://podcasts.google.com/?feed=aHR0cHM6Ly9yc3MuYWNhc3QuY29tL3NvbGVmdWw&hl=en-GB
Psychedelic Chucks
If you want a different look on your chucks, check out these new models. Psychedelic Hoops Chuck Taylor All Star high tops feature a gradient upper in either blue, green, and red colors or black and green lemongrass. They have white foxing with black racing stripes and a black and white ankle patch, typical now of Converse's seasonal issues. These chucks retail at $65. There is a low top model in green and blue for $60. There are Chuck 70 models of the Psychedelic Hoops high and low tops but they are of a different design, 2-tone solid colors in red/white and green/white.
Classic Chuck Taylor Psychedelic Hoops high tops.
Another different looking summer model are the Sunblocked Chuck Taylor All Star high top. The colors are described as Fuel Orange and Moonstone Violet. On these shoes, the rear half has been sunblocked with a more faded look than the front. They have a white, orange, and faded violet ankle patches, and black, violet, and white heel patches. The rear half of the traditional white outer foxing and black racing stripe has been replaced with orange and violet. These shoes retail at $60.
A left orange sunblocked high top.
Chucks for the Summer
Among the seasonal chucks meant for summer wear is a product line called the Summer Breath Chuck Taylor All Star. Their main feature is a breathable knit upper, with larger holes than regular canvas. High tops in this line come in Bold Mandarin (Orange) and Egyptian Blue. The ankle strips for these sneakers are in a slightly different color of orange or blue, and any stitching matches the color of the uppers, rather than the usual white stitching you see on pairs of chucks. The high tops come with the usual white foxing and black racing stripes, and the ankle patches and heel patches are also black and white. The high tops retail at $65. Summer Breath chucks also come in two low top models, Amarillo Yellow and Engine Smoke Black. They are priced at $60.
Egyptian Blue Summer Breath and Twisted Upper Chuck Taylor All Star high tops.
Another summer time model is the Twisted Upper high top. These combine a cutaway upper pink high top with the rear half of an orange low cut, which leaves an opening at the back of each shoe. Like most other seasonal chucks, they have the traditional white toe cap and foxing with black racing stripes. The ankle patch is partially cut away and to make up for this, the tongues of the Twisted Upper chucks have the black and white license plate logo you normally see on pairs of low cut chucks. These sneakers retail at $65.
Chucks Are An All Time Top Five Basketball Shoe
Recently ESPN came out with its rankings of the best 75 basketball shoes of all time. In its listing, the Converse All Star Chuck Taylor shoe came in at number 5. This shouldn't really be a surprise, given the fact that chucks were the dominant basketball shoe for over four decades. In its heyday as the premiere basketball shoe, chucks were worn by nearly every professional, college, and high school player. Many of the greatest players of all time wore them while setting records and providing us with some of the best moments in sports. Think of Wilt Chamberlain, Bill Russell, Bob Cousy, Larry Bird, Julius Erving, and Pete Maravich, to list a few names.
For decades all the great players and teams wore high top chucks.
It was a mistake for marketing people at Converse to start saying in the 1990s that chucks were now just leisure shoes. Sure they are great in that part of your life, as so many people like to wear them all the time, but they were designed to play basketball in originally. During his lifetime, Chuck Taylor and the Converse Company spent decades tweaking their design and manufacture so that they would be the finest basketball shoe of its day. That emphasis on quality control can't be taken away from their history or from their functionality as an athletic shoe. Converse should take up that cause again and get endorsers to wear basic chucks or Chuck 70s while playing basketball as they did in the past. Wouldn't that be great to see in a professional or college game again?
Classic Shoelaces Now Available in Charcoal Grey
The ChucksConnection has added a new color to its line of classic shoelaces for chucks. Now you can get charcoal grey classic shoelaces in 45 inch, 54 inch, and 63 inch lengths. Now you have three grey shades to chose from: charcoal grey, metal grey, and light grey (silver) in classic or flat ribbed models. You can see how the new charcoal grey color looks on various pairs of chucks by going to our Classic Athletic Shoelaces on Chucks, Gallery 1. For more information about shoelaces for chucks, go to our shoelaces home page, where you can access our information page, shoelace guide, lacing tips and tutorials, and the many other styles of shoelaces for chucks that we carry in our online store.
Charcoal Grey classic shoelaces on core color high top chucks.
Start Summer Early with Chucks
As we all sit in quarantine and responsibly social distance, it's come to the unfortunate truth that Spring, 2020 is basically a wash. According to health officials, this quarantine is likely to last through May (at least), so we may all be making our first contact with the outside world again in the Summer. This means that now is the perfect time to start planning for your Summer look, especially since Converse just unveiled their new Summer styles collection. Inspired by nature, this collection includes several styles of chucks, Chuck 70's, shirts, backpacks, and hats for both kids and adults.
Whether you're into something from nature or something bold and new, there's a summer Chuck Taylor for you!
With the vast array of chucks available, there is sure to be something for everyone. There are styles that feature bright, summery colors and stripes. There are chucks that have designs based on nature, featuring daisies, flames, and tiger stripes. There are also chucks based on camp vests featuring canvas colors and patches. Finally, there is the sure to be decisive yet bold Buckle Up chucks. These chucks have a built in, mini fanny pack that can store small items. These come in both black and white pairs that feature neon green and pink bags. There's plenty more that can be seen in full on Converse.com, and all the chucks range in price from $65-$75. So whether you want to get started on your Summer, or maybe dress to brighten up your quarantine, Converse has what you need!
New Seasonal Colors for Spring, 2020
Converse has just announced some additions to its seasonal color line up of chucks for this spring. New arrivals in both high top and low cut models include Apricot Agate, Ceramic Teal, Champagne, and Ghost. They are all pastel colors with apricot Agate a light orange, Ceramic Teal a light blue-green, Champagne a light pink, and Ghost a light purple. These are in additional to Coast Blue, Laser Orange, Peony Pink, Snorkel Blue, and Wolf Grey announced in January. Their current practice in manufacturing seasonal colors now means that every high top pair comes a black and white ankle patch, and black racing stripes. The low top pairs have license plate logo squares in black and white sewn on their tongues.
Apricot Agate and Ceramic Teal seasonal high top chucks.
Also announced are high tops in Amazon Green, a bright green shade, and Japanese Eggplant, which is a dark purple color. Last season Amazon Green low tops were in the seasonal mix, but not the high top model, most likely due to manufacturing issues. Converse has reissued several low cut models, Coastal Pink. Desrt Khaki, Light Redwordd, Stellar Indigo, and Storm Pink. If you see a particular seasonal color you like, we suggest you buy it right away if you can. Most likely you can get them on sale due to our current economic situation, but do remember that these colors and models are usually one time only issues. That's why some of the earlier seasonal models, especially the returning ones, are no longer available. You can see the other new models on our Shoe Outlook page, one of our About Chucks features.
Social Distancing with Chucks
We are living in scary times. With Coronavirus Covid 19 sending the world into a global pandemic, many must stay at home to help flatten the curve and keep the disease from spreading. This has led to a lot of people having a vast amount of down time while they practice social distancing. You may be asking yourself what is there to do once you've binge watched those shows you've put off, and caught up on your housekeeping? Well if you've got on your favorite pair of chucks, there's still plenty to do while also making sure you're staying safe.
Social distancing can take its toll but it's what is needed right now.
Social distancing does not necessarily mean you have to stay indoors. You can still go outside to exercise, walk your dog, and get vital services, etc. So as long as you keep a safe distance from others, lace up those chucks and go for a run or walk around your local park. Chucks are also the perfect shoe for weightlifting and aerobic exercises, so you can also get a sweat indoors. This is the perfect time to work on yourself physically and mentally. The days are getting longer and with the isolation of quarantine, it's important to make sure you're staying mentally fit by continuing to engage with friends over the phone and online. So wear your chucks proudly as you help flatten the Coronavirus curve. Remember to wash your hands, stay home if you're sick, and to practice social distancing. Together, we'll get through this pandemic, and back to wearing our chucks together out in the world.
"I Stand For" Chucks
In collaboration with SiKK Magazine, a student-founded collective out of Washington D.C., Converse has produced the "I Stand For" Chuck Taylor All Star high top. The shoe design came out of a two day seminar held with magazine staff and Converse shoe designers. SiKK Magazine's mission is "to highlight Black creativity freshly and positively, to inspire other Black artists to believe in and follow their creative passions, and to educate about and advocate for the expansion of Black people in all fields of art."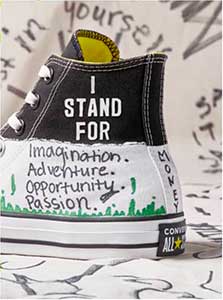 Students wearing I Stand For high top chucks that they have customized; shoe closeup.
The sneaker has a white bottom half and a black upper half, with the words "I Stand For" printed in white lettering. The shoe also has other black and white features, including the racing stripes, outer foxing, and ankle patch. Each shoe is completed with a yellow interior, heel patch star, and outer sole. Included with your purchase is a black marking pen, so you can print the causes dear to you on the bottom half of each sneaker. You also get a SiKK sticker. "I Stand For" Chuck Taylor All Star high tops retail for $60. This is a great idea, but not a new one. People have been scribbling on their chucks ever since they came out with white rubber foxing and toe caps.
March Madness Is Cancelled But You Can Still Support Your Team
Converse is encouraging you to show off your favorite basketball team's colors with a pair of customized high top chucks. These customized pairs allow you to choose the color for the canvas upper, both inside and out, the color of the binding at their top and on the tongues, the heel stripes, the inside lining, the ankle patch design, the color of the rubber sidewalls, their shoelace color, the color of their eyelets, and the name of your team embroidered onto the outside canvas. You even get a keychain with your name on it. The picture shows an example of one of these Rep Your Team pairs, made in red, blue, and green. These pairs cost $75.
Angled side and top views of one Rep Your Team high top design.
You do have another option that is less expensive. Depending on your team's colors, get a core or seasonal high top in one of your team's colors, and a pair of shoelaces in the second color. This is something that has been done for decades by people who like wearing chucks. No matter what you decide to do and despite all the cancellations due to the pandemic, you can still show your support for your favorite team by staying laced in a pair of customized chucks this year.
Ciao Bella
The US Converse Company has recently offered a line of chucks for sale designed and made for the Italian Converse Company. There are 39 different models of Chuck Taylors and Chuck 70s for sale. While fourteen of the models are meant for women only, the other 25 are unisex, meant for everyone to wear. Women's models include platform high tops and low tops, sherpa upper, leopard and metallic rainbow print high tops.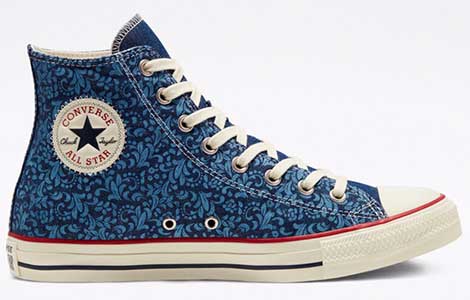 Red reconstructed and obsidian floral print high tops.
Unisex models include three reconstructed chucks issues in red, black, and white. These feature a normal looking high top back that is cut off midway and fused onto an altered front. There are a number of printed canvas upper models like the obsidian blue floral print high top shown above and a culture weave Chuck 70. Other models include plaids and artistic prints. A popular embroidered model is now sold out.
White and aqua double upper high top with black trim.
This line of Italian designed chucks also includes the return of the double upper high top. There are three models in the series, the white and aqua shown above, a black, gold, and red model, and a black, grey, and white model. If you want a new look for the spring, check these chucks out.
New Wider Width Chucks
The two most popular models of classic high top chucks are now available in a wider width. Chucks have always been made in just one width, D, which is meant for a medium width foot, which most people have. But now you can purchase a black or optical white high top pair of chucks in a wider (E) width. Both models look the same as their standard width counterparts and the price differential is only five dollars, currently $55 for standard width chucks and $60 for wide width chucks.
Black and Optical White high top chucks are now available in wide widths.
You can also purchase black or optical white low top chucks in wide widths. The price for those pairs is $55.
Love Yourself, Love Your Chucks
Who do you love? A boyfriend? Girlfriend? Maybe a family member? What about yourself? As Valentine's Day approaches, love is in the air. However, while many find this time of year intoxicating and a chance to express your love for others, many struggle with loneliness and with self-love. With hearts and flowers everywhere you look, it can be hard to find love for yourself while being alone. With that in mind, Converse has created their "Love Fearlessly" Collection because "in a world where finding validation and love externally is the standard, Converse will celebrate the power of loving yourself first".
(L) The Love Fearlessly line of Chuck Taylors and Chuck 70's features a wide variety of designs and colors.
(R) The details on these chucks remind us all to love ourselves this Valentine's season.
The Love Fearlessly Collection features a wide array of different styles of Chuck Taylors and Chuck 70s, coming in both unisex, women's, and kid's sizes. The colorways included range from classic black to bold pinks. Each different pair of chucks has unique details, such as mini hearts and positive messages both on the inside and outside of the shoe. These shoes vary in price, with the kids' chucks coming between $25-$40, the Chuck Taylors between $40-$70, and the Chuck 70s between $80-$95. The collection also features four different hoodies, coming in red, black, and pink designs. The hoodies all cost $65, but only come in women's sizes. This whole collection is an outward way to express your self confidence and belief in yourself this season, and can help instill confidence if you're lacking it. So love fearlessly this Valentine's season, love those around you, and most importantly, love yourself because you deserve it.
The Return of Side Pocket Chucks
Cargo chucks were a special model of the high top Chuck Taylor released in the 1990s. Now with Converse re-releasing a lot of their older designs, these sneakers are back in two new models. These high tops have a small side pocket with a buttoned flap, actually a metal snap, on the outside upper of each shoe. The side pockets are great if you are hiking or walking around and don't want to have loaded pants pockets. They are just the right size for some folded bills or a few coins, or a house or car key. The inside uppers have a black and white Chuck Taylor ankle patch. The outer soles are black and the inner lining features a camouflage print. The new models are called Side Pocket chucks.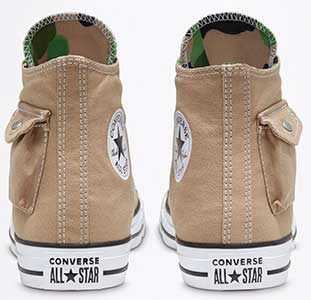 Cypress green and khaki side pocket chucks.
One other difference is that side pocket chucks no longer have the words "All Star" on the pocket flaps, relying on the heel and ankle patches to display those words. The new models come in cypress green or khaki uppers with white shoelaces, black racing stripes, and bright white foxing and toe caps. They retail for $65.00. Click here to view a photo gallery of cypress green and khaki side pocket chucks.
The Return of Jurassic Chucks
For 2020, Converse has reintroduced a line of dinosaur themed chucks for kids. Called "dinoverse", there are fifteen models that you can chose from, in toddler and youth sizes. The sneakers have a number of distinct features, some of which are the same as their previous issues a number of year ago. They feature plaid print uppers, a special Dinoverse ankle patch on the outside of the high top models, in addition to the regular Chuck Taylor ankle patch, a dinoverse print insole, and dinosaur footprints on the outer soles. The grey plaid model feature neon yellow, red, and blue dinosaurs with white shoelaces and black racing stripes. The white plaid model has red, green, gold, and blue dinosaurs with red shoelaces and racing stripes. These come in low top top models in a hook and loop or velcro strap design. Addionally, there is an interstellar print design on close out.

Inside patch view of a grey Dinoverse high top, and outside view of a white Dinoverse high top.
For kids who want a more conventional upper, there is a black high top model that has yellow spikes on the ankle support and a hook and loop design (an upper strap at the top and a loop on the rear of each shoe). This design is also available in a low top design.
Inside patch view of a black Dinoverse high top.
There is also the optional to make a custom designed dinoverse shoe from a choice of six different background colors: black, pink, white print, plain white, aqua, and green.
Here Come the Chucks!
Couples have been getting married in pairs of chucks for a long time now. Back when this site first opened over two decades ago, it was considered a big deal to wear sneakers at what has always been a tradionally formal occasion. We have posted several articles on about this (you can see them in our Articles section). Over the years, wedding parties wearing chucks has become more and more common as young couples discard uncomfortable formal footwear for their favorite pairs of chucks. Now finally Converse has recognized this trend by releasing three low models in white, black and red meant for weddings. Perhaps the right idea, but rather limiting considering what is available in the complete world of chucks.
A bride wearing optical white high tops with a groom in black high top chucks.
If wearing low top chucks is your thing, then go ahead and wear them, although there is no special need to buy a wedding pair, when any new standard pair will do. And many couples prefer to sport their favorite pairs of high tops, like the couple in the photo above. And you shouldn't necessarily limit yourself to a few core colors when there are all kinds of seasonal models in a wide variety of colors that will match or complement the dress of your wedding party. A new pair of chucks for each member of your wedding party makes a great gift that can be worn for a long time afterwards.
This wedding party is wearing blue flames high tops.
There is a third alternative if you want to maintain a formal look, but still wear chucks. Choose either black or white monochrome pairs for your wedding party. You can get them in either leather or canvas uppers, and they look great with tuxedos and wedding dresses. You can polish the leather chucks to a bright sheen just like any dress shoe. And your feet will be comfortable all through the service and the partying afterwords.
Twisted Chucks
Converse has come out with a new seasonal line of chucks that takes the traditional high and low models and twists their design to come up with what they call Converse Twisted. The line of sneakers features the work of six young designers, called the Changemakers, who are "using art—and activism—to inspire progress." One of the models is called Logo Play CPX70 and comes in two color combinations, black and white, with a little patch of jaguar pattern on the outside upper, and Egret/White/University Red with brief touches of light blue on the ankle patch and middle racing stripe. The main twists in this model have to do with redesign of the ankle area of the shoe, and the separation of the foxing into three distinct sections. Other features of the CPX70 include rubber cupsoled made from classic chucks and other Converse model outsole designs, spliced ankle patches with mixed archival brand designs, and an injected molded nylon shank for added support.
The Changemakers modeling their Converse Twisted designs.
Another model set in the twisted series is the Logo Play Chuck Taylor All Star, which comes in red, black, or white high tops, and in a white low top. The high tops feature stacked ankle patches and a doubled up toe bumper indicated by red, blue, or black trim. In the case of the low top model, the Converse All Star license plate logos that you normally see at the top of the tongues and stacked up on the ankle support just above the heel patch, and a red trim to show off the double toe bumper. Other models in the twisted line include a platform low top, a twisted prep chuck 70, a varsity remix, and a cut-and-sew remix of classic chucks.
Seasonal Colors for 2020
Converse has announced Chuck Taylor seasonal color models for 2020. The new chucks come in high top, low top, and platform low models. New colors available in all three models include Peony Pink and Wolf Grey. Snorkel Blue, Laser orange, and Coast Blue are available in high and low tops. Ocean Mist is available in high top and platform low, while Cypress Green is only available in low top.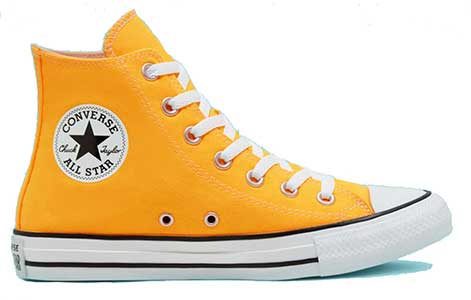 Coast Blue and Laser Orange high tops.
Returning high top seasonal colors for 2020 include Bright Crimson, Polar Blue, Midnight Turq, Golden Poppy, Hyper Royal, Barely Rose, Bold Citron, Aphid Green, Light Zitron, Lemon Chrome, and Maroon. Returning low top seasonal colors are Particle Beige, Golden Poppy, Orange Rind, Turbo Green, Lilac Mist, Mineral Teal, Pink foam, Violet Ash, Barkroot Brown, Ridgerock Brown, Strawberry Jam, Bleached Aqua, and Maroon.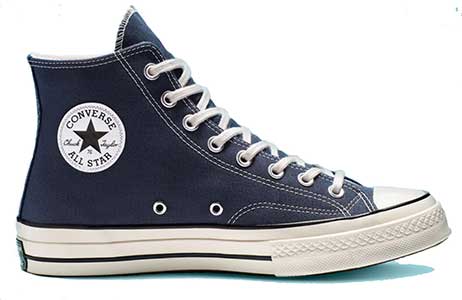 Midnight Turq high top chuck, Obsidian Chuck 70 high top.
All of these Chuck 70 colors are returning in both high and low top: Black, Magic Flamingo (pink), Mason (Grey), Parchment, White, and Sunflower. Added to the collection is Obsidian, a black/green shade also available in high and low top. There all also three leather models, Rose Maroon and White high tops, and Black low tops. You can see photos of all these models on the Chucks Outlook page.
Primaloft Chuck 70s
PrimaLoft is a brand of patented synthetic microfiber thermal insulation material that was developed for the United States Army in the 1980s. Converse has combined a thin layer of primaloft with netted ripstop nylon to create a thermal upper for two winter models of their Chuck 70 line. The sneakers feature a gradient coloring on the uppers: Quartz rose blends into yellow and rich maroon hues; royal blue fades to capri turquoise and white. They also have additional cushioning for comfort.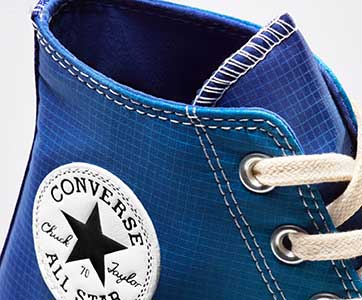 Royal Blue Primaloft Chuck 70s showing a closeup of the netted upper and an angled side view.
Happy New Year
As we move into a new decade, the third for The ChucksConnection, we will continue to keep you informed about the latest releases of chucks, along with the presence of chucks in films, television shows, the news media, and in music videos. We will continue to make photo galleries of chucks and people wearing chucks, and provide you with tips and information about their care and wear. Whenever possible, we will try to answer your questions about chucks, and appreciated any tips about their presence in visual and print media.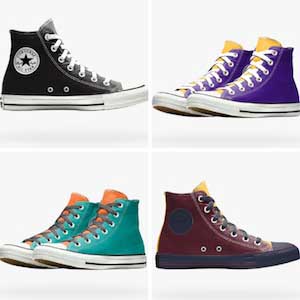 What new models and colors will come out in 2020?
Happy New Year from The ChucksConnection.
Chuck 70 Is Big Factor in Nike Bottom Line
This past year, Converse has issued a record number of new models, some new designs and patterns from Converse, and others in partnership with fashion designers. We have reported on a number of these new Chck 70 issues on this page and will continue to do so. As a result, sales of the Chuck 70 line in the past year have surged enough to affect the bottom line for its parent company Nike in a very positive way. We have posted an article from Yahoo Finance editor Brian Sozzi on this topic.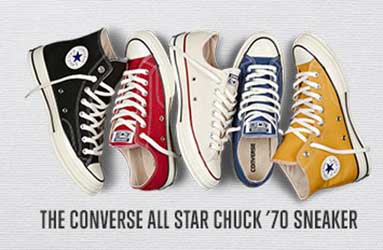 Some of the original Chuck 70 issues.
The Converse company continues to push the Chuck 70 line, as they retail $15 to $30 more than the standard Chuck Taylor. As long as they continue to make authentic core and seasonal color chucks this is okay. It would be nice to see a Chuck 70 that is a reproduction of the Chuck Taylor of the 1970s in all ways. There are differences in the stitching on the ankle support and the coloration of the outer foxing that could be easily fixed. It would also be nice to see the toe cap size a little larger, like chucks in the eighties and on. Regardless of these fine points, it is nice to see that chucks are still an important part of modern day fashion.
Chuck Taylor PC Boot
If you live in a cold and wet climate during the winter months, but still want to wear chucks, the Chuck Taylor PC Boot may be the cold weather shoe for you. Converse describes the PC Boot as "a weather-ready reimagination of classic chucks, designed to take on the elements. Leather-trimmed, water-resistant sudede is paired with hiking-inspired hardware, a weatherized outsole and a padded collar for support." The boots are custom made, with choices of color, leather trim, patches, and narrow round or flat laces. The Chuck Taylor PC Boot costs $110.00.
A wheat Chuck Taylor PC Boot.
Latest Seasonal Chucks
Converse has just announced four additional high top and four additional low top seasonal colors for the fall, 2019. The new high top colors are Bright Crimson, Barely Rose, Midnight Turq, and Polar Blue. The new low top colors are Blended Aqua, Lilac Mist, Ridgerock, and Turbo Green. They have also brought back or continued an additional seven seasonal colors in high top, and eleven in low top models. These chucks are priced at $55 for high tops and $50 for low tops.
Bright Crimson and Midnight Turq seasonal high top chucks.
The continuing and returning seasonal colors in high top models for fall are Gold Dart, Jade Stone, Hyper Royal, Golden Poppy, Bold Citron, Aphid Green, and Lt Zitron. The low top models are Strawberry Jam, Barkroot Brown, Coastal Pink, Orange Rind, Golden Poppy, Desert Khaki, Light Redwood, Stellar Indigo, Mineral Teal, Pink Foam, and Violet Ash. You can view photos of all these new seasonal models and colors on our Shoe Outlook page.
Chucks for Cold and Wet Weather
Now that fall is here and the weather is starting to change, if you live in an area of the country that gets a lot of cold or wet weather, you might want to get yourself a pair of chucks designed to do well in inclement weather. If you must deal with a lot of rain or snow, the Chuck Taylor All Star Winter Water Repellant high top might be the perfect shoe for you. These chucks are made with water repellent leather, have sturdy gusseted tongues, and warm lining inside. They feature traction outsole, narrow round shoelaces, and bootlike hardware on the upper two eyelet pairs. Winter Water Repellant high tops come in four color combinations, black and white with obsidian flecks, monochrome black, and olive green or carbon grey with black and white details. They retail at $80. Another option is the Wale Cord high top in either wheat or dark obsidian with black and white trim. The sneakers, priced at $65, are made with vintage inspired corduroy, which will keep you warm and comfortable.
Black and white water repellent and wheat wale cord high tops.
Other options for the wet and cold are Chuck 70 Gore Tex high tops that use the Gore Tex waterproofing technology. These chucks come in wheat or black, with a Gore Tex graphic on the uppers. These shoes also have woven ankle patches, OrthoLite insoles, narrow round laces and retail at $110. And finally there is a line of suede leather high tops that come in three colors, Hummus, Almost Black, and Burnt Umber. These chucks have colored toe caps, heel loop ankle straps, and a speed hook on the top eyelets. They cost $70.
Wheat Gore-Tex and Almost Black Suede high tops.
You'll Never Need to Chuck Your Chucks
Here's one correspondent's views about chucks: "There is an awesome culture surrounding your chucks, but that's not the most important thing when finding new footwear. What matters most is how they benefit the single person investing in them. This is how they worked for me:
"I originally encountered chucks shortly after I turned thirteen. Several years earlier, my mom bought my older brother a pair of white low tops which didn't fit him properly. Realizing that my shoe size had finally reached that of the shoes in question, my mom pulled them out of storage and offered them to me. Finally being offered my first fashionable shoe, I quickly slipped them on and wore them nigh exclusively for a whole month. After changing what I wore on my feet, my entire image of my own fashion changed and I became more confident in my style and presentation.
A pair of chucks can change your sense of fashion.
"This one pair of chucks is with me even to this day, nearly a decade later. They have been a foothold (pun intended) in keeping my look up to date every single one of those years. I will always be grateful to these shoes for introducing a just beginning to be fashion-conscious boy to the idea that I could be proud of what I put on my feet. Now, when I look at the family of chucks, I can say confidently that the shoe fits."
Gift Ideas For That Chucks Person On Your List
Finding the right gift at the right price is often difficult, especially if you are on a budget. If you know (or are) someone who is an enthusiatic fan and wearer of chucks, what do you get that person besides a new pair of chucks? These days a new pair is a big gift, with the prices ranging between $50 to $100 for most new pairs. Luckily The ChucksConnection is here to assist you with a short list of credible gifts that range in price from $2 to $20 and appropriate for people of all ages. Go to our Gifts Page to see the complete list of our recommendations.
Videos and Short Films with Chucks
We have started a new feature on The ChucksConnection that addresses videos and short films where actors wear chucks. These films are normally seen on websites like YouTube and Vimeo and made by amateur or aspiring filmmakers. Too short to be included on our Chuck Taylor in Films page and not released to the public through paid streaming, DVD or BlueRay, these videos and films are free for viewing, and we provide links to them on our new Videos and Short Films with Chucks page.
Check these out on our new page.
Like our other media pages, Videos and Short Films with Chucks is a work in progress. If you know of a video or short film that qualifies for this new page, send us the information and link to films@chucksconnection.com.
How to Participate in Chuck Talk
Do you have some things to say about Chuck Taylors? If you have an article or other interesting information about chucks to submit to this website, please contact us at mail@chucksconnection.com.
Chuck Talk Archives

ChuckTalk articles from previous years