18th Century European Art is Transformed into a Modern Classic on Chucks

New or Updated Photo Galleries:


Zendaya, Actors Wearing Red Chucks in Films, Joshua Bassett, Amanda Seyfried, Victoria Justice, Taylor Swift, Washed Indigo High Top Chucks, Midnight Barq High Top Chucks, Bright Crimson High Top Chucks, Jessie Reyez, Side Pocket High Top Chucks, People Wearing Red Chucks, Paul McCartney, George Harrison, Chuck Taylor PC Boots, Coolest Chucks Moments in Film, Magenta Renew High Top Chucks, Austin Asher Stills from Shazam!, Washed Denim Blue High Top Chucks, Red Hot Chili Pipers, R5, Rozzi Crane, Bow Wow, Nicky, Ricky, Dicky & Dawn, YG, Guys Wearing Red Chucks, Sabrina Carpenter, Mac Miller, Guys Wearing Black Chucks, Guys Wearing Optical White Chucks, Cobra Kai, Coolest Chucks Moments in Film.

Videos and Short Films With Chucks:

Unclaimed, Flat Out, Caught, A Bathroom on Drake, A Fish Out of Water, Playdate, Survivants, The Worst Day Ever, Hero, Clark, The Bend, The Glass Castle, Summer '78, RC Cola Ad, Under Stars, RCA, The Bat, Kid, the Moon, We Are Boys, 12 Ways to Style Converse Sneakers, Customize your Converse All Star with Hydro Dipping!, How to Style Converse Chuck Taylor High Top Sneakers for men and women, Midnight Marathon, Muse, Radio Shack Ad from 1994, I Love Sarah Jane, Growth, The Businessmen, Fractured, Bottle Cap Kick Challenge, Snake Bite. Go to the Videos and Short Films with Chucks page.


TV Page Features:

Many listings have been updated. New listings with an article: All-American, Hollywood, Stranger Things, Season 3, Deadly Class, Iron Fist, On My Block, The Temptations, Rise, Grown-ish, How I Met Your Mother, Mom, Parks and Recreation, Game of Silence, Stranger Things, Season 2, Greenhouse Academy, The Carmichael Show, Sha Na Na, Preacher, Friday Night Lights, Sun Records.

Other recent listings are: The Neighborhood, Way Down Cellar, Space Force, Designated Survivor, Almost Paradise, Locke and Key, Ragnarok, NCIS, Euphoria, The Boys, Shameless, Catastrophe, Nicky, Ricky, Dicky & Dawn, Single Parents, Cobra Kai, Young Sheldon, Fargo. Go to the Television Shows with Chucks Index Page.

Music Video Reviews:


Winter, Anyone Else, Therefore I Am, Orphans, Easy Come, Easy Go, Give It To You, The Schuyler Sisters, Justin Timberlake Medley, 100 Grandkids, Lost in the Echo, Go To Church, Music Everywhere, MAYBE (Deconstructed), I Rep That West, I Want to Know What Love Is, Prima Donna, I Want Crazy, You and I Both, So What?, Go Loko, All For Us, Any Kind of Guy, The End of the Game, Never Catch Me, Boomerang, Motivation, Time in a Tree, Dreams, Young, Wild, and Free, Señorita, Murder Was the Case, Gangsta Luv, Higher, What's My Age Again?, Light It Up, The Great Escape, Cool, Here With Me, Hello, Anxiety, REEL IT IN.




Film Reviews:

Bad Moms, The Witches, Vampires vs. the Bronx, We'll Rise At Dawn, Seduction Theory, Whiplash, National Treasure: Book of Secrets, Pitch Perfect, Charlie and the Chocolate Factory, Mighty Oak, Los Scavengers, Four Kids and It, The Quarry, Adventure Force 5, My Mistress, Kid West, The Adventures of A.R.I.: My Robot Friend, All the Bright Places, To All The Boys: P.S. I Still Love You, Spider-Man: Into the Spider-Verse, What Love Looks Like, Flight of the Innocent, A World Away, Blinded by the Light, Baywatch, Ready or Not, The Santa Clause, Good Boys, Billions for Boris, Billy Owens and the Secret of the Runes.

New listings: The Secrets We Keep, Slash, Unhinged, Survival Guide, The Dream Catcher, The Child and the Dead, The Baby Sitter: Killer Queen, The Christmas Project Reunion, The Cistern, A Christmas Tail, Rivals, The War With Grandpa, Bill & Ted Face the Music, Gruesome School Trip, Wish Upon A Unicorn, Los Herederos (The Heirs), Bella, Upside-Down Magic, Barely Lethal, The Florida Project, The Rodriguez and the Beyond. Go to the Chuck Taylor in Films Index Page.




Articles:

The Outlook for Seasonal Chucks page has been updated for Spring, 2020. The Honor Roll for Actors Wearing Chucks in Films and Television Shows has reached 106 honorees with the addition of Scott Jacoby. Go to the Articles about Chucks Index Page.

How to Participate in Chuck Talk. Let us know what you think! We are also happy to try and answer your questions and inquiries about chucks, and listen to what you are thinking about. If you have some opinions, information, pictures, suggestions, or an article to submit, just click on the link, How to Participate in Chuck Talk to access our email address.
Holiday Chucks are Here to Bring Cheer to Your Feet!
Halloween has come and gone, and if you go to the store you'll see nothing but snowmen, reindeer, trees, and Santa Claus as far as the eye can see. Yes, as is true every year, we as a people are skipping Thanksgiving and going straight into Christmas planning. With that being said, Converse has released their Holiday Sweater Chuck 70's to wrap your feet in Christmas cheer. While the global pandemic means you likely won't be able to attend many Christmas parties this year, there's no reason not to still show your holiday spirit with your favorite shoe.
The Holiday Sweater Chuck 70 high top.
This collection features both high and low top chucks, with the high tops featuring two distinct designs and the low tops featuring one. The high tops feature the most festive design, which is a green, red, grey, and blue pattern that features Christmas trees, snowflakes, and stars in what can only be described as a Christmas sweater for your feet. The other high top design is a much more simple black affair that features white snowflakes falling across the body, while the low tops come in white with black snowflakes, both of which are much more subtle designs than the Christmas sweater high tops for those who aren't as bold. The low tops come in at $80, and both high tops at $85. Ordering now should ensure that they arrive in time for your holiday celebrations this year. So jingle your jangles and head on over to Converse to get a pair of Christmas sweaters for your feet.
ABA Chucks Highlight Basketball History
The American Basketball Association (also known as the ABA) was a men's professional basketball league that operated from 1967 to 1976. The league was revolutionary with its style of play and rules. It distinguished itself from the established NBA with a wide open, flashy style of play, as well as differences in rules, with a 30-second shot clock and the use of a three-point line. These rules combined with events like the All-Star Game Dunk Contest and star players like Julius Erving, Rick Barry, George Gervin, and Moses Malone helped the ABA establish itself as a viable alternative to the NBA, eventually leading to the NBA/ABA merger in 1976. The ABA's legacy is still felt in the modern game of basketball, so it's only appropriate that this pivotal league in basketball history should be honored by the All-American basketball shoe.
The classic ABA logos really pop on the white chuck canvas.
Converse has released the ABA Chuck 70 as a nod to the league that made the game what it is today. On the canvas of the first sneaker ever designed for the game, Converse has emblazoned the chuck with the logos of all the original ABA teams. The red, white, and blue aesthetic matches the original ball used by the ABA, and the star pattern on the heel stripe evokes the feeling of the classic ABA logo. The classic look of these chucks really brings the whole aesthetic together, and makes you appreciate the basketball history displayed here. The ABA Chuck 70's are $85 and available as an online exclusive at converse.com. A must get for any fan of basketball hosiery, or anyone who loves the classic sports logo aesthetic, these shoes are a perfect addition to your Christmas wish list.
Chucks in Space!
Climate change is real. It's an undeniable, scientific fact at this point, so the only real question is how can we slow it down or stop it. The short answer is a lot, but the long answer is it's going to take a gargantuan effort from both individuals and corporations alike to save our planet from ourselves. That being said, Converse is getting in on the action with their latest model of Chuck Taylors. The Chuck Taylor All Star Crater is Converse's greenest shoe yet, using Nike's SPace Hippie technology to create a chuck that is made with at least 35% recycled content by total weight. The Space Hippie collection is Nike's attempt to make more sustainable shoes by adopting the mindset that materials are scarce so we should utilize our waste or "space junk".
Space Hippies wear chucks now.
Converse has taken that initiative and applied it to the classic All Star body resulting in the Chuck Taylor All Star Crater, keeping with the space theming. The Crater uses recycled polyester and waste scraps as panels where the traditional canvas panels would be. They also reimagine the sole to be lightweight and responsive while still being made from reused scraps.In total, every shoe features 100% recycled pull tab and lining, 100% recycled felt panels, and 100% recycled toecap. This use of scraps updates not only the tech behind the shoe but also the design, as it features imperfections galore on the rubber wall that add a lot of character. The Chuck Taylor All Star Crater comes in three colorways: grey, coral, and yellow, all three of which feature a bright blue rubber wall and sole with the colorful aforementioned imperfections. They're $95 which is considerably more expensive than normal chucks, but as we ramp up our efforts to combat climate change, many of us will have to realize that it's going to cost us.
Polka Dot Party
Tyler, The Creator has been working with Converse since 2017 when he reinterpreted the Converse One Star and introduced his flower design that has come to define the Golf le Fleur collection. In the three years since, his designs have included bold interpretations of various Converse shoes, and he now returns with another. The new Converse X GOLF WANG Chuck 70 revives the iconic polka dot pattern from the archives, bringing back the pattern that was first featured in their 2016 runway show.
Color, color everywhere!
Tyler trades the classic canvas of chucks for washed denim, and then adds colorful, large polka dots. He even has added the dots to the outsole, which adds a colorful touch to an otherwise forgotten design aspect of the chuck. The shoe also features the GOLF WANG logo on the sock liner. The black and white All Star logo is also a nice touch, as it really pops amongst the bright colors on the rest of the shoe. This shoe is a welcome sight for fans of Tyler and GOLF WANG, as the pattern was a big hit back in 2016 and many have been hoping it would make a return. This shoe also adds a great new color palette to the GOLF WANG lineup, with its washed baby blue denim and the bright, big polka dots. Currently, the shoe is only available in a Chuck 70 high top model for $100, with hopes that this pattern will be expanded to more options down the line. So if you're a Tyler fan, a GOLF WANG fan, or just a fan of polka dots these are the shoes for you and they are available now for a limited time!
Converse & Denim Tears Turn Chucks Into More Than A Sneaker
Chucks have been part of the American experience for the better part of the last 100 years, and in that time they have come to symbolize Americana and the American Dream. However, as many have come to reconcile with over this past summer of racial unrest, what if the American Dream doesn't apply to all Americans? If the Chuck is a classic expression of American culture, does its meaning transform when it reflects the Black experience? As part of Converse's initiative to highlight balck voters, designer Tremaine Emory aka Denim Tears uses the canvas of the iconic American flag chuck as a canvas for conversation by replacing it with the African-American flag. The African-American flag is an artistic evolution of Marcus Garvey's red, black and green Pan-African flag, a symbol for African-American culture to this day.
Chucks for the culture.
Near Jamaica Queens, where Tremaine Emory aka Denim Tears grew up, these colors cover the Liberty Rock monument, symbolizing the civil rights, group identity, and experience of African Americans.According to Emory, the flag represents "a distinct moment of personal discovery and a belief that Black artists, their points of view, their experience and their creative expression should be celebrated". That is why his design replaces the familiar red, white, and blue with the red, black, and green. Plastered on the body of the Chuck 70, the colors stand out as an expression of power, grace, and pride. The Converse x Denim Tears Chuck 70 is on sale now for $120, and represents a new American classic. A new American Dream.
Rock the Vote in Chucks!
You may have heard recently, but this is an election year. November 3rd is quickly approaching and while millions have already voted through mail in ballots, many more have yet to cast their choice for who will be the next President of the United States. With that being said, Converse wants you to know your power with a pair of election themed Chuck 70's. The "Be Heard" Chuck 70's are inspired by the polls, with a red, white, and blue color palette. A megaphone emblazoned with the phrase "Be Heard" is shouting red and blue lines across the body of the shoe, while the phrase "Know Your Power" is printed in bold black on the rubber wall. The design itself really stands out, with the red and blue popping on the plain white background. The black phrasing with the black All Star patch also act as statement accents for the design.
Democracy on your feet!
These shoes are perfect for anyone doing in person voting this year, and they scream that I am ready to participate in the great American tradition of voting. Along with releasing the shoe, Converse is also proud to partner with When We All Vote and Rock the Vote to ensure that everyone can cast their vote this season. They've also created a special section of their website, converse.com/vote, which has tons of resources for all voters including polling locations, practice ballots, and tools for getting others to vote with you. So whether you're voting Democrat or Republican, in person or by mail, or if you wear chucks or don't, the important thing is that you VOTE on November 3rd!
Eh, What's up Chuck?
Be very, very quiet, we're hunting All Stars. The All American wabbit is teaming up with the All American shoe as Bugs Bunny celebrates his 80th birthday. To celebrate this momentous occasion, Converse has created and released a whole new collection of Bugs Bunny shoes, sweaters, and shirts. The iconic cartoon trickster is one of the most recognizable characters ever created, and his stories and adventures are an intrinsic part of American pop culture. Considering the same can be said about chucks, this makes a match made in heaven.
Get your own lucky wabbit's feet with any of these pairs of Bugs Bunny chucks.
The collection incorporates all the mischief and mayhem of Bugs into a playful look for fans of all ages. There's a little something for everyone here when it comes to both color and design options. There's a simple red chuck that features Bugs face on the side, and a more bold black chuck that features Bugs using a saw and bursting through the canvas. There's also a white chuck that features an evolution of Bugs on the side. For the bolder dressers, there's also a Chuck 70 that is made of a two tone faux fur that mimics Bugs' actual feet, with the bottoms colored like Bugs' paws. The All Star logo also gets Looney Tuned with the logo taking on the classic orange, yellow and black color. The chucks run between $60-$100, with unisex, little kids, and toddler sizes available. The collection also features shirts and hoodies that feature Bugs munching a carrot, and cost between $35-$75. The Converse x Bugs Bunny collection is available now on Converse.com and is perfect for fans of the world's most famous wascally wabbit.
Real Tree Edge Chucks
With winter aproaching, this new line of chucks is designed for wear in colder weather. There is a classic Chuck Taylor low cut model with coated canvas rural camouflage print uppers. The sneakers have a warm fleece inner lining in neon green, black trim, racing stripes, heel patches, outer sole, and shoelaces, plus a neon green heel stripe. The shoe design is completed with a standard black and white Converse license plate woven tongue label like you see on all low cut chucks.
Real Tree Edge Chuck Taylor low top and red CONS CTAS Pro skater high top.
Real Tree Edge high tops are part of the CONS CTAS Pro line of skater sneakers. These shoes have the same features as the other Chuck Taylor models that combines the look of the classic high top with skate-ready elements. They feature "a molded CX Foam sockliner for cushioning and impact absorption, a traction rubber outsole for better board feel and rubber-backed canvas for durability." They have print uppers in either red or black print, matching monochrome ankle patches, CONS heel patches and the traditional Chuck Taylor outer soles. Whatever your shoe model preference is, you can continue to wear chucks throughout the cold weather season in comfort and warmth.
18th Century European Art is Transformed into a Modern Classic on Chucks
Art is meant to be interpreted, and art has always had an element of taking those interpretations and making art out of them. Particularly in today's modern age, art has taken traditional concepts and added, repurposed, and modernized them. Sheila Bridges is a Harlem-based designer who was inspired by 18th century European pastoral images that are seen on a classic toile du Jouy (Toile is a white fabric linen cloth or canvas used for painting), but she wanted to create something that spoke to her experience. She decided to exchange the traditional patterns and scenes for ones that satirize depictions and stereotypes of African-American life. Her characters perform everyday activities like shooting hoops, dancing to a boom box, and playing double Dutch, all while dressed in 18th-century attire. This clashing of modern life with a centuries old style has made her design one of the most popular prints in the world since its creation in 2006. Last year she partnered with streetwear design brand Union LA to create a line of shirts, shorts and other clothing using her pattern, and now that partnership has grown to include a new line from Converse.
The collaboration between Union LA and Converse brings Sheila Bridges' iconic Harlem Toile to the classic Chuck Taylor.
Designer Chris Gibbs takes Bridges' iconic print and makes it a vibrant footwear statement on the iconic All Star frame. The brightly colored yellow sole makes the colorful print stand out even more, and the whiteout All Star patch makes sure that your focus stays on Bridges' character and scenes. The pattern also works incredibly well on the lines bucket hat and hoodie, with the hoodie also featuring a bright yellow Converse logo on the chest that pops nicely. Maybe the most impressive aspect of this line, and the other clothing Union LA has released, is how effortlessly good Bridges' design looks on clothing. Usually a piece of art that has been featured in museums around the world looks pretentious or gaudy when emblazoned on everyday clothing like chucks. However, Bridges' toile never feels forced or garish, it just feels right. This is a testament to the design's timeless appeal, and truly beautiful depiction of African-American life.
A-COLD-WALL* and Converse Collaboration
Converse may not typically be known as a high fashion and luxury brand, and is often seen as the shoe of the rebel and the working person. However, every once in a blue moon, the brand dips its toe into the world of high fashion, and that is what it has done once more with A-COLD-WALL*, the luxury British brand helmed by Samuel Ross. The collaboration between the two has brought forth a limited edition design that "contrasts the sharp edges of city street courts and Brutalist architecture with earth's rawest landscapes and the most powerful forces of nature, like erosion." The collection features two styles of chucks and a range of workwear apparel that is described as "refined with ultimate craftsmanship and modern technique".
The black chuck variant features rugged zig-zag stitching, and a thick rubber outsole to go with the workwear aesthetic.
The whole aesthetic for the collection is "workwear but fashion". The chucks are bolstered on the side by a thick rubber outsole that makes them look more bootlike than chuck-like. The shoes still keep the iconic All-Star patch on the inner wall. The collection also includes accessories like a matching fog-colored oversized tote bag in nylon ripstop, and outerwear. The outerwear includes a coach's jacket and a nylon ripstop track jacket with matching track pants with zip-off leg, all in natural shades of shale. The entire collection is a pricey affair, with the chucks going for $160, the track jacket and pants $130 each, and the coaches jacket $180. So if you're into the high fashion yet rugged look, the Converse and A-COLD-WALL* line of products might be the seasonal get for you.
¡Mi Gente! Chucks Bring Latinx Voices to the Forefront
Chucks have a long standing place in Latinx culture. From East L.A. to East Texas, chucks have been a staple in Latinx fashion since the 1950's. With that being said, it only makes sense for Converse to reach out to Latinx creators and designers to partner up and create a collection to celebrate their culture and identity by turning chucks into tributes to their heritage. The ¡Mi Gente! Collection features designs inspired by Latinx culture. Converse says that "every product highlights a different story", including "Bomba dancers of Puerto Rico, the Mirabal Sisters who in the fight of their lives became symbols of both democratic and feminist resistance, and the women celebrating Mexican American heritage unapologetically."
The ¡Mi Gente! Collection from Converse celebrates Latinx culture in designs from Latinx creators.
The designs feature patterns that celebrate traditional and modern Latinx culture. There are traditional floral patterns, papel picado elements, and other flourishes specific to each culture highlighted by the designers. You can even create a custom pair of ¡Mi Gente! chucks with prints designed by Latinx artists Sentrock and Ruth Mora. These prints highlight the culture as they know it from their own lives, which gives them a very personal touch. The collection also includes a ruffle women's top that comes in orange or white. The ¡Mi Gente! chucks start at $70 and rise in price depending on how you customize. In line with the collection, Converse is also partnering with Latinx organizations with a focus on creativity and civic leadership for young women and girls. These organizations include Boyle Heights Arts Conservatory (BHAC), Homeboy Industries, Las Fotos Project and ZUMIX. So show your pride and share your story this Fall season with a pair of ¡Mi Gente! chucks!
Chucks in the White House?
Kamala Harris has already made history as the first African-American, and the first Asian-American woman to receive the nomination for Vice President on a major party ticket. However, if Joe Biden is elected President in November, and she serves as his Vice President, she could make even more history as the first Vice President to wear chucks in the Blair House (where the Vice President lives in Washington) and the White House. It should be noted that former first lady Michele Obama was occasionally seen wearing the same model of black low top chucks when she lived in the White House. Besides being from California's San Francisco Bay Area and thus having a cultural connection to chucks, Harris may also be saying something with her choice of footwear.
Kamala steps out onto the campaign trail in a pair of black chucks.
Elizabeth Semmelhack, author of Sneaker X Culture: Collab, believes Harris's chucks represent action. "The sneakers are acting as the sartorial equivalent of being willing to roll up her sleeves," she says. Harris's chucks separate her from traditional heels and conservative slides that women in politics are usually relegated to wear. Long associated with the rebel in all of us, chucks more importantly represent an authenticity that is uniquely American, which is what Harris is attempting to represent. And Kamla's love for chucks is authentic, as she told The Cut: "I run through airports in my Converse sneakers. I have a whole collection of Chuck Taylors: a black leather pair, a white pair, I have the kind that don't lace, the kind that do lace, the kind I wear in the hot weather, the kind I wear in the cold weather, and the platform kind for when I'm wearing a pantsuit." The VP nominee loves her Chuck Taylors, and from her upbringing in California, to her authenticity and call to action, it's easy to see how they've become a part of her.
New Comfort in Converse CX
The Converse All Star has always been the epitome of cool and comfort throughout its 100 year history. Even though its design and functionality are timeless, there have been many variations on it over the past few years. Utilizing new modern technology, Converse has released many new versions of chucks, and it has recently added another in the Converse Chuck Taylor CX. The CX was built to be the most comfortable chuck ever, utilizing dynamic stretch canvas to move with you. It also comes equipped with a new foam phylon midsole for extra cushion and support, and a re-engineered, rubber outsole for ultimate flexibility. Finally, the heel bumper gets a molded 3D redesign for a distinctive look.
The classic chuck is reimagined for comfort with the Chuck Taylor CX.
The new Chuck Taylor CX comes in a wide range of styles and colors, with the clear rubber wall being a defining feature across all the different styles. There are both high top and low top classic style chucks that come in slate, black, blue, and mango colorways for the high tops, and yellow, purple, white, and black colorways for the lows. There's also a suede version that swaps out the canvas but keeps the stretch, and the Disrupt model which has exaggerated features and a more sturdy look than the classic chucks style. The entire collection ranges in price from between $70-130, and come in unisex adult sizes. The Converse Chuck Taylor CX is an entirely new way to wear your favorite sneaker — all day, every day.
Back To School On A Budget
It's that time of the year again, when students of all ages are headed back to classes. This year things are very different for most students. Due to the Coronavirus 19 pandemic, most schools are starting out in virtual mode until things are safe for in person instruction. That means more weeks of home instruction via Zoom and other virtual apps. Additionally, many families are strapped financially, due to millions of workers out of a job, or on very limited incomes, struggling just to survive. In those cases, going out to shop for brand new clothing for the upcoming school year is not a priority. Purchasing a brand new pair of chucks for school would be on hold for the time being. Sure a pair of chucks will still look cool even when they are quite well worn, but part of the fun of a new school year is getting a new pair.
Luckily, there are still ways to take your existing pair of chucks and make them look newer and last longer, even if they already have a lot of wear. One thing you can do is clean them. Start with soap, water, and a wash cloth. You don't want to ever put them in the washing machine. Do a complete exterior cleaning and let them dry. Additionally there is a great cleaning product for cleaning built up dirt and grime on the white or off white toe caps, outer foxing and toe guards of your chucks. Called Star Cleaner for Chucks, you can purchase this product for around $10 and it will restore your pairs of chucks to almost brand new condition. Click here to find out more. Another thing you can do that is even less expensive is to buy a new pair of shoelaces for your chucks. That simple move alone will make your chucks look so much newer, and you can buy our classic shoelaces for chucks for under two dollars a pair. Don't despair if you can't afford a new pair! Use these simple tips to tide yourself over until things improve.
Converse Is Back in the NBA Bubble
Converse has a long storied history with the game of basketball. With the All Star being the most popular shoe of the game's early years, and Wilt Chamberlain famously scoring 100 points in a pair in 1962, it made perfect sense when Converse was made the official shoe of the NBA. However with the rise of competitors like Nike, Adidas, and Reebok in the 1970's and 80's, Converse fell out of favor with modern players, and the shoe was all but gone from the game. All that has changed in recent years as Converse is making a comeback in the world of professional basketball. Inking deals with stars Draymond Green, Kelly Oubre Jr, Shai Gilgeous-Alexander, and Natasha Cloud, Converse has gotten back into the basketball shoe game releasing a slew of signature shoes and styles.
Many young NBA stars have signed with Converse in recent years, including Oklahoma City Thunder Star Shai Gilgeous-Alexander.
With the NBA season restarting at Disneyworld in Orlando, Florida, the eyes of the world fall on these stars and the Converse shoes they are wearing. As players entered the "bubble" campus in Orlando, many were photographed wearing chucks for casual wear, but both Oubre and SGA were seen wearing the new Converse Pro BB basketball shoe in practices and scrimmages. SGA was even highlighted on the OKC Thunder's social media for his shoes and the "Locked In" message written on the side. Combining elements from both the CONS from the 80's and the All-Star patch insignia from the classic chucks, Converse's new basketball shoes honor its history while also looking to the future. Converse is back in the game, and will be around for a while on the feet of the rising stars of the NBA restart.
Wider Width Chucks Now Available In More Colors
Converse has literally widened its collection of wider foot chucks to include monochrome and customized styles. You can still get core black and optical white high tops and low cuts in standard or wider widths, but now you have a lot more options. These new wider width chucks come in monochrome black or white models in high top or low cut, along with a number of other options in summer colors and in plaid prints.
This navy custom high top and plaid custom low top are now available in standard and wide widths.
All of these new models are available in both high top or low top. Because they are part of the Converse customized collection of chucks, their price is $25 higher per pair, $80 for high tops and $75 for low tops. The other base color choices are dolphin gray, blue plaid, navy blue, monochrome navy, black, white, monochrome pink, royal blue, pink plaid, blossom pink, lilac, and aqua. You can order these pairs in men's size 3 through 11.5 in half sizes, and from 12-16 in whole sizes. (Women's sizes 5 to 18) The standard core wider width black or optical white chucks are not customizable and remain priced at $55 and $50.
ZOINKS! Scooby Doo Chucks Are Here!
Scooby Doo has been a staple in American pop culture for the better part of 60 years. Through numerous TV shows, films, books, and toys, Scooby is right up there with Mickey Mouse and Bugs Bunny as far as familiarity to generations of children. This makes Scooby Doo and the rest of Mystery Incorporated the perfect characters to be featured with their own signature line of chucks. Their classic 60's aesthetic lends itself beautifully to the classic canvas of chucks, and the collection highlights different aspects of the Scooby-verse.
Several models of Scooby Doo high top chucks.
There are several designs available for this collection, the most popular being the Mystery Machine Chuck 70's. With an orange sole, and iconic flower pattern, these chucks are a must have for Scooby Doo fans. The other designs include a glow-in-the-dark design that features the gang and their various catch phrases, a white design that has Shaggy and Scooby running from various ghouls, and an all black design that has the gang peaking over the rubber wall. Ranging in price from $40-$110, and sizes from Kids to Adults, there's something for everyone in this collection. Outside of chucks, this collection includes three shirt designs and a hoodie, with the shirts going for $35 and the hoodie $80. So if you say jeepers, jinkies, zoinks, or ruh-roh on a regular basis, or if you grew up with a love of solving mysteries, head on over to Converse.com to get your own pair of Scooby Doo chucks!
Twisted Vacation High Top Chucks
Twisted Vacation chucks are an all over tie dye design meant for wear during the summer months. The sneakers come in two different colors, raspberry pink with royal blue shoelaces and black with lemongrass yellow (or standard white) shoelaces. The tie die design is radial, emanating from the inside ankle patches. Like all of the seasonal designs, they have black and white ankle patches, heel patches, white outer foxing and black racing stripes. The uppers are a combination polyester and canvas mix. One nice feature is that the shoes come with ortholite insoles that match their basic color. Twisted Vacation high tops retail at $60.00.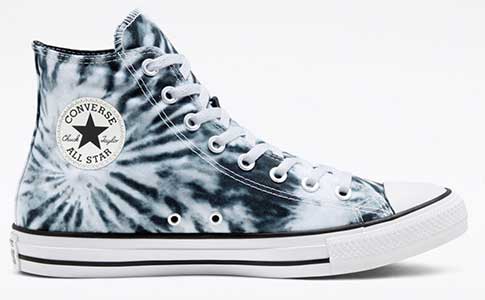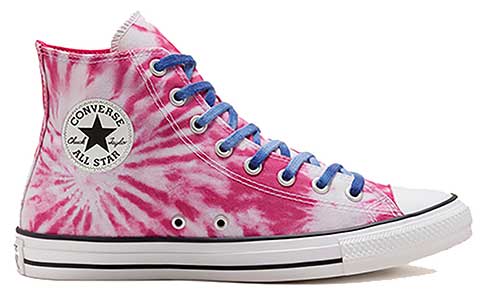 Black and Pink Twisted Vacation high top chucks.
Twisted Vacation chucks also come in two low top models. There is a game royal blue model with pink shoelaces, the same colors you see in the high top but reversed, and a malachite green with either game royal or white shoelaces. These pairs retail for $55.00.
Soleful: Sneaker Stories
Recently Hal Peterson (author of the book Chucks! The Phenomonon of the Converse All Star Chuck Taylor) was a guest on the UK podcast Soleful: Sneaker Stories, hosted by sneaker experts Kish Kash (@kishkash1) and Jason Coles (@madebyjase) 'Soleful' is a weekly deep dive into the world of sneakers and sneaker culture. The topic was All Time All Star: The Hundred Year Old Shoe. Kish and Jason talk to Hal about the best selling sneaker of all time, the Converse Chuck Taylor All Star, and learn about the origins of the shoe, its five decade dominance in basketball, and why, despite recently celebrating its 100th birthday, it remains so popular. (This podcast was recorded remotely due to the Covid-19 pandemic.) Twitter: @Soleful_Podcast, Instagram: @Soleful_Podcast, and on Apple #SolefulPodcast.
Soleful Sneaker Stories is a Goalhanger Films production,
produced by Jon Gill, Joey McCarthy, and Executive Producer Tony Pastor.
Here are direct links to the podcast:
Apple: https://podcasts.apple.com/gb/podcast/soleful-sneaker-stories/id1509493785
Spotify: https://open.spotify.com/show/4baBPlvPp4MUdaaJy8zbgO
Google Podcasts: https://podcasts.google.com/?feed=aHR0cHM6Ly9yc3MuYWNhc3QuY29tL3NvbGVmdWw&hl=en-GB
Psychedelic Chucks
If you want a different look on your chucks, check out these new models. Psychedelic Hoops Chuck Taylor All Star high tops feature a gradient upper in either blue, green, and red colors or black and green lemongrass. They have white foxing with black racing stripes and a black and white ankle patch, typical now of Converse's seasonal issues. These chucks retail at $65. There is a low top model in green and blue for $60. There are Chuck 70 models of the Psychedelic Hoops high and low tops but they are of a different design, 2-tone solid colors in red/white and green/white.
Classic Chuck Taylor Psychedelic Hoops high tops.
Another different looking summer model are the Sunblocked Chuck Taylor All Star high top. The colors are described as Fuel Orange and Moonstone Violet. On these shoes, the rear half has been sunblocked with a more faded look than the front. They have a white, orange, and faded violet ankle patches, and black, violet, and white heel patches. The rear half of the traditional white outer foxing and black racing stripe has been replaced with orange and violet. These shoes retail at $60.
A left orange sunblocked high top.
Chucks for the Summer
Among the seasonal chucks meant for summer wear is a product line called the Summer Breath Chuck Taylor All Star. Their main feature is a breathable knit upper, with larger holes than regular canvas. High tops in this line come in Bold Mandarin (Orange) and Egyptian Blue. The ankle strips for these sneakers are in a slightly different color of orange or blue, and any stitching matches the color of the uppers, rather than the usual white stitching you see on pairs of chucks. The high tops come with the usual white foxing and black racing stripes, and the ankle patches and heel patches are also black and white. The high tops retail at $65. Summer Breath chucks also come in two low top models, Amarillo Yellow and Engine Smoke Black. They are priced at $60.
Egyptian Blue Summer Breath and Twisted Upper Chuck Taylor All Star high tops.
Another summer time model is the Twisted Upper high top. These combine a cutaway upper pink high top with the rear half of an orange low cut, which leaves an opening at the back of each shoe. Like most other seasonal chucks, they have the traditional white toe cap and foxing with black racing stripes. The ankle patch is partially cut away and to make up for this, the tongues of the Twisted Upper chucks have the black and white license plate logo you normally see on pairs of low cut chucks. These sneakers retail at $65.
Chucks Are An All Time Top Five Basketball Shoe
Recently ESPN came out with its rankings of the best 75 basketball shoes of all time. In its listing, the Converse All Star Chuck Taylor shoe came in at number 5. This shouldn't really be a surprise, given the fact that chucks were the dominant basketball shoe for over four decades. In its heyday as the premiere basketball shoe, chucks were worn by nearly every professional, college, and high school player. Many of the greatest players of all time wore them while setting records and providing us with some of the best moments in sports. Think of Wilt Chamberlain, Bill Russell, Bob Cousy, Larry Bird, Julius Erving, and Pete Maravich, to list a few names.
For decades all the great players and teams wore high top chucks.
It was a mistake for marketing people at Converse to start saying in the 1990s that chucks were now just leisure shoes. Sure they are great in that part of your life, as so many people like to wear them all the time, but they were designed to play basketball in originally. During his lifetime, Chuck Taylor and the Converse Company spent decades tweaking their design and manufacture so that they would be the finest basketball shoe of its day. That emphasis on quality control can't be taken away from their history or from their functionality as an athletic shoe. Converse should take up that cause again and get endorsers to wear basic chucks or Chuck 70s while playing basketball as they did in the past. Wouldn't that be great to see in a professional or college game again?
Classic Shoelaces Now Available in Charcoal Grey
The ChucksConnection has added a new color to its line of classic shoelaces for chucks. Now you can get charcoal grey classic shoelaces in 45 inch, 54 inch, and 63 inch lengths. Now you have three grey shades to chose from: charcoal grey, metal grey, and light grey (silver) in classic or flat ribbed models. You can see how the new charcoal grey color looks on various pairs of chucks by going to our Classic Athletic Shoelaces on Chucks, Gallery 1. Charcoal Grey is also available in a fat shoelace in both 45 inch and 54 inch lenghts. For more information about shoelaces for chucks, go to our shoelaces home page, where you can access our information page, shoelace guide, lacing tips and tutorials, and the many other styles of shoelaces for chucks that we carry in our online store.
Charcoal Grey classic shoelaces on core color high top chucks.
New Seasonal Colors
Converse has just announced some additions to its seasonal color line up of chucks. New arrivals in both high top and low cut models include Apricot Agate, Ceramic Teal, Champagne, and Ghost. They are all pastel colors with apricot Agate a light orange, Ceramic Teal a light blue-green, Champagne a light pink, and Ghost a light purple. These are in additional to Coast Blue, Laser Orange, Peony Pink, Snorkel Blue, and Wolf Grey announced in January. Their current practice in manufacturing seasonal colors now means that every high top pair comes a black and white ankle patch, and black racing stripes. The low top pairs have license plate logo squares in black and white sewn on their tongues.
Apricot Agate and Ceramic Teal seasonal high top chucks.
Also announced are high tops in Amazon Green, a bright green shade, and Japanese Eggplant, which is a dark purple color. Last season Amazon Green low tops were in the seasonal mix, but not the high top model, most likely due to manufacturing issues. Converse has reissued several low cut models, Coastal Pink. Desrt Khaki, Light Redwordd, Stellar Indigo, and Storm Pink. If you see a particular seasonal color you like, we suggest you buy it right away if you can. Most likely you can get them on sale due to our current economic situation, but do remember that these colors and models are usually one time only issues. That's why some of the earlier seasonal models, especially the returning ones, are no longer available. You can see the other new models on our Shoe Outlook page, one of our About Chucks features.
Social Distancing with Chucks
We are living in scary times. With Coronavirus Covid 19 sending the world into a global pandemic, many must stay at home to help flatten the curve and keep the disease from spreading. This has led to a lot of people having a vast amount of down time while they practice social distancing. You may be asking yourself what is there to do once you've binge watched those shows you've put off, and caught up on your housekeeping? Well if you've got on your favorite pair of chucks, there's still plenty to do while also making sure you're staying safe.
Social distancing can take its toll but it's what is needed right now.
Social distancing does not necessarily mean you have to stay indoors. You can still go outside to exercise, walk your dog, and get vital services, etc. So as long as you keep a safe distance from others, lace up those chucks and go for a run or walk around your local park. Chucks are also the perfect shoe for weightlifting and aerobic exercises, so you can also get a sweat indoors. This is the perfect time to work on yourself physically and mentally. The days are getting longer and with the isolation of quarantine, it's important to make sure you're staying mentally fit by continuing to engage with friends over the phone and online. So wear your chucks proudly as you help flatten the Coronavirus curve. Remember to wash your hands, stay home if you're sick, and to practice social distancing. Together, we'll get through this pandemic, and back to wearing our chucks together out in the world.
New Wider Width Chucks
The two most popular models of classic high top chucks are now available in a wider width. Chucks have always been made in just one width, D, which is meant for a medium width foot, which most people have. But now you can purchase a black or optical white high top pair of chucks in a wider (E) width. Both models look the same as their standard width counterparts and the price differential is only five dollars, currently $55 for standard width chucks and $60 for wide width chucks.
Black and Optical White high top chucks are now available in wide widths.
You can also purchase black or optical white low top chucks in wide widths. The price for those pairs is $55.
Gift Ideas For That Chucks Person On Your List
Finding the right gift at the right price is often difficult, especially if you are on a budget. If you know (or are) someone who is an enthusiatic fan and wearer of chucks, what do you get that person besides a new pair of chucks? These days a new pair is a big gift, with the prices ranging between $50 to $100 for most new pairs. Luckily The ChucksConnection is here to assist you with a short list of credible gifts that range in price from $2 to $20 and appropriate for people of all ages. Go to our Gifts Page to see the complete list of our recommendations.
Videos and Short Films with Chucks
We have started a new feature on The ChucksConnection that addresses videos and short films where actors wear chucks. These films are normally seen on websites like YouTube and Vimeo and made by amateur or aspiring filmmakers. Too short to be included on our Chuck Taylor in Films page and not released to the public through paid streaming, DVD or BlueRay, these videos and films are free for viewing, and we provide links to them on our new Videos and Short Films with Chucks page.
Check these out on our new page.
Like our other media pages, Videos and Short Films with Chucks is a work in progress. If you know of a video or short film that qualifies for this new page, send us the information and link to films@chucksconnection.com.
How to Participate in Chuck Talk
Do you have some things to say about Chuck Taylors? If you have an article or other interesting information about chucks to submit to this website, please contact us at mail@chucksconnection.com.
Chuck Talk Archives

ChuckTalk articles from previous years

ChuckTalk Archive 16