A ChucksConnection Film Review

Paul Walker wears black low top Converse "Chuck Taylor" All Stars in the film.
2 Fast 2 Furious
by Marcus Angulo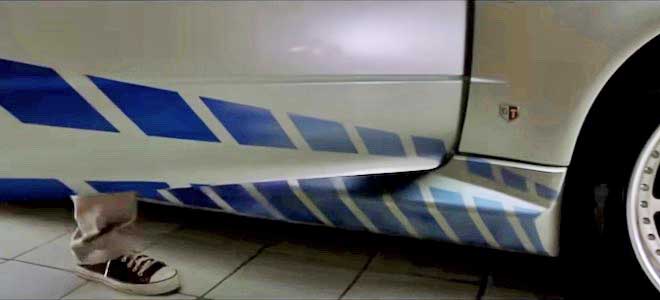 Brian steps out of his 1999 Nissan Skyline GTR R34 in his chucks.
At the time of writing, we're about to hit the tenth Fast and Furious movie. Who would have honestly said twenty years ago that the film about street racing in Los Angeles starring Private Carpazo from Saving Private Ryan and Lance from Varsity Blues would spawn a film franchise with more entries than Star Wars? And yet here we are just a few weeks removed from the opening of Fast X, the penultimate installment in the Fast Saga. However, the success of this franchise wasn't always assured. Before there were nine sequels, there was one: 2 Fast 2 Furious. Starring Paul Walker, Tyrese Gibson, Eva Mendes, Cole Hauser, Chris "Ludacris" Bridges, James Remar, Devon Aoki, and Thom Barry, the film was an even bigger box-office success than the first when it was released in 2003 and led to the franchise we all know today.
Brian and Roman get into a scrap outside the demolition derby.
After giving up his job as an LAPD officer and aiding Dominic Toretto in the first film, Brian O'Conner (Walker) is now living in Miami, Florida, and making ends meet by participating in illegal street races organized by his mechanic friend Tej Parker (Bridges). The film opens with a race about to go down, but Tej is short a driver. He calls Brian who jumps at the chance to earn some extra cash, driving his gorgeous 1999 Nissan Skyline GTR R34 to the race. Brian wins in dramatic fashion, but he is immediately arrested by Miami PD. He meets with his old boss, FBI Agent Bilkins (Barry), who along with U.S. Customs Agent Markham (Remar) offers Brian a deal to go undercover and bring down Argentinian drug lord Carter Verone (Hauser) in exchange for clearing his criminal record. Brian agrees as long as he gets to choose his partner which leads him and Bilkins to head to a demolition derby in Bastow, California to recruit Roman Pearce (Gibson). Roman is an ex-con that is Brian's former childhood friend. He's out on parole and he blames Brian for his arrest and incarceration. After a brief fight, Roman agrees to join the operation for the same deal Brian got.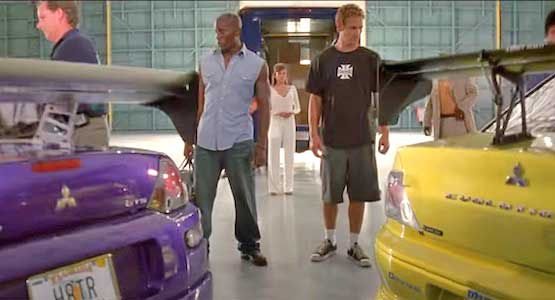 Brian and Roman check out their new rides.
Back in Miami, Agent Monica Fuentes (Mendes) has been undercover with Verone for a year, and now she assists Brian and Roman by getting them into his organization. The duo acquire confiscated vehicles and are hired by Verone as his drivers. After a brief scuffle with Markham over his interference with the operation, they learn that Verone plans to flee the country with millions of dollars. It's now on Brian and Roman to put an end to his operation and keep him from fleeing the country. They'll have to use all their skills as drivers and maybe some tried and true power of "familia" in order to get the job done and clean their records.
Roman gets recruited to join Brian's undercover operation.
It's such a trip to go back to these early Fast and Furious films and see how far the franchise has strayed from the original plot. These movies used to be about small crimes and street racing. For the most part, they were car commercials and music videos with not many stakes. Now, they drive cars in space. All this to say: this movie is such a time capsule of the early 2000's from the wardrobes to the cars. Paul Walker is actually pretty great as the leading man in this movie, even though the film does miss Brian's dynamic with Dom from the first film. Tyrese also brings the same great energy he always brings to these films. This film is so much fun as a piece of early 2000s nostalgia. So as always, live life a quarter mile at a time and salud mi familia.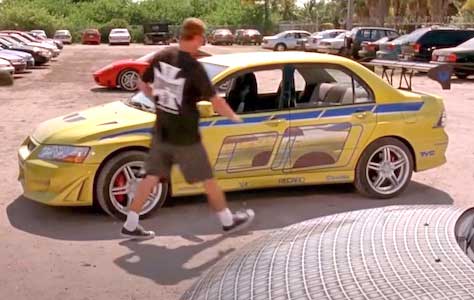 Brian steps into his undercover vehicle.
Best Chucks Scene


Brian and Roman have some stuff to handle.

The best chucks scene in this film is undoubtedly the scene that has become the film's most iconic. I am of course talking about the scene where Brian and Roman confront FBI Agent Bilkins and U.S. Customs Agent Markham after they interfere with their operation. Brian and Roman enter this old building, with Brian wearing the same black chucks he's been wearing for the whole movie. Roman gets into it with Markham, but after a long talk, they all agree on the next steps of the plan. However, Markham lets it slip that Brian let Dom Toretto go back in LA and that's why he's no longer a cop. Roman and Brian leave and, once outside, Roman begins to pester Brian about what happened with Dom. Brian says he doesn't want to talk about it, but Roman asks again. Then Brian O'Conner utters a line that still lives on in the meme hall of fame of the internet. He says in the most serious tone possible, "I said forget about it, cuh". No notes. Absolute perfection.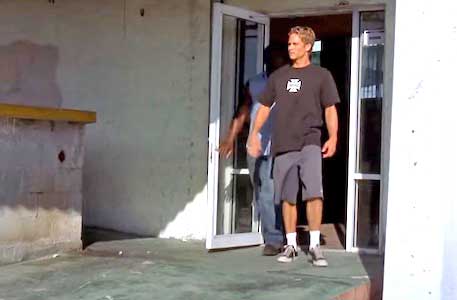 I said forget about it, cuh.
2 Fast 2 Furious. (2003) Paul Walker, Tyrese, Eva Mendes, Cole Hauser, Chris 'Ludacris' Bridges, Thom Barry, James Remar, Devon Aoki. Amaury Nolasco, Michael Ealy, Jin Auyeung, Edward Finlay, Mark Boone Junior, Matt Gallin.
Directed by John Singleton. Category: Action/Adventure.
ChucksConnection Rating:

MPAA Rating: R
Support the film industry by purchasing genuine DVD, Blue Ray, or streaming copies of these films. Illegal copies only help profiteers. Make sure your money goes to the producers and artists who actually create these films. Still images from the film are used here as teasers to get you to view an authorized copy. If you have information about a film where a main character wears chucks, contact us at
films@chucksconnection.com.