Information and commentary from people who care about chucks.
Personal Stories and Opinions, Chucks Fashion and Lifestyles, and Chucks in the Media
Chuck Talk Features—Summer/Fall, 2021
What's New at

The ChucksConnection

.
New or Updated Photo Galleries:


Chucks In The Film Detention, Coolest Films With Chucks Gallery 2, Olivia Rodrigo, Amazon Green High Top Chucks, Buddy, Zendaya, Actors Wearing Red Chucks in Films, Joshua Bassett, Amanda Seyfried, Victoria Justice, Taylor Swift, Washed Indigo High Top Chucks, Midnight Barq High Top Chucks, Bright Crimson High Top Chucks, Jessie Reyez, Side Pocket High Top Chucks, People Wearing Red Chucks, Paul McCartney, George Harrison, Chuck Taylor PC Boots, Coolest Chucks Moments in Film, Magenta Renew High Top Chucks, Austin Asher Stills from Shazam!, Washed Denim Blue High Top Chucks, Red Hot Chili Pipers, R5.

Videos and Short Films With Chucks:

Man of the Harvest, Star Wars Generations, Eddie and the Alternate Universe, The Attic, The Funspot, Remember When, Brotherly Love, E.L. R.O.N.A.L.D.O., Rocket Boy, Nelson Bixby Takes On The Whole Wide World, Broken Leg, Handicap Skating, Let Me Play, Copy Cat, Collected, Talk to Leon, Unclaimed, Flat Out, Caught, A Bathroom on Drake, A Fish Out of Water, Playdate, Survivants, The Worst Day Ever, Hero, Clark, The Bend, The Glass Castle, Summer '78, RC Cola Ad, Under Stars, RCA, The Bat, Kid, the Moon. Go to the Videos and Short Films with Chucks page.


TV Page Features:

Many listings have been updated. New listings with an article: Heels, Kim's Convenience, Never Have I Ever, Första Kärleken (First Love), The Hardy Boys (2020), Secrets of Sulphur Springs, WandaVision, Mythbusters, All-American, Hollywood, Stranger Things, Season 3, Deadly Class, Iron Fist, On My Block, The Temptations, Rise, Grown-ish, How I Met Your Mother, Mom.

Other recent listings are: The Conners, The Wonder Years (2021), A. P. Bio, Diary of a Future President, Generation, The Unicorn, Trinkets, The Mysterious Benedict Society, Us, Titans, Trickster, Punky Brewster (2021), American Gods, The Neighborhood, Way Down Cellar, Space Force, Designated Survivor, Almost Paradise. Go to the Television Shows with Chucks Index Page.

Music Video Reviews:


Fight for Your Right (Revisited), The Less I Know the Better, My Block, Figures (Live), 10/10, Imported, Dynamite, Thnks fr th Mmrs, The New Workout Plan, Saint Nobody, deja vu, All Hands on Deck, Telling Myself, Time After Time, Drivers's License, Body Count, Winter, Anyone Else, Therefore I Am, Orphans, Easy Come, Easy Go, Give It To You, The Schuyler Sisters, Justin Timberlake Medley, 100 Grandkids, Lost in the Echo, Go To Church, Music Everywhere, MAYBE (Deconstructed), I Rep That West, I Want to Know What Love Is, Prima Donna, I Want Crazy, You and I Both, So What?, Go Loko, All For Us.




Film Reviews:

Tick Tick Boom!, Scary Godmother: Halloween Spooktakular, The Return, Tremors: Shrieker Island, Boy Wonder, Broken Down, The Kid Detective, Danny Doom, Drought, Short Circuit, Faintheart, Ghost of Lake Opeongo, Flora & Ulysses, To All the Boys: Always and Forever, Cupid's Proxy, The Treasure of the White Falcons, Bad Moms, The Witches, Vampires vs. the Bronx, We'll Rise At Dawn, Seduction Theory, Whiplash, National Treasure: Book of Secrets.

New listings: Detention, Jimmy, The Deadly Room, Mostly Ghostly: One Night In Doom House, Project X, Black Beauty, Candyman, Lost Lake, Halloween Heroes, Dr. Sleep, Dirty Work, Gunpowder Milkshake, Solar Destruction, They Reach, Intergalactic Adventures of Max Cloud, How To Beat A Bully, Dolomite Is My Name, Disconnect, Black Widow, The Kissing Booth 3, Jacob Two Two and the Hooded Fang, Let Us In, Troup Zero, George's Island, 2nd Chances, Czarny mlyn. Go to the Chuck Taylor in Films Index Page.


Articles:

The Honor Roll for Actors Wearing Chucks in Films and Television Shows has reached 113 honorees with the addition of Matthew Broderick. The Musicians Who Wear Chucks and Articles pages have been updated to be easier to view on mobile phones. Go to the Articles about Chucks Index Page.

How to Participate in Chuck Talk. Let us know what you think! We are also happy to try and answer your questions and inquiries about chucks, and listen to what you are thinking about. If you have some opinions, information, pictures, suggestions, or an article to submit, just click on the link, How to Participate in Chuck Talk to access our email address.
Thanksgiving Style Guide
Thanksgiving is just about here, and with it comes the age old question of what to wear to dinner. You've got your family coming over for turkey and stuffing, and you'll want to make a good impression, but you still want to be comfortable and true to your own sense of style. If this is the case, then let's take a look at how Converse has got everything you need to ease that Thanksgiving stress. First, let's look at the simple use of color. Choosing a pair of chucks that fit with the Fall vibe via color is a great way to spice up your look and to stay festive on turkey day. Some choice colors available include Wheat, Off White, Dark Root, and Bold Mandarin. These colors are also perfect for next Fall, making them a staple addition to your collection.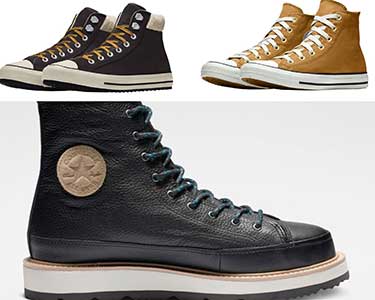 Chuck Taylor boots and fall colored high top chucks are perfect wardrobe additions for Thanksgiving.
If you're interested in something bolder and different from your usual chucks, Chuck Taylor Boots are the way to go. Available in many styles, chuck boots are a bit more upscale than your normal chucks. They're perfect if you're looking to make a great impression at your Thanksgiving gathering, or if your dinner has a higher dress code. They're also practical as they're all weather and waterproof, which also makes them perfect for the upcoming Winter cold. So adding chucks to your collection this Thanksgiving can serve you through the rest of the season and year, whether adding some new color or upgrading your style. Happy Thanksgiving to all who celebrate and thank you for loving chucks with us!
Animal Print Chucks For Kids
A great gift idea for your younger kids this holiday season is to get them a pair of animal print chucks. Right now there are a number of great designs in high top, low top, and easy on models. The high tops cost $40 a pair, and the low tops are $35. Big Kid sizes range from 11C to 6Y. You definitely want to order these models right away, because they tend to sell out fast and the little kids on your list will love lacing up in these latest animal print pairs of chucks.
Top row: Jungle Cats high, Dino Daze high, Leopard print high.
Bottom row: Wolf Pack high, Snowy Leopard high.
The Jungle Cats high top has purple, red, and orange cat faces on a white canvas upper, with black racing stripes, a black and white Chuck Taylor ankle patch, and a prime pink interior lining. The Dino Daze high top has a similar layout, but with red, yellow and green dinosaur shapes and a forest pine interior lining. The Wolf Pack high top has red, yellow, and blue paw prints and grey wolf faces on a white canvas upper along with the traditional red, white, and blue Chuck Taylor ankle patch. A second model has a mouse grey canvas upper with a more cartoon-like design. The Snowy Leopard print high top uses a flamingo pink and white snowflake background behind a grey and white cat image. The Leopard print high top employ different colored prints on the three white upper panels of each shoe. On the inside canvas is a yellow print that even shows through a clear plastic Chuck Taylor ankle patch. The outside canvas features a blue and white print, and the rear panel has a red print leopard print.
Halloween Made Easy With Chucks
Halloween is for everyone! The young, the old, and everyone in between. It's for people who love to put a lot of effort into their costumes and those who just want to dress up for fun. Wherever you stand, it's possible for you to have a killer Halloween costume this year using your chucks! Let's start with some lower-effort options. First, there are costumes where you can utilize everyday clothing with your chucks. This includes costumes like 1950's greaser, punk rocker, and old-school basketball player.
Ms. Marvel costume, basketball player wearing chucks.
There are also plenty of pop culture figures that wear chucks that would make for excellent Halloween costumes. Harry Potter famously wore chucks in both the Order of the Phoenix and Half-Blood Prince films, and his outfit in those films is actually very easy to recreate with jeans, a tee shirt, a hoodie, and black chucks. For extra flare, you can add a wand, and house robes to complete his Hogwarts look.
Harry Potter in the Order of the Phoenix.
Finally, if you're looking for a costume that is ahead of the curve, look no further than the Marvel Cinematic Universe's newest hero. Ms. Marvel (aka Kamala Khan) will be making her MCU debut early next year in the Disney+ series, Ms. Marvel. Concept art and leaked set photos have revealed that the young Pakistani superhero will wear red low-top chucks as part of her official superhero uniform, along with her iconic bangles and lighting bolt insignia. This socstume will require more effort, but it may be worth it to be the first person at your Halloween party to dress like a Marvel superhero in chucks! So whether you're looking for something grounded, or something much more super, a costume with chucks is always an option for Halloween.
Trick or Treat Chucks
It's now October and the beginning of the Halloween season. Converse recommends that you get ready for this year's "spooky season with a ghoulish, green-and-black print on custom chucks for you and your little one". This year they have a released a new Halloween-themed dark green, neon green, and black print high top that you can custom design with up to twenty modifications to the shoe design. One of the most common modifications it to create a two-tone design, using an alternate color like orange on the tongue or back panel as seen on the right illustration below.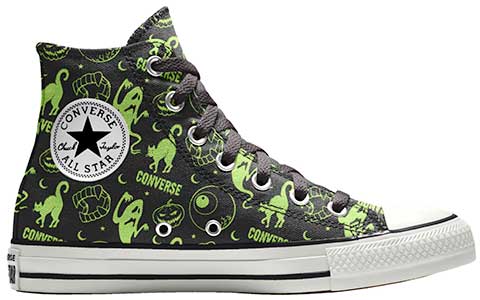 Custom Halloween high top chucks.
These sneakers are available in both standard and wide widths. You can purchase them in men's sizes from 3 to 17, women's sizes from 5 to 18 for $80, in little kid's sizes from 10.5 to 3 for $55, and toddler sizes from 2 to 10. This shoe is also availble in low top models, which are priced $5 less than the high tops. If you want orange shoelaces for these chucks, you can order them in classic, retro, or fat widths from The ChucksConnection.
New Converse x Basquiat Collection Debuts
Jean-Michel Basquiat was an American artist who rose to success during the 1980s as part of the neo-expressionism movement. His art was known for focusing on dichotomies such as wealth and poverty, integration and segregation, and inner and outer experience. He used poetry, drawing, and painting, and combined text and images that mixed historical information with contemporary critique. He was one of the greatest and most important artists America has ever had, and he unfortunately passed away from a heroin overdose at the age of 27 in 1988. His legacy has grown tenfold in the three decades since his death, and this great American artist's work is gracing the canvas of the great American sneaker.
The Converse x Basquiat collection combines a classic shoe with historically beautiful art.
Converse has just released a new collection that celebrates the street-inspired work of Jean-Michel Basquiat. The collaboration translates three of his most influential pieces to the canvasses of classic Converse shoes. This includes "Kings of Egypt II" on the Skidgrip, "Kings of Egypt III" translated on the Chuck 70, and Pez Dispenser on classic chucks. Each shoe features the unifying feature of the Basquiat logo printed on either the tongue and license plate, but other than that they celebrate the artwork in their own ways. The Skidgrips feature the artwork printed on every inch of the canvas, while the Chuck 70 has the artwork printed directly onto the canvas, with some suede accents added to make it pop. Finally, the classic chucks feature the artwork on a patch that is stitched onto the canvas of the shoe. The explosion of abstract text and distorted iconography pops off each, and this collection is stunning to see. The shoes are available from $70-$110, and the collection also features some shirts and sweaters with the same artwork.
College Chucks by You
Summer is fading away fast and with its end comes the beginning of Fall. For those of us in the USA, Fall means one thing: football. Helmets, tackling, and touchdowns are about to be in full effect as teams at every level prepare for the start of their season. For those of you that love college football, there are some brand new chucks that may just be the perfect addition to your Fall wardrobe. The Converse College Chucks by You Collection features some of the most popular schools and football programs in the country from Power 5 conferences. With the ability to customize, there's a little something for every fan!
School spirit season!
The collection includes nine schools: LSU, University of Tennessee, University of Texas Austin, USC, UCLA, University of Oklahoma, University of Alabama, University of Georgia, and Clemson University. Each school has customizable options that allow for multiple styles and combinations. This includes three colorways each, black, white, and the school's primary color. This also includes different logos for each school, allowing you to pick and choose your favorites. As with all customizable chucks, the rest of the shoe can also be personalized, from the rubber to the lining. These chucks are not only perfect for college sports fans, but also the perfect shoe for anyone starting school at one of these universities. Each pair of College Chucks by You is available in both standard and wide widths for $90 each. So head on over to Converse now and pick up some shoes that'll show your fandom in your own way!
1000+ Films With Chucks!
In the last week our Chuck Taylor in Films page reached an important milestone: we now have identified and posted information about over 1000 films where a leading charracter or main supporting character wears Converse All Star Chuck Taylor sneakers. The films span all types of film genres from action/adventure to science fiction, sports, martial arts, coming of age, horror, comedies, romances, and dramas. In these films we have seen chucks worn around the world from the Amazon River to the Sahara Desert to the South African wilderness and in tropical islands. Chucks are seen all over America, in our big cities, schools, suburbs, country locations, and in wilderness areas. They even have been an important part of the storyline in a few films. Over 110 actors have worn chucks in multiple films, earning a place on our Honor Roll. The characters they play in the films represent all kinds of people, heroes, good guys, and the occasional bad guy, kids and adults of all ages and abilities, athletes and just regular folk wearing black, white, and red high or low tops (the most popular colors). It is amazing how many different character types and personalities are represented by people wearing chucks.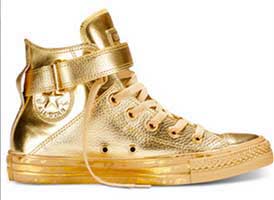 The golden Chuck Taylor awarded to actors in our honor roll.
A page like the Chuck Taylor in Films is not possible without the assistance of our site visitors who write to tell us about new films that they believe qualify for listing on the films pages. They all deserve a big thank you for their efforts which are greatly appreciated. Each submission is carefully checked to make sure that the sneakers worn in the film are really chucks, and not wannabes or look alikes. If you know of a film that is not already listed you can contact us at films@chucksconnection.com.
Get Looney with New Space Jam Chucks
LeBron James is the greatest to ever play the game of basketball. Actually maybe Michael Jordan is the greatest. LeBron or MJ? This is the debate that has dominated sports talk for the past decade plus, and there really is no right answer. LeBron will always be compared to MJ and this summer he has added another layer to the discussion by starring in the sequel to MJ's 1996 cult classic film Space Jam. Space Jam: A New Legacy was released on July 16th, 2021, and saw The King team up with the Looney Tunes characters to win a high stakes game of basketball. Given the Looney Tunes previous connection to chucks with signature shoes, it only makes sense that in celebration of the new film Converse would release a new line of Tune Squad shoes and merchandise.
Ehh, What's up doc? Two different Tune Squad models.
First up, the Tune Squad Chuck 70's. These feature the new Tune Squad logo and color scheme which is a combination of blue, orange, yellow, and black. They also feature LeBron's number 6 on a varsity patch on the outer wall of the shoe. For the classic Chuck Taylor All Star, the collection turns to seven of the classic Tunes: Bugs Bunny, Daffy Duck, Lola Bunny, Tweety, Porky Pig, Taz, and Marvin the Martian. These chucks are customizable, with the characters and the canvas body coming in different colors. The Chuck 70's are available in adult and child sizes, and are available for $120 and $75 respectively. The customizable character chucks are available in adult sizes only and are available for $90. Finally, the collection also includes some apparel and accessories. This includes 2 hoodies, a t-shirt, and a 360 backpack, all ranging in prices between $50-$95. So everybody get up, it's time to slam now. We got a real jam goin' down. Welcome to the Space Jam!
Red and White Chucks Pop Your Back to School Wardrobe
School's been out for summer, but now it's time to go back to class. Whether you're in college or grade school, you're probably looking for ways to spice up your day to day wardrobe and feel your best. We previously talked about how the classic black chucks are the perfect go to wardrobe staple for everyone. However, what if you're looking for a little more pop of color in your footwear, perhaps with a pair of red or white chucks? Have no fear because those are also the perfect complement to what you already have in your wardrobe!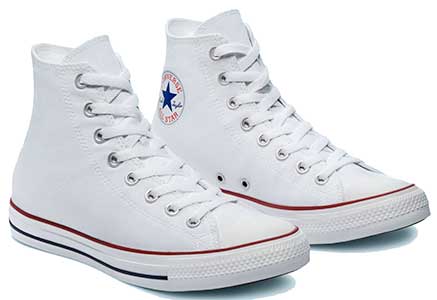 Add a pop of color to your back to school wardrobe with red or white chucks.
Optical white chucks are just as much a staple as black ones. White chucks are perfect if you really want your feet to pop with your outfit. They especially pair well with black pants and can spice up an otherwise all black outfit. White chucks also work well with other colored pants, but those pants should be paired with white tops to really highlight the chucks. However, for the younger chucks fans out there, white may not be the best option since they are more prone to getting dirty. Red chucks on the other hand, are perfect for the young and young at heart. Red chucks give off the vibe of someone who's fun and active. They're great for adding a splash of color to an all black ensemble, or even to an all white one. They work less well with colored pants, except in rare occasions of styling. However, this could be an opportunity to come up with color combinations other's haven't tried yet! So break out or buy a pair of red or white chucks and spice up your look for the new school year!
Get Out and About in Chucks
We're heading into the waning days of summer, and everyone is trying to maximize the sunshine and great outdoors while they can. Everyone's looking for things to do before the gloomy Fall cold rolls in, and there's no better shoe to get out and see the outdoors in than chucks! The most versatile shoe around can go with you wherever you decide to go in the final days of summer, and there is no better place to spend those days than a park.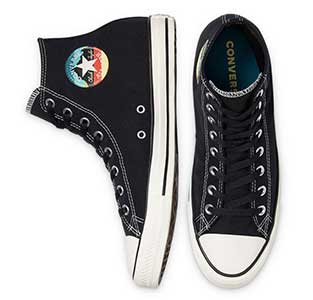 See the great outdoors in your chucks while you can!
(Pictured: Converse National Parks Chucks)
Any park, big or small, is a great way to get out into the fresh air in your chucks and enjoy this last bit of Summer. There are of course your local, neighborhood parks, where you can enjoy pickup basketball, grass games like frisbee or wiffle ball, or even a BBQ with the family. Then there's also State and National parks, where you can truly experience nature in all it's beauty, and the wonderful wilderness America still has. Whether it's hiking through forests, lakes, or plains, soaking up the sun at a beach, or even visiting a historical monument, chucks are the perfect shoe for a day at a State or National park. Finally, there are theme parks. Theme parks across the country including Disney, Universal Studios, Six Flags, and regional parks. They're perfect for a day out with the family to experience some thrills and general fun! So in these last days of summer, get outside to whatever park you can in your chucks and enjoy the sun and great outdoors!
Classic Chucks for Back to School
There's nothing more classic than black Chuck Taylors. When people think of chucks, it's that contrasting black and white profile. The shoes worn by rebels, greasers, rock stars, basketball pioneers and tons of regular folk are certifiable American icons, and more than likely in your closet right now. If you're someone heading back to school in the coming weeks, or perhaps you have a little one that is, chances are you're looking for outfits that are both comfortable and stylish. Have no fear cause those classic chucks in the closet are the be all and end all answer to every outfit dilemma you have this upcoming school year.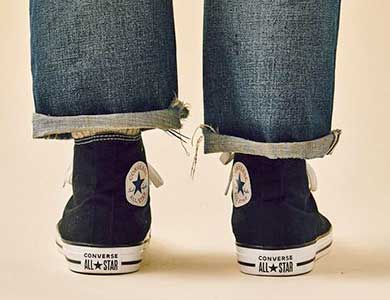 Classic black chucks are the perfect go to shoe for this back to school season!
Here is a styling secret that is true for everyone: black goes with everything and black chucks are always in style. Black chucks fit perfectly with whatever jeans you have in your closet right now. They also are perfect for every type of shorts there are: cargo, athletic, flats, or jeans. It doesn't matter the color of shorts either, as black chucks are the perfect neutral color shoe to go with shorts of any color. This color matching applies to tops too, as chucks will look great with any color of hoodie, sweater, t-shirt, or jacket. A modern take on the classic jacket, jeans, and chucks look is to pair your chucks with good fitting jeans and a bomber jacket. So whether you've got a fresh back to school haul, or if you're just going with what you already have in your closet, those iconic black chucks are the perfect for you and your wardrobe!
Tune Squad All Star
With the release of a new Space Jam movie this summer, Converse continues its tradition of issuing print Chuck Taylors with comic character print uppers. For this model, the Looney Tune characters of The Tune Squad are back in action and these chucks have digitally-inspired prints of Bugs Bunny, Lola, Daffy Duck, Marvin the Martian, Tweety, and Taz on the various panels of their new Tune Squad high tops. Aditional features include a Tune Squad logo on their tongues, a black and orange ankle patch, black outer soles, blue inner lining, black shoelaces, along with standard white foxing and toecaps with black racing stripes and ortholite insoles.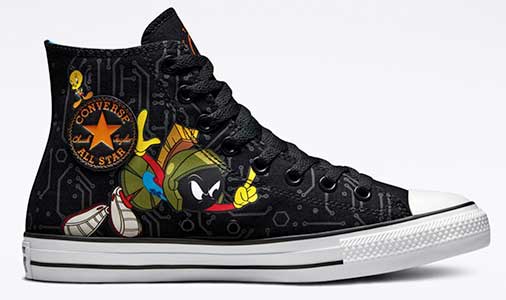 Left inside patch and angled side views of Tune Squad All Star high tops.
With sizes for people of all ages, adults and kids can participate in the fun. This Chuck Taylor model retails for $70. There is also a Chuck 70 Tune Squad model for $120 that doesn't include the cartoon characters.
The Future Is Here
What is the future of chucks? How does the shoe evolve as we rumble through the second decade of the 21st century? One way we can see how new styles, textures, and designs blend together with the classic chucks body and iconography is in the new Future Utility collection. This line combines the classic chucks style with a utilitarian look from the future. The collection features Chuck Taylor All Stars, platforms, Run Star Hikes, and Chuck Taylor All Star CX's. This line takes the everyday high tops you know and love, and gives them a mixed-material makeover. The All Stars feature classic canvas topped with tonal jacquard hits at the heel, tongue, and ollie patch for a textured look and feel. Colorwise, the shoe has hits of nature-inspired colors at the heel loop, top eyelet (just like the Product Red models released fifteen years ago), license plate, and outsole that bring a subtle, Earthy vibe to this utilitarian look. Unfortunately, the designer took away the iconic racing stripes mid outer foxing and around the toe cap and canvas edges, even though these stripes are there on the rubber, but colored white. Perhaps they know from past design experiments that this is not a popular innovation on Chuck Taylor All Star high tops, so they leave a place for colored stripes to return.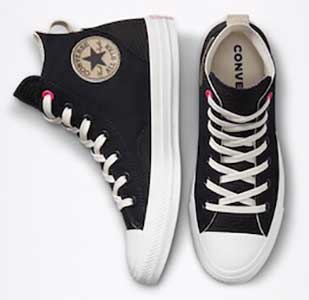 Step into the future with the Future Utility chucks!
There are also two designs that feature the same textured look, but with contrasting, zigzag stitching that adds an unexpected pop of color. The other highlight of this collection is the CX model. The CX is all about comfort and utilizes a special dynamic stretch canvas for a new, ultra-comfortable fit designed to move with you. This makes them incredibly easy to put on, and, with it's foam sockliner, too comfortable to take off. Design wise, it features translucent rubber details and a CX branded pull loop on the heel that adds a pop of color. All the shoes in the collection range between $60-$110 and are available now. The future is here and the future is chucks!
Hybrid Textured Chucks
This summer season, spice up your collection with a new dimension of chucks. The new Hybrid Texture collection combines different styles and textures to create a brand new look for the classic chuck silhouette. The collection has different combinations on both the Chuck 70 and classic All Star bodies, with different patterns and colorways for each design. The first is a Chuck 70 100% recycled polyester build that gives new life to old sport materials. It has an exposed foam tongue, pop colors, and a vintage varsity color palette that hammers home the throwback sports theme. The other Chuck 70 is built off of the original 1970s design, with a 100% recycled canvas upper that features a tri-block color execution for all-around style. The final Chuck 70 model utilizes a mix of recycled polyester and cotton gives this style its distinct textured look and feel that almost resembles a denim pattern.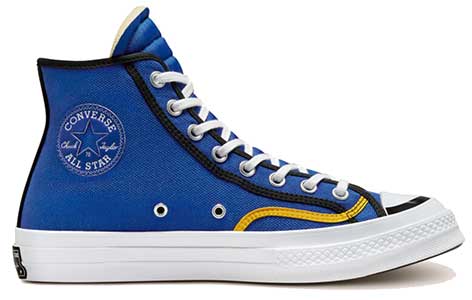 Blue, black, and gold hybrid textured high top Chuck Taylor All Star.
The collection also has two classic Chuck Taylor designs. The first features panels of textured, two-tone canvas and contrasting, black laces that really makes the classic chucks elements pop. The second design is a split pattern that divides the shoe's coloring right down the middle, with white stitching that really highlights the contrasting colors. All these designs do keep the heritage design elements like a rubber toe bumper and toe cap, and vintage All Star ankle patch keep it classic. The entire collection varies in price between $65 and $90, and comes in both high and low top models depending on the design. So add some new texture to your chucks this summer!
The American Dream, Chucks, and the Fourth of July
July is fast approaching which means it's just about time to light up the BBQ, set fire to some pyrotechnics (where permitted!), and wave old glory proudly: The Fourth of July is here! That's right, it's time to celebrate the "anniversary" of the United States' signing of The Declaration of Independence, and what is often considered America's birthday. However, while the Fourth is often associated with the loudest aspects of patriotism, this year may be time to reflect on what this day really means and what the "American Dream" means to you.
Pure Americana.
The American Dream has had many iterations throughout the history of the United States. To post WWII American families, it was a single family home with a white picket fence in the suburbs. To immigrants arriving at Ellis Island in the 1800's, it was about the opportunity to make your own success story. Throughout the 245 year history of this country, the American Dream has been about individuality and chasing one's dream, just like Chuck Taylors. In this modern world we live in, that dream manifests in many ways, and that's why chucks are the perfect shoe for the modern American Dream. This Fourth of July, you could wear the usual red, white, and blue chucks. You could perhaps even wear a custom pair you designed yourself. You could also wear that pair of black chucks you've had for years. Or those white chucks that feature handwritten Sharpie messages on them.You could even wear Pride chucks that show the world who you really are. All of these and any other chucks that show off who you are, are wonderful options for the Fourth of July because YOU are the American Dream. You're the dream of every American who has come before you dreaming of a land where all could be judged as equal. Your individuality is the essence of the American Dream, and nothing represents your individuality better than the chucks on your feet.
Sizzling Summer Spirit Chucks
Break out the sunscreen and crank up the DJ Jazzy Jeff & The Fresh Prince because summertime is in full effect! Sundresses and shorts are in, and this summer is destined to be enjoyed outdoors! With all that being said, Converse has unveiled their Summer Spirit line to get you in that summertime mood. The collection features a wide variety of designs and colors, offering everyone a little something for the summer.
Time to sit back and unwind in these Summer Spirit chucks.
The first shoes in the collection are three vintage inspired Chuck 70's. They feature varying floral patterns in purple, red and yellow designs. There are also a pair of Chuck Taylor Platforms with brightly colored orange, red, and pink sun and rainbow designs. Two Run Star Hike models showcase floral patterns in red and sesame colorways. Finally, the collection has two classic Chuck Taylor All Stars, one low top and one high top model. The high top features a sunflower design on a white canvas, while the low top features oversized orange hearts on a pink canvas. The whole collection's color scheme screams summer, with bright, sunny pastels. The designs themselves are low key enough to be wearable everyday, but stand out enough to show off your summer vibes. The Chuck Taylor All Stars and Chuck 70's are available in women sizes, while the Run Star Hikes are available in unisex sizes. The whole collection ranges in price from $55-$110. So spice up your summertime style with Summer Spirit chucks!
New Summer Styles from Carhartt and Converse
When you think of Carhartt, you probably think of brown and blue work clothes, and heavy duty canvas meant to withstand the hardships of tough, everyday work. You probably don't think of brightly colored, tiger print designs on chucks. However, that's exactly what Converse and Carhartt have released as part of their continuing partnership. Emerging from the dreary cold winter with a brand-new look, the new Converse x Carhartt WIP Chuck 70 looks to push the designs of the Carhartt aesthetic and take it into new directions while still maintaining the durability and ruggedness both brands are known for.
Step into summer with the new Converse x Carhartt WIP "Hinterland" chucks.
The collection features a high top and low top model, and the designs for this collection feature a lush and vibrant pattern that Converse and Carhartt have dubbed "Hinterland". This expressive pattern is heavily inspired by nature, combining tiger pinstripes with earthy colors that create a vibrant yet grounded design. The two models each have their own unique pattern. The high top features a heavily green pattern, with hints of black and baby blue, while the low top has a white design with hints of black and baby blue. Each features a pop green outsole and the Carhartt woven label on tongue and logo on lace tips. The high tops cost $115 and the low tops $110. These designs are perfect for the upcoming summer, and are a great statement for getting out into nature in your chucks!
Summer Wave and Summer Stripe Chucks
Two more models complete the Converse All Star Chuck Taylor line up for the summer. Summer Wave high top chucks feature a washed wave, tie-dye looking print upper in several color combinations, midnight blue and light blue with white foxing, black racing stripes, and black and white ankle patches. The contrasting blue print pattern is made in a spiral shape, evoking crashing waves. The other colors available are amber ocher (light orange) and light field surplus (green). As with all of their recent releases of chucks, these sneakers come with OrthoLite cushioning for all-day comfort. Summer Wave high top chucks retail for $60.
The Midnight Blue Summer Wave Chuck Taylor high top.
The Summer Stripes Chuck Taylor All Star comes in two models, Egret/Egyptian Blue with additional stripes in red and green, and Navy/Vintage White/Indigo Fog. All models have white foxing, black racing stripes, and black and white ankle patches. They also come with OrthoLite cushioned insoles, standard brown outer soles, and white shoelaces. Currently the Egret/Egyptian Blue model is on sale for $41.97, while the Navy/Vintage White model is priced at $60.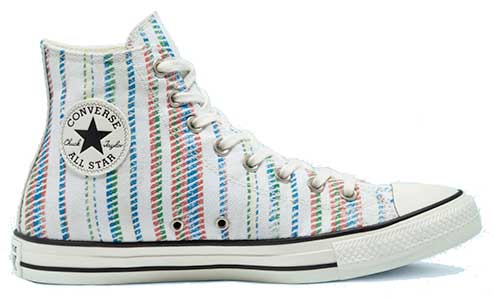 The Egret/Egyptian Blue Summer Stripe high top chuck.
More Seasonal Colors Released
Converse has now released additional seasonal colors for 2021. The new colors are Amazon Green, Golden Poppy, and Lemon Chrome.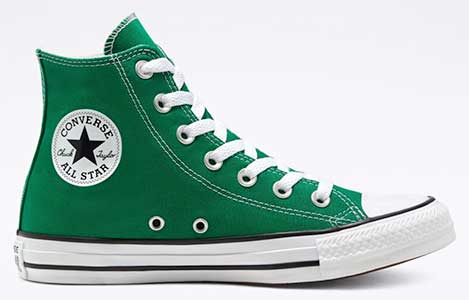 The Amazon Green and Golden Poppy high top chucks.
Amazon Green and Golden Poppy follow in the newer design trends for seasonal high top chucks, with black and white only ankle patches, no shoelace notches in the tongues, and white thread between the eyelets and on the back panel of each shoe. The models come with white toe caps and outer foxing, black racing stripes, and Orthlite insoles. Amazon Green is also available in a low top model.
The Lemon Chrome high top.
The Lemon Chrome high top is a continuing release, from prior years. These high tops sport the traditional red white and blue ankle and continue to have notches in their tongues you can thread your shoelaces to keep the tongues from slipping. Lemon Chrome is also available in a low top model. These seasonal high top models are priced at $60; low tops are $55.
Celebrate Pride 2021 with Chucks
Every year around the end of June, people around the world celebrate lesbian, gay, bisexual, transgender, non-binary and queer (LGBTQ) social and self acceptance, achievements, legal rights, and pride. These celebrations are all about self love and expression, and chucks have become a big part of that celebration. This makes sense since chucks have always been the go to shoe for self-expression. From DIY customization, to the past Converse Pride collections, chucks have been seen on the feet of those at Pride for decades. This year, Converse has released four new designs to go with the standard Priode collection and the Custom By You designs. The new four designs make up the 2021 Pride collection, and each bring something new to the chucks family.

Pride multi-color print Chuck Taylor high tops and Chuck 70 high tops.
The first shoe in this year's Pride collection is the Pride Run Star Hike. This chuck/boot hybrid uses colorful rainbow gradients to represent the experience of stepping from darkness into the light of being fully yourself. It is priced at $115, and available in unisex sizes. The Pride Chuck 70 features a stitched rainbow design and urges its wearers to see the joy in finding your pride. It is priced at $95, and available in unisex sizes. Finally, there are two standard chuck models this year, a low top and high top design. The abstract designs feature rainbow flowers and shapes that symbolize the journey one takes to find themself. The low top and high top chucks cost $65 and $70 respectively, and are also available in unisex sizes. As part of Converse's annual Pride efforts, the 2021 collection not only celebrates everyone's individual journey to finding pride, but the collection also benefits Converse's longtime partners globally and locally, including the It Gets Better Project, Ali Forney Center, BAGLY, and OUT MetroWest.
New Chucks for the Summer
Summer is fast approaching and with it comes trips to the beach, vacations, and days spent in the sun. While chucks are a year round shoe, they really shine during the summer months. That makes this pre-summer window the perfect time to bolster your chucks collection. Converse just dropped two perfect additions to your summer style: the Sunset Palms Chuck Taylor All Stars and the Custom Washed Canvas chucks. The Sunset Palms chucks are designed with tropical palm tree prints and gradient sunset skies, making them perfect summer sneakers. The Custom Washed chucks feature your choice of faded, washed prints that give the look of vintage clothes that have been washed out by the sun.
The blue Sunset Palms high top.
The Sunset Palms chucks are available in both high and low top models, and come in three colorways: blue, green, and orange. The low tops are $55 and the high tops are $60. The Custom Washed chucks come in both platform and Chuck 70's versions, and have four distinct patterns: Sand Dune, Indigo Sky, Forest Moss, and Stormy Night. The collection allows customers to choose rubber details like the sidewall, toe bumper, and racing stripe, and opt for a burnished, vintage look for the midsole. The Washed chucks are a bit pricier than the Sunset Palms, with the platforms costing $90 and the Chuck 70's $105. So whether you're looking for beachy summer vibes, or a vintage sun kissed look, Converse has got what you need to up your style this summer!
Custom Washed Chuck 70 high tops.
The Great Outdoors High Top Chucks
Another new seasonal line of chucks is The Great Outdoors high top. Inspired by Mother Nature, the Converse designers "reimagined classic Chucks with sweeping outdoor views inspired by nature's greatest landscapes.. Hits of solid color at the tongue, heel, and lining complete the look, while a lightly padded footbed helps to keep you comfortable." In their continuing campaign of recylced products, these sneakers come with recycled laces, linings, and outsoles made with reprocessed materials.
Sea Salt Blue and Magma Orange Great Outdoors high tops.
As is the case in most of the seasonal models of chucks, these shoes have all black ankle patches that are sewn on rather than the standard glued red, white and blue ankle patches. The have Ortholite cushioned insoles designed for all day wearing comfort. The Great Outdoors high top chucks retail for $60.
Explorer High Top Chucks
Converse has released two new high top variations on their Chuck Taylor All Star line of sneakers. Chuck Taylor All Star Space Explorer High Tops come in two color combinations, Back Alley Brick Red and Obsidian Black. Both models come with black shoelaces, black outer soles, black back panels, black and red or black and blue heel patches, and ankle patches that feature a white star and embroidered details. The uppers are made of twill fabric with matching stitching and eyelets for more of a monochromatic look. Space Explorer high tops retail at $60.00.
A Back Alley Brick Red Space Explorer high top.
Alt Exploration Chuck Taylor All Stars feature a webbed lacing system up the middle of each shoe's tongue that holds your shoelaces in place. These models come in two color pairs, Field Surplus/Light Zitron, which is a brown/yellow combination, and White/String, string being an off white color. The rest of the details are standard chucks design, except for the ankle patches which feature the words "Converse All Star" in the alternate color and the star and signature in black. They also have back panels in the alternate color for each model. These sneakers retail for $60.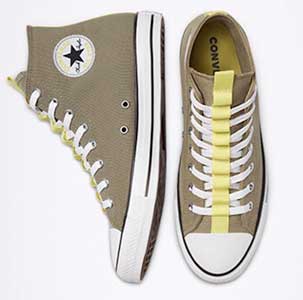 Light Field Surplus/Light Zitron and White/String Alt Exploration high tops.
New Seasonal Colors for 2021
Converse has announced new seasonal colors for both their classic Chuck Taylor and Chuck70 lines of high tops and low tops. There are a couple of differences between these new models and seasonal chucks from prior years. All of the new models no longer have the notch on their tongues to prevent them from slipping during wear. Whether this is merely a cost cutting feature, or a sign that they will be eliminating that from their core models too is undetermined at this time. Another change is that all of the high top models now have black and white only ankle patches instead of the standard red, white, and blue on white patch.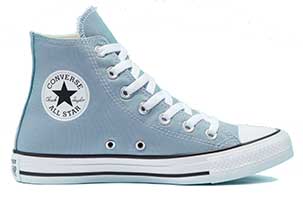 Obsidian Mist and Bright Spruce seasonal high top chucks.
Some of the new colors for the Chuck Taylor line include Obsidian Mist, Bright Spruce, and Carmine Pink in both high top and low top models. Ceramic Green, Dark Orchid, Farro, Digital Powder and Sail Blue in high top only, and Kumquat and Saffron in low tops only. New seasonal Chuck70 colors include Dark Root, Wolf Grey, Candy Grape, MIdnight Clover, and Rush Blue in both high and low top models, along with Court Green and Dark soba in high top only. You can see all of these new models of chucks on our Outlook page.
Chucks in the White House?
Kamala Harris has already made history as the first African-American, and the first Asian-American woman to receive the nomination for Vice President on a major party ticket. However, if Joe Biden is elected President in November, and she serves as his Vice President, she could make even more history as the first Vice President to wear chucks in the Blair House (where the Vice President lives in Washington) and the White House. It should be noted that former first lady Michele Obama was occasionally seen wearing the same model of black low top chucks when she lived in the White House. Besides being from California's San Francisco Bay Area and thus having a cultural connection to chucks, Harris may also be saying something with her choice of footwear.
Kamala steps out onto the campaign trail in a pair of black chucks.
Elizabeth Semmelhack, author of Sneaker X Culture: Collab, believes Harris's chucks represent action. "The sneakers are acting as the sartorial equivalent of being willing to roll up her sleeves," she says. Harris's chucks separate her from traditional heels and conservative slides that women in politics are usually relegated to wear. Long associated with the rebel in all of us, chucks more importantly represent an authenticity that is uniquely American, which is what Harris is attempting to represent. And Kamla's love for chucks is authentic, as she told The Cut: "I run through airports in my Converse sneakers. I have a whole collection of Chuck Taylors: a black leather pair, a white pair, I have the kind that don't lace, the kind that do lace, the kind I wear in the hot weather, the kind I wear in the cold weather, and the platform kind for when I'm wearing a pantsuit." The VP nominee loves her Chuck Taylors, and from her upbringing in California, to her authenticity and call to action, it's easy to see how they've become a part of her.
Wider Width Chucks Now Available In More Colors
Converse has literally widened its collection of wider foot chucks to include monochrome and customized styles. You can still get core black and optical white high tops and low cuts in standard or wider widths, but now you have a lot more options. These new wider width chucks come in monochrome black or white models in high top or low cut, along with a number of other options in summer colors and in plaid prints.
This navy custom high top and plaid custom low top are now available in standard and wide widths.
All of these new models are available in both high top or low top. Because they are part of the Converse customized collection of chucks, their price is $25 higher per pair, $80 for high tops and $75 for low tops. The other base color choices are dolphin gray, blue plaid, navy blue, monochrome navy, black, white, monochrome pink, royal blue, pink plaid, blossom pink, lilac, and aqua. You can order these pairs in men's size 3 through 11.5 in half sizes, and from 12-16 in whole sizes. (Women's sizes 5 to 18) The standard core wider width black or optical white chucks are not customizable and remain priced at $55 and $50.
Chucks Are An All Time Top Five Basketball Shoe
Recently ESPN came out with its rankings of the best 75 basketball shoes of all time. In its listing, the Converse All Star Chuck Taylor shoe came in at number 5. This shouldn't really be a surprise, given the fact that chucks were the dominant basketball shoe for over four decades. In its heyday as the premiere basketball shoe, chucks were worn by nearly every professional, college, and high school player. Many of the greatest players of all time wore them while setting records and providing us with some of the best moments in sports. Think of Wilt Chamberlain, Bill Russell, Bob Cousy, Larry Bird, Julius Erving, and Pete Maravich, to list a few names.
For decades all the great players and teams wore high top chucks.
It was a mistake for marketing people at Converse to start saying in the 1990s that chucks were now just leisure shoes. Sure they are great in that part of your life, as so many people like to wear them all the time, but they were designed to play basketball in originally. During his lifetime, Chuck Taylor and the Converse Company spent decades tweaking their design and manufacture so that they would be the finest basketball shoe of its day. That emphasis on quality control can't be taken away from their history or from their functionality as an athletic shoe. Converse should take up that cause again and get endorsers to wear basic chucks or Chuck 70s while playing basketball as they did in the past. Wouldn't that be great to see in a professional or college game again?
New Wider Width Chucks
The two most popular models of classic high top chucks are now available in a wider width. Chucks have always been made in just one width, D, which is meant for a medium width foot, which most people have. But now you can purchase a black or optical white high top pair of chucks in a wider (E) width. Both models look the same as their standard width counterparts and the price differential is only five dollars, currently $55 for standard width chucks and $60 for wide width chucks.
Black and Optical White high top chucks are now available in wide widths.
You can also purchase black or optical white low top chucks in wide widths. The price for those pairs is $55.
Gift Ideas For That Chucks Person On Your List
Finding the right gift at the right price is often difficult, especially if you are on a budget. If you know (or are) someone who is an enthusiatic fan and wearer of chucks, what do you get that person besides a new pair of chucks? These days a new pair is a big gift, with the prices ranging between $50 to $100 for most new pairs. Luckily The ChucksConnection is here to assist you with a short list of credible gifts that range in price from $2 to $20 and appropriate for people of all ages. Go to our Gifts Page to see the complete list of our recommendations.
Videos and Short Films with Chucks
We have started a new feature on The ChucksConnection that addresses videos and short films where actors wear chucks. These films are normally seen on websites like YouTube and Vimeo and made by amateur or aspiring filmmakers. Too short to be included on our Chuck Taylor in Films page and not released to the public through paid streaming, DVD or BlueRay, these videos and films are free for viewing, and we provide links to them on our new Videos and Short Films with Chucks page.
Check these out on our new page.
Like our other media pages, Videos and Short Films with Chucks is a work in progress. If you know of a video or short film that qualifies for this new page, send us the information and link to films@chucksconnection.com.
How to Participate in Chuck Talk
Do you have some things to say about Chuck Taylors? If you have an article or other interesting information about chucks to submit to this website, please contact us at mail@chucksconnection.com.