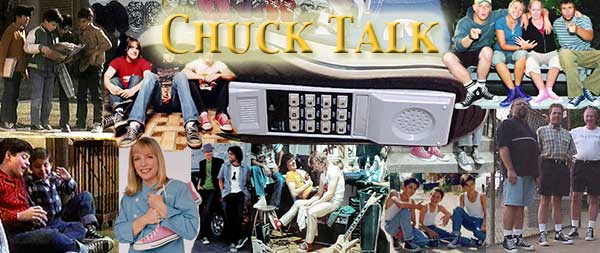 Information, commentary, chucks fashion, lifestyles, media presence.
Chuck Talk—Summer/Fall, 2022
GOLF WANG Made Your Own Way
Tyler, The Creator is an American rapper and musician who has released some of the most critically acclaimed albums of the 2010s, both as a solo artist and as a member of the collective Odd Future. Throughout his career, Tyler has long partnered with Converse through his clothing brand, Golf Wang. Beginning in 2017 when he reinterpreted the Converse One Star, and continuing ever since the rapper has designed multiple collections for the brand. Earlier this year, the pairing brought a collection of designs to create the GOLF WANG Chucks by You, and now Converse and Tyler have brought new designs to the collection.
Make your own GOLF WANG chucks today!
This new drop of designs features a lot of style variety with some very cool limited edition graphics. There are five core designs that are based on the Golfwang wordmark that have limitless possibilities.The first is the word "GOLF" in a large, varsity cursive script which fits with the sports background of chucks. This font also appears over a heart in another design. There is also a wave design with many smaller "GOLF" wordmarks and a large multicolored "GOLFWANG" wordmark that rests halfway on the rubber. Finally, there is the "GOLF" rainbow logo which features a happy little rainbow over the wordmark. Outside of these design elements there are also customizable elements like the golf polka dot liner and bright color palettes that go well with all the designs. The new GOLF WANG Chucks by You are available for $115 now on Converse.com.
Prepare for the Cold with Winter Weather Chucks
Halloween has come and gone, and as we enter November, the cold weather has arrived. That means chills, rain, and even snow have begun creeping into our lives. With it, comes the need for more cold weather-appropriate footwear as your standard chucks may not withstand the wet and rugged winter weather. A few more chucks options are available for these coming months, primarily the Chuck Taylor All Star TecTuff and the Chuck 70 Counter Climate GORE-TEX. So let's take a look at these climate-focused chucks and see if they're worth adding to your closet this year.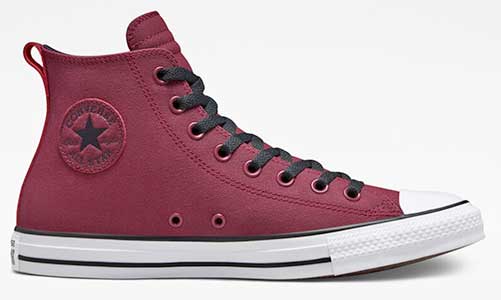 Chuck Taylor All Star TecTuff high top.
The Chuck Taylor All Star TecTuff utilizes TecTuff's proprietary water-based polyurethane material to create a water and scuff-resistant outer canvas. TecTuff leather is used for the heel tab and iconic All Star patch. The inside is lined with OrthoLite cushioning for all-day comfort so they're ready for all-day use in whatever climate you're in. These come in two colors: dark beetroot and utility green and are available for $75. The Chuck 70 Counter Climate GORE-TEX is similarly made of a different upper material, this time GORE-TEX canvas which is a mix of cotton and polyester. Water-resistant and lined with OrthoLite cushioning, these chucks are also made for all-day, all-weather wear. The Outsole and All Star ankle patch are made from at least 35% scraps from the manufacturing process. These come in a more vibrant color palette with two color flat laces for an added pop of color. They're available in Black Cherry/Yellow and Obsidian/Light Aqua for $120. Both options are great choices for this coming winter season and can handle whatever weather is thrown your way.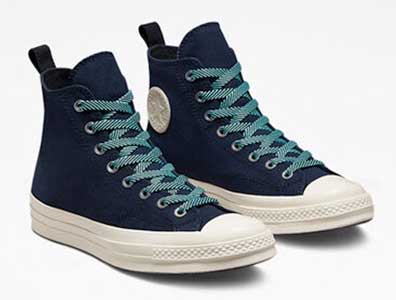 Chuck 70 Counter Climate GORE-TEX high top.
Converse Teams With John Boyega to Bring New Films to Light
John Boyega has become a force in Hollywood over the past decade. From starring in blockbusters like Star Wars and Pacific Rim to incredible performances in films like The Woman King, the 30-year-old British actor is one of film's brightest and fastest-rising stars. He is now using that star power and cache to uplift a new generation of artists. Teaming with Converse and the Converse Create Next Film Project, Boyega and Converse produced 5 short films aimed at bringing the next generation of Black filmmakers from London into the spotlight. The program offered mentorship and funding to five All-Star Directors and gave them all the tools and resources needed to create their own short films. The film "Drop Out" was directed by and stars Ade Femzo and just won Best Short Film at the BFI London Film Festival.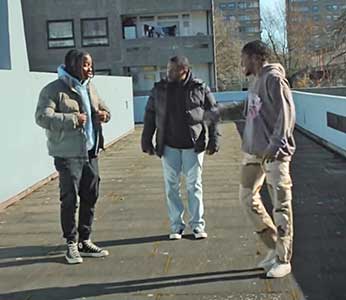 "Drop Out" tells the story of Tobi and his friends and their dream of music stardom.
The film follows Tobi, an aspiring musician, as he faces his greatest challenge ever: telling his loving mother that he plans to drop out of college in order to sign with a record label and go on tour. The film is shot in such a natural way that when Tobi is talking to his friends about blowing up and going on tour, you feel like you're right there with them. The film also packs a lot of story in its short six minute run time. Its characters feel so real and that goes a long way in having you invested in this short story. Truly deserving of the Best Shirt Film award, this film can be found on our Videos and Short Films With Chucks page now!
Articles and Features:
See the latest Chuck Taylor All Star releases on our Shoe Outlook page. Johnny Knoxville has moved into second place in our Honor Roll for Actors Wearing Chucks in Films and Television Shows with the release of the latest Jackass film Jackass Forever. Our latest additions to the Honor Roll are Charlie Heaton, Maya Hawke, and Finn Wolfhard.
For more articles:

Film Reviews:
Happy Gilmore, Jurassic World: Dominion, Spontaneous, Creed II, Words On Bathroom Walls, North Hollywood, Journey of the Heart, Hairspray, Spider-Man: No Way Home, The Adam Project.
New listings: My Spy, 13: The Musical, My Babysitter the Super Hero, Clara and the Secret of the Bears, Where the Scary Things Are, Swinging Safari, The Dunning Man.
All of the alphabetical film pages, The Chuck Taylor in Films - A, etc., are accessed from the main Chuck Taylor in Films Page at the top of each alphabetical listing.
For more film reviews and listings:

Music Video Reviews:
Fake Love, TV, My Motto, Repeat Stuff, I Don't Want to Grow Up, Expectations, BIG TIME, Love Has All Been Done Before, American Pie, From The D 2 The LBC, Make It To Christmas, hooligan, Best Days, N95, Glad You Came, Especially You. More links to our music videos reviews have been added to the Musicians Who Wear Chucks page.
For more music video reviews: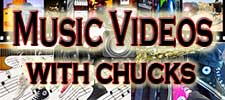 New or Updated Photo Galleries:
Teen Boys Wearing Chucks, Teen Girls Wearing Chucks, Zendaya, Converse x Barriers Black Chuck 70 High Tops, Kava Bliss Washed Canvas High Tops, Guys Wearing Red Chucks, Zendaya, Chucks In The Film Three Months, Ads for Chuck Taylor Shoes, Actors Wearing Chucks in Television Series. Most of our Musicians Who Wear Chucks photo galleries have been re-edited with improved links and captions.
For a complete listing of our photo galleries:
TV Page Features:
New listings with an article: Heartbreak High, Best Foot Forward, Grease Live!, New Girl, Ruby and the Well, Stranger Things Season 4, Ms. Marvel, Heels, Kim's Convenience, Never Have I Ever, The Hardy Boys (2020).
Other recent listings are: Reboot, Night Sky, The Last Bus, Lab Rats: Elite Force, The Conners, The Wonder Years (2021), A. P. Bio, Diary of a Future President, Generation, The Unicorn.
For a complete listing:

Videos and Short Films With Chucks:
Blinky, Escape From Lizard Island, Alan Smithee, A Kiss, Bus 89, Man of the Harvest, Star Wars Generations, Eddie and the Alternate Universe, The Attic, The Funspot, Remember When, Brotherly Love.
For more videos and short films:

How to Participate in Chuck Talk.
Let us know what you think! We are also happy to try and answer your questions and inquiries about chucks, and listen to what you are thinking about. If you have some opinions, information, pictures, suggestions, an article or other interesting information to submit, please contact us at mail@chucksconnection.com.
More ChuckTalk Articles
Modern Minimalist Designs Bring Something New to Chucks
Converse is not typically known as a high fashion and luxury brand, and instead has a legacy as the shoe of the rebel and the working person. However, every so often the brand dips its toe into the world of high fashion, and that is what it has done once more with A-COLD-WALL*, the British luxury brand helmed by Samuel Ross. These two have collaborated before, most recently two years ago for their "workwear" line. This new collection goes in a different direction. Instead of a down-to-earth workwear theme, this collection focuses on a future-forward aesthetic that updates the classic chuck with a modern look. The collection features two styles of chucks and a few articles of clothing.
A-COLD-WALL* and Converse create a modern and minimalist design for a new pair of chucks.
These chucks come in two colors: white and black. This lack of color actually fits really well with the aesthetic they are going for. This reinterpretation translates the bleeding edge style of A-COLD-WALL* through a stark, minimalist palette. The canvas upper features a reflective film print on the side and a metallic alphanumeric A-COLD-WALL* branding code above the foxing. This gives the shoe a futuristic look while also staying minimal and not overly flashy. There is also a co-branded sock liner and a canvas heel pull. The eyelets are matte which helps them pop, and translucent foxing, license plate, toe bumper and toe cap bring the whole design together. The whole design is a slew of minimalist features that together work really well and bring a new dimension to the classic chucks silhouette. This limited edition chuck is available now for $110, and can also be paired with the collection's off-white t-shirt and shorts.
Super Halloween Costume Ideas
Halloween is here! All Hallow's Eve is for everyone: the young, the old, and anyone in between. It is for those who love going the extra mile on their costumes to those who simply like throwing on a store-bought mask. Wherever you fall on this spectrum, know that it's possible for you to have an incredible Halloween costume this year that includes your favorite chucks! You may know the standard options like T-Birds or rock stars, but did you ever think that you could be a superhero in your chucks this year?
(From L to R) Ms. Marvel, Spider-Punk, and America Chavez are all super costume ideas this Halloween!
First, let's start with the Marvel Cinematic Universe's newest hero, Ms. Marvel (aka Kamala Khan) who made her debut this year in the Disney+ series, Ms. Marvel. In the MCU Kamala's costume is homemade and uses red low top chucks as the footwear of choice. There is also America Chavez, the young multidimensional hero who made her MCU debut in this year's Doctor Strange in the Multiverse of Madness. You can copy her look from the film by wearing black high top chucks with her signature stars and stripes denim jacket, or you can copy one of her comic looks and go with red or blue chucks. Finally, for a superhero with a little bit of edge, there is the one and only Spider-Punk. This alternate version of the Friendly Neighborhood Wall-Crawler carries an electric guitar and sports a mohawk on his head and red high top chucks on his feet. All these super costume ideas can be done with extreme detail or with little effort depending on which you choose and how much you want to do! So this Halloween, save the world in your chucks with a super costume!
Custom Chucks Boots Are Here for Fall
Spooky decorations are lining store shelves and pumpkin-spiced food is all around us which can only mean one thing: Fall is here! With that, comes preparation for cooler weather and wetter streets in the coming months. Keeping that in mind, Converse has unveiled a slew of boots and all-weather footwear that is fully customizable that features the esteemed Chuck Taylor All-Star or the premium Chuck 70 silhouette.
The Chuck Taylor All-Star PC Boot blends classic chucks style with cold weather protection.
Using the Converse customizer, you can design your own pair of custom boots in upgraded materials such as leather, canvas suede, and GORE-TEX. This includes both lugged bottom and classic flat-bottom boots. You can choose from a blank canvas and test out the color options or start with some inspiration from the pre-designed models. The highlight of this collection is the Chuck Taylor All-Star PC Boot. This fleece-lined boot is made of durable suede and comes with a sherpa collar that not only keeps you warm in the cold but also serves as a statement piece. This specific model is the best of both worlds when it comes to design and functionality. It, more than any other of the models in this collection, keeps the style and spirit of classic chucks while also providing functionality for colder weather. The Chuck Taylor All-Star PC Boot is available in five colors with endless possibilities to customize. These and other styles are available right now in unisex sizes for varying prices. Check out the full lineup on Converse.com and have fun creating a custom new addition to your chucks collection for the upcoming cold weather months.
Converse x Stüssy Marries Two West Coast Favorites
Chucks are a perfect vehicle for unique designs. The original design of chucks is so iconic that when they get updated and remixed it stands out and elevates the new design. This is the case with Converse's latest collaboration with the lifestyle brand Stüssy. Stüssy began in the 1980s as a surf wear brand in Southern California. Eventually, it has become a favorite brand across multiple scenes, including punk, skateboard, and hip-hop. While the brand has been called "urban streetwear", in a 1992 interview founder Shawn Stussy said, "Everybody calls it surf wear, or urban streetwear, punk, or surf street... I don't name it, and I don't name it on purpose." This collection sees the California icon revisit their coastal roots and celebrate archival Converse style on a new Chuck 70, referencing the infamous black hemp Chucks from the '90s to create a one-of-a-kind West Coast look.
West Coast heritage on display as two iconic brands meet.
The collection includes two pairs of Chuck 70s, each with its own unique design. The first is the black pair which features a 100% black hemp upper with bright white stitching. Rather than the iconic All Star patch, it has a blank patch on the exterior with the actual patch hidden on the interior. The black pair also features a unique star symbol on the lateral and a stitched patch on the tongue. This collection also includes a pink pair that has many of the same features as the black pair but does have a few key differences. This includes the bright pink upper, black stitching rather than white, and a "surfman" logo in place of the white stitched star. Both pairs are available for $110 on the Converse website, but there are limited quantities as this is a limited edition drop. However, fans of the brand won't be disappointed with this unique, West Coast design.
New Shoelace Product Now Available
The ChucksConnection always has a large selection of shoelaces for your chucks, and now our collection of retro width shoelaces has been expanded to include a 63 inch long white retro shoelace. White retro width shoelaces, which were the laces included with chucks in the fifties, sixties, and seventies, are a full 3/8 inch wide. They fit in between standard flat athletic laces (7/16 inches) and fat laces (5/8 inches) in width. Now chucks wearers with nine eyelet pair shoes have access to a white retro shoelace. Also chucks wearers with eight eyelet pair models can get retro shoelaces in a longer length. Go to our Shoelaces Home Page for full details, general information, lacing guides, and access to our entire selection of shoelaces for your chucks.
Remembering Bill Russell
Hall of Fame basketball legend Bill Russell recently passed away at the age of 89. No matter what level he played at he was always a champion, starting with state basketball championships at McClymonds High School in Oakland, then with the University of San Francisco Dons where he led them to two NCAA championships, an Olympics gold medal in 1956, and eleven NBA championships with the Boston Celtics. He has many great career highlights which are well covered in the numerous obituaries by sportswriters who covered his career. We'll mention just one: his record in deciding championship games throughout his career, where one more victory was needed to secure the prize, was an amazing 21-0. Besides his athletic accomplishments, off the court Bill was a strong advocate for civil rights in a nation and sport still rampant with discrimination. He took a lot of criticism for this but refused to back down.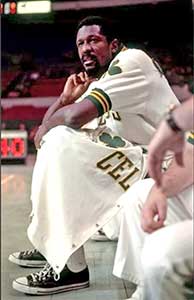 Bill Russell court side, in a game, and his favorite pair of low top chucks.
Throughout his career, Bill always wore Converse All Star Chuck Taylor basketball shoes, with his favorite being the black low top (or Ox as they were called in those days). In the early 1970's Converse even marketed a special leather edition of Bill Russell chucks, surely a great collectors item if you have a pair today. Bill Russell will always be remembered, especially now that the NBA championship trophy is named after him. Sadly he won't be with us any longer to present it to the championship team at the end of the finals.
Converse x Barriers Create Chucks with a Voice
Barriers doesn't make passive fashion. The New York City fashion brand aims to amplify messages of anti-racism and progress. It tries to teach, learn, and make a statement through fashion. Spearheaded by the designs of Steve Barter, the brand was founded in 2015 and has earned quite the following with its Dripping Logo and Phrases that speak to its mantra Create Your Opportunity. This mantra is transcended through their blog, vlog, and the spotlighting of upcoming figures of influence in their respected fields. They've partnered with Converse to create a limited edition collection. This collection features a bold and empowering Chuck 70, that blends street style and amplifies stories and voices of the unheard.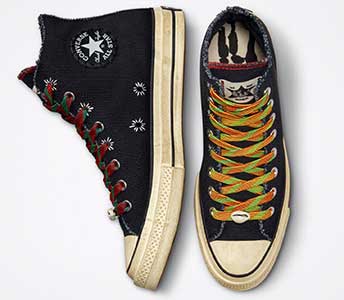 A bold and striking design that combines unique elements and the classic chucks silhouette.
On this Chuck 70, the NYC-based brand draws inspiration from The North Star, a 19th-century anti-slavery newspaper. The shoe is adorned with embroidered text, co-branded details, and custom star graphics that all tell this story and unite it with the two iconic brands. The canvas upper is in a striking black that helps the colors really pop. The design features the Barriers logo stitched onto a woven patch on the tongue. Inspirational slogans appear on the outside uppers. There's also hand-stitched embroidery on the left and right lateral and embroidered eyelets on left and right medial that add an extra dimension to the classic chuck design. The custom All Star patch is woven on and there's a custom graphic on the sock liner. Finally, there are two weave shoelace options in red/yellow/green or red/green plus a cowry shell-inspired lace jewel. The Converse x Barriers collection also includes a Converse One Star, a t-shirt, a hoodie, and shorts. Converse x Barriers chucks are available now for $110 on Converse.com. Click on the link to see a photo gallery.
Expand Your Chucks Footprint With New Colors
If you are dedicated wearer of chucks, you have a favorite color that gets worn the most. But the great thing about chucks is that there are so many models and colors to choose from. Every year Converse issues seasonal colors, issues of high top and low top Chuck Taylors in new colors besides the standard black, white, red, charcoal, or blue. You should treat yourself to some of these seasonal colors, as they are usually a one time issue, although if a seasonal color is popular, it most likely will continue to be made. Maroon is a perfect example of that. It used to be considered a core color, but for some reason that designation was taken away. But maroon still remains very popular and maroon pairs of chucks still are made every season, a renewal rate of over twenty seasons.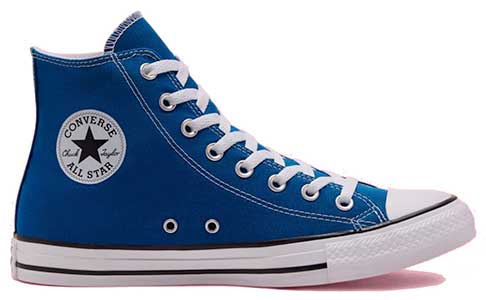 Sand Dune and Snorkel Blue are two of the latest seasonal high top chucks.
Converse has recently mad it eay to peruse available models of chucks, along with variations like platform and slip on models by color. Here are some of their recommendations: If you like orange choose orange or fire opal; for yellow lemon chrome; for green midnight clover or amazon green; for blue snorkel blue; for purple electeric purple or pale amethyst; for brown choose sand dune; and for pink thre is a pink clay color. Go to our Outlook Page to see images of all these models in high top and low top. As always with seasonal chucks, if you see a color/model you really like, buy it right away as it may never return.
Fun Kids Prints to End the Summer
It's the middle of July which means we are about halfway through the summer season! Kids everywhere have been enjoying their time off from school but as we head into the second half of the summer that fun is coming to an end. School shopping is around the corner and with the new year starting the kids in your life will need something new to stand out amongst their friends. If you're in the market for new chucks, there are some different, fun prints and designs your kid might love rather than the solid colors or staple black and white pair.
Sweet Scoops, Unicorns, Frozen Treats, and Dinosaurs give kids some new pep in their step!
The first fun print for kids this summer is the Sweet Scoops print. This print features two designs that showcase beautiful and colorful ice cream treats, with one focusing on old school ice cream shop graphics and the other bright and vibrant cones. The second print features colorful dinosaurs that include T-Rex, Stegasaurus, and Triceratops on either black or white canvas. There's also a Unicorn print that has pink, blue, purple, and yellow unicorns on either pink or white canvas. Finally, we have the Frozen Treats prints that has popsicles, ice cream bars, and cones in bright blue, pink, and teal color palettes. All of these prints are customizable using the Converse customizer tool, and are available in sizes ranging from toddlers to big kids. They also have varying styles between high and low tops, and laces and easy on velcro. So if the child in your life is looking for some new chucks to close out the summer and start the new school year with, check out these fun prints!
From the Dirt to Your Feet!
Chucks have often been used to bring about change and positive impact on the world, and the latest limited edition chucks from Converse are no different. In partnership with Sky High Farm, Converse is dropping a new Chuck 70 that uplifts their message and lets every customer support the farm's mission to expand access to healthy, fresh food and invest in pathways towards food sovereignty. Sky High Farm was founded in 2011 in the heart of the Hudson Valley in Ancramdale, NY by artist Dan Colen. The farm tried out its fashion-to-food hypothesis, proudly collaborating with creatives, artists, and organizations to raise funds through limited-edition apparel releases. This led to the creation of Sky High Farm Workwear, the brand built solely to help support the farm where Colen serves as creative director. The brand exists exclusively to donate its profits to the Sky High farm to further its mission. Every customer becomes a donor, and their dollars pull double duty as the farm gets the funds to do its work, and customers get the gear to do theirs.
"Born from the dirt and the hands that tend it."
The brand emphasizes that its collections always highlight "sustainable products and fabrication processes, including the use of vintage, deadstock, and recycled fabrics, and earth-friendly production technologies". They also require all their partners to commit to a guaranteed donation to Sky High Farm and encourage them to only buy what they can sell. This collection was made in partnership with Sky High Farm Workwear and features one model of Chuck 70 that costs $150. The chuck features the Sky High Farm Workwear "Strawberry-Moon" logo which is strawberry and moon hugging. It also features a Custom Sky High Farm Workwear chuck patch and license plate and a Custom co-branded sock liner. These chucks are very cool style wise and really fit with the summer vibe, and they help a wonderful cause!
Chuck Taylor All Star Marbled High Tops
Want a slightly new look for your summer footwear? Then check out the newest variation on the classic black Chuck Taylor high top from Converse. As they describe it, you will get a "bold, nostalgic redesign that puts '90s expression first. The cotton canvas upper features pop-color binding details that add a retro touch to the iconic" Chuck Taylor design. The main new design features include an expressive marbled ink pattern on the tongues, star ankle patches, and rear heel support piece.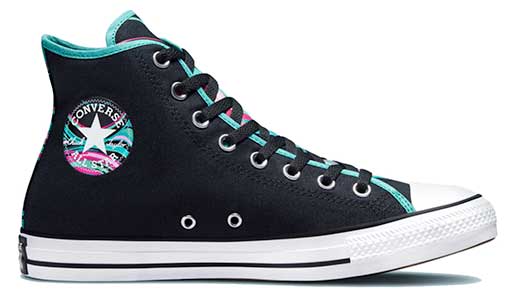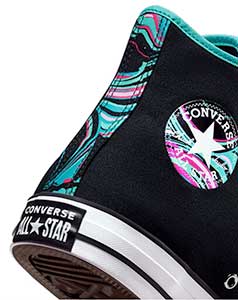 Left inside patch and angled rear views of the CTAS Marbled high top.
In addition to the marbled ink patterns decribed above, there is light blue edging on the uppers and the tongues of each shoe. These chucks come with black shoelaces and a black heel patch. Other details like the rubber toe bumper, toe cap, and diamond pattern outsole remain the same as you see on classic black pairs. Marbled high top chucks come in mens half sizes from 3 to 13 and retail at $65.00, which has now become the new standard retail price for high top chucks.
DRKSHDW Chucks Shine Bright
We all know Chuck Taylors are classics in every way. From the silhouette to the All Star patch, the chucks we all know and love are known the world over for their classic design and their long history of not changing said design. This poses a challenge to designers working with Converse on special collections: How do you make an iconic piece of Americana your own? Well if you're fashion designer Rick Owens you distort and reshape the classical lines of this iconic silhouette.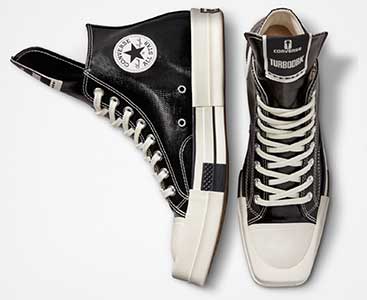 The DRKSHDW TURBODRK Chuck 70's are unlike any chucks that have ever been released.
The TURBODRK Chuck 70 is the newest creation from Owens and references his past DRKSHDW designs on a limited-edition Chuck 70. The design aims to both celebrate and distort the classic Chuck Taylor design in a few different ways. First, it stretches and elongate the tongue so that it is several inches longer than normal changing the height of the chuck. The design also features the first square-toe execution in the century long existence of the shoe. This bold design choice complete reinvents the profile of the chuck as the molded rubber dual toe is completely unique and unlike anything seen on a pair of chucks. Finally, the design features a custom DRKSHDW license plate and wrap around TURBODRK woven label. The chucks in this collection come in a high-shine lacquered-denim finish and are available in both high top and low top options. The high top is available in a shiny black while the low top is available in a sparkly silver. This limited edition collection also features two mini backpacks that feature the DRKSHDW logo in black and off-white. The TURBODRK Chuck 70's are available for $165 and $170 for the low top and high top respectively and are perfect for anyone looking for something completely new and unique.
Converse Celebrates Found Family for Pride 2022
June is Pride Month, an annual celebration that supports positive social change and amplifies voices from the LGBTQIA+ community. During this time of year, there are celebrations worldwide, and many companies and brands attempt to offer a welcoming space to those in the community. While many corporations just slap a rainbow flag on their logo for the month and do nothing more, Converse uses the month to amplify LGBTQIA+ voices and contribute to numerous charities that support a wide range of causes in the LGBTQIA+ community. This year these charities and organizations include the It Gets Better Project, The Theater Offensive, The Ali Forney Center, Out Metrowest, Skate Like a Girl, the Las Fatos Project, and BAGLY.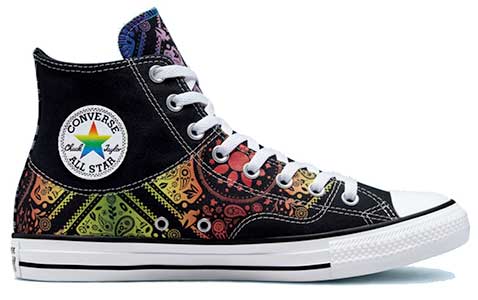 The Chuck Taylor All Star Pride high top features a rainbow bandana graphic.
Converse also releases a yearly Pride collection featuring both pre-designed chucks and new Pride elements for the Converse by You customizer. The theme of this year's collection is "Found Family" and "Unity". "Found Family" is described as "the ones you meet who surround you with support and acceptance". The designs have been created by LGBTQIA+ employees within Converse to "represent the diversity and unity of the community". The collection includes a wide variety of designs featuring vibrant and unique graphics that have a little something for everyone. There are also new uses of iconic Pride flags in both the designs and Converse by You design elements. Available in both Kids and Adult sizes, there's a pair of chucks for everyone. As Converse perfectly sums up: "Come together with love and with Pride".
Converse x Peanuts High Top Chucks
Good grief! Of all the chucks in the world, these are the Charlie Brown-iest. The Peanuts gang has been gracing the pages of newspapers across the country for 72 years now and has been described as "arguably the longest story ever told by one human being." The comic strip centers around the lives of a group of young children, who have parents that are never seen. The main character is named Charlie Brown, a bald, meek, and nervous young boy with self-confidence issues. He's joined by his ever-faithful and adventurous dog Snoopy. The Peanuts gang have been a staple of American pop culture through their entire run, with their holiday specials being a yearly tradition for many. It's no wonder that they've now teamed with Converse to release a limited collection that celebrates their fun-filled 72-year history.
White Peanuts high top.
This collection contains a quite a selection of chuck designs to choose from. This includes a red design that features all the characters in white outlines and a white design that features Snoopy and Woodstock in full color. These both have special Peanuts features incorporated into their designs, such as a Converse x Peanuts woven tongue label and custom Snoopy doghouse license plate. Then there's the custom Chucks by You option where you can out your own Peanuts spin on classic chucks. There you can add any of your favorite characters, choose from classic Peanuts colors, or even emblazon the sides with classic Panuts comic strip panels. Finally, this collection also includes other shoe options such as slip ons and One Stars, as well as clothing options like a fun Charlie Brown bucket hat. The chucks though range in price from $70-$100.
Other models of Peanuts high top chucks.
Chuck Taylor All Star Archive Paint Splatter High Tops
Another addition to the seasonal lineup of chucks for 2022 are the two models of Chuck Taylor All Star Archive Paint Splatter High Tops. Described by Converse as an expressionist icon, these sneakers feature uppers with a paint splatter design in black, white, and yellow. These models have most of the standard features we like in pairs of high top chucks: white outer foxing and toe caps with black racing stripes, diamond patterned toe guards, the classic outsole in brown, canvas uppers with two silk screened paint splatter designs, two eyelet holes on the inside upper panels for breathability, and Ortholite insoles. The ankle patches are printed in white on black circles.

Black and Amarillo Yellow Chuck Taylor All Star Archive Paint Splatter High Tops
The two models are described as Black/White/Amarillo and Amarillo/Black/White, with Amarillo referring to the shade of yellow used in their color design. They come in half sizes from 3 to 13 and retail at $65.
New Chuck Taylor All Star Summer Print High Tops
With summer rapidly approaching, Converse has released two new print models built on the foundations of their two best selling models of chucks, black/white and optical white high tops. Built on the optical white high top design, the Chuck Taylor All Star Archive Flames updates the flames graphic that was a popular seasonal model a decade ago, and redoes it in a bright design that features colors like Baltic blue and washed teal, along with a touch of orange and purple. The Chuck Taylor All Star Lightning Bolts high top is built on the classic black model of chucks. The uppers on this sneaker are black with a design of lightning bolts in Baltic blue, washed teal, orange, and purple.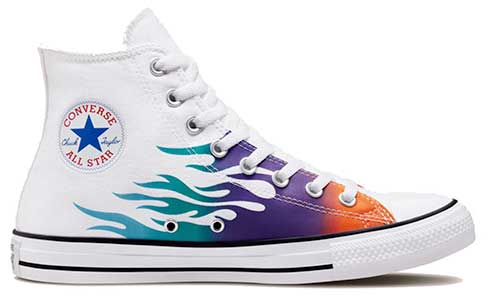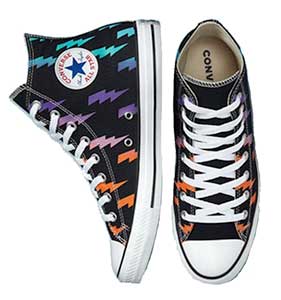 Chuck Taylor All Star White Archive Flames and Lightning Bolt high tops.
These chucks will give your summer wear look a bright pop of color when you lace them up while still fitting in with the clothes you like to wear with your favorite black or optical white high tops. These chucks have the original Chuck Taylor ankle patch in red, white and blue, white toe caps and outer foxing with black racing stripes, and gradient colors in their print designs. They have mesh-lined canvas uppers to help you stay cool, OrthoLite cushioning for all-day comfort, and a recycled mesh lining along with the traditional pair of eyelets on their inside uppers for breathability. These chucks come in men's whole and half sizes from 3 to 13 (women's 5 to 15) and retail for $65.