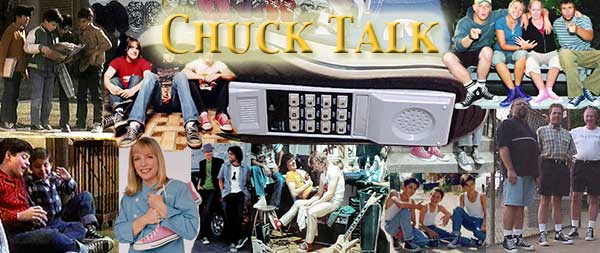 Information, commentary, chucks fashion, lifestyles, media presence.
Chuck Talk—Summer/Fall, 2022
Chuck Taylor All Star Marbled High Tops
Want a slightly new look for your summer footwear? Then check out the newest variation on the classic black Chuck Taylor high top from Converse. As they describe it, you will get a "bold, nostalgic redesign that puts '90s expression first. The cotton canvas upper features pop-color binding details that add a retro touch to the iconic" Chuck Taylor design. The main new design features include an expressive marbled ink pattern on the tongues, star ankle patches, and rear heel support piece.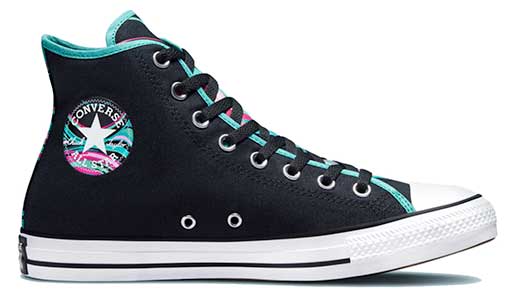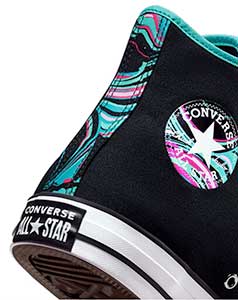 Left inside patch and angled rear views of the CTAS Marbled high top.
In addition to the marbled ink patterns decribed above, there is light blue edging on the uppers and the tongues of each shoe. These chucks come with black shoelaces and a black heel patch. Other details like the rubber toe bumper, toe cap, and diamond pattern outsole remain the same as you see on classic black pairs. Marbled high top chucks come in mens half sizes from 3 to 13 and retail at $65.00, which has now become the new standard retail price for high top chucks.
Articles and Features:
See the latest Chuck Taylor All Star releases including the new summer prints on our Shoe Outlook page. The Chucks Life comic strips have been reformatted for easier viewing on mobile devices. Johnny Knoxville has moved into second place in our Honor Roll for Actors Wearing Chucks in Films and Television Shows with the release of the latest Jackass film Jackass Forever. Our latest addition to the Honor Roll is Isabella Sermon.
For more articles:

Film Reviews:
North Hollywood, Journey of the Heart, Spider-Man: No Way Home, The Adam Project, Three Months, West Side Story, There's Something In The Lake, Escape 2120, Reel Monsters, SpaceBoy, Tick Tick Boom!.
New listings: Jurassic World: Dominion, The Dunning Man, Words On Bathroom Walls, Better Nate Than Ever, Grim Reapers, Come Along, Darker Than Midnight, The History of Love, Blurred Lines.
All of the alphabetical film pages, The Chuck Taylor in Films - A, etc., are accessed from the main Chuck Taylor in Films Page at the top of each alphabetical listing.
For more film reviews and listings:

Music Video Reviews:
Make It To Christmas, hooligan, Best Days, N95, Glad You Came, Especially You, Every Summertime, favorite crime, Crisis, Louder Than Words, In Hell I'll Be In Good Company, Fight for Your Right (Revisited), The Less I Know the Better, My Block.
For more music video reviews: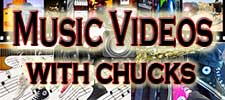 New or Updated Photo Galleries:
Kava Bliss Washed Canvas High Tops, Guys Wearing Red Chucks, Zendaya, Chucks In The Film Three Months, Ads for Chuck Taylor Shoes, Actors Wearing Chucks in Television Series. Most of our Musicians Who Wear Chucks photo galleries have been re-edited with improved links and captions.
For a complete listing of our photo galleries:
TV Page Features:
New listings with an article: Ms. Marvel, Heels, Kim's Convenience, Never Have I Ever, Första Kärleken (First Love), The Hardy Boys (2020), Secrets of Sulphur Springs, WandaVision.
Other recent listings are: Night Sky, The Last Bus, Lab Rats: Elite Force, The Conners, The Wonder Years (2021), A. P. Bio, Diary of a Future President, Generation, The Unicorn, Trinkets.
For a complete listing:

Videos and Short Films With Chucks:
Bus 89, Man of the Harvest, Star Wars Generations, Eddie and the Alternate Universe, The Attic, The Funspot, Remember When, Brotherly Love, E.L. R.O.N.A.L.D.O., Rocket Boy, Broken Leg.
For more videos and short films:

How to Participate in Chuck Talk.
Let us know what you think! We are also happy to try and answer your questions and inquiries about chucks, and listen to what you are thinking about. If you have some opinions, information, pictures, suggestions, an article or other interesting information to submit, please contact us at mail@chucksconnection.com.
More ChuckTalk Articles
Converse Celebrates Found Family for Pride 2022
June is Pride Month, an annual celebration that supports positive social change and amplifies voices from the LGBTQIA+ community. During this time of year, there are celebrations worldwide, and many companies and brands attempt to offer a welcoming space to those in the community. While many corporations just slap a rainbow flag on their logo for the month and do nothing more, Converse uses the month to amplify LGBTQIA+ voices and contribute to numerous charities that support a wide range of causes in the LGBTQIA+ community. This year these charities and organizations include the It Gets Better Project, The Theater Offensive, The Ali Forney Center, Out Metrowest, Skate Like a Girl, the Las Fatos Project, and BAGLY.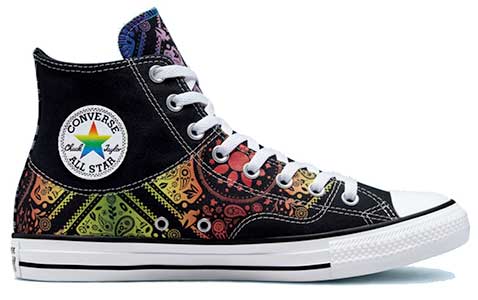 The Chuck Taylor All Star Pride high top features a rainbow bandana graphic.
Converse also releases a yearly Pride collection featuring both pre-designed chucks and new Pride elements for the Converse by You customizer. The theme of this year's collection is "Found Family" and "Unity". "Found Family" is described as "the ones you meet who surround you with support and acceptance". The designs have been created by LGBTQIA+ employees within Converse to "represent the diversity and unity of the community". The collection includes a wide variety of designs featuring vibrant and unique graphics that have a little something for everyone. There are also new uses of iconic Pride flags in both the designs and Converse by You design elements. Available in both Kids and Adult sizes, there's a pair of chucks for everyone. As Converse perfectly sums up: "Come together with love and with Pride".
Converse x Peanuts High Top Chucks
Good grief! Of all the chucks in the world, these are the Charlie Brown-iest. The Peanuts gang has been gracing the pages of newspapers across the country for 72 years now and has been described as "arguably the longest story ever told by one human being." The comic strip centers around the lives of a group of young children, who have parents that are never seen. The main character is named Charlie Brown, a bald, meek, and nervous young boy with self-confidence issues. He's joined by his ever-faithful and adventurous dog Snoopy. The Peanuts gang have been a staple of American pop culture through their entire run, with their holiday specials being a yearly tradition for many. It's no wonder that they've now teamed with Converse to release a limited collection that celebrates their fun-filled 72-year history.
White Peanuts high top.
This collection contains a quite a selection of chuck designs to choose from. This includes a red design that features all the characters in white outlines and a white design that features Snoopy and Woodstock in full color. These both have special Peanuts features incorporated into their designs, such as a Converse x Peanuts woven tongue label and custom Snoopy doghouse license plate. Then there's the custom Chucks by You option where you can out your own Peanuts spin on classic chucks. There you can add any of your favorite characters, choose from classic Peanuts colors, or even emblazon the sides with classic Panuts comic strip panels. Finally, this collection also includes other shoe options such as slip ons and One Stars, as well as clothing options like a fun Charlie Brown bucket hat. The chucks though range in price from $70-$100.
Other models of Peanuts high top chucks.
Chuck Taylor All Star Archive Paint Splatter High Tops
Another addition to the seasonal lineup of chucks for 2022 are the two models of Chuck Taylor All Star Archive Paint Splatter High Tops. Described by Converse as an expressionist icon, these sneakers feature uppers with a paint splatter design in black, white, and yellow. These models have most of the standard features we like in pairs of high top chucks: white outer foxing and toe caps with black racing stripes, diamond patterned toe guards, the classic outsole in brown, canvas uppers with two silk screened paint splatter designs, two eyelet holes on the inside upper panels for breathability, and Ortholite insoles. The ankle patches are printed in white on black circles.

Black and Amarillo Yellow Chuck Taylor All Star Archive Paint Splatter High Tops
The two models are described as Black/White/Amarillo and Amarillo/Black/White, with Amarillo referring to the shade of yellow used in their color design. They come in half sizes from 3 to 13 and retail at $65.
New Chuck Taylor All Star Summer Print High Tops
With summer rapidly approaching, Converse has released two new print models built on the foundations of their two best selling models of chucks, black/white and optical white high tops. Built on the optical white high top design, the Chuck Taylor All Star Archive Flames updates the flames graphic that was a popular seasonal model a decade ago, and redoes it in a bright design that features colors like Baltic blue and washed teal, along with a touch of orange and purple. The Chuck Taylor All Star Lightning Bolts high top is built on the classic black model of chucks. The uppers on this sneaker are black with a design of lightning bolts in Baltic blue, washed teal, orange, and purple.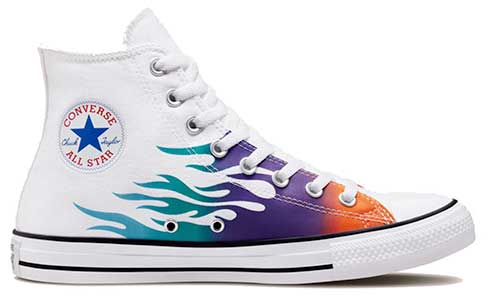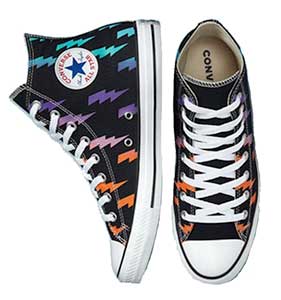 Chuck Taylor All Star White Archive Flames and Lightning Bolt high tops.
These chucks will give your summer wear look a bright pop of color when you lace them up while still fitting in with the clothes you like to wear with your favorite black or optical white high tops. These chucks have the original Chuck Taylor ankle patch in red, white and blue, white toe caps and outer foxing with black racing stripes, and gradient colors in their print designs. They have mesh-lined canvas uppers to help you stay cool, OrthoLite cushioning for all-day comfort, and a recycled mesh lining along with the traditional pair of eyelets on their inside uppers for breathability. These chucks come in men's whole and half sizes from 3 to 13 (women's 5 to 15) and retail for $65.