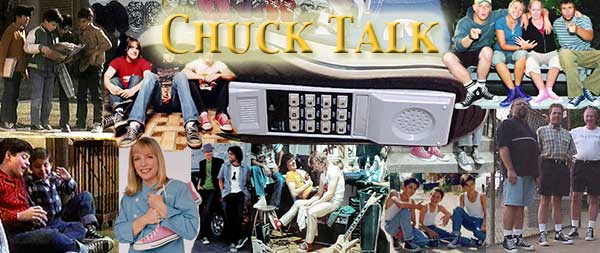 Information, commentary, chucks fashion, lifestyles, media presence.
Chuck Talk—Winter/Spring, 2022
The First Seasonal Colors for 2022
Converse has just released the first new Chuck Taylor seasonal colors for 2022. Five new colors, available in both high top and low top models are now out along with several returning colors. The new colors are Fire Opal, Pink Clay, Virtual Matcha (a light green shade), Electric Aqua, and Pale Amethyst. The returning colors so far are Maroon and Electric Purple, in high top and low top, and Pale Putty in high top. Maroon is basically a core color, as it returns every year, and has been available pretty much ever since Converse started releasing pairs of chucks in colors beyond basic black and white. Photos of the new colors do not show tongue notches, so it appears that Converse is abandoning them at least for seasonal models.
Fire Opal high top chuck.
You can see all of the new seasonal releases on our Shoe Outlook page. Retail pricing for these chucks is $60 for high tops and $55 for low top models.
Pokemon Chucks are Here!
Do you wanna be the very best, like no one ever was? To catch them as your real test? To train them as your cause? If you answered yes to any of these then you're going to want to get your hands on the brand new Pokemon collection that Converse just dropped. That's right Converse is celebrating 25 years of Pokémon with multiple chucks designs and clothing options to choose from. Let's start with the clothing options. There are a variety of sweaters, shirts, and hoodies available, all celebrating Pokemon in different ways. There's also a Pikachu camp-style hat and a Pikachu-themed backpack. All the clothing options are between $30 and $75 with the backpack costing $55.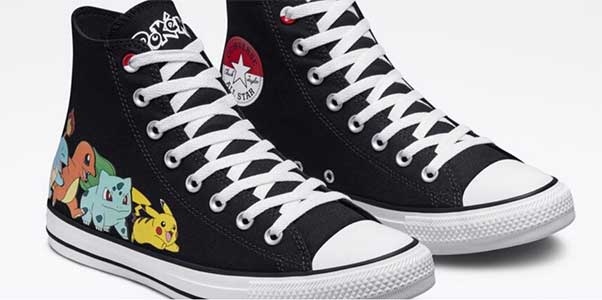 Pokemon black high top.
The chucks in this collection are spectacular if you're a Pokemon fan. There are two classic chuck models that showcase the wonderful world of Pokemon brilliantly. The first is a black high top that features some of the most recognizable Pokemon on the sides: Pikachu, Bulbasaur, Squirtle, Charmander, Meowth, and Jigglypuff. They also feature a Poké Ball Chuck Taylor ankle patch and top eyelet, Lightning bolt detail on license plate, and the Pokémon wordmark on tongue. The second pair is an all white high top that features the same Pokemon outlined simply in black. This model also features a Pokeball emblem, red trim, and Pokeball license plate. There are also chucks for kids in this collection with the black model being available along with Pikachu and Jigglypuff chucks.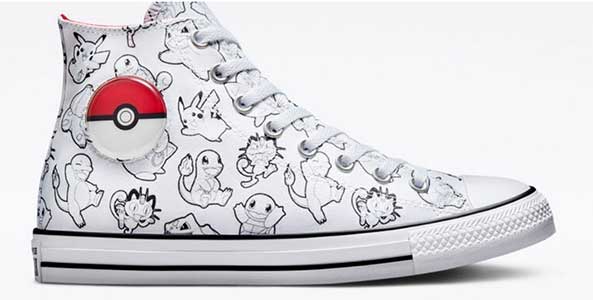 Pokemon white high top.
There's also a wide variety of options to make custom Pokemon chucks, including graphics from every region in the Pokemon world. This may be your best option as the premade models sell out fast. There's a little something for every Pokemon fan in this collection, from Kanto to Galar. So catch them all and show you Pokemon and chucks love today!
Articles and Features:
The first new seasonal colors of chucks for 2022 have just been released by Converse. You can see them at our Shoe Outlook page. The Chucks Life comic strips have been reformatted for easier viewing on mobile devices. The Honor Roll for Actors Wearing Chucks in Films and Television Shows has reached 113 honorees with the addition of Matthew Broderick.
For more articles:

Film Reviews:
Tick Tick Boom!, Scary Godmother: Halloween Spooktakular, The Return, Tremors: Shrieker Island, Boy Wonder, Broken Down, The Kid Detective, Danny Doom, Drought.
New listings: Growing Up Smith, Detention, Jimmy, The Deadly Room, Mostly Ghostly: One Night In Doom House, Project X, Black Beauty, Candyman. All of the alphabetical film pages, The Chuck Taylor in Films - A, etc., have been reformatted for easier viewing on mobile phones. These pages are accessed from the main Chuck Taylor in Films Page at the top of each alphabetical listing.
For more film reviews and listings:

Music Video Reviews:
favorite crime, Crisis, Louder Than Words, In Hell I'll Be In Good Company, Fight for Your Right (Revisited), The Less I Know the Better, My Block, Figures (Live), 10/10, Imported, Dynamite.
For more music video reviews: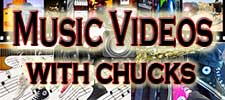 New or Updated Photo Galleries:
Chucks In The Film Detention, Coolest Films With Chucks Gallery 2, Olivia Rodrigo, Amazon Green High Top Chucks, Buddy, Zendaya, Actors Wearing Red Chucks in Films, Joshua Bassett.
For a complete listing of our photo galleries:
TV Page Features:
New listings with an article: Heels, Kim's Convenience, Never Have I Ever, Första Kärleken (First Love), The Hardy Boys (2020), Secrets of Sulphur Springs, WandaVision, All-American.
Other recent listings are: The Conners, The Wonder Years (2021), A. P. Bio, Diary of a Future President, Generation, The Unicorn, Trinkets, The Mysterious Benedict Society, Us, Titans.
For a complete listing:

Videos and Short Films With Chucks:
Man of the Harvest, Star Wars Generations, Eddie and the Alternate Universe, The Attic, The Funspot, Remember When, Brotherly Love, E.L. R.O.N.A.L.D.O., Rocket Boy, Broken Leg.
For more videos and short films:

How to Participate in Chuck Talk.
Let us know what you think! We are also happy to try and answer your questions and inquiries about chucks, and listen to what you are thinking about. If you have some opinions, information, pictures, suggestions, an article or other interesting information to submit, please contact us at mail@chucksconnection.com
More ChuckTalk Articles
The New Year for the Chucks Community
With Christmas over, the New Year is officially upon us. 2021 is over and with that comes the end of an eventful and tough year. Let's all hope that 2022l is an uneventful and easy year. When it comes to the wonderful world of chucks, things have been great this year. A lot of interesting and new designs were brought forth, with some really cool limited editions being dropped regularly. This includes lines like the Space Jam collection, the Basquiat line, Converse's continued partnership with Carhartt, and of course Pride. This year also saw the release of loads of new films and music videos featuring our favorite shoe, as chucks show that year to year they're still an American icon.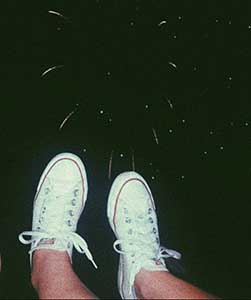 Happy New Year!
So with this new year dawning, what can we expect to be new in the world of chucks? There will always be new colorways dropping, and hopefully more options to the Converse customizer so that everyday chucks can continue to evolve. Let's also hope for some new and cool limited edition drops this year, which will be kicking off with a bang on January 7th with a new Pokemon collection. So far there has only been one design revealed but it shows that Converse is going to keep doing cool things with chucks in the new year. So let's be thankful we made it through 2021, and look forward to a better and brighter 2022 with hope in our hearts and chucks on our feet!
1000+ Films With Chucks!
Recently our Chuck Taylor in Films page reached an important milestone: we now have identified and posted information about over 1000 films where a leading charracter or main supporting character wears Converse All Star Chuck Taylor sneakers. The films span all types of film genres from action/adventure to science fiction, sports, martial arts, coming of age, horror, comedies, romances, and dramas. In these films we have seen chucks worn around the world from the Amazon River to the Sahara Desert to the South African wilderness and in tropical islands. Chucks are seen all over America, in our big cities, schools, suburbs, country locations, and in wilderness areas. They even have been an important part of the storyline in a few films. Over 110 actors have worn chucks in multiple films, earning a place on our Honor Roll. The characters they play in the films represent all kinds of people, heroes, good guys, and the occasional bad guy, kids and adults of all ages and abilities, athletes and just regular folk wearing black, white, and red high or low tops (the most popular colors). It is amazing how many different character types and personalities are represented by people wearing chucks.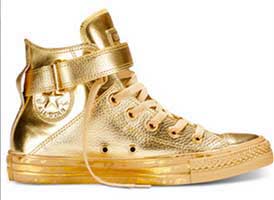 The golden Chuck Taylor awarded to actors in our honor roll.
A page like the Chuck Taylor in Films is not possible without the assistance of our site visitors who write to tell us about new films that they believe qualify for listing on the films pages. They all deserve a big thank you for their efforts which are greatly appreciated. Each submission is carefully checked to make sure that the sneakers worn in the film are really chucks, and not wannabes or look alikes. If you know of a film that is not already listed you can contact us at films@chucksconnection.com.
The Future Is Here
What is the future of chucks? How does the shoe evolve as we rumble through the second decade of the 21st century? One way we can see how new styles, textures, and designs blend together with the classic chucks body and iconography is in the new Future Utility collection. This line combines the classic chucks style with a utilitarian look from the future. The collection features Chuck Taylor All Stars, platforms, Run Star Hikes, and Chuck Taylor All Star CX's. This line takes the everyday high tops you know and love, and gives them a mixed-material makeover. The All Stars feature classic canvas topped with tonal jacquard hits at the heel, tongue, and ollie patch for a textured look and feel. Colorwise, the shoe has hits of nature-inspired colors at the heel loop, top eyelet (just like the Product Red models released fifteen years ago), license plate, and outsole that bring a subtle, Earthy vibe to this utilitarian look. Unfortunately, the designer took away the iconic racing stripes mid outer foxing and around the toe cap and canvas edges, even though these stripes are there on the rubber, but colored white. Perhaps they know from past design experiments that this is not a popular innovation on Chuck Taylor All Star high tops, so they leave a place for colored stripes to return.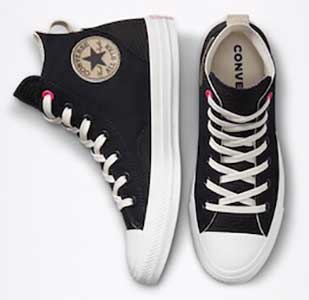 Step into the future with the Future Utility chucks!
There are also two designs that feature the same textured look, but with contrasting, zigzag stitching that adds an unexpected pop of color. The other highlight of this collection is the CX model. The CX is all about comfort and utilizes a special dynamic stretch canvas for a new, ultra-comfortable fit designed to move with you. This makes them incredibly easy to put on, and, with it's foam sockliner, too comfortable to take off. Design wise, it features translucent rubber details and a CX branded pull loop on the heel that adds a pop of color. All the shoes in the collection range between $60-$110 and are available now. The future is here and the future is chucks!
Chucks Are An All Time Top Five Basketball Shoe
Recently ESPN came out with its rankings of the best 75 basketball shoes of all time. In its listing, the Converse All Star Chuck Taylor shoe came in at number 5. This shouldn't really be a surprise, given the fact that chucks were the dominant basketball shoe for over four decades. In its heyday as the premiere basketball shoe, chucks were worn by nearly every professional, college, and high school player. Many of the greatest players of all time wore them while setting records and providing us with some of the best moments in sports. Think of Wilt Chamberlain, Bill Russell, Bob Cousy, Larry Bird, Julius Erving, and Pete Maravich, to list a few names.
For decades all the great players and teams wore high top chucks.
It was a mistake for marketing people at Converse to start saying in the 1990s that chucks were now just leisure shoes. Sure they are great in that part of your life, as so many people like to wear them all the time, but they were designed to play basketball in originally. During his lifetime, Chuck Taylor and the Converse Company spent decades tweaking their design and manufacture so that they would be the finest basketball shoe of its day. That emphasis on quality control can't be taken away from their history or from their functionality as an athletic shoe. Converse should take up that cause again and get endorsers to wear basic chucks or Chuck 70s while playing basketball as they did in the past. Wouldn't that be great to see in a professional or college game again?