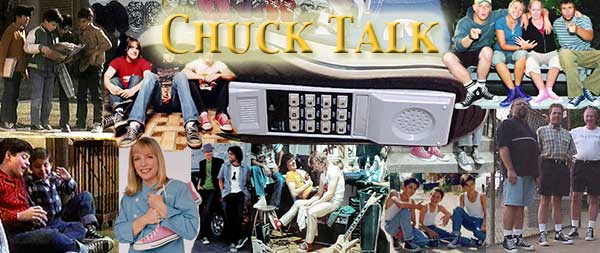 Information, commentary, chucks fashion, lifestyles, media presence.
Chuck Talk—Winter/Spring, 2023
Skew a Classic with new TURBODRK Chuck 70s
Converse and Rick Owens have been a match made in heaven over the last few years. The classic shoe brand known for being an innovator and trendsetter has proven to be the perfect fit for Owens, who made his name as a restless innovator of bold androgynous fashion and minimalist design. After launching his first fashion line in 1994, he has collaborated with many brands and designers and launched multiple fashion lines. Over the last 30 years, he has launched RICK OWENS, DRKSHDW, RICKOWENSLILIES, SLAB, and HUNRICKOWENS. Since his first collaboration with Converse, they have been steadily releasing multiple drops of his own signature take on the classic Chuck Taylor All Star: the Converse x TURBODRK Chuck 70. Owens is known for his bold and brash styles and his vision for chucks is no different.
A chuck that is bold in every single way.
This release is the next step in Owens' previous TURBODRK design line. Known for his distorted proportions and features of the classic Chuck Taylor silhouette, this new design continues that idea. This includes the core elements from previous releases: the elongated tongue that heightens the shoe, the collaboration's signature square toe, and the custom DRKSHDW license plate. However, this collection stands out by offering all these design elements on a laceless slip-on sneaker. Crafted with a 100% premium cotton canvas upper, the TURBODRK Chuck 70 has stretchy and secure internal construction that ensures these will stay on your feet no matter what. This season's TURBODRK Chuck 70 also has updated colorways of Hot Pink and Dust. The Hot Pink especially stands out as a statement piece and will have people looking twice as you walk by. This new collection of Converse x DRKSHDW TURBODRK Chuck 70 is available right now on the Converse website for $170 in limited quantities.
Proud to Be and Proud to Be in Chucks
June is Pride Month, the annual celebration that supports positive social change and amplifies voices from the LGBTQIA+ community. During this time of year, there are celebrations worldwide, and many companies and brands attempt to offer a welcoming space to those in the community. Every year, Converse uses the month to amplify LGBTQIA+ voices and contribute to numerous charities that support a wide range of causes in the LGBTQIA+ community. This year these charities and organizations include the It Gets Better Project, The Theater Offensive, The Ali Forney Center, and BAGLY. Since launching the campaign in 2015, Converse has pledged over $2.5 million to the groups and other important causes. This year, as in years past, Converse has also partnered with LGBTQIA+ creators. This year's lineup includes Big Freedia, Xavier, Yeliz, Eva, and OJ.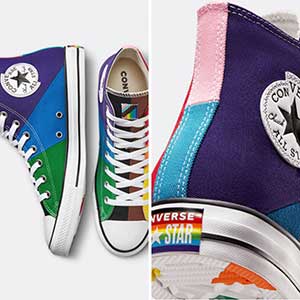 Proud to be proud in chucks!
The chucks this year have some really cool designs that offer something different from years past. They all feature the Pride Progress split Chuck Taylor All Star patch that is the theme for this year's whole collection. The Chuck Taylor All Star Pride is a rainbow split-panel color-blocked sneaker that shows the pride flag in a new, visually stimulating way. The Chuck 70 Plus and the Chuck Taylor All Star Lift Pride take this split design even further by also splitting the midsole in different and cool ways. Finally, the Chuck 70 De Luxe Heel Pride takes a big swing by covering the canvas in shimmering, silver glitter. All these different models and designs also include the rainbow Pride Progress tongue decal and a rainbow outsole. This collection also has elements throughout that highlight the blue and pink colors of the trans community which is a very welcomed focus in the times we live in. So be proud this Pride month and all year round in Pride chucks!
Go Vintage in Time for the End of Spring
The classics never really go out of style. In today's world of style, what's old is new once again. With that in mind, Converse has dropped a new collection of Vintage Canvas Chuck 70 high tops, meant to invoke a sense of nostalgia for what once was and awe at what always will be. This seasonal makeover features premium canvas uppers in archival colors. This shoe celebrates what chucks were in the 1970s and these color palettes fit with that. The colors are primarily faded pastels that look great when combined with the Egret midsole. This color lineup includes various shades of blues, purples, green, and even a stunning all-black number. The classic chuck features are there as well, and the added durability from the wing tongue stitching on 12 ounce canvas is a welcome addition.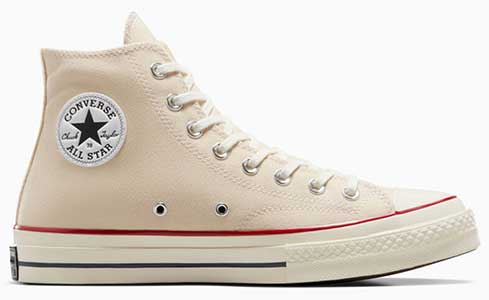 Vintage classics never go out of style.
This collection also includes denim Vintage Canvas. This denim canvas gives your chucks a rugged look that fits with the vintage aesthetic of the Chuck 70. The latest drop also includes some brand-new casino print designs. These designs feature dice, lucky 7s, slots, and cards. There are a few different ways to apply this print as it can cover the whole body, the tongue, or even just the heel. This design and a few other prints that can be applied to the Vintage Canvas Chuck 70s are found in the Customizer tool. So take a step back in time for a new, bold look as we head into the Summer months.
Articles and Features:
See the latest Chuck Taylor All Star releases on our Shoe Outlook page. Johnny Knoxville has moved into second place in our Honor Roll for Actors Wearing Chucks in Films and Television Shows with the release of the latest Jackass film Jackass Forever. Our latest additions to the Honor Roll are Logan Miller and Ed Oxenbould.
For more articles:

Film Reviews:
Ant-Man and the Wasp: Quantumania, Scream VI, 2Fast2Furious, Forsvundet til Halloween (Missing for Halloween), The Half of It, Tainá 2: The Adventure Continues, Svein and the Rat (Svein og Rotta), Bandslam, Happy Gilmore, Jurassic World: Dominion, Spontaneous, Words On Bathroom Walls.
New listings: Summer School, Palo Alto, Escape Room, Christmas Ransom, Pizza's Here!, Aliens Abducted My Parents (and Now I Feel Left Out, Sublime, Welcome Home, My Spy, 13: The Musical.
All of the alphabetical film pages, The Chuck Taylor in Films - A, etc., are accessed from the main Chuck Taylor in Films Page at the top of each alphabetical listing.
For more film reviews and listings:

Music Video Reviews:
Live While We're Young, Gang Signs, Nothing's the Same, Pompeii, October, See You Later, Not Today, Lovely, Naughty, Lost Without You, Free Game, Activated, Fake Love, TV, My Motto, Repeat Stuff, I Don't Want to Grow Up, Expectations, BIG TIME, Love Has All Been Done Before. More links to our music videos reviews have been added to the Musicians Who Wear Chucks page.
For more music video reviews: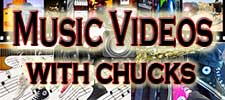 New or Updated Photo Galleries:
Teen Boys Wearing Chucks, Teen Girls Wearing Chucks, Zendaya, Converse x Barriers Black Chuck 70 High Tops, Kava Bliss Washed Canvas High Tops, Guys Wearing Red Chucks, Zendaya, Chucks In The Film Three Months, Ads for Chuck Taylor Shoes, Actors Wearing Chucks in Television Series. Most of our Musicians Who Wear Chucks photo galleries have been re-edited with improved links and captions.
For a complete listing of our photo galleries:
TV Page Features:
New listings with an article: A Million Little Things, Shrinking, The Last of Us, Ned's Declassified School Survival Guide, Wednesday, National Treasure: Edge of History, Heartbreak High, Best Foot Forward, Grease Live!, New Girl, Ruby and the Well, Stranger Things Season 4, Ms. Marvel, Heels, Kim's Convenience, Never Have I Ever.
Other recent listings are: Primo, Journey to the Center of the Earth, Lockwood & Co., Reboot, Night Sky, The Last Bus, Lab Rats: Elite Force, The Conners, The Wonder Years (2021), A. P. Bio, Diary of a Future President, Generation, The Unicorn.
For a complete listing:

Videos and Short Films With Chucks:
Blinky, Escape From Lizard Island, Alan Smithee, A Kiss, Bus 89, Man of the Harvest, Star Wars Generations, Eddie and the Alternate Universe, The Attic, The Funspot, Remember When, Brotherly Love.
For more videos and short films:

How to Participate in Chuck Talk.
Let us know what you think! We are also happy to try and answer your questions and inquiries about chucks, and listen to what you are thinking about. If you have some opinions, information, pictures, suggestions, an article or other interesting information to submit, please contact us at mail@chucksconnection.com.
More ChuckTalk Articles
Festival Footwear for the Season
We are in the heart of festival season right now. Coachella has come and gone, Cali Roots and EDC are later this month, and Bonaroo, Glastonbury, and Lollapalooza are just around the corner. While they all have their differences and span locations all over the globe, no matter the music genre, location, or lineup, the most important thing you have to ask yourself is "What am I gonna wear?". A festival outfit is a prime opportunity to express yourself in ways you might not be able to in your everyday life. Whether that means wearing things you made for yourself or buying a brand-new outfit, self-expression is truly the reason to go to a festival this Summer. However, self-expression shouldn't come at the expense of comfort and style, and that's where chucks have got you covered.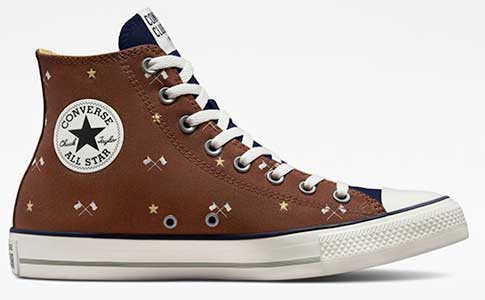 CTAS Move Platform Daisy Cord and Festival Clubhouse high tops.
The Festival Style collection has a wide selection of chucks that fit every festival this season. The Chuck Taylor All Star Lift Platform Festival Florals feature floral patterns that scream summer, and a hidden inner-tongue print reveals a "Festival Smoothie" recipe to keep the vibes alive, all season long. There are also the Chuck 70 DIY Beads that feature bracelet beads which really have that festival vibe. The Chuck Taylor All Star Move Platform Daisy Cord have a chic boho-inspired design that would be perfect for any festival. The Festival Clubhouse models feature naval patterns in red and navy blue. All of these options can fit multiple styles for whatever look you're going for. Chucks also are comfortable, durable, and breathable for long, hot nights in a crowded space. So this Festival Season, express your truest self in chucks!
Chucks Take Center Stage in the Squared Circle
Pro Wrestling is the great American storytelling art form. Born and bred in the bingo and VFW halls in small towns all across this country, the eternal battle between good and evil inside the squared circle combines stunning emotions and brutal physicality to bring to life a story unlike any other. While traditionally wrestlers have worn wrestling boots, in recent years other footwear have graced the educated feet of those brave enough to lace up and enter the ring. Wrestlers have gone barefoot, and worn running shoes, sneakers, high heels, and Jordans. There is also a pretty storied history of wrestlers wearing Chuck Taylors and using them to further their characters.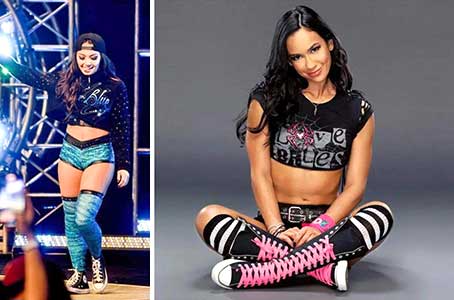 Skye Blue and AJ Lee are among the performers who wear chucks in the ring.
The most well-known wrestler to have the All Star patch on their ankle in the ring is AJ Lee. Lee was, for a time, the longest-reigning Women's Champion in WWE and one of the promotion's most popular wrestlers. She did all this while wearing chucks of varying heights and colors, alternating between knee-high and low-top chucks during her historic career. AJ also famously name-dropped chucks in a promo saying, "I got here because I was good. I earned this Championship and no matter how many red carpets you guys want to walk in your four thousand dollars ridiculous heels, you will never be able to lace up my Chuck Taylors". Since AJ's retirement in 2015, others have also worn chucks in the ring. WWE's best backstage interviewer Cathy Kelly frequently wears chucks both during her segments and on her Instagram. Alexa Bliss briefly wore chucks when her character took a dark and twisted turn a few years ago, and up-and-coming and recently signed AEW star Skye Blue also wears chucks during her matches, and she looks to have a very promising career in front of her. All these incredible performers wear chucks not only for practicality but also for characterization. Whether you're a rebellious champion, a plucky backstage reporter, a twisted and possessed demon, or an up-and-coming star, chucks work to establish your character and help you kick butt.
Spider-Gwen Swings Back Onto the Big Screen in Chucks!
2018 gave us the best comic book movie of all time in Spider-Man: Into the Spider-Verse. Bolstered by a never before seen animation style and incredible, heartfelt performances, the film perfectly understood the character of Spider-Man and the expectations that come with wearing the mask. The film also introduced us to beloved characters never before seen on the big screen and one of the standouts was Spider-Gwen. Portrayed by Hailee Steinfeld in the film, this alternate version of Gwen Stacy hails from Earth-65 and was bitten by the radioactive spider instead of Peter Parker. We learn that she was unable to save her Peter, and that has affected her ability to make friends. Through her journey with Miles Morales and an older version of Peter Parker, she opens up as both a person and a hero. Ahead of the highly anticipated sequel arriving this June, producer Amy Pascal spoke to Empire Magazine about changes made to Gwen and how her new Chuck Taylors play a part in her evolution.
Spider-Gwen is back and this time she's in chucks!
Pascal revealed that this new film is "a love story between Miles and Gwen." When we last left them, they had decided to just be friends even though there was clearly a spark between them. In this film, that journey from friends to something more will not be an easy path. Gwen has been spending a lot of time with other Spider-people, most notably Spider-Punk. This alternate version of Hobie Brown plays the guitar and wears chucks, and during their time together he has gifted Gwen her own pair of teal chucks to replace her ballet shoes from the first movie. Chucks actually fit her personality much better as she's always been a rocker and rebel in the comics, and the ballet shoes were a creation of the first film. Chucks have also been a favorite of cosplayers portraying Gwen since her inception, which just shows how much her personality fits with the shoe. Will this new "friend" keep Miles and Gwen from taking that next step? For many fans the answer and the sequel, Spider-Man: Across the Spider-Verse, can't come soon enough!
Liverpool F.C. and Converse Create From the Ground Up
Liverpool Football Club is one of the most storied and beloved football clubs in the world. From the Kop at Anfield and the Shankly Gates to the far reaches of the globe, love for The Reds runs deep. Uniting this fanbase is the club's anthem, "You'll Never Walk Alone". Originally a show tune from the 1945 Rodgers and Hammerstein musical Carousel, the song was eventually covered by Liverpool natives Gerry and the Pacemakers. This version became the anthem of Anfield in the 1960s and has been a beloved part of LFC ever since. The song gained another level of meaning after the Hillsborough disaster in 1989, where 97 Liverpool supporters died in a crush against perimeter fencing at Hillsborough Stadium. The track became more than a song, more than a motto. It became the identity of LFC and the unifying cry to all those that call this club theirs because once you're part of The Reds, you'll never walk alone.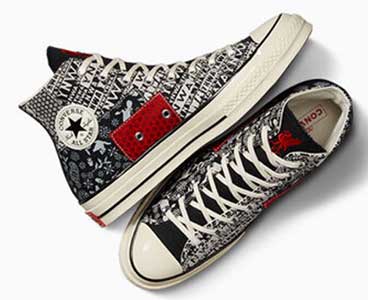 You'll Never Walk Alone!
Inspired by the city's creative spirit and love for the game, Converse has partnered with LFC to create a limited-edition collection. The focal point of this collection is the Converse x LFC Chuck 70. In a stunning black, egret, and red color palette, this shoe celebrates Liverpool's rich history and culture. The first thing you'll notice on the tongue is the iconic, red liver bird over the L.F.C. initials. These really pop on the black canvas. The canvas is also decorated with a patchwork of Sea Holly and "YNWA" (short for "You'll Never Walk Alone"). These elements are meant to pay homage to the many scarf designs held by Liverpool supporters. Finally, there is a molded LFC license plate at the heel and the classic Chuck Taylor All Star ankle patch. This design is so creative, striking, and proudly Liverpool. The Converse x LFC Chuck 70 is available now for $110, and the rest of the collection is rounded out by various apparel items and a Run Star Hike. So walk on with hope in your heart, and never walk alone in these Liverpool Football Club chucks!
Converse x Stüssy Create Chucks That Are Pearlescent
Chucks have had so many unique designs over the years. Their iconic yet simple design offers such a great canvas for designers to come in and make them their own. The latest remix and collaboration comes courtesy of the lifestyle brand Stüssy. Stüssy began in the 1980s as a surfwear brand in Southern California. Over time, it has become a favorite brand across multiple scenes, including punk, skateboard, and hip-hop. Often labeled as "urban streetwear", the brand has always combined great designs with an authentic style. This latest collection with Converse sees the California icon revisit its coastal roots and celebrate archival Converse style on a new Chuck 70, that references vintage Chucks from the '90s and Stüssy's surfer roots.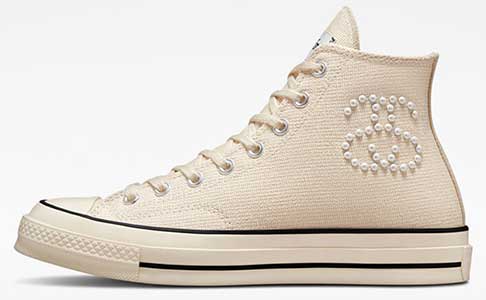 Mother-of-Pearl!
The collection includes two pairs of Chuck 70s, each with its own unique design. The first is an off-white design that features Stüssy's signature double "S" logo in pearly studs on the canvas upper. These pearls shine and create a stunning focal point that really draws your eyes in. This pearl design is inspired by California surfer culture and the Pacific Ocean, which fits in with the histories of both chucks and Stüssy. This collection also includes a black pair with bright white stitching that was previously released last year. They also feature a unique star symbol on the canvas upper and a stitched patch on the tongue. Both designs feature a 100% hemp upper, and rather than the iconic All Star patch, it has a blank patch on the exterior with the actual patch hidden on the interior. Both pairs are available for $110 on the Converse website, but quantities are scarce as this is a limited edition drop. However, those fans who are able to snag a pair won't be disappointed with this unique, West Coast design on a West Coast icon.
Hersheypark Uses Chucks to Bring Character to Candy!
Theme parks have been a staple of our lives for well over a hundred years now, and they have provided countless memories to millions. Disneyland was the blueprint for the modern theme parks we know today, and their use of the walk-around character was no different. Being able to visit the "Happiest Place on Earth" and seeing characters like Mickey and Minnie was and still is a dream come true for many fans. This led to pretty much every major theme park creating costumed walk-around characters for visitors to meet. Hersheypark is a family theme park located in Hershey, Pennsylvania. Initially built in 1906 by Milton S. Hershey as a leisure park for the employees living in his company town, the park has expanded over the past century into a full-blown modern theme park. The park is Pennsylvania's largest theme park and the largest park in North America not located in California, Florida, or Ohio. The park boasts world-class rides, extensive and immersive theming, and of course, walk-around characters of your favorite Hershey's candy.

Candy Characters are brought to life by their chucks-wearing team members!
Typically when you go to a theme park and meet a walk-around character, the character is brought out by a cast member that assists in bringing guests forward to meet the character and with taking pictures. Hersheypark does things a little differently as they make the assisting cast member part of the meet and greet. These cast members are dressed in outfits that match the candy character they've been paired with and each of them wears chucks that also match. These outfits are perfectly crafted to be fun, energetic, and engaging and the chucks are a big part of making the cast member approachable and relatable. The cast members are also equipped with a live mic and they use this to act basically as the "voice" for the candy character. This allows for more engagement than you typically get in these meetings as usually meet and greet characters are silent and have to just emote. This combo of visual personality and interactivity creates a meet-and-greet scenario that is truly magical and one of a kind!
Spring Chucks to Spruce Up Your Style
Flowers are blooming, rain is falling, and time has officially sprung forward. That means that Spring is here and with it comes the chance to add some new chucks to your collection. Spring is the perfect time to bring some color into your styling, especially when it comes to pastels. Pastels are the official color palette of spring and you can easily find a wide range of custom pastel chucks on the Converse website. Mix and match colors to go full Easter egg aesthetic on your feet. Even just a simple pastel color would be perfect for any Easter Sunday gathering.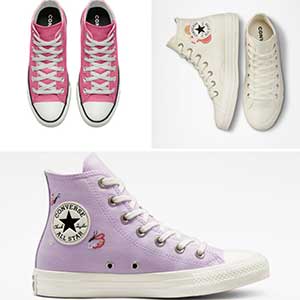 Top Left: Pink Chuck Taylor high top. Top right: White Crafted Patchwork high top
Bottom: Chuck 70 Butterfly Wings
There are also some new offerings on the Converse site that are very spring-like in nature. This includes the Crafted Patchwork line of chucks. These chucks feature quilted-style patches that give them a vintage and fun look. The flowery patches are perfect for a retro Spring look that's different from the rest. There are also the Butterfly Wings which offers an early 2000s-inspired design that is colorful and whimsical with stitched butterflies fluttering on the canvas. Finally, for college basketball fans, Converse has rolled out its Custom College Collection. This collection features graphics, logos, and color palettes for some of the biggest programs in the country. This includes UCLA, Alabama, North Carolina, Michigan, Texas, Duke, USC, Ohio State, LSU, Clemson, and many more. All of the chucks mentioned here are available now on Converse.com for various prices and in various styles. So swing into Spring with some new chucks!
Elevate Your Look with New Chucks Heels!
Chucks have always been the shoe for the common person. From their inception, they've been an everyday staple in our lives on the court, at work, and in the streets. However, as they have become more and more iconic over the years, chucks have found their way into the halls of high fashion and art. They've been worn on the runway and now that runway look is coming back around in the form of the new Chuck 70 De Luxe Heel shoes. Converse has released high-heeled models in the past, and now with their greater popularity among women, there is a new line of high heeled chucks you can buy.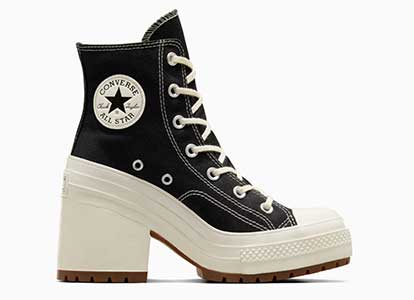 Chuck 70 De Luxe Heel sneaker.
The Chuck 70 De Luxe pairs the unmistakable Chuck Taylor design elements you have always known with a bold, lugged heel for a brand-new look worthy of the runway. These platform shoes offer a unique combination of style and comfort that will help you stand out from the crowd. Starting with a high-top body that goes up your ankle and showcases the iconic All Star ankle patch, the shoe also features a lugged brown sole that gives the heel a rugged look. The heel itself is a chunky platform that is just the right height. This edition comes in two neutral colors for easy styling with your wardrobe: black and egret. This shoe will be a perfect look for anyone looking to elevate their look this summer. The new Chuck 70 De Luxe Heel Shoes are available for $120 now as a Converse exclusive.
Welcome to the Marvel Chucks-ematic Universe!
The Marvel Cinematic Universe has been chugging along for almost fifteen years now, and throughout that time we've seen some incredible stories brought to life from comic book page to silver screen. We've also seen some absolutely incredible super suits, such as Iron Man's Armor, Captain America with his shield, and Spider-Man in his iconic suit. However, none of those heroes have had chucks on their feet. That has all changed recently with the arrival of Kamala Khan (aka Ms. Marvel) in the MCU. The first MCU hero to wear chucks while taking on the forces of evil has ushered in a new age as now, just under a year later, we have our first big screen chucks wearer in Cassie Lang! Cassie is the daughter of Scott Lang (aka Ant-Man) and in the latest MCU entry, Ant-Man and the Wasp: Quantumania, she takes up the mantle of Stinger to help her father battle Kang the Conqueror. With this new name, comes her very own suit and this suit places chucks on her feet. A purple version of her dad's Ant-Man suit, this suit has purple chucks as the footwear rather than the standard superhero boots her dad wears.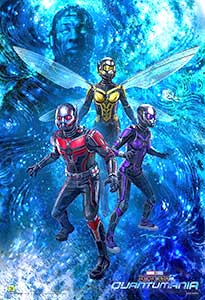 Cassie Lang (aka Stinger) in her chucks on the official poster for Ant-Man and the Wasp: Quantumania.
Between these new super suits with chucks and the appearance of the shoe on non-heroes like MJ in the Spider-Man trilogy and Billy Maximoff in Wandavision, chucks are taking over the MCU. There are a few reasons why this recent uptick may be the case. For one, the MCU is rapidly getting younger with new heroes coming into their own while older ones like Iron Man, Captain America, and Thor are either killed off or retired. Chucks also fit the personalities of these heroes very well. Chucks, as we know, are the shoes of rebels and trailblazers and superheroes fit the bill. Chucks are also economical and make perfect sense for a young hero trying to make their own suit. With the MCU fully engrossed in the Multiverse Saga, here's hoping we see more heroes opt for chucks in the future. Heroes like Spider-Gwen, Viv Vision, and Moon Girl immediately come to mind. The future of the MCU is looking bright with chucks on the feet of our heroes!
Converse Celebrates Black Heritage and Joy This Month
There's room for Black Joy in every space—the outdoors included. With that theme in mind, Converse has partnered with three black creators to bring to life a collection that reimagines iconic Converse sneakers and classic apparel with a focus on the outdoors. These three creators are Naja, Michael, and Gage. Naja is the founder of Yogalittle, a surfer, and a community wellness leader. Michael is the founder of Usal, a community that provides workshops. Gage is the founder of Ebony Beach Club, a surfer, and a multidisciplinary creative. The collection was launched along with a video that explains the nature theming, with the creators talking about how much nature means to them and their communities.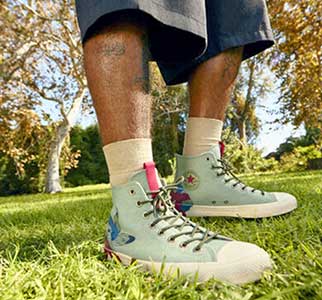 Black Joy everywhere and every day.
This collection was created in collaboration with Black designers at Converse and is inspired by Mother Nature's resilience, excellence, and liberation. The collection features two Chuck Taylors in it; a classic chuck and a Chuck Taylor All Star Construct. The Construct features a bold botanical camo print, custom graphic jacquard, ticked stripe laces, and brass hardware. It also has rubber foxing tape and a forefoot overlay for increased durability. The classic Chuck Taylor All Star features a lightweight, durable canvas upper with a botanical camo print. It also has brass hardware, and ticked striped laces to give it a fresh and bold design. The Construct is available now for $95 and the classic All Star for $80. This release also comes with a commitment to donate to the community, and Converse provides a list of charity partners. So celebrate joy this month and check out some well-worthy causes with the Converse Black Joy collection.
Express Your Love Through Chucks
Smell that? That's right it's the smell of love and it is wafting through the air. As Valentine's Day inches ever closer, the age-old question remains: what do I get the person I love the most? There are plenty of options out there but if you and your significant other share a mutual love for chucks, the answer couldn't be easier. There's the annual Valentine's Day collection that Converse has released, and it has a few stylish, heart-themed options. There are the Chuck Taylor All Star Hearts, which come in both black and white colorways. This design is adorned with hearts and gold accents, along with a special Valentine's Day All Star patch. The collection also includes platforms versions that feature the same design elements.
I love chucks.
If you're looking for a more personal touch though, you can always create a custom paor of chucks for your significant other. The customizer tool on Converse.com currently has various heart-themed design elements you can add to custom chucks. However, you can also create a brand new, wholly original design that is special to your special someone. Use their favorite colors, pick design elements that they'd love, and even embroider a special message or their name on the shoe itself. Finally, if you're the artistic type, you can buy a plain pair of white or black chucks and turn your Valentine's Day gift into a craft project. Paint or draw a design fully from your brain that your special someone will love. You can create any message through chucks this Valentine's Day as they are the perfect canvas for love!
Chucks in California's Indomitable City
When you think of California, what images come to your mind? Hollywood? San Francisco Bay? San Diego beaches? Yosemite? There's a more than likely chance that the city of Sacramento is not at the forefront. Despite being the state capital, Sacramento has always been the forgotten, oft-mocked, ugly step-child of a city in the Golden State. Often called "Sucktown" and referred to as California's armpit, the city is derided for not having the extreme natural beauty of other parts of the state and is looked at as nothing more than a farming town whose importance stems from a bygone era of the state's history. However, the City of Trees is the state's true hidden gem of cities. Nestled on the meeting point of the American and Sacramento Rivers, the city is full of its own natural beauty with iconic landmarks like Tower Bridge, Sutter Fort, and Old Town.
This mural by local artist Maren Conrad is called "Smashed" and is located at Urban Roots Brewery on 14th and V Streets in Sacramento.
We've talked before about the connection between chucks and the West Coast. Whether through hip-hop, skaters, punk rock, Chicano culture, or just the preferred footwear of millions of people, chucks have been a staple in the cultures of California for decades. Sacramento is no different, as chucks have their place in the city's subculture. While some of this is due to those cultures we've talked about previously, Sacramento does have their own unique connection. With Sac's unique natural surroundings, many in the city take the opportunity to explore all that nature has to offer. Day trips in chucks to the Tahoe area and the Sierra Nevada's are often and very rewarding. Chucks are also a favorite among those who still work in Sacramento's thriving agriculture industry. Chucks are also perfect for touring Sacramento's various historical sights, and its thriving downtown. Sacramento will always be California's underdog city, but this underdog is beautiful and tells its own story. Long live the City of Trees. Light the beam.
The Last of Chucks
Video games have come a long way since the days of Pong. In the world of modern gaming, you can visit mystical lands, travel to the past or future, and embody the spirit of incredible heroes. Whether playing online or through a single player campaign, you can be inspired or horrified by the stories video games can tell. Arguably the greatest of these stories came in the form of 2013's The Last of Us. Created by Naughty Dog and Sony Interactive Entertainment, the game is set in a post-apocalyptic world ravaged by cannibalistic people infected by a mutated fungus in the genus Cordyceps. The game follows two main protagonists: Joel and Ellie. Joel is a lonely smuggler with a tragic past, and Ellie is an orphaned young girl that Joel is tasked with transporting across the hellscape that is the United States.
Ellie wears a pair of ragged red chucks throughout the game and in the new series on HBO Max.
When the story begins, we don't know much about Ellie, except that she is a 14-year-old girl that the rebel group, the Fireflies, want kept safe and transported out of Boston. She is rash, foul-mothed, and impulsive, which is to be expected from a child who has grown up in a world like this. She wears a pair of ragged red chucks throughout the game, which fit her rugged and rebellious personality. Ellie is her own person from the second we meet her and we see that not only through her words, but by what's on her feet as well. With the premiere of the live-action HBO adaptation starring Pedro Pascal as Joel and Bella Ramsey as Ellie, we will see this incredible story introduced to a whole new audience, and just like in the game, Ellie's chucks will let the viewers know immediately that she is not one to mess with.
What's Old is New and What's New is Old
ADER ERROR is a fashion brand that was launched in 2014 by an anonymous group of South Koreans working in diverse fields. They came together to create a creative and fun brand that aims to spread art and culture through fashion. Their brand slogan is "the new is not new." It's a philosophy that looks to the past to design what's next—re-editing to create styles that are both distorted and forward looking. According to the collective, their name hammers home this idea as the "A is for aesthetic; D is for drawing; er is for people (who do something). So the result is 'people who do something aesthetic'". The brand has taken this approach to their new collaboration with Converse.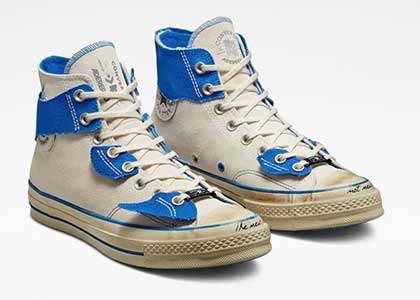 The new is not new.
This new model is inspired by the old to create something new. The design uses a unique layered approach, that creates a distinct look on the classic Chuck Taylor. The remnants of the blue outer layer create a look that makes the shoe appear as if it is shedding an old skin. The inner white layer breaks through and it features a burnished distressed effect on the foxing. The blue floating canvas overlays are detachable so you can make it so that the shoe has fully broken through. Some other features include a graphic print and embroidered detail reading "The new is not new" that goes across the whole shoe. There is also a custom embroidered overlay suede ADER ERROR ankle patch, custom ADER ERROR lace clip and license plate, and clear outsole with digital transferred ADER ERROR graphic. All these elements together create a unique and creative design from the group. The Converse x ADER ERROR Chuck 70 is now available on Converse.com.
A Chuck Can't Change Its Stripes
Fashion designer Rick Owens launched his fashion line in 1994, operating out of a store on Hollywood Boulevard in Los Angeles, California. Over the last thirty years, he has collaborated with many brands and designers and launched multiple fashion lines. These labels include RICK OWENS, DRKSHDW, RICKOWENSLILIES, SLAB, and HUNRICKOWENS. With the Converse Limited Edition drops, designers often come in and take the classic Converse designs and remix them. Owens has collaborated with Converse before through his DRKSHDW label. In his previous designs, he has played with the silhouette of the classic Chuck Taylor All-Star to an extreme point. This latest collaboration puts a spin on that design and adds a few new elements to this unique shoe.
Is this chuck black with white stripes or white with black stripes?
Owens references his past DRKSHDW designs on this limited-edition Chuck 70, distorting and reshaping the classic lines we all know from chucks. This new TURBODRK Chuck 70 uses the same core design as the previous DRKSHDW release. This includes the elongated tongue that gives the shoe extra height, the collaboration's signature square toe, and the custom DRKSHDW license plate. The new collaboration takes those elements and combines them with a Zebra-inspired color palette. The outer body is covered in black and white zebra stripes on a polyester knitted jacquard material, and the interior is a faux suede leather lining. The zebra stripping even extends onto the rubber sidewall and the black and white laces. The Converse x DRKSHDW TURBODRK Chuck 70 is available right now on the Converse website for $170 in limited quantities.
Will 2023 Be A Banner Year For Chucks?
People have been lacing up Converse Chuck Taylor All Stars for over ninety years now, since his signature was added to the ankle patches of America's classic sneaker in the early 1930s. The two most popular models of chucks still being worn today, the black high top with black canvas uppers, black racing strips, white foxing, toe caps, and shoelaces, and the white high top, now called optical white, with red and blue racing stripes, bright white canvas uppers, toe caps and outer foxing, have been continuously manufactured and worn for 74 and 87 years respectively. And of course they have the distinctive blue star ankle patches that let everyone know you are wearing a genuine pair of chucks on your feet. Their popularity and sales continue to be strong despite all the many variations to their design sold under the Chuck Taylor name. People still prefer the original vision of Chuck Taylor nearly one hundred years later. It seems every new generation becomes attracted to the look and feel of the classic Chuck Taylor sneaker, and that's a good thing!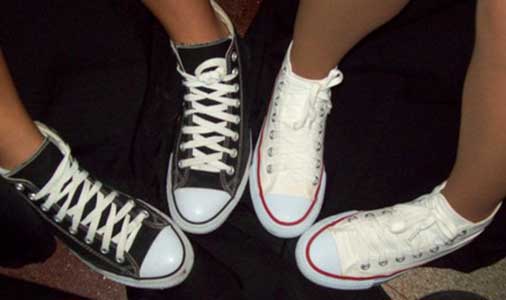 Will Chuck Taylor's vision for chucks continue to endure?
2023 also is the 25th year that The ChucksConnection has been up on the Internet providing our site visitors with information about chucks as they appear in hundreds of films, photographs, videos, and on television shows. Our many articles, features, and review pages document the strong presence of chucks in our media, their history, cultural impact, and why people like wearing them. We would also like to thank the many people that support these efforts by sending us photos and information about films, videos, and television series where chucks make an appearance. We wish them and all our site visitors happy holidays and remind everyone to continue staying laced up in your chucks throughout the new year.
Chucks Star in Music Videos
With our review of "Activated" by Mount Westmore, The ChucksConnection has posted its 300th music video review where chucks are in the picture. Whether chucks are worn by the performing artists or by actors playing a part in a story line, the distinctive sneaker continues to occupy an eye-catching presence in so many videos in this genre. For the past ten years, we have documented these performances in hip-hop, pop/dance, r&b, and rock styles, and we will continue to do so in the future.
Still from our very first review of Billy Joel's "You're Only Human (Second Wind)".
You can access reviews of these music videos right here at the What's New section of this ChuckTalk page. Just click on the What's New icon below every CT feature. For the complete listing of all 300+ music videos by alphabet letter or style, go to our Music Videos With Chucks page. And if you know of a music video where chucks have a presence that isn't listed here, please contact us so we can add it to the site.
Winter Weather Chucks
The cold weather has arrived. That means chills, rain, and even snow have begun creeping into our lives. With it, comes the need for more cold weather-appropriate footwear as your standard chucks may not withstand the wet and rugged winter weather. A few more chucks options are available for winter, primarily the Chuck Taylor All Star TecTuff and the Chuck 70 Counter Climate GORE-TEX. So let's take a look at these climate-focused chucks and see if they're worth adding to your closet this year.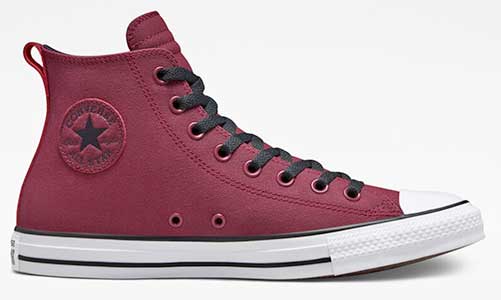 Chuck Taylor All Star TecTuff high top.
The Chuck Taylor All Star TecTuff utilizes TecTuff's proprietary water-based polyurethane material to create a water and scuff-resistant outer canvas. TecTuff leather is used for the heel tab and iconic All Star patch. The inside is lined with OrthoLite cushioning for all-day comfort so they're ready for all-day use in whatever climate you're in. These come in two colors: dark beetroot and utility green and are available for $75. The Chuck 70 Counter Climate GORE-TEX is similarly made of a different upper material, this time GORE-TEX canvas which is a mix of cotton and polyester. Water-resistant and lined with OrthoLite cushioning, these chucks are also made for all-day, all-weather wear. The Outsole and All Star ankle patch are made from at least 35% scraps from the manufacturing process. These come in a more vibrant color palette with two color flat laces for an added pop of color. They're available in Black Cherry/Yellow and Obsidian/Light Aqua for $120. Both options are great choices for this coming winter season and can handle whatever weather is thrown your way.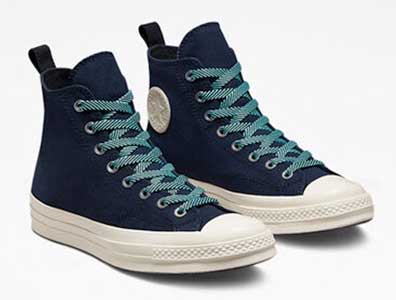 Chuck 70 Counter Climate GORE-TEX high top.
New Shoelace Product Now Available
The ChucksConnection always has a large selection of shoelaces for your chucks, and now our collection of retro width shoelaces has been expanded to include a 63 inch long white retro shoelace. White retro width shoelaces, which were the laces included with chucks in the fifties, sixties, and seventies, are a full 3/8 inch wide. They fit in between standard flat athletic laces (7/16 inches) and fat laces (5/8 inches) in width. Now chucks wearers with nine eyelet pair shoes have access to a white retro shoelace. Also chucks wearers with eight eyelet pair models can get retro shoelaces in a longer length. Go to our Shoelaces Home Page for full details, general information, lacing guides, and access to our entire selection of shoelaces for your chucks.
Expand Your Chucks Footprint With New Colors
If you are dedicated wearer of chucks, you have a favorite color that gets worn the most. But the great thing about chucks is that there are so many models and colors to choose from. Every year Converse issues seasonal colors, issues of high top and low top Chuck Taylors in new colors besides the standard black, white, red, charcoal, or blue. You should treat yourself to some of these seasonal colors, as they are usually a one time issue, although if a seasonal color is popular, it most likely will continue to be made. Maroon is a perfect example of that. It used to be considered a core color, but for some reason that designation was taken away. But maroon still remains very popular and maroon pairs of chucks still are made every season, a renewal rate of over twenty seasons.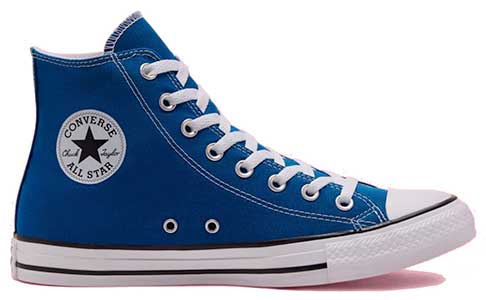 Sand Dune and Snorkel Blue are two of the latest seasonal high top chucks.
Converse has recently mad it eay to peruse available models of chucks, along with variations like platform and slip on models by color. Here are some of their recommendations: If you like orange choose orange or fire opal; for yellow lemon chrome; for green midnight clover or amazon green; for blue snorkel blue; for purple electeric purple or pale amethyst; for brown choose sand dune; and for pink thre is a pink clay color. Go to our Outlook Page to see images of all these models in high top and low top. As always with seasonal chucks, if you see a color/model you really like, buy it right away as it may never return.