Information and commentary from people who care about chucks.
Personal Stories and Opinions, Chucks Fashion and Lifestyles, and Chucks in the Media
Chuck Talk Features—Summer/Fall, 2021
What's New at

The ChucksConnection

.
New or Updated Photo Galleries:


Olivia Rodrigo, Amazon Green High Top Chucks, Buddy, Zendaya, Actors Wearing Red Chucks in Films, Joshua Bassett, Amanda Seyfried, Victoria Justice, Taylor Swift, Washed Indigo High Top Chucks, Midnight Barq High Top Chucks, Bright Crimson High Top Chucks, Jessie Reyez, Side Pocket High Top Chucks, People Wearing Red Chucks, Paul McCartney, George Harrison, Chuck Taylor PC Boots, Coolest Chucks Moments in Film, Magenta Renew High Top Chucks, Austin Asher Stills from Shazam!, Washed Denim Blue High Top Chucks, Red Hot Chili Pipers, R5, Rozzi Crane, Bow Wow, Nicky, Ricky, Dicky & Dawn, YG, Guys Wearing Red Chucks, Sabrina Carpenter, Mac Miller, Guys Wearing Black Chucks.

Videos and Short Films With Chucks:

Brotherly Love, E.L. R.O.N.A.L.D.O., Rocket Boy, Nelson Bixby Takes On The Whole Wide World, Broken Leg, Handicap Skating, Let Me Play, Copy Cat, Collected, Talk to Leon, Unclaimed, Flat Out, Caught, A Bathroom on Drake, A Fish Out of Water, Playdate, Survivants, The Worst Day Ever, Hero, Clark, The Bend, The Glass Castle, Summer '78, RC Cola Ad, Under Stars, RCA, The Bat, Kid, the Moon, We Are Boys, 12 Ways to Style Converse Sneakers, Customize your Converse All Star with Hydro Dipping!. Go to the Videos and Short Films with Chucks page.


TV Page Features:

Many listings have been updated. New listings with an article: The Hardy Boys (2020), Secrets of Sulphur Springs, WandaVision, Mythbusters, All-American, Hollywood, Stranger Things, Season 3, Deadly Class, Iron Fist, On My Block, The Temptations, Rise, Grown-ish, How I Met Your Mother, Mom, Parks and Recreation, Game of Silence, Stranger Things, Season 2, Greenhouse Academy, The Carmichael Show, Sha Na Na, Preacher, Friday Night Lights, Sun Records.

Other recent listings are: Titans, Trickster, Punky Brewster (2021), American Gods, The Neighborhood, Way Down Cellar, Space Force, Designated Survivor, Almost Paradise, Locke and Key, Ragnarok, NCIS, Euphoria, The Boys, Shameless, Catastrophe. Go to the Television Shows with Chucks Index Page.

Music Video Reviews:


Thnks fr th Mmrs, The New Workout Plan, Saint Nobody, deja vu, All Hands on Deck, Telling Myself, Time After Time, Drivers's License, Body Count, Winter, Anyone Else, Therefore I Am, Orphans, Easy Come, Easy Go, Give It To You, The Schuyler Sisters, Justin Timberlake Medley, 100 Grandkids, Lost in the Echo, Go To Church, Music Everywhere, MAYBE (Deconstructed), I Rep That West, I Want to Know What Love Is, Prima Donna, I Want Crazy, You and I Both, So What?, Go Loko, All For Us, Any Kind of Guy, The End of the Game, Never Catch Me, Boomerang, Motivation, Time in a Tree, Dreams, Young, Wild, and Free, Señorita.




Film Reviews:

Drought, Short Circuit, Faintheart, Ghost of Lake Opeongo, Flora & Ulysses, To All the Boys: Always and Forever, Cupid's Proxy, The Treasure of the White Falcons, Bad Moms, The Witches, Vampires vs. the Bronx, We'll Rise At Dawn, Seduction Theory, Whiplash, National Treasure: Book of Secrets, Pitch Perfect, Charlie and the Chocolate Factory, Mighty Oak, Los Scavengers, Four Kids and It, The Quarry, Adventure Force 5.

New listings: Timecrafters: The Treasure of Pirates Cove, Young Hunters: The Beast of Bevendean, The Wild Life, Don't Forget To Breathe, The Faithful, The Last Summer, The Scary House, Ham On Rye, Aunt Mary, Office Uprising, Dickie Roberts: Former Child Star, I Think My Babysitter's an Alien, Der Alte und die Nervensäge, Timmy Failure: Mistakes Were Made, Mercy Rule, Monsters of Man, The New Mutants, The True Adventures of Wolfboy, The Secrets We Keep, Slash, Unhinged, Survival Guide. Go to the Chuck Taylor in Films Index Page.


Articles:

The Honor Roll for Actors Wearing Chucks in Films and Television Shows has reached 110 honorees with the addition of Steve Guttenberg and Brenton Thwaites. The page has been updated to be easier to view on mobile phones and many additional photos have been added. The Outlook Page has been updated with new summer models of All Stars and Chuck 70s. Go to the Articles about Chucks Index Page.

How to Participate in Chuck Talk. Let us know what you think! We are also happy to try and answer your questions and inquiries about chucks, and listen to what you are thinking about. If you have some opinions, information, pictures, suggestions, or an article to submit, just click on the link, How to Participate in Chuck Talk to access our email address.
Sizzling Summer Spirit Chucks
Break out the sunscreen and crank up the DJ Jazzy Jeff & The Fresh Prince because summertime is in full effect! Sundresses and shorts are in, and this summer is destined to be enjoyed outdoors! With all that being said, Converse has unveiled their Summer Spirit line to get you in that summertime mood. The collection features a wide variety of designs and colors, offering everyone a little something for the summer.
Time to sit back and unwind in these Summer Spirit chucks.
The first shoes in the collection are three vintage inspired Chuck 70's. They feature varying floral patterns in purple, red and yellow designs. There are also a pair of Chuck Taylor Platforms with brightly colored orange, red, and pink sun and rainbow designs. Two Run Star Hike models showcase floral patterns in red and sesame colorways. Finally, the collection has two classic Chuck Taylor All Stars, one low top and one high top model. The high top features a sunflower design on a white canvas, while the low top features oversized orange hearts on a pink canvas. The whole collection's color scheme screams summer, with bright, sunny pastels. The designs themselves are low key enough to be wearable everyday, but stand out enough to show off your summer vibes. The Chuck Taylor All Stars and Chuck 70's are available in women sizes, while the Run Star Hikes are available in unisex sizes. The whole collection ranges in price from $55-$110. So spice up your summertime style with Summer Spirit chucks!
New Summer Styles from Carhartt and Converse
When you think of Carhartt, you probably think of brown and blue work clothes, and heavy duty canvas meant to withstand the hardships of tough, everyday work. You probably don't think of brightly colored, tiger print designs on chucks. However, that's exactly what Converse and Carhartt have released as part of their continuing partnership. Emerging from the dreary cold winter with a brand-new look, the new Converse x Carhartt WIP Chuck 70 looks to push the designs of the Carhartt aesthetic and take it into new directions while still maintaining the durability and ruggedness both brands are known for.
Step into summer with the new Converse x Carhartt WIP "Hinterland" chucks.
The collection features a high top and low top model, and the designs for this collection feature a lush and vibrant pattern that Converse and Carhartt have dubbed "Hinterland". This expressive pattern is heavily inspired by nature, combining tiger pinstripes with earthy colors that create a vibrant yet grounded design. The two models each have their own unique pattern. The high top features a heavily green pattern, with hints of black and baby blue, while the low top has a white design with hints of black and baby blue. Each features a pop green outsole and the Carhartt woven label on tongue and logo on lace tips. The high tops cost $115 and the low tops $110. These designs are perfect for the upcoming summer, and are a great statement for getting out into nature in your chucks!
Summer Wave and Summer Stripe Chucks
Two more models complete the Converse All Star Chuck Taylor line up for the summer. Summer Wave high top chucks feature a washed wave, tie-dye looking print upper in several color combinations, midnight blue and light blue with white foxing, black racing stripes, and black and white ankle patches. The contrasting blue print pattern is made in a spiral shape, evoking crashing waves. The other colors available are amber ocher (light orange) and light field surplus (green). As with all of their recent releases of chucks, these sneakers come with OrthoLite cushioning for all-day comfort. Summer Wave high top chucks retail for $60.
The Midnight Blue Summer Wave Chuck Taylor high top.
The Summer Stripes Chuck Taylor All Star comes in two models, Egret/Egyptian Blue with additional stripes in red and green, and Navy/Vintage White/Indigo Fog. All models have white foxing, black racing stripes, and black and white ankle patches. They also come with OrthoLite cushioned insoles, standard brown outer soles, and white shoelaces. Currently the Egret/Egyptian Blue model is on sale for $41.97, while the Navy/Vintage White model is priced at $60.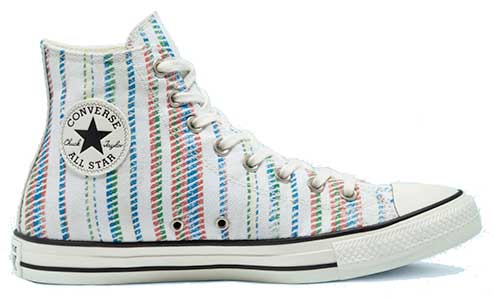 The Egret/Egyptian Blue Summer Stripe high top chuck.
More Seasonal Colors Released
Converse has now released additional seasonal colors for 2021. The new colors are Amazon Green, Golden Poppy, and Lemon Chrome.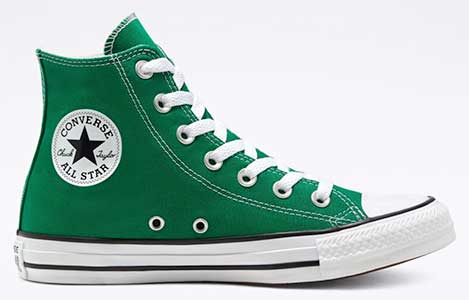 The Amazon Green and Golden Poppy high top chucks.
Amazon Green and Golden Poppy follow in the newer design trends for seasonal high top chucks, with black and white only ankle patches, no shoelace notches in the tongues, and white thread between the eyelets and on the back panel of each shoe. The models come with white toe caps and outer foxing, black racing stripes, and Orthlite insoles. Amazon Green is also available in a low top model.
The Lemon Chrome high top.
The Lemon Chrome high top is a continuing release, from prior years. These high tops sport the traditional red white and blue ankle and continue to have notches in their tongues you can thread your shoelaces to keep the tongues from slipping. Lemon Chrome is also available in a low top model. These seasonal high top models are priced at $60; low tops are $55.
Celebrate Pride 2021 with Chucks
Every year around the end of June, people around the world celebrate lesbian, gay, bisexual, transgender, non-binary and queer (LGBTQ) social and self acceptance, achievements, legal rights, and pride. These celebrations are all about self love and expression, and chucks have become a big part of that celebration. This makes sense since chucks have always been the go to shoe for self-expression. From DIY customization, to the past Converse Pride collections, chucks have been seen on the feet of those at Pride for decades. This year, Converse has released four new designs to go with the standard Priode collection and the Custom By You designs. The new four designs make up the 2021 Pride collection, and each bring something new to the chucks family.

Pride multi-color print Chuck Taylor high tops and Chuck 70 high tops.
The first shoe in this year's Pride collection is the Pride Run Star Hike. This chuck/boot hybrid uses colorful rainbow gradients to represent the experience of stepping from darkness into the light of being fully yourself. It is priced at $115, and available in unisex sizes. The Pride Chuck 70 features a stitched rainbow design and urges its wearers to see the joy in finding your pride. It is priced at $95, and available in unisex sizes. Finally, there are two standard chuck models this year, a low top and high top design. The abstract designs feature rainbow flowers and shapes that symbolize the journey one takes to find themself. The low top and high top chucks cost $65 and $70 respectively, and are also available in unisex sizes. As part of Converse's annual Pride efforts, the 2021 collection not only celebrates everyone's individual journey to finding pride, but the collection also benefits Converse's longtime partners globally and locally, including the It Gets Better Project, Ali Forney Center, BAGLY, and OUT MetroWest.
New Chucks for the Summer
Summer is fast approaching and with it comes trips to the beach, vacations, and days spent in the sun. While chucks are a year round shoe, they really shine during the summer months. That makes this pre-summer window the perfect time to bolster your chucks collection. Converse just dropped two perfect additions to your summer style: the Sunset Palms Chuck Taylor All Stars and the Custom Washed Canvas chucks. The Sunset Palms chucks are designed with tropical palm tree prints and gradient sunset skies, making them perfect summer sneakers. The Custom Washed chucks feature your choice of faded, washed prints that give the look of vintage clothes that have been washed out by the sun.
The blue Sunset Palms high top.
The Sunset Palms chucks are available in both high and low top models, and come in three colorways: blue, green, and orange. The low tops are $55 and the high tops are $60. The Custom Washed chucks come in both platform and Chuck 70's versions, and have four distinct patterns: Sand Dune, Indigo Sky, Forest Moss, and Stormy Night. The collection allows customers to choose rubber details like the sidewall, toe bumper, and racing stripe, and opt for a burnished, vintage look for the midsole. The Washed chucks are a bit pricier than the Sunset Palms, with the platforms costing $90 and the Chuck 70's $105. So whether you're looking for beachy summer vibes, or a vintage sun kissed look, Converse has got what you need to up your style this summer!
Custom Washed Chuck 70 high tops.
The Great Outdoors High Top Chucks
Another new seasonal line of chucks is The Great Outdoors high top. Inspired by Mother Nature, the Converse designers "reimagined classic Chucks with sweeping outdoor views inspired by nature's greatest landscapes.. Hits of solid color at the tongue, heel, and lining complete the look, while a lightly padded footbed helps to keep you comfortable." In their continuing campaign of recylced products, these sneakers come with recycled laces, linings, and outsoles made with reprocessed materials.
Sea Salt Blue and Magma Orange Great Outdoors high tops.
As is the case in most of the seasonal models of chucks, these shoes have all black ankle patches that are sewn on rather than the standard glued red, white and blue ankle patches. The have Ortholite cushioned insoles designed for all day wearing comfort. The Great Outdoors high top chucks retail for $60.
Explorer High Top Chucks
Converse has released two new high top variations on their Chuck Taylor All Star line of sneakers. Chuck Taylor All Star Space Explorer High Tops come in two color combinations, Back Alley Brick Red and Obsidian Black. Both models come with black shoelaces, black outer soles, black back panels, black and red or black and blue heel patches, and ankle patches that feature a white star and embroidered details. The uppers are made of twill fabric with matching stitching and eyelets for more of a monochromatic look. Space Explorer high tops retail at $60.00.
A Back Alley Brick Red Space Explorer high top.
Alt Exploration Chuck Taylor All Stars feature a webbed lacing system up the middle of each shoe's tongue that holds your shoelaces in place. These models come in two color pairs, Field Surplus/Light Zitron, which is a brown/yellow combination, and White/String, string being an off white color. The rest of the details are standard chucks design, except for the ankle patches which feature the words "Converse All Star" in the alternate color and the star and signature in black. They also have back panels in the alternate color for each model. These sneakers retail for $60.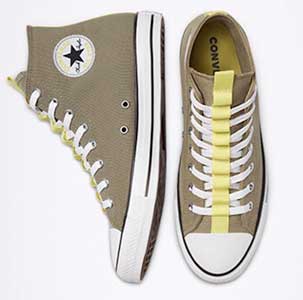 Light Field Surplus/Light Zitron and White/String Alt Exploration high tops.
New Seasonal Colors for 2021
Converse has announced new seasonal colors for both their classic Chuck Taylor and Chuck70 lines of high tops and low tops. There are a couple of differences between these new models and seasonal chucks from prior years. All of the new models no longer have the notch on their tongues to prevent them from slipping during wear. Whether this is merely a cost cutting feature, or a sign that they will be eliminating that from their core models too is undetermined at this time. Another change is that all of the high top models now have black and white only ankle patches instead of the standard red, white, and blue on white patch.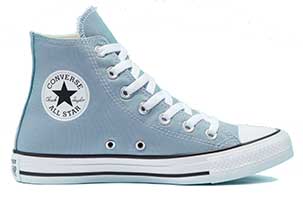 Obsidian Mist and Bright Spruce seasonal high top chucks.
Some of the new colors for the Chuck Taylor line include Obsidian Mist, Bright Spruce, and Carmine Pink in both high top and low top models. Ceramic Green, Dark Orchid, Farro, Digital Powder and Sail Blue in high top only, and Kumquat and Saffron in low tops only. New seasonal Chuck70 colors include Dark Root, Wolf Grey, Candy Grape, MIdnight Clover, and Rush Blue in both high and low top models, along with Court Green and Dark soba in high top only. You can see all of these new models of chucks on our Outlook page.
Chucks in the White House?
Kamala Harris has already made history as the first African-American, and the first Asian-American woman to receive the nomination for Vice President on a major party ticket. However, if Joe Biden is elected President in November, and she serves as his Vice President, she could make even more history as the first Vice President to wear chucks in the Blair House (where the Vice President lives in Washington) and the White House. It should be noted that former first lady Michele Obama was occasionally seen wearing the same model of black low top chucks when she lived in the White House. Besides being from California's San Francisco Bay Area and thus having a cultural connection to chucks, Harris may also be saying something with her choice of footwear.
Kamala steps out onto the campaign trail in a pair of black chucks.
Elizabeth Semmelhack, author of Sneaker X Culture: Collab, believes Harris's chucks represent action. "The sneakers are acting as the sartorial equivalent of being willing to roll up her sleeves," she says. Harris's chucks separate her from traditional heels and conservative slides that women in politics are usually relegated to wear. Long associated with the rebel in all of us, chucks more importantly represent an authenticity that is uniquely American, which is what Harris is attempting to represent. And Kamla's love for chucks is authentic, as she told The Cut: "I run through airports in my Converse sneakers. I have a whole collection of Chuck Taylors: a black leather pair, a white pair, I have the kind that don't lace, the kind that do lace, the kind I wear in the hot weather, the kind I wear in the cold weather, and the platform kind for when I'm wearing a pantsuit." The VP nominee loves her Chuck Taylors, and from her upbringing in California, to her authenticity and call to action, it's easy to see how they've become a part of her.
Wider Width Chucks Now Available In More Colors
Converse has literally widened its collection of wider foot chucks to include monochrome and customized styles. You can still get core black and optical white high tops and low cuts in standard or wider widths, but now you have a lot more options. These new wider width chucks come in monochrome black or white models in high top or low cut, along with a number of other options in summer colors and in plaid prints.
This navy custom high top and plaid custom low top are now available in standard and wide widths.
All of these new models are available in both high top or low top. Because they are part of the Converse customized collection of chucks, their price is $25 higher per pair, $80 for high tops and $75 for low tops. The other base color choices are dolphin gray, blue plaid, navy blue, monochrome navy, black, white, monochrome pink, royal blue, pink plaid, blossom pink, lilac, and aqua. You can order these pairs in men's size 3 through 11.5 in half sizes, and from 12-16 in whole sizes. (Women's sizes 5 to 18) The standard core wider width black or optical white chucks are not customizable and remain priced at $55 and $50.
Chucks Are An All Time Top Five Basketball Shoe
Recently ESPN came out with its rankings of the best 75 basketball shoes of all time. In its listing, the Converse All Star Chuck Taylor shoe came in at number 5. This shouldn't really be a surprise, given the fact that chucks were the dominant basketball shoe for over four decades. In its heyday as the premiere basketball shoe, chucks were worn by nearly every professional, college, and high school player. Many of the greatest players of all time wore them while setting records and providing us with some of the best moments in sports. Think of Wilt Chamberlain, Bill Russell, Bob Cousy, Larry Bird, Julius Erving, and Pete Maravich, to list a few names.
For decades all the great players and teams wore high top chucks.
It was a mistake for marketing people at Converse to start saying in the 1990s that chucks were now just leisure shoes. Sure they are great in that part of your life, as so many people like to wear them all the time, but they were designed to play basketball in originally. During his lifetime, Chuck Taylor and the Converse Company spent decades tweaking their design and manufacture so that they would be the finest basketball shoe of its day. That emphasis on quality control can't be taken away from their history or from their functionality as an athletic shoe. Converse should take up that cause again and get endorsers to wear basic chucks or Chuck 70s while playing basketball as they did in the past. Wouldn't that be great to see in a professional or college game again?
New Wider Width Chucks
The two most popular models of classic high top chucks are now available in a wider width. Chucks have always been made in just one width, D, which is meant for a medium width foot, which most people have. But now you can purchase a black or optical white high top pair of chucks in a wider (E) width. Both models look the same as their standard width counterparts and the price differential is only five dollars, currently $55 for standard width chucks and $60 for wide width chucks.
Black and Optical White high top chucks are now available in wide widths.
You can also purchase black or optical white low top chucks in wide widths. The price for those pairs is $55.
Gift Ideas For That Chucks Person On Your List
Finding the right gift at the right price is often difficult, especially if you are on a budget. If you know (or are) someone who is an enthusiatic fan and wearer of chucks, what do you get that person besides a new pair of chucks? These days a new pair is a big gift, with the prices ranging between $50 to $100 for most new pairs. Luckily The ChucksConnection is here to assist you with a short list of credible gifts that range in price from $2 to $20 and appropriate for people of all ages. Go to our Gifts Page to see the complete list of our recommendations.
Videos and Short Films with Chucks
We have started a new feature on The ChucksConnection that addresses videos and short films where actors wear chucks. These films are normally seen on websites like YouTube and Vimeo and made by amateur or aspiring filmmakers. Too short to be included on our Chuck Taylor in Films page and not released to the public through paid streaming, DVD or BlueRay, these videos and films are free for viewing, and we provide links to them on our new Videos and Short Films with Chucks page.
Check these out on our new page.
Like our other media pages, Videos and Short Films with Chucks is a work in progress. If you know of a video or short film that qualifies for this new page, send us the information and link to films@chucksconnection.com.
How to Participate in Chuck Talk
Do you have some things to say about Chuck Taylors? If you have an article or other interesting information about chucks to submit to this website, please contact us at mail@chucksconnection.com.