Chuck Talk Features—Summer/Fall, 2019

Personal Stories and Opinions, Chucks Fashion and Lifestyles, and Chucks in the Media
What's New At

The ChucksConnection

. ChuckTalk Archives.

New or Updated Photo Galleries:


Paul McCartney, George Harrison, Chuck Taylor PC Boots, Coolest Chucks Moments in Film, Magenta Renew High Top Chucks, Zendaya, Austin Asher Stills from Shazam!, Washed Denim Blue High Top Chucks, Red Hot Chili Pipers, R5, Rozzi Crane, People Wearing Red Chucks, Bow Wow, Nicky, Ricky, Dicky & Dawn, YG, Guys Wearing Red Chucks, Sabrina Carpenter, Mac Miller, Guys Wearing Black Chucks, Guys Wearing Optical White Chucks, Cobra Kai, Coolest Chucks Moments in Film, Jessie Reyez, 2018 Black High Top Chucks, 2018 Maroon High Top Chucks, Deep Blue High Top Chucks, Red Days Ahead High Top Chucks, Jessie Reyez, Graduates Wearing Chucks, Ariana Grande, SZA, Young Sheldon, Red Converse Chuck 70 Vintage Canvas High Tops, Allessia Cara, Chris Brown, Victoria Justice, Wordmark High Top Chucks, Red Stonewashed High Top Chucks, Lil Wayne, The Game, Zendaya, Vince Staples, Tyga, Kenrick Lamar, Ice Cube, Camilla Cabello, 2017 Core Red High Top Chucks, Golden State Warriors High Top Chucks, Sangria Waterproof Chuck Taylor Boots, Marvin the Martian High Top Chucks, YouTubers Wearing Chucks, Indigo High Top Chucks.

Videos and Short Films With Chucks:

Growth, The Businessmen, Fractured, Bottle Cap Kick Challenge, Snake Bite, The Unidentified, Delivery, Granbad, The Hug, Hare, Island in the Sun, All the Marbles, Sabrina Carpenter and Rowan Blanchard's Forever Chuck Ad, Converse Advertisement, The Groundskeeper, La Vida Loca. Go to the Videos and Short Films with Chucks page.


TV Page Features:

New listings with an article: Stranger Things, Season 3, Deadly Class, Iron Fist, On My Block, The Temptations, Rise, Grown-ish, How I Met Your Mother, Mom, Parks and Recreation, Game of Silence, Stranger Things, Season 2, Greenhouse Academy, The Carmichael Show, Sha Na Na, Preacher, Friday Night Lights, Sun Records, Hunter Street, 13 Reasons Why, Drake & Josh, Riverdale.

Other recent listings are: Euphoria, The Boys, Shameless, Catastrophe, Nicky, Ricky, Dicky & Dawn, Single Parents, Cobra Kai, Young Sheldon, Fargo, Goosebumps, Puzzle Play. Go to the Television Shows with Chucks Index Page.

Music Video Reviews:


You and I Both, So What?, Go Loko, All For Us, Any Kind of Guy, The End of the Game, Never Catch Me, Boomerang, Motivation, Time in a Tree, Dreams, Young, Wild, and Free, Señorita, Murder Was the Case, Gangsta Luv, Higher, What's My Age Again?, Light It Up, The Great Escape, Cool, Here With Me, Hello, Anxiety, REEL IT IN, Swang, Please Me, Dirty Little Secret, That's Not My Name, Take Me On, Sugar, We're Goin' Down, Blackjack, Song About You, Take It Off, Best Day Ever, One Sweet Love, Christmas Everyday, Good Form, Walk My Way, She's Kinda Hot, Ric Flair, Trust My Lonely, Africa, Black Magic, Friends, Cruisin' for a Bruisin', Hollaback Girl, Lucky You.




Film Reviews:

Good Boys, Billions for Boris, Billy Owens and the Secret of the Runes, The Lego Movie 2, Spider-Man: Far From Home, Yesterday, Bark Ranger, The Kids from 62-F, Always Be My Maybe, Shazam! Like Mike, Not Cinderella's Type, Don Quixote, Age of Summer, Wildlife, Under the Silver Lake, Un Viaje a la Luna, Wadjda, All These Small Moments, Happy Log, Different Drummers, The Bye Bye Man, Rockaway, Kin, The Loved Ones, The House With a Clock In Its Walls, Breaking Brooklyn.

New listings: The Lost Medallion: The Adventures of Billy Stone, Northern Lights, Last Chance Detectives, A Fairy's Game, The Atoning, The Education of Charlie Banks, Boy Genius, Low Tide, It Chapter Two, The Goldfinch, My Pet Dinosaur, Half Baked, Ready or Not, Red Dog: True Blue, Blinded by the Light, Nancy Drew and the Hidden Staircase, The Dirt, The Adventures of Jurassic Pet, American Exit, Assimilate, Brightburn, Soul Harvest, Rim of the World. Go to the Chuck Taylor in Films Index Page.




Articles:

The Best Films list has been updated. The Shoe Outlook for 2019 has been updated with more seasonal models of chucks. The Chucks Sightings page, Chucks Appearances in Commercials and Unusual Places and the Core Chucks page have been updated. The Honor Roll for Actors Wearing Chucks in Films and Television Shows has been updated with the addition of Joseph Cross and Seth Green. Go to the Articles about Chucks Index Page.

How to Participate in Chuck Talk. Let us know what you think! We are also happy to try and answer your questions and inquiries about chucks, and listen to what you are thinking about. If you have some opinions, information, pictures, suggestions, or an article to submit, just click on the link, How to Participate in Chuck Talk to access our email address.
New Frozen II Chucks
There have been a few blockbuster movies this year that have completely taken over the collective pop culture conversation. Avengers: Endgame dominated the Spring and Summer, Star Wars: The Rise of Skywalker looks poised to do the same this Winter. However amongst kids, both might pale in anticipation to Frozen II. The sequel is six years in the making, and looks to follow Anna and Elsa as new threats come to the kingdom of Arendale. With the films release just a week away, Disney has teamed up with Converse to release a line of special edition Frozen style chucks.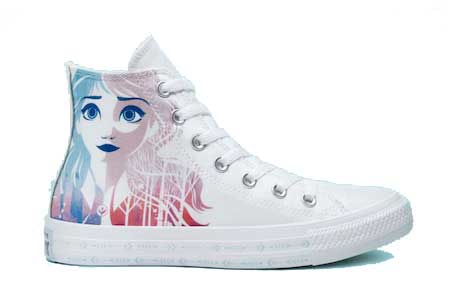 The Converse X Frozen II high top.
This line features a wide variety of colors and characters from the film, offering a varied selection for those looking. There are high and low tops, original Chuck Taylors and Chuck 70s, in adult and child sizes. The color pallette is also varied, with black, white, grey, and frost blue styles available. These shoes feature Anna, Elsa, Kristoff, Sven, and Olaf on different designs, with Anna and Elsa being the most prevalent. These designs range from the subtle Chuck 70 that features an ice themed sole with no characters on it, to the bold chucks that feature a baby blue and pink Elsa emblazoned on the side. This wide variety of colors and styles ensures that there is a pair of chucks for every Frozen fan, which makes this line a must get for the holiday gift giving season, the perfect gift for the Frozen fan in your life, both young and old.
2019 NBA Custom Chucks
Now that the 2019-20 NBA Basketball season has begun, Converse is offering a new line of customized chucks for eighteen of the most successful teams. This is the most flexibility that Converse has made available in terms of looks and models. These new chucks are part of their custom design program, but that actually represents a price reduction from previous years. These NBA chuck are available in either high top or low top pairs and allow the customer sixteen design choices of how his/her pair will look. Converse starts by recommending a basic color combination that matches team colors for whatever team you choose. That team logo is sewn onto the top of each shoe's tongue. Then, besides the team choice, you can make fifteen additional choices to make them exactly how you want them to look.
Angled side view of custom designed Golden State Warrriors high tops.
You can make choices for the canvas uppers, the tongue, tongue graphics which are important years for the franchise, the heel stripe color, a choice of NBA logos nothing on the heel stripes, and a choice of interior lining as a solid color or as a team print. Additionally you can choose the stitching and shoelace colors, a choice of silver, black, or gold eyelets, whether you want the Chuck Taylor ankle patch to be the tradional red, white, and blue or black and white, white or alternate colors for the toe cap, bumper, and rubber sidewalls, a choice of red and blue NBA racing stripes or not, and the color of the team name that is stitched into the outside canvas upper for each shoe. You can order these on the Converse website for $85 a pair, the same price for high or low tops.
New Converse Batman Chucks
Holy high tops! Who would have thought back in 1939 what a big deal the Batman comic book franchise would become with constant publication of the comics, plus television series and dozens of films. Yes, it's been eighty years since the first Batman comic book was published. Converse has decided to celebrate "the 80th anniversay with a collection of sneakers that features original artwork of the DC Super Hero through the ages."
The two Chuck Taylor high top models for Batman's 80th anniversary.
The collection includes two Chuck Taylor models, shown above, that retail for $65 and a low top version of the right shoe that goes for $60. There are two expensive Chuck 70 models priced at $100 apiece. For kids who wear youth sizes, there are high top models at $45 and low top at $40. Even toddlers can have a pair. Their Batman sneakers are priced at $40 and $35. Special edition chucks usually sell out quickly, so if having a new Batman pair of chucks is something high on your list, we recommend that you buy them right away.
Chuck Taylor PC Boot
If you live in a cold and wet climate during the winter months, but still want to wear chucks, the Chuck Taylor PC Boot may be the cold weather shoe for you. Converse describes the PC Boot as "a weather-ready reimagination of classic chucks, designed to take on the elements. Leather-trimmed, water-resistant sudede is paired with hiking-inspired hardware, a weatherized outsole and a padded collar for support." The boots are custom made, with choices of color, leather trim, patches, and narrow round or flat laces. The Chuck Taylor PC Boot costs $110.00.
A wheat Chuck Taylor PC Boot.
DIY Halloween Costumes with Chucks
As Halloween quickly approaches, party invitations are being sent out and trick-or-treating plans are being made. With only a few weeks left before the year's spookiest day, it's time to decide on a costume. You may look to buying a costume online or at a pop up Halloween store, but those can be pretty expensive, and they're not the best quality. Luckily if you look in your closet and see a pair of chucks, you're well on your way to creating a fun, easy do-it-yourself Halloween costume.
Robin from Stranger Things Season 3, MJ from Spider-Man Far From Home, and Flo from Progressive are three quick and easy DIY costumes for Halloween.
Pop culture this year has provided three instantly recognizable and easy to recreate costumes for Halloween. The first one up is Robin from Stranger Things Season 3. A pair of red chucks paired with blue shorts and a blue and white striped t-shirt is all you need to dress up like everyone's favorite Scoops Ahoy! Worker. There's also Flo from the Progressive ads. This costume utilizes blue chucks, and white everything else. Just add a Progressive logo on a white apron and you're all set!. Finally there's MJ from this year's smash hit film, Spider-Man Far From Home. Black chucks and some subtle but trendy clothes are all you need to recreate MJ's look from the final installment of the Marvel Cinematic Universe's Infinity Saga. You can also add a mace to complete the outfit from the film's final battle! So those are three easy, affordable Halloween costumes that are all possible thanks to the versatility of chucks!
Black Friday in November Sale
Take advantage of our special sale price on our definitive book about chucks, Chucks! The Phenomenon of Converse Chuck Taylor All Stars. This all color book, with all kinds of information and history about your favorite sneaker, along with hundreds of illustrations of the many models of chucks manufactured over the years, makes a great gift. For a limited time, you can buy a copy for half off the cover price, plus get free shipping in the USA. That's just $7.49. How many great gifts can you buy these days for under eight dollars and get free shipping? Perfect for that chucks person in your life.
Chapters in the book include discussion about the phenomenal fans of chucks, a brief history of their evolution from basketball shoe to global icon, their art and design, the marketing of chucks, their appearance in the media, and the future of chucks. To order go to our books about chucks order page.
Latest Seasonal Chucks for the Fall
Converse has just announced four additional high top and four additional low top seasonal colors for the fall. The new high top colors are Bright Crimson, Barely Rose, Midnight Turq, and Polar Blue. The new low top colors are Blended Aqua, Lilac Mist, Ridgerock, and Turbo Green. They have also brought back or continued an additional seven seasonal colors in high top, and eleven in low top models. These chucks are priced at $55 for high tops and $50 for low tops.
Bright Crimson and Midnight Turq seasonal high top chucks.
The continuing and returning seasonal colors in high top models for fall are Gold Dart, Jade Stone, Hyper Royal, Golden Poppy, Bold Citron, Aphid Green, and Lt Zitron. The low top models are Strawberry Jam, Barkroot Brown, Coastal Pink, Orange Rind, Golden Poppy, Desert Khaki, Light Redwood, Stellar Indigo, Mineral Teal, Pink Foam, and Violet Ash. You can view photos of all these new seasonal models and colors on our Shoe Outlook page.
Chucks for Cold and Wet Weather
Now that fall is here and the weather is starting to change, if you live in an area of the country that gets a lot of cold or wet weather, you might want to get yourself a pair of chucks designed to do well in inclement weather. If you must deal with a lot of rain or snow, the Chuck Taylor All Star Winter Water Repellant high top might be the perfect shoe for you. These chucks are made with water repellent leather, have sturdy gusseted tongues, and warm lining inside. They feature traction outsole, narrow round shoelaces, and bootlike hardware on the upper two eyelet pairs. Winter Water Repellant high tops come in four color combinations, black and white with obsidian flecks, monochrome black, and olive green or carbon grey with black and white details. They retail at $80. Another option is the Wale Cord high top in either wheat or dark obsidian with black and white trim. The sneakers, priced at $65, are made with vintage inspired corduroy, which will keep you warm and comfortable.
Black and white water repellent and wheat wale cord high tops.
Other options for the wet and cold are Chuck 70 Gore Tex high tops that use the Gore Tex waterproofing technology. These chucks come in wheat or black, with a Gore Tex graphic on the uppers. These shoes also have woven ankle patches, OrthoLite insoles, narrow round laces and retail at $110. And finally there is a line of suede leather high tops that come in three colors, Hummus, Almost Black, and Burnt Umber. These chucks have colored toe caps, heel loop ankle straps, and a speed hook on the top eyelets. They cost $70.
Wheat Gore-Tex and Almost Black Suede high tops.
Red Is the Featured Fall Color
Red is the color Converse is featuring for the fall season. Not just their core bright red models but also burgundy, a long time core and seasonal color, that now has core status again. There are quite a lot of products to choose from, starting with the classic Chuck Taylor red high top and low top models at $55 and $50, a perennial favorite. You can also buy red high and low tops in a Chuck 70 version, for $85 and $80. Some new seasonal red models include a burgundy platform slip-on for $65 (Platform chucks have the extra high soles) and a Chuck Taylor All Star Gore-Tex Lugged Waterproof Leather High Top, another platform style for $110. Converse has released a Chuck 70 high top and low top in burgundy priced at $85 and $80. If you want to make customized pairs in red, you can get high tops, low tops, platforms, slip, and shoreline models for $75 each. Leather and suede leather high top models are available for $110-120.
Light Redwood low top chucks are one of the many red issues this fall.
With this new emphasis on the color red, it would be great if Converse would release some alternate red shades like they used to in the past, colors between their dark red burgundy and bright red issues, like chili pepper red, red clay, days ahead red, carmine, or jester red. They do have one new release in low top only, called light redwood. It would be nice to see this color in a high top, along with some of the others mentioned above. There are some other red models out. You can now get red corduroy in high top and low cut at $95 and $90, space explorer high tops ($60) or space racer low tops ($80), renew recycled materials high top and low tops for $85. With all of these models to choose from, it is easy to brighten up your look with a new pair of red chucks.
Chuck Taylor All Star Seek Peace High Tops
Converse has just issued two models of Seek Peace Chuck Taylor high tops that represent a major redesign of the traditional silhouette. The shoes are a paneled design of canvas and synthetic leather that come in two color combinations: a somewhat monochrome black model with yellow, pink, white, and teal highlights, and a red and black 2-tone model. The black model features all black foxing, laces, and upper canvas that is modified by white rectangular squares in the middle of the foxing on both sides of the shoe, with text on both sides reading "choose a path of peace" in neon pink and teal lettering. There is a removeable teal peace sign patch that covers an embossed leather Chuck Talyor patch on the inside uppers of each sneaker. The word "peace" is written on the tongue of each shoe in yellow letters. On the outside uppers of each shoe is additional text that reads "positivity elevates awareness, creativity, empowerment" in teal block capital letters. Final touches in the design include white stitching in the uppers, a neon pink back panels with the words seek peace on the right shoe, and yellow peace signs on the left shoe, and the words "choose a path of peace" printed in white on the insides of the tongues.
Outside, inside, top, and angled side views of the black Seek Peace high top.
The red and black 2-tone model has a simpler color design, half black and half red with the details and writing in either red or black. The red and black 2-tone model doesn't have all the extra text seen on the black model, just having the slogans on the inside foxing and on the heel panels. Both models have smart foam insoles for additional comfort. As these sneakers are part of the Chuck Taylor line rather than the more expensive Chuck 70 line, they both retail at $65 each.
New Print and Weave Shoelaces For Your Chucks
Deck out your chucks with new print and weave shoelaces now available from our online store. There is a new line of print laces which are only 3/8 inches wide, so they lace up like standard athletic shoelaces. These shoelaces are 45 inches long and come in a multi-colored skull and crossbones print, a rainbow tie-dye print, red and blue stripes with a white star print, and a print shoelace with multi-colored peace signs on a white background. Also in this line is a black and white checkers print that gives you an additional option from our 3/4 inch wide checkers print fat laces. Other new print laces are a black flames print in both 3/4x45 and 3/4x 54 inch shoelaces. We have also added an Army Green camouflage in a 3/4x54 inch shoelace that pair with our desert camouflage model in a 45 inch length. You can see our complete line of print shoelaces for chucks on our Buy Print Shoelaces page.
From left to right: black flames lace on a black high top, multi-colored skulls lace on a red low top, multi-colored peace signs shoelace on an optical white low top, and stars and stripes weave shoelace on a navy blue high top.
Our new weave shoelace is a stars and stripes pattern in a retro width tubular shoelace. The weave features red and white diagonal stripes contrasted with patches of blue with small white squares that represent the stars. The stars and stripes shoelaces come in two lengths, 1/2x45 inches and 1/2x54 inches. You can see these and other weave shoelaces for chucks on our Weave, Reversible, and Narrow Round Shoelaces page. There are complete photo galleries of how our print and weave shoelaces look when laced up on various pairs of chucks. Click on this link to view a complete index of the shoelaces on chucks photo galleries.
Back To School Chucks
It's that time of the year, when students of all ages are returning to the classroom. And part of the process is always new clothing and supplies for the school year. Of course that means getting a new pair of chucks to wear. Converse is full of suggestions, touting new lines of flight and space inspired high tops in leather and canvas, recycled material chucks (although these models have a different look to them), new seasonal colors for the fall, a new Chuck 70 design by LA designer Joshua Vides, high contrast models and monochrome white pairs, custom slip on chucks for the school year, leather and archive print models.
These folks are campus ready.
That gives one quite a lot of selection, but these new models are all quite expensive, for example the custom slip-ons are $75, the Joshua Vedes models are $110, and the flight and space models range in price from $60-95. Here at The ChucksConnection we have a better suggestion for the cost-conscious student. Get yourself a basic pair of chucks in one of the most popular core colors, like black, white, or red, which go with anything in your wardrobe. These are still the most popular models of Converse Chuck Taylor All Stars, and you can't go wrong with a pair of these basic chucks. And for additional school spirit, get some shoelaces in your school colors.
Print Canvas Chucks from the Archives
Converse is making available print patterns from the past history of chucks in new Chuck 70 models. Some of these designs include Flames in a black high top or white low top, animal prints like the Leopard in a white or black monochrome high top, or in a white Lucky Star high top, and Zebra or Giraffe prints in a Chuck 70 high top. Other release include Green or Red 2-Tone models in a Chuck 70 high top, Camouflage or Military prints in Chuck 70 high top and low top or One Star low tops, and Stars and Bars models in high top and low top or in One Star low cuts.
The Chuck 70 Flames print high top.
For the skater crowd there is a new CTAS Pro model high top. These sneakers have a red racing stripe along the top and underneath the outer black canvas is a layer of flag print, the idea being as the outer canvas wears out, the flag starts to show through. These also differ from regular chucks because they have extra bracing at the tongue and a Cons heel patch instead of one that says Converse Chuck Taylor.
New Seasonal Chucks for the Fall
Converse has announced a new line up of seasonal chucks for the fall that include four new colors in high top and six new colors in low top. The new seasonal high top colors include Hyper Royal, a bright blue shade, Gold Dart, Jade Stone (an off shade green), and Golden Poppy, a reddish-orange shade. Of these models, only Golden Poppy is available also in low top, continuing Converse's somewhat perplexing trend of not releasing most of the seasonal colors in both high and low top models. You can see all of the new seasonal models on our Outlook Page.
The Hyper Royal blue seasonal high top.
New models in low top include a Light Redwood color, Stellar Indigo, a light blue shade, Orange Rind, Golden Poppy, Desert Khaki, and Coastal Pink. The low top models are priced at $50 and the high top models are $55, the current retail prices for chucks. A couple of caveats to our readers: If you see a model/color that you like, be sure to buy it right away, as these are one time issues, and usually are not reissued. Also with Trump's trade war with China going on, new tariffs are likely to cause future price increases for shoe and clothing products. Even if you are not interested in these seasonal models, you might want to buy a new pair of your favorite core color chucks before the prices go up.
The Light Redwood seasonal low top.
The Chuck 70 Lineup for the Fall
Converse has announced the new line up of Chuck 70 colors for the fall. All of the colors are available in both high top and low top models. Returning colors include Black, White, and Enamel Red. New colors are Parchment (off white similar to the natural white Chuck Taylor), True Navy blue, Sunflower (orange), Mason (grey), and Magic Flamingo (pink). As is typical with the Chuck 70 line, these sneaker have egret (off white) toe caps and outer foxing. along with black or garnet red racing stripes and black heel patches. The ankle patches on the high tops are sewn on white patches with all black print. The retail price for Chuck 70 high tops is $85.00 and $80.00 for low tops. If these Chuck 70s are made in Viet Nam, the price should remain stable, although it appears that Converse has already raised the price from the $70-75 of previous years. You can view all of these models on our Outlook Page.
The Parchment/Garnet/Egret Chuck 70 high top.
Chuck Taylor All Star Renew High Top
Converse has created a new line of Chuck Taylor sneakers called the renew. Made competely of recylced materials, mostly plastics, the shoes feature canvas uppers made of 100% recycled polyester from used plastic bottles, recycled polyester laces, and a minimalist Chuck Taylor All Star ankle patch (barely viewable on the black model). The outer soles have white speckles on them and the slogan "Life's too short to waste" is written on the canvas of the wheat, model, the outer foxing of the putty model, and on the toe caps of the black model. Other than on the magenta high top (click here to view a photo gallery), none of the original designs have visible racing stripes.
Black, Pale Putty, and Wheat Renew high tops.
Other than the design differences, Converse states that you won't know the difference between the renew line of chucks in this series and regular canvas and rubber chucks. They are priced at $60 for high tops and $55 for the low tops, which come in jade stone green, mason taupe brown, and gold, all with black and white trim.
Oversized Logo Chucks for Kids
Outfit your little kids this summer in the latest variation on Chuck Taylor high tops — oversized logo chucks. These high tops come in the three most popular colors, black, red, and white. They have all the regular things you expect in a pair of chucks, canvas uppers, white foxing with black racing stripes, white toe guards and toe caps, metal eyelets, black and white heel patches, and white shoelaces. The big different is the Chuck Taylor red white and blue ankle patches on the inside of each shoe. The patches are much larger than normal, making them more eye catching than ever.
Black, red, and white oversized logo high top chucks.
Currently these sneakers are sale priced on the Converse web site and available in little kids sizes. Give your kids a cool new look for this summer in this clever variation on the classic Chuck Taylor look.
HiTop Films
HiTop Films is a up and coming YouTube channel that focuses on telling stories about comic book movies and characters through video essays. The video essay format has always provided interesting and engaging content on YouTube from such channels as Lessons From The Screenplay, Patrick (H) Williams, The Cosmonaut Variety Hour, Your Movie Sucks and kaptainkristian. HiTop Films joins this list as one of the more interesting video essayists out there, and he has gained a good following in the few short years he's been making videos. He's done this while also utilizing a well worn black high top Chuck Taylor as the symbol and iconography for the main logo and opening for his channel. He's even worked chucks into scenes he shoots for his videos, including the narration scene for his latest upload. This helps HiTop Films stand out while also making his channel instantly recognizable for its use of chucks.
HiTop Films uses chucks in the opening title card to his videos.
HiTop Films has utilized his unique points of view and wealth of comic book knowledge to craft entertaining and thought provoking video essays about a wealth of comic book movies. These include essays on "Guardians of the Galaxy", "Batman", and "Shazam". However, where he really shines is when he covers anything to do with Spider-Man. HiTop FIlms has an incredible knowledge of not only the history of Spider-Man in comics, TV, and film, but he also has an amazing understanding of the character and what makes him so special in the pantheon of heroes. His videos on the Sam Raimi Spider-Man Trilogy are informative and give great context as to why these films are so highly regarded amongst Spider-Man fans. His latest series is a deep dive into the Raimi Trilogy and it's a must watch for any Spider-Man fan.
Tom and Jerry Chucks
Bring out your inner kid this summer with a pair of Tom and Jerry print high top chucks. The sneakers come in all typical chucks sizes so men, women, and kids can all purchase and wear a pair. The high tops feature an elaborate color print mosaic of Tom and Jerry cartoon images, white foxing, shoelaces, and toe caps with black racing stripes, and a sewn on ankle patch in black and white. They retail at $70.
Stepping out in a pair of Tom and Jerry high top chucks.
The low top pair is made on an all white foundation, with no visible racing stripes and a much simpler print design on the upper canvas, that features the image of Tom extending onto the white foxing on the right shoe while Jerry is printed on the left sneaker. These chucks come with white shoelaces and the words Tom and Jerry on their tongues. Retail price is $65.
A right foot Tom and Jerry low top chuck.
Carnival Colorblock Chucks
Two new series of chucks meant to brighten up your summer have been released by Converse, the Chuck Taylor All Star See Thru and the Chuck 70 Get Tubed sneakers. See Thru high tops come in three colors: Racer Pink, Vintage White, and Black. Each model has the standard white outer wrap and foxing and black racing stripes on the sides and toe caps. The outer soles are in pastel colors and the ankle patches are only in outline. See Thru chucks feature a partial mesh upper instead of all canvas, with the mesh part placed between regular canvas eyelet strips and arched back support. Low tops come in two colors, Illusion Green and Black. Like their high top companions they feature pastel outer soles in neon pink or lime and have traditional white foxing and black racing stripes. This series is meant for women. On the Converse website they are only shown in women's shoe sizes.
Black Chuck Taylor All Star See Thru high top.
The Chuck 70 Get Stoked models are unisex in design and shown in both women's and men's sizes. The high top models come in a Racer Pink/Gnarly Blue (who comes up with these color names!) 2-tone design and a Black/White partial print upper, both with standard white foxing and black racing strips. Unlike other 2-tone models, the uppers are split vertically between the color combinations. The shoes have complete Chuck Taylor ankle patches but only in black and white and black heel patches. The tongue of the racer pink model is gnarly blue and it also has a black ankle stripe in the back of each shoe. The black model has a wiggly white line on its ankle stripe.
Black Chuck 70 Get Tubed high top.
If these designs are a little too much for you, there are plenty of seasonal colors in the traditional Chuck Taylor design in both high and low top models. Right now these colors are on discount pricing. You can see pictures of these chucks on our Outlook page, which shows this year's seasonal colors. High tops are available in Aphid Green, Maroon, Bold Citron, Punch Coral, Light Zitron, Washed Indigo, and Electric Purple. Low top colors include Lemon Chrome, Electric Purple, Maroon, Amazon Green, Pink Foam, Barkroot Brown, Ridgerock, Mineral Teal, Violet Ash, Aqua, Pale Vanilla, and Strawberry Jam.
The Perfect Summer Chucks
Looking for the perfect pair of chucks to wear this summer? While there are hundreds of options and it can be overwhelming at times to pick just one pair for the summer, the perfect chuck is one of the most famous — the optical white Chuck Taylor All Star High Top. A pair of new shoes can change a person's attitude, their day and look, and a pair of white shoes can be the freshest and cleanest pair of any shoe you have, white shoes just pop.
Get a pair of optical white high tops this summer.
Chucks are no different in this aspect, so this summer, embrace your inner Jerry Seinfeld and get yourself a pair of optical white chucks. This is what Converse has to say about these iconic sneakers: "We could tell you that it's the OG basketball shoe, created over 100 years ago. Or that the design has largely stayed the same, because why mess with a good thing. Or how it became the unofficial sneaker of all your favorite artists and musicians, who each made it their own. Yeah, we could share a lot of stories, but the one that matters most isn't ours—it's yours. It's how and where you take your chucks. The legacy is long, but what comes next is up to you. We just make the shoe. You make the stories." There are many amazing new additions to the chuck family every week, with different creations and collaborations, but sometimes, nothing beats a classic.
It's All In The Cards
Any day that you get a new pair of chucks, it's a lucky day. However, your luck may be a little bit better if you get a pair of these new Chuck Taylor All Stars Queen of Hearts high tops and low tops. With many high and low tops, there isn't much of a difference from the pairs other than height, but these chucks give a bit of versatility between the two. The low top pair has a black upper base with an egret midsole and bottom. The design of the egret spades and red hearts and diamonds flows on the upper and midsole. The playing card suits are screen printed onto the chucks.
Black low cut and egret white high top Queen of Hearts chucks.
The low tops are pretty inexpensive for a newly designed chuck, currently running just $55 on Converse's website. The high top is a bit more eye popping with a egret upper, midsole and bottom that looks beautiful with the screen printed card suits. The card suits are black spades, with red hearts and red diamonds. Like most high tops, these high tops are five dollars more than their low top counterpart, at $60. Converse's website says this about the new pair: "These Chucks have style in spades. The classic details you know and love remain the same, while eye-catching graphics bring luck to the legacy." These new chucks are certainly a perfect purchase for someone looking to get a unique chuck look, but not wanting to spend a lot of extra money to get it.
New Films With Chucks
2019 promises to be another good year for films with chucks. Already released this year is Shazam! the latest remake in that DC Comics series. In it, Austin Asher plays Billy Batson, the streetwise fourteen-year-old foster kid who is given incredible superpowers activated by the word Shazam. Billy is seen wearing black high top chucks throughout the film when not in superhero mode. Also released is Pet Sematary, based on the Stephen King novel. In the film Dr. Louis Creed and his wife, Rachel, relocate from Boston to rural Maine with their two young children, Ellie and Gage. The family soon discovers a mysterious burial ground hidden deep in the woods near their home. Jeté Laurence plays young Elie and wears red low cut chucks in the film.
John Lithgow and Jeté Laurence in Pet Sematary.
Other new releases include American Exit, where a dying father (Dane Cook) goes on a road trip with his estranged son (Levi Miller), who wears black high tops throughout the film. Assimilate is Joel Courtney's latest film where he wears black chucks while dealing with a invasion of body-snatching aliens in his small Missouri town. Brightburn is about a boy who mysteriously appears on earth to a childless couple, ala Superman, but appears to be a force for evil rather than good. Jackson Dunn who plays Brandon Breyer likes the color red, which include wearing a pair of red high top chucks in a few scenes. Netflix has released Rim of the World about four misfit teenagers who join forces to save the world when an alien invasion interrupts their summer camp. Allessio Scalzotto, one of the four teens, wears black high top chucks in many of his scenes.
Austin Asher about to discover the powers of Shazam!
Two films being released in June have to do with the world of music. In Yesterday, Himesh Patel plays Jack Malik, a singer-songwriter from England who wakes up after an accident to discover that the Beatles never existed. Malik begins to write the Beatles songs and becomes famous off of their music but may lose his best friend Ellie in the process. The poster for the film even recreates that famous cover of Abbey Road, but instead of crossing barefoot, Malik is wearing black high top chucks. The Dirt is the story of how the American band Mötley Crüe came to be one of the most notorious rock 'n roll groups in history. Machine Gun Kelly plays Tommy Lee in the film, and he is seen wearing black high tops, as did the real Tommy. You can keep informed about all the latest films with chucks in them by regularly checking our comprehensive The Chuck Taylor in Films page and What's New at The ChucksConnection on this page for the newest listings.
JW Anderson Americana High Tops
Chuck fans are no stranger to JW Anderson x Converse collaborations. The British fashion label is responsible for numerous chucks, but the new collaborations are all about the United States with the inspiration coming from the country's flag. The new pair is the highly anticipated Converse x JW Anderson Americana Chuck 70 High Top. The new model has a mismatched look with two different colors in the upper canvas. The combination of the two chucks creates the look of the US flag. One shoe represents the stars while the other shoe represents the stripes.
The new chucks are only in high top and give a unique take on the chucks 70s classic. One shoe is a Mood Indigo color with stars and grid logo reading J.W. Anderson across the entire canvas. The other shoe has Garnett and Egret stripes that finish the American flag look which makes these chucks so unique. These shoes also have the grid logo reading J.W. Anderson across the entire canvas.
Outside view of JW Anderson Americana chucks.
The Converse website had this to say about the new pair of chucks: "An American classic. Meets a British fashion hero. Classic canvas Chuck Taylor upper. The heritage star design. The Converse x JW Anderson Americana Chuck 70 is a shoe that celebrates — and pushes — what an icon can be." If you are feeling patriotic, or need the absolute perfect pair of chucks for the 4th of July, or just love a unique pair of chucks, these are for you. Note, these chucks will come at a steep price, going for about $120 per pair.
Split the Difference
A cut-and-sew take on an all-time classic.
Sometimes you need two shoes at the same time. Sometimes a classic needs something new. That's what you will get with the new Chuck Taylor All Star 70 Restructured. Part style, part statement, these unique chucks combine two different colored chucks together with a stitched look and come only in high tops. Converse's site says this about the new pairs: "A boldly stitched fusion of contrasting Chucks.The iconic Chuck 70 you know and love meets – you guessed it – another Chuck 70. These two-tone Chucks merge neutral colors to create a scrappy, standout look."
White/Egret Restructured Chuck 70
There are two different pairs of the restructured chucks, a white/egret and a black/grey pair. The black and grey pair is much more subtle in the difference in colors but the stitches stick out much more clearly in them as opposed to the white pair. The white pair is much more clear in the different colors. The heel to the middle is a typical white color but is then stitched with a egret or natural color that gives the pair a completely new look. This pair could go great to complete a punk look, or pair them with ripped jeans and t-shirt. These pairs could also be the best shoes to break out during Halloween due to their Frankenstein like design.
Black/Grey/Egret Restructured Chuck 70
Besides the contrasting uppers, the shoes have extra stitching on the tongues, ankle patches, and back ankle support, dual colored outer foxing and outer soles. Converse's site only allows one purchase per customer, so make sure to keep that in mind when purchasing the sneakers. The pairs are much more costly than average chucks, going for around $120, which is nearly double that of a regular chuck 70 pair.
You'll Never Need to Chuck Your Chucks
Here's one correspondent's views about chucks: "There is an awesome culture surrounding your chucks, but that's not the most important thing when finding new footwear. What matters most is how they benefit the single person investing in them. This is how they worked for me:
"I originally encountered chucks shortly after I turned thirteen. Several years earlier, my mom bought my older brother a pair of white low tops which didn't fit him properly. Realizing that my shoe size had finally reached that of the shoes in question, my mom pulled them out of storage and offered them to me. Finally being offered my first fashionable shoe, I quickly slipped them on and wore them nigh exclusively for a whole month. After changing what I wore on my feet, my entire image of my own fashion changed and I became more confident in my style and presentation.
A pair of chucks can change your sense of fashion.
"This one pair of chucks is with me even to this day, nearly a decade later. They have been a foothold (pun intended) in keeping my look up to date every single one of those years. I will always be grateful to these shoes for introducing a just beginning to be fashion-conscious boy to the idea that I could be proud of what I put on my feet. Now, when I look at the family of chucks, I can say confidently that the shoe fits."
New Seasonal Chucks
There are four new chucks for 2019, with vibrant and unique colors that will surely be a match for chuck lovers, especially for women. Two of the new seasonal Chuck Taylor All Stars are high tops, coming in Bold Citron and Moody Purple colors. The Bold Citron offers a unique color that is more mustard than lemon. The color will pair well with black clothing better than a brighter yellow would. The Moody Purple color is less vibrant and more subtle, giving an almost grape look to them, and can match with complementary outfits.
Moody Purple and Bold Citron high tops, Teal Tint and Pink Foam low tops.
The other two models are Chuck Taylor All Star low tops in Teal Tint and Pink Foam. These chucks have a more subdued and faded look to them that should have good fan appeal. Both colors are good beach colors. The teal tint color is nearly a light blue. The pink foam color is perfect for younger people but is still great for older people who want a new color that makes a statement. All these pairs of chucks have the same components that are commonly found with All Star high top and low top chucks, a padded insole, rubber toe cap, canvas upper and the Converse license plate logo on the heel of the shoe. The high tops have single color ankle patches. The new pairs of chucks can be found through Converse's website or local retailers like Tilly's or Nordstrom, as well as many other online sites. The price should range from around $50-60. For other seasonal colors visit our shoe outlook page.
Gift Ideas For That Chucks Person On Your List
Finding the right gift at the right price is often difficult, especially if you are on a budget. If you know (or are) someone who is an enthusiatic fan and wearer of chucks, what do you get that person besides a new pair of chucks? These days a new pair is a big gift, with the prices ranging between $50 to $100 for most new pairs. Luckily The ChucksConnection is here to assist you with a short list of credible gifts that range in price from $2 to $20 and appropriate for people of all ages. Go to our Gifts Page to see the complete list of our recommendations.
Videos and Short Films with Chucks
We have started a new feature on The ChucksConnection that addresses videos and short films where actors wear chucks. These films are normally seen on websites like YouTube and Vimeo and made by amateur or aspiring filmmakers. Too short to be included on our Chuck Taylor in Films page and not released to the public through paid streaming, DVD or BlueRay, these videos and films are free for viewing, and we provide links to them on our new Videos and Short Films with Chucks page.
Check these out on our new page.
Like our other media pages, Videos and Short Films with Chucks is a work in progress. If you know of a video or short film that qualifies for this new page, send us the information and link to films@chucksconnection.com.
How to Participate in Chuck Talk
Do you have some things to say about Chuck Taylors? If you have an article or other interesting information about chucks to submit to this website, please contact us at mail@chucksconnection.com.
Chuck Talk Archives

ChuckTalk articles from previous years