A ChucksConnection Film Review
Gwen Stacy wears blue high top Converse "Chuck Taylor" All Stars in the film.


Spider-Man: Across the Spider-Verse
by Marcus Angulo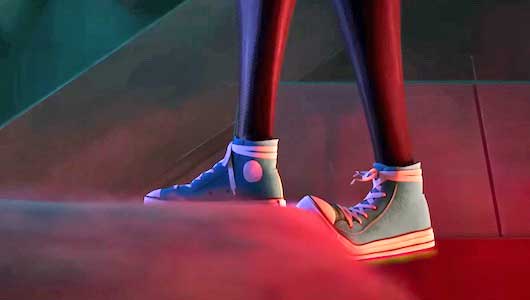 Gwen Stacy's teal high top chucks.
Spider-Man: Into the Spider-Verse is the best superhero movie of all time. On the surface, it may seem controversial to say that an animated film is better than anything put out by the MCU, the DCEU, Fox's X-Men, or even the Raimi Spider-Man trilogy. However, when you look at the story, the emotion, the artistry, and the undeniable understanding of what it means to be Spider-Man, there is absolutely no competition between any other superhero film. The question then becomes how do you follow perfection? With two sequels announced after the film's success, that question loomed large for the last five years in the minds of fans everywhere. After a long wait, Spider-Man: Across the Spider-Verse is the film that aims to follow perfection and try to continue the legacy the first film established. Released on June 2nd, 2023, the film stars the vocal talents of Shameik Moore, Hailee Steinfeld, Brian Tyree Henry, Lauren Vélez, Jake Johnson, Jason Schwartzman, Issa Rae, Karan Soni, Shea Whigham, Greta Lee, Daniel Kaluuya, and Oscar Isaac.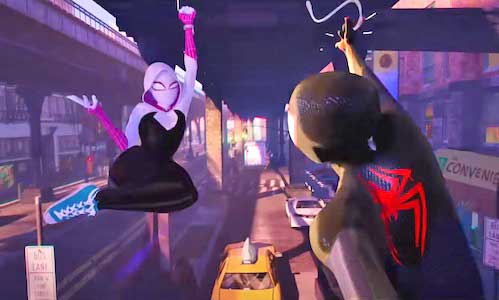 Taking a swing with your best friend.
The film takes place over a year after the first movie and opens with Gwen Stacy (Steinfeld) in her home dimension, Earth-65. She is struggling with being Spider-Woman after leaving behind Miles (Moore) and assuming she'll never get to see him again. She is also blamed for the death of her best friend in this dimension, Peter Parker, and is being hunted by her police captain father George Stacy (Whigham). When an alternate dimension Vulture ends up in Gwen's world, Jessica Drew (Rae) and Miguel O'Hara (Isaac) arrive to send him back. According to Miguel, this has been happening all over the multiverse since Miles blew up the collider in the first movie, and he has been leading a team trying to fix it. After Gwen's dad finds out she is Spider-Woman and tries to arrest her, she runs away to join Miguel and his team. Back on Earth-1610, Miles is doing pretty good as his Earth's one and only Spider-Man. However, he feels isolated and alone since he really has no one he can talk to about all of it. He really misses Gwen and Peter B. Parker (Johnson), and wants to study Quantum Mechanics to find a way to see her again. He has an encounter with a villain calling himself the Spot (Schwartzman), and while Miles thinks he's a lame "villain of the week", the Spot will turn out to be so much more than that. He will end up bringing Miles and Gwen back together, and introduce Miles not only to Miguel's Spider-Society but also to a hard truth he's never been able to see.
The details on this close-up of Gwen's chucks are amazing.
Somehow, someway, the team behind this film crafted another masterpiece. This movie takes everything from the first film and builds on it. It takes the mind-bending, incredible animation and does new, visually engaging things with it. It adds new styles, techniques, and visual flourishes to both the established and new characters, giving each of them incredible life. The film does all this but never allows the animation to ever become a "gimmick". It is never just shallow set dressing with no purpose. Each decision serves the characters and the story perfectly. The story is also a high point, and while you may expect a large multiverse epic that features hundreds of Spider-People characters to lose focus, it never does. The story always has Miles and Gwen at its center and it never loses sight of them through all the epic scope of the Spider-Verse.
Gwen is very upset that Miles followed her across dimensions.
Finally, these characters are truly what has made both these films so special. The writers truly get the character of Spider-Man and what makes that mantle so special. Miles not only embodies all that comes with being Spider-Man, but he is also distinctly his own person. He is not Peter Parker and this film highlights their differences perfectly. Gwen also gets so much focus this time around, so much so that one can argue that this is in some ways her film. This decision to focus on her so much not only fleshes her character out more, but it also brings her and Miles so much closer. The performances are all perfect. Shameik Moore has made Miles his own and brought so much life into a character that had struggled to find a unique identity in the comics for years. Hailee Steinfeld has so many scenes where she crushes the emotional beats along with the humor and heart. The supporting cast also have their moments to shine throughout the film, with Daniel Kaluuya perhaps stealing the show overall with his take on Spider-Punk. In the end, though, it is hard to finish a review for this film when its story is so tied into what happens next. The ending leading into the next film so directly (in a similar manner to The Empire Strikes Back) makes this film feel slightly incomplete. It leaves you wanting to finish the story and we just can't yet. If Beyond the Spider-Verse sticks the landing and closes this trilogy outright, then this will go down as one of the greatest film trilogies ever. However, until that day comes, we will have to wait for the final answer to the question of how can you follow perfection.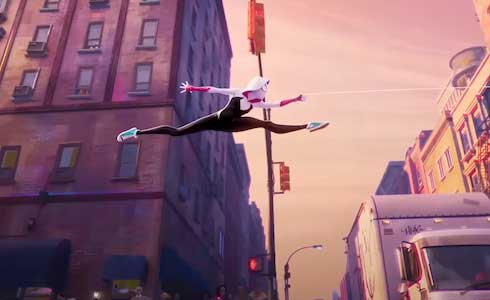 Air Gwen.
Every shot in this film is a masterpiece.
Best Chucks Scene


Gwen tries to keep Miles out of the loop but Hobie has other plans.

The best chucks scene comes about midway through the film. Gwen's original suit featured teal ballet shoes as her footwear of choice and that is what she starts out this film with. However, after she joins the Spider-Society and travels to Miles' dimension, she is now wearing teal chucks. It's not addressed right away but we the audience notice the difference. When Miles and her travel to Earth-50101's Mumbahattan, they meet Hobie Brown, aka Spider-Punk. Hobie has been mentioned more than a few times by Gwen while she and Miles were swinging around and we immediately caught on that Miles was worried that she and Hobie may have become a thing. Those fears are amplified when Hobie arrives and says that Gwen left her jumper and toothbrush at his place. He then asks if those are his chucks on Gwen's feet and Miles is very much caught off guard. This build-up and the scene itself really put a focus on Gwen's chucks and it highlights how they represent more than a fashion choice. The change in Gwen's shoes also reflects the change in her attitude after joining the Spider-Society. She goes from being a young and somewhat naive hero in her ballet shoes to a more free, rebellious, and somewhat jaded hero in her chucks. It is little choices like this that really make this movie stand out against all other comic book films. Something like putting her in chucks could have been a totally innocuous thing in another film's hands, but here it is a choice that serves the character and story.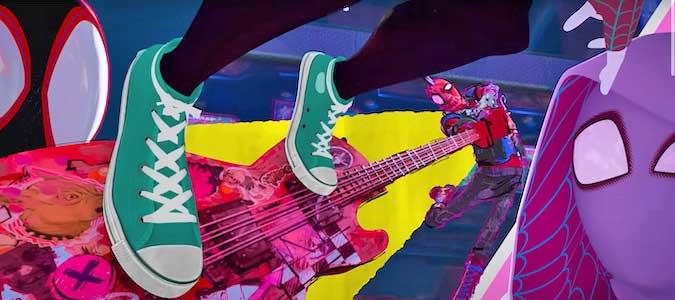 Those are definitely Hobie's chucks on her feet.
Spider-Man: Across the Spider Verse. (2023) Voices by Shameik Moore, Hailee Steinfeld, Brian Tyree Henry, Luna Lauren Velez, Jake Johnson, Oscar Isaac, Jason Schwartzman, Issa Rae, Daniel Kaluuya. Directed by Joaquim Dos Santos, Kemp Powers and Justin K. Thompson.
Categories: Action/Adventure, Science Fiction/Fantasy.
ChucksConnection Rating:

MPAA Rating: PG
Support the film industry by purchasing genuine DVD, Blue Ray, or streaming copies of these films. Illegal copies only help profiteers. Make sure your money goes to the producers and artists who actually create these films. Still images from the film are used here as teasers to get you to view an authorized copy. If you have information about a film where a main character wears chucks, contact us at
films@chucksconnection.com.