A ChucksConnection TV Series Feature
Daniel Ezra and Cody Christian wear black high top Converse "Chuck Taylor" All Stars in the series.
All-American
Spencer and Coach catch up in the halls of Beverly Hills High.
There's more than one America. There's White America and Black America, poor America and rich America. So what happens when a teenage football prodigy is pulled between these clashing worlds as he tries to realize his dream of making it to the NFL. All-American is a sports drama created by April Blair that premiered on The CW on October 10, 2018. The show is based on the real life story of Spencer Paysinger, an American football player who played six seasons in the NFL.
Spencer hangs with his new Beverly Hills classmates.
The series is focused on the life and rising football career of Spencer James (Daniel Ezra), a star receiver for the Crenshaw High School football team whose world turns upside down when the coach of Beverly Hills High School, Billy Baker (Taye Diggs), recruits him to join his team in Beverly Hills. After some encouragement from his mom (Karimah Westbrook) and best friend Coop (Bre-Z) to get out of Crenshaw and seize this opportunity, Spencer transfers to Beverly Hills High and moves in with Coach Baker and his family in Beverly Hills. He soon meets his new classmates and teammates, including Olivia (Samantha Logan) and Jordan (Michael Evans Behling) Baker, the coach's twin children who quickly befriend Spencer. Olivia is Spencer's first friend, and relates to his feeling of being alone in a new place as she is fresh out of rehab. Jordan is the star quarterback who tries to ingratiate Spencer to the rest of the team. Spencer also meets Layla Keating (Greta Onieogou), the daughter of a famous record producer, and Beverly High's "It Girl", who Spencer quickly falls for.
Spencer and Layla share a tender moment together.
Spencer spends most of the first season juggling his old life in Crenshaw, and his new life in Beverly Hills. While he spends his weeks living with the Bakers in Beverly Hills, Spencer's mother, brother, and Coop still live in Crenshaw and have to deal with the gang violence that ravages the neighborhood. Spencer often feels like he doesn't fit in with the rich, predominantly white kids he now goes to school with, and this leads him to feel like he is abandoning those he really cares about. He also struggles on the field, as he has to adjust to a new position and new status.
Spencer tries to convince community members to sign his petition to stop gang violence in Crenshaw.
Apart from his incredible skills on the gridiron, Spencer is a typical kid from South Central LA. He dresses primarily in jeans and black high top chucks, a Los Angeles staple when it comes to fashion. This goes a long way to making Daniel Ezra (who is actually from England) more believable as Spencer. Another cast member who likes to wear black high top chucks is Asher Adams (Cody Christian), another wide receiver on the Beverly Hills High School team, and Layla's one time boyfriend. Asher has family and other problems, but did become co-captain of the team with Spencer in the second season.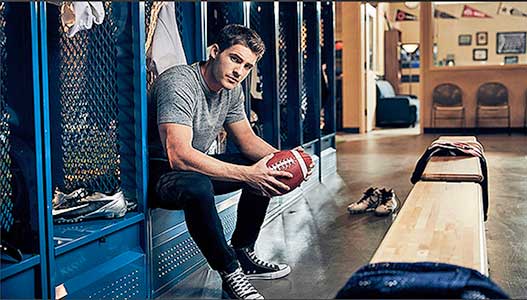 Asher Adams in the football locker room.
When most people see "new CW drama" they expect a lot of melodramatic teen issues, and while this show has a hint of that, it actually has more in common with shows like "Friday Night Lights" and "On My Block". It has a focus on community, family, and important social issues with some romance and football thrown in. The acting is very good all around, with Ezra, Diggs, Logan,and Onieogou having some real high points across the series. However, Bre-Z steals the show every time she's on screen, and brings an authentic heart and soul to Coop that makes her an incredibly important rock in Spencer's life. All-American is a football drama that aims to be more than that, and achieves this through a stellar cast that shows heart throughout.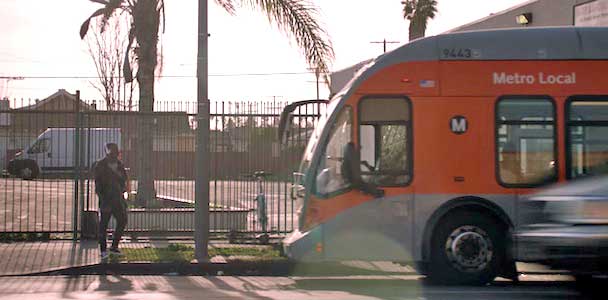 Spencer rides the bus back and forth between Crenshaw and Beverly Hills.
Do you know of other television shows or series where a main character wears Converse All Star Chuck Taylors? Can you describe a favorite episode or two from the series, or do you have additional information about the shows described here already? Do you have videotapes, DVDs or shot captures of episodes from any of the series that haven't been given an in depth article on this site? If you do, email us at chucksphotos@chucksconnection.com and we will add the information to the television pages.