A ChucksConnection TV Series Feature
Christian Kane wears blue and optical white high top Converse "Chuck Taylor" All Stars in the series.
Almost Paradise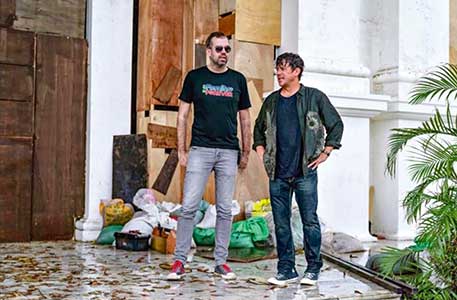 Former DEA Agent Alex Walker (right) wears blue high top chucks in this show.
Almost Paradise is an American-Philippine crime drama television series produced by Dean Devlin and Gary Rosen. Originally airing on WGN America and premiering in March, 2020, Almost Paradise is the first American television show to be shot entirely in the Philippines. The show also boasts an all-Filipino staff and crew and was assisted by the Cebu locals for both seasons. Starring Christian Kane, Samantha Richelle, AC Bonifacio, Arthur Acuña, Nonie Buencamino, Sophia Reola, and Ces Quesada, the show moved to Amazon Freevee after WGN declined to renew for another season. The second season premiered on July 21, 2023, with all ten episodes released simultaneously.
Maybe buying the gift shop sight unseen wasn't the smartest move.
The show follows former DEA Agent Alex Walker (Kane), who has recently been forced into retirement due to his failing health. He decides to get away from his former life, settling on moving to the island of Cebu in the Philippines. Once on the island, he purchases a gift shop at a hotel he visited years ago, hoping that the low-stakes job will help him manage his high blood pressure. He arrives ready to relax in his blue chucks and resigns that his action-paced past is over. However, this island isn't the picturesque paradise Alex thinks it is. The quiet hotel he knew years ago has turned into a massive resort that is the biggest on the island and the quaint gift shop is now rundown and falling apart. This means that his new life won't be the relaxing "retirement" he thought it would be.
Alex at police headquarters with Detective Mendoza.
Unfortunately for Alex, there is also a sinister and seedy element lurking beneath the surface of the island. Gangs and crime are a problem and the local police have their hands full. This criminal underbelly brings Alex back into the world of law enforcement and introduces him to Detective Kai Mendoza (Richelle), her partner, Ernesto Alamares (Acuña), and the chief of the Mactan Police Department, Ike Ocampo (Buencamino). Together they will tackle the various threats that arise on the island, ensuring that it stays an almost paradise.
Alex gets knocked down during a fight.
Ernesto Alamares is a very skilled martial arts fighter as is Alex Walker, so most of the episodes feature one or more action fight scenes. Although Alex is supposed to be retired, he often gets involved in police actions against criminals, especially if the victim is someone he knows. Another subplot going on through the episodes is about his gift shop. Alex doesn't have much of a head for business and soon Rita Cordero (Reola) the young helper he hires to watch things for him while he is away on adventures, begins to take charge and give him orders.
This is definitely not the small hotel Alex visited all those years ago.
This show has the vibe of a network drama like NCIS mixed with a B-level action movie. Kane is mostly responsible for the latter part, as he definitely fits the Jack Bauer mold in this role. The production is pretty consistent in good quality and shows that not everything needs to be made in Hollywood, Atlanta, or the UK. You can tell that the all-Filipino staff and crew put a lot of love and effort into making this show good and they did an admirable job. Plot-wise, this falls into standard network crime drama fare. Each week there is a new case that means new characters, suspects, and situations for the main cast to find themselves in. The fish out of water aspect and the setting being the Philippines make it just different enough to make it possibly worth your time. This is especially true if you're a big fan of martial arts/crime/action shows, and considering that both seasons are easily available to stream for free on Freevee.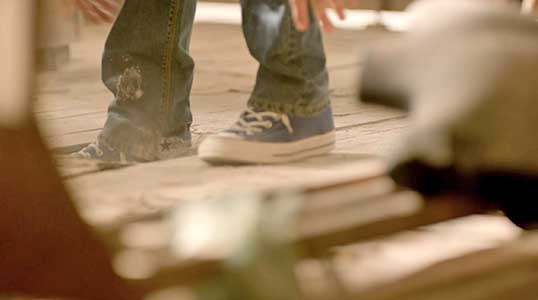 Chucks are not supposed to go through the floor.
Do you know of other television shows or series where a main character wears Converse All Star Chuck Taylors? Can you describe a favorite episode or two from the series, or do you have additional information about the shows described here already? Do you have videotapes, DVDs or shot captures of episodes from any of the series that haven't been given an in depth article on this site? If you do, email us at chucksphotos@chucksconnection.com and we will add the information to the television pages.