Timeless Converse All Star Shoes Never Seem To Go Out of Style

Liz Berlin, singer for the band Rusted Root, shows off her Converse All Star Chuck Taylor shoes. "They went with anything you wore," she says.
(Photo by Joe Appel/Pittsburg Tribune-Review)
Walk through any sporting goods or shoe store, and the choices in athletic footwear are mind-numbing. There are basketball sneakers so large they can easily accommodate the little old woman and her entire shoe brood. Cross-trainers and running shoes look like they were designed by NASA engineers. Causal tennis shoes resemble the style of IKEA furniture.
But the coolest of them all just might be the simplest: Converse All Star Chuck Taylors. Canvas sneakers with compound rubber soles, they have been worn by actors and basketball players, musicians and skateboard punks, slackers and teachers since they were introduced in 1917.
"They emit an aura of sorts," says Brett Staggs, drummer for The Cool Grand, a local band. "They cause a ripple in the air that everyone feels when you walk by in them. And most of the time, you're not even wearing All Stars, All Stars are wearing you."
Known as "chucks", the shoes have reached a cult status among diehards who wear them daily. They were officially recognized as an intrinsic part of Americana by Smithsonian Magazine two years ago.
"Fashions change in every decade, but (chucks) always seem to have a resurgence," says Hal Peterson, who runs a web site, www.chucksconnection.com, devoted to the shoes. "But they seem to have a resurgence at least twice a decade. In the early '90s, they became popular when grunge music appeared, and they became popular again in the late 1990s. The same thing happened in the '80s. It's hard to put a finger on why that is, but I like them because of the way they look. It's just a classic look that's stayed the same over a long period."
Peterson owns a media services company in San Jose, California. He launched the website five years ago, before Converse Inc., filed for bankruptcy and started manufacturing chucks in Asia, as a forum to exchange information and photographs about chucks and to explore their impact as a cultural phenomenon. The site lists movies and television shows that feature actors wearing All Stars; archival photos of wrestlers, boxers, football and basketball players wearing the sneakers; plus photographs of celebrities and everyday folks wearing Chuck Taylors.
"Chucks are probably the most original of any of the retro shoes that are now popular," says Rocco Procida, general manager of Little's Shoes in Squirrel Hill. But while P.F. Flyers, Pumas and KangaRoos are now making a comeback, chucks have been a constant presence in American footwear for more than 80 years.
Old School
Paul Cech can't remember too many days when he hasn't donned his All Stars.
"They've been my shoe of choice since high school," says Cech, 49, a social science teacher at Bethlehem Center High School in Washington County. "There were other shoes out there, but I was blind to them, the Keds and P.F. Flyers. The Converse always just stuck out." Cech himself sort of sticks out in the halls of Bethlehem Center by his devotion to chucks. He says students sometimes laugh at them, but others ask him where they can get a pair.
Cech is also an Anglican-Fransciscan Oblate in the Episcopal Church, but he usually wears sandals with his habit. He denies the rumor that he wore chucks to his daughter's wedding. He waited until the reception to put his chucks back on. "I just like wearing them in my old age," he says. "They're comfortable, and I like them."
When Cech was a teenager, there was no specialization in athletic shoes. Sneakers were multipurpose and not sport-specific; Cech remembers jogging in All Stars. But the brand really made its mark as the shoe of choice for basketball players. Wilt Chamberlain set the NBA scoring record in 1962 wearing Chuck Taylors, and legendary players including Larry Bird, Julius "Dr. J." Erving and Magic Johnson wore them during their careers.
"We wore them as our team shoe in high school my sophomore and junior years," says Ben Howland, 45, University of Pittsburgh men's basketball coach. "It's what you had to wear. There were no Nikes, and all the other stuff. ... We always had Chuck Taylors on our feet. They were the shoes to wear."
But who was Chuck Taylor, the man for whom the shoes were named?
Father Figure
In 1921, a shoe salesman walked into the Chicago sales office of Converse complaining about sore feet. Two years later, Chuck Taylor hit the road with a redesigned model of the company's All Star brand, with the new version featuring his signature on the label on the shoe's inseam. Initially available in only black and white and sold only in sporting goods stores, Converse Chuck Taylor All Stars became one of the best-selling athletic shoes ever, with more than 720 million pairs sold.
The shoes come in a low-cut model, which Peterson says were popular when he was in high school. He says he thinks the high-top chucks are more popular today because they are more identifiable. "I just think they're more distinctive, especially with the patch on the side that becomes etched in your mind," he says.
But how did chucks become an iconic brand? Gene Sculatti, author of the books "The Catalog of Cool" and "Too Cool," says All Stars first became popular outside the realm of sports in the 1960s.
"They appeared to be something different because of their blackness and boldness," says Sculatti, director of special issues for Billboard magazine. "Most tennis shoes at the time were low-cut and white. Maybe it was just the resolute basicness of them, unadorned and unpretentious, that made them so appealing."
Simplicity, Sculatti says, is one of the essences of coolness. In the introduction to "The Catalog of Cool," he writes that "cool has nothing to do with being 'with it' or 'in' by contemporary standards. If anything, like the holy fool, cool is out of step."
Ironically, however, some of the so-called coolest people in the world wear Chuck Taylors.
Icons
Who wears Chuck Taylors?
The Strokes, Winona Ryder and Avril Lavigne are all regular Chucks wearers. A young Brad Pitt wore white All Stars in the movie Across the Tracks. Ice Cube in Anaconda and John Travolta in Grease wore black Chucks, and Dustin Diamond, who played Screech on the television show Saved by the Bell, wore a pair of red Chucks.
OK, that's not so cool. But Peterson has compiled a list of more than 950 movies and television shows in which actors have worn Converse All Star Chuck Taylors.
"I think a lot of cinematographers like the way they photograph," Peterson says, "and how they can be used to document a certain time period."
Because Chucks have been in production so long, they can be used as fashion accessories in movies set in different eras. They were used in Hoosiers (set in the 1950s), Hairspray (early 1960s), Bull Durham (1980s), and Friday (1990s).
The No. 1 chucks movie star? Wil Wheaton, who has worn them in Stand By Me, The Liar's Club, The Last Prostitute, Pie in the Sky and Toy Soldiers. Peterson says he's communicated with Wheaton via e-mail, and the actor says he just likes to wear All Stars.
Musicians also have an affinity for chucks. In addition to the Strokes, the late Kurt Cobain, Tom Petty, Iggy Pop and Eddie Vedder have worn them, as have members of Green Day, The Clash, X, The Dead Boys, Quiet Riot and the Donnas.
"When I used to wear them, tennis shoes were boring for girls," says Rusted Roots' Liz Berlin, co-owner of Mr. Small's Funhouse Theatre, Studio and Skatepark in Millvale. "There were just tennis whites or sporty basketball shoes."
What Berlin liked best about All Stars was their versatility. "They were my bridge between stupid boring tennis shoes and the cool leather boots I wear now," she says. "I wore them in high school and college. They went with anything you wore, from jeans to long skirts with long johns underneath."
Perhaps the only criticism of the shoes is that they tend to wear out with repeated use. "I went through a lot of them," Pitt coach Howland says, "because they seemed to rip up easily. They were not the most durable shoes."
That might be true if you're playing basketball in chucks. But for casual, everyday use, the shoes can last a lifetime. Local musician Chris Lohr's red high-tops are bit ragged, but in good condition for being 18 years old. "They're like slippers," Lohr says. "And they look cool."

"Chucks" have always been popular with musicians. Local music promoter Tara Cyphers (left) and musician Chris Lohr show off their favorites — and Lohr's shoes are a whopping 18 years old. (Photo by J.C. Schisler/Pitttsburg Tribune-Review)
Peterson adds that chucks fans were worried about the quality of the shoes when production was shifted overseas. But he says the shoes are as good as they have ever been, with only the rubber toe being slightly smaller than the ones formerly produced in the United States. That's good news for anyone who loves a fashion statement that never seems to grow old.
"They're simple, they're smart, they're functional, they're frugal, they're decadent, they're humble, they're selfish, and the size of the shoe is in an easy-to-read place on the bottom," says Staggs of The Cool Grand. "That's why I love All Stars. They are hands down the coolest shoe ever made."
Chuck Taylor, the man
Born in Brown County, N.J., on June 24, 1901.

Was a two-time all-state basketball player for Columbus High School in Indiana.

Played semi-pro basketball from 1911 to 1930.

Served in the U.S. Navy and Air Force; coached an Air Force basketball team during World War II; and later toured South America and Europe giving clinics for the U.S. State Department.

Converse All Star Chuck Taylors were the official basketball shoe of the Olympics from 1936 to 1968.

Developed the Converse Basketball Yearbook in 1922; selected All-American teams for the publication.

Elected to Basketball Hall of Fame as a contributor in April, 1969.

Died in June, 1969
Source: Basketball Hall of Fame at www.hoopshall.com
Chucks On Film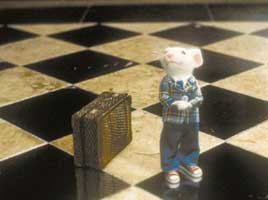 On the big screen, even Stuart Little gets into the act by wearing chucks. (Sony Pictures Imageworks Sony Pictures Imageworks)
The ChucksConnection Web site lists more than 950 movies featuring Converse All Star Chuck Taylors. Here's a short list:
Source: www.chucksconnection.com. For the complete list, click on the films link below.
By Regis Behe
Pittsburgh Tribune-Review
Saturday, February 22, 2003
Regis Behe can be reached at rbehe@tribweb.com or (412)320-7990.
Staff writer Joe Bendel contributed to this story.


If you have an article or other information about Chuck Taylors to submit to this website, please contact us at mail@chucksconnection.com.