A ChucksConnection Film Review


Josh Wiggins wears black high top Converse "Chuck Taylor" All Stars in the film.
Odeya Rush and Kitana Turner wear white and black low top Converse "Chuck Taylor" All Stars in the film.


The Bachelors

by Hal Peterson
Wes and Lacy gradually become attracted to each other.
What do you do when your whole life and happiness is dramatically changed? This is what Bill Palet (J. K. Simmons) and his teenaged son Wes (Josh Wiggins) face when their wife and mother suddenly succumbs to a virulent cancer in the short span of two months. For Bill the shock and hurt is unbearable after the love of his life for thirty years is suddenly taken away. Suddenly everything around him is a painful reminder of what he once had. Wes is also trying to deal with his grief. He mostly does this by watching videos of his mom taken during happier times. Bill's solution to the problem is to literally run away. He has an old friend (Kevin Dunn) who is the headmaster of an exclusive prep school in southern California. Bill accepts a job at the school teaching calculus and Wes is enrolled as a student. They pack all of their belongings in a small trailer attached to their vintage Mustang convertible (with a missing front seat) and head out to their new life. When they arrive at their new home, Bill turns over the car to Wes, and starts to bike everywhere as part of his changed life style.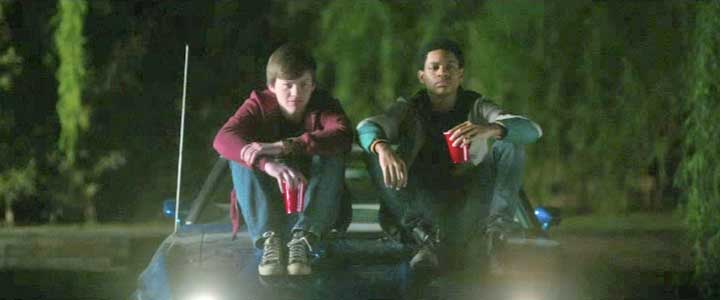 Wes and his friend Raffi watching an outdoor student event.
At first, it seems that Bill has made the adjustment better than Wes. After all, Wes is thrust into a totally new environment where he must deal with many mandatory regulations, a strict dress code, required participation in sports, and a new social order, where he is the newbie outsider. But Wes is gregarious and outgoing, and quickly hooks up with two other outsiders at the school who also run cross country with him. Meanwhile, Bill is teaching math and seemingly doing well. Things start to get interesting in their lives when Bill meets the school's French teacher Carine (Julie Delpy) and they form a casual acquaintance, at first to help her escape the unwanted advances of another teacher. Over time Bill and Carine are starting to develop a relationship but it is frustrated by two things: Bill's unwillingness to move on from his depression over the death of his wife and Headmaster Dunn's insistence that Bill go into grief counseling. Another interesting development occurs at school. Wes, who is quite skilled in French for his age, is taking Carine's class, and she asks him if he would be willing to tutor Lacy (Odeya Rush), who is failing the class. Lacy is an attractive but very aloof girl. The other boys at the school are impressed that Wes is able to make a connection with her and make sniggering remarks about it that leads to a fight with another student. This is ironic because Lacy makes it clear to Wes at their first tutoring session that this is business only, and he shouldn't get any ideas about getting close to her. We soon discover that Lacy has a lot of personal issues, a dysfunctional family situation where she only gets along with her younger sister Annabelle (Kitana Turner), an unwillingness to make friends with her peers, and that she cuts herself with a razor as a way with dealing with the pressures on her.
Lacy presents Wes with a new car seat.
As the school year continues, Carine begins to pursue Bill as a romantic possibility, but Bill cannot let go of his feelings for his wife and the guilt he experiences by dating someone new. He doesn't connect well with his grief counselor, who wants to treat Bill's depression with a lot of drugs, group therapy, and medical procedures, especially after Bill experiences a nervous breakdown in class one day. His father's worsening condition is of great concern to Wes, who fears that soon he will be without any immediate family. At the same time, he is adapting to school and seems to be getting somewhere with Lacy, who in one of the film's lighter moments presents Wes with a new car seat, then takes great delight with Annabelle in watching Wes trying to install it and discovering that he can only install it facing the rear of the car. Then a series of dramatic events occur, changing everything, and leading to the denouement, as Carine would say in class, of the story.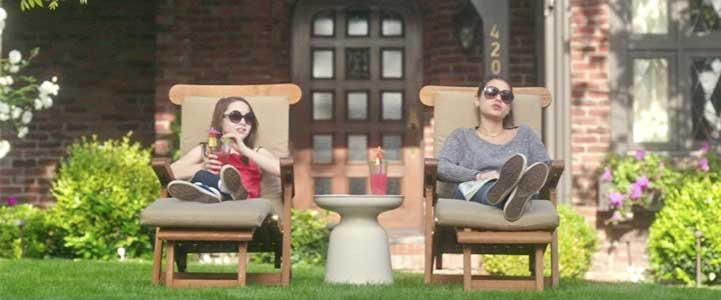 Annabelle and Lacy watch Wes installing the car seat.
The Bachelors features a very effective cast led by veteran actors J. K. Simmons and Julie Delpy. It is always amazing how Simmons can get into so many different characters with such ease, and Bill Palet is a part calling for a lot of emotional range. Julie Delpy is perfectly cast as the caring French teacher at the heart of the plot, making you wonder how Bill could possibly say no to her. Josh Wiggins gives a finely nuanced performance as he seeks to survive and prosper in an environment of new relationships and uncertainty about his dad. Odeya Rush does a great job portraying the enigma of Lacy, attractive yet reclusive while battling her personal demons and family issues. Kitana Turner's role as Lacy's younger sister Annabelle is almost a cameo in the story, but she captures your attention the few time you see her on screen. It is a sad commentary on our times that films like this are mostly unheralded and shoved to the sidelines because they are not a franchise movie with loud soundtracks, special effects, and action figures boasting special powers. Teenagers especially would benefit from seeing a film like The Bachelors because it deals in realistic human relationships relevant to their lives rather than fantasy action/adventure. Luckily this film will survive even though it is locked out of the big theater circuit.
Wes receives some counseling from Headmaster Dunn.
Best Chucks Scene


Wes sits down to talk with his father.
Josh Wiggins, who plays Wes, wears black high top chucks throughout the film in all the scenes where he is his most relaxed, normal self, not in a suit and tie or cross country uniform at his prep school. Once he is home, off goes the suit and on goes his chucks. Odeya Rush who plays Lacy and Kitana Turner who plays her younger sister Annabelle, also are see wearing low top chucks at home. The best scene with Wes is where he is seating outside talking with his dad about a gardening project.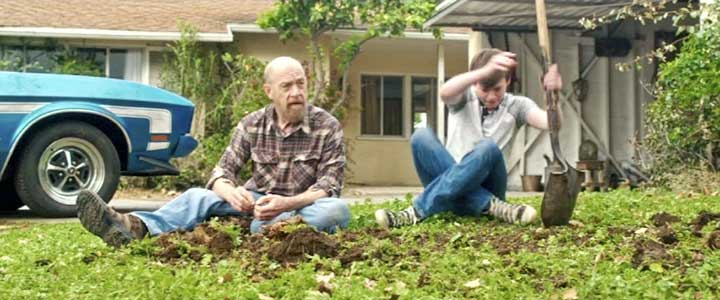 Wes gets up to start digging.
The Bachelors. (2017) J. K. Simmons, Josh Wiggins, Julie Delpy, Odeya Rush, Kitana Turner, Kevin Dunn, Tyrell Jackson Williams. Written and directed by Kurt Voelker.
Categories: Drama.
ChucksConnection Rating:

MPAA Rating: NR, would be PG-13.
Support the film industry by purchasing genuine DVD, Blue Ray, or streaming copies of these films. Illegal copies only help profiteers. Make sure your money goes to the producers and artists who actually create these films. Still images from the film are used here as teasers to get you to view an authorized copy. If you have information about a film where a main character wears chucks, contact us at films@chucksconnection.com
.