A ChucksConnection Film Review
Gaelan Connell wears grey high top Converse "Chuck Taylor" All Stars in the film.
Vanessa Hudgens wears black high top Converse "Chuck Taylor" All Stars in the film.

Bandslam
by Hal Peterson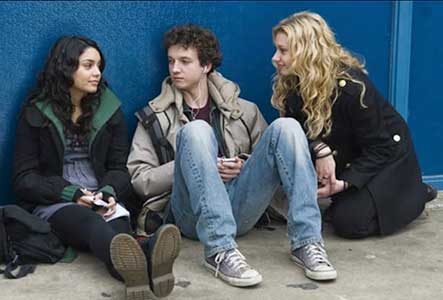 Will's life is radically changed by his friendships with Sa5m and Charlotte.
As Bandslam opens, we meet high school sophomore Will Burton (Gaelan Connell), who is heavily into indie rock to the point where he writes daily (unanswered) emails to David Bowie, and very unhappy at his current high school in Cincinnati, where he doesn't have any friends and is bullied. He has no siblings and lives with his single mom, Karen (Lisa Kudrow). Will tells anyone who asks that his father works as a sideman for famous rock bands, which is why he is never around. (Later in the film we get a hint that this story is suspect when Karen hears the word and blurts out "What is a sideman?") Luckily for Will, Karen comes home one day and announces that she has just gotten a much better new job back east, and they will be moving to New Jersey at the semester. Will is thrilled to leave his unhappy situation in Cincinnati and get a chance to start over at a new school. On his first day he meets a new goth-looking classmate (Vanessa Hudgens) named Sa5m (pronounced "Sam", the 5 is silent). They get to talking about music and Sa5m tells Will about Bandslam, a battle of the bands between high school rock bands, that is a very big deal at school because the winning band gets a recording contract. She also looks at his schedule and discovers that they are in the same Human Studies class, where eventually they are paired up to complete a project on getting to know each other. There is more than just her misfit look to Sa5m. She has a winning smile, has musical talent of her own, although she is shy and tends to spend a lot of time reading books. The two become friends and a relationship begins to develop between them.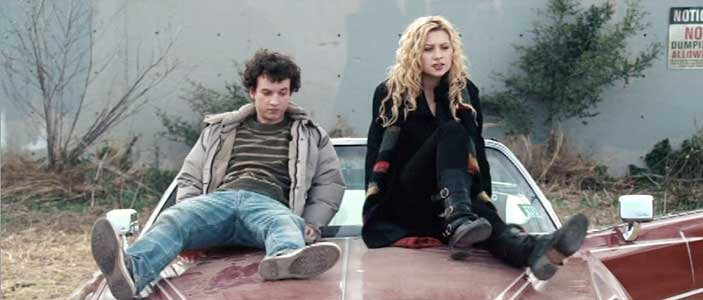 When Charlotte discovers Will's knowledge of rock and ska music, she persuades him to be her band manager.
Surprisingly, Will is also approached by senior Charlotte Barnes (Ali Michalka), who overheard that Will was the son of a famous rock band musician and has a vast knowledge of music. Charlotte is a singer-songwriter and former cheerleader, who has recently formed her own band after quitting Glory Dogs, the group that won Bandslam the previous year. Her quitting the band included breaking up with her boyfriend and Glory Dogs guitarist Ben Wheatly (Scott Porter). Charlotte did this because her father, who was seriously ill, hated how she treated people that were not part of the "in crowd" when she was with Ben, a cheerleader, and performing with Glory Days. Sa5m warns Will about Charlotte and even shows him video of her doing her cheerleader routine that she posted on social media. But Will cannot resist the chance to become involved in the development of a new rock/ska band, especially when he is given the power to oversee and fix things. It turns out that Will has very good instincts for this. In a hilarious early rehearsal scene, Charlotte performs a song for him with her new group which is just a trio consisting of her and two geeky guys Bug (Charlie Saxton) on bass and Omar (Tim Jo) on lead guitar. They play with every possible rock band physical cliché to the point where Will can't believe what he is seeing. Luckily Will is spot-on in fixing things. He shows Bug and Omar how to tone things down, and then sets out to flesh out the sound of the band with new players.
In New York, Sa5m discovers the entryway into one of the birthplaces of punk rock.
First on Will's list is a drummer. He discovers that one of the best drummers around is called Basher (Ryan Donowho), due to his anger issues. Will finds Basher banging on a car fender in the school's auto shop, then uses some clever psychology to get Basher to join the band. He also adds a keyboard player he found in a practice room, a three piece horn section, and even a cello player he sees constantly carrying her large cello case around campus. He schools the band on how to create a proper groove, fit into the ska style, and insists on changing their name from "Glory Days II" to "I Can't Go On, I'll Go On". All of Will's changes and additions start to work, and soon the band is sounding great as the days to Bandslam gradually approach. Meanwhile, all of his success with the band starts to get in the way of his budding relationship with Sa5m. After the two have a fun trip to New York City, Will wants to get more serious, but he doesn't know how to go about doing it. Charlotte takes pity on him and shows him how to properly kiss someone the first time. Later, Will takes Sa5m to the local overlook for making out, and finally is successful in kissing her. They make a date to see a movie together that weekend, but Will forgets about it when Charlotte insists the band go with her to see a concert. After Will realizes his mistake, he tries to apologize, but Sa5m just ignores him. Now Will has two main issues in his life, getting Sa5m back and getting the band ready for Bandslam. Resolving these issues and dealing more unexpected twists and turns makes up the balance of the film.
Will coaches the band on their look, sound, and how to create a musical groove.
Bandslam is the work of Todd Graff, who directed the film and co-wrote the screenplay. Although many elements of the story are typical teen movie fare, the writing is razor sharp at times, and there are a lot of surprises in the story line that make it interesting to watch. The musical elements are solid as well, with high quality acting and singing performances by vocalists Ali Michalka and Vanessa Hudgens (of High School Musical fame). Vanessa definitely breaks out of her Disney mold in her portrayal of goth-teen Sa5m, but all black clothing and fingernails can't cover over her bubbly personality, something that gives her character a lot of charm. Gaelan Connell also shines in his lead role, sometimes playing the awkward teenager struggling to deal with girls for the first time, while at other occasions able to effectively assert himself and act with true authority when managing the band. Lisa Kudrow is delightful as Will's mom; their whimsical relationship is another thing that sets this film apart from other teen films. The other musicians in the band are there primarily for their humorous value. Even so, it's nice to see and hear that they can all play and add to the musical mix. The main disappointment of this film is that it didn't get proper publicity when it was released. The humor in it reminds one of This Is Spinal Tap at times, while the teen romance/friendship elements and what happens to the band I Can't Go On, I'll Go On have enough twists and turns to make things interesting. Bandslam is definitely worth watching, either on DVD or streaming on HBO Max.
Sa5m and Will at the overlook.
Best Chucks Scene


Throughout the film, Will wears a pair of well-worn grey high top chucks.

All throughout the film, Gaelan Connell in his role as Will wears a pair of grey high top chucks. Vanessa Hudgens in her role as Sa5m wears black high tops in several scenes. The best scenes for chucks are when they are both together wearing chucks during their trip to New York City, and later when they are together at the overlook.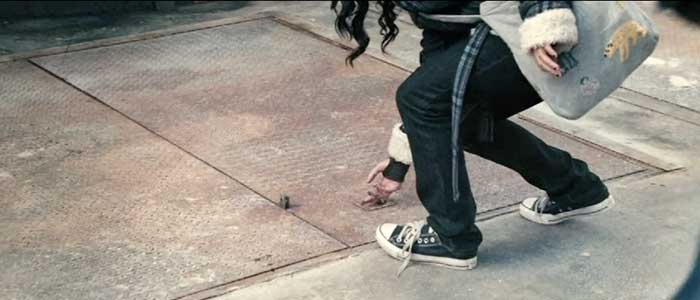 We see a closeup of Sa5m's black high top chucks as she goes to open a trap door.
Bandslam. (2009) Gaelan Connell, Vanessa Hudgens, Ali Michalka, Scott Porter, Ryan Donowho, Charlie Saxton, Lisa Kudrow, Tim Jo, Elvy Yost, Lisa Chung.
Written and directed by Todd Graff. Categories: Comedy, Teenagers, Musical.
ChucksConnection Rating:

MPAA Rating: PG
Support the film industry by purchasing genuine DVD, Blue Ray, or streaming copies of these films. Illegal copies only help profiteers. Make sure your money goes to the producers and artists who actually create these films. Still images from the film are used here as teasers to get you to view an authorized copy. If you have information about a film where a main character wears chucks, contact us at
films@chucksconnection.com.