A ChucksConnection TV Series Feature
Logan Marmino wears black high top Converse "Chuck Taylor" All Stars in the series.
Best Foot Forward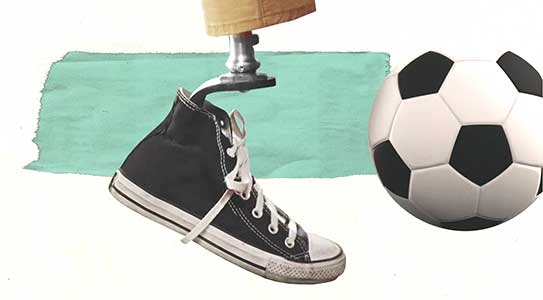 This photo shows Josh's prosthetic device and a soccer ball, two very important things in his life.
Best Foot Forward is based on the true story of Paralympic athlete Josh Sundquist who has an artificial leg and is learning how to deal with it. The series starts as twelve-year-old Josh (Logan Marmino) and his younger brother Matthew (Roger Dale Floyd) begin to attend a public school after several years of home schooling. Josh likes to wear black high top chucks and has a left shoe fitted to his prosthetic device. As long as he wears long pants, Josh looks totally normal to the casual observer. After all, what could be more normal than a middle school kid wearing a pair of black high top chucks to school? And besides Josh, there are a number of other kids wearing chucks in the series. But early on, you begin to see the differences in treatment that a kid with a disability faces. On the first day of school, Mr. Keifer (Brian Stepanek), the school principal makes a point of helping Josh up the stairs to the school, then talks about the time when he twisted his ankle, when all Josh really wanted to do was climb the stairs on his own, something he is very capable of doing. Later the principal gives Josh a key to the school elevator, again something that Josh didn't actually need or ask for, but something that causes issues with other kids who want to hitch a ride in the elevator even though they are not supposed to.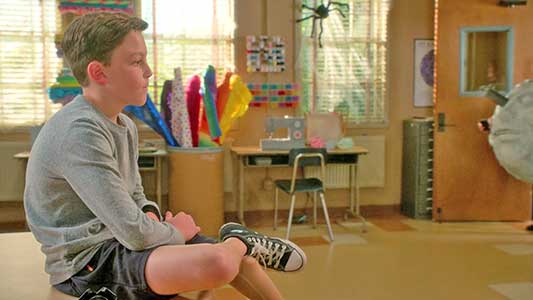 Josh desperately wants to be treated like a normal kid.
The series has a lot of authenticity to it due to the quality of the writing and overall natural setting created by the actors. Most important is that Logan Marmino, who plays Josh, also suffers from the same disability, so the scenes that show his artificial lower leg are truly realistic. A lot of the early writing has to do with the differences between homeschooling and learning in a public school environment. For example, Josh give his parents a detailed Power Point slide presentation explaining why he wants to start attending a public school instead of continuing home schooling with his mother. The socialization and peer contact is so important to teens and preteens. This rings so true today as students are very happy to return to full in person classroom instruction after spending much of the Covid era taking online instruction. Also middle school and high school instructional mandates require students to take classes from specialists in multiple subject areas, something only a few parents could handle. Some of the humor in the writing is about how Josh decides to handle going back to a pubic school environment. His first plan is to memorize the names and accomplishments of all the students the previous year from the school's yearbook. At first people are impressed by this, but it also seems creepy to some. Luckily he has his brother Matthew and his best friend Kyle (Peyton Jackson) to help him tone down his behavior.
Josh talking with his mom, who is initially opposed to him going to public school.
Josh's main goal for success in school is that his fellow students see him as someone just like them so they will treat him like non-impaired students. He doesn't want others to make friends because they are sorry for him, but rather because they like him. That is why he goes out of his way to act "normal". Unfortunately (and expectedly) this strategy is blown up when Josh gets tripped in the school hallway, ending up flat on his face, causing his artificial foot to come off his left leg. Now everyone in the school is dramatically made aware of Josh's disability. Luckily Kyle and Matthew are there to help him get up and walk away. This is an unexpected low in his transition to public school but the important lesson learned is that even when bad things happen you can move on with the support of your friends, who will also be there for your high moments.
When Josh is tripped in the hall, the whole school finds out about his leg.
Apple+ has had some notable success in coming up with somewhat unusual series that have great viewer response. We all know about the impressive success of Ted Lasso, and Best Foot Forward has that type of potential. A second season is already under discussion, and there is a lot more to the story, as Josh becomes involved in Paralympics soccer and continues his acclimation into middle and high school life. It's a very kid friendly show, yet appeals to viewers of all ages in the way that it presents the life of a kid with a prosthetic foot.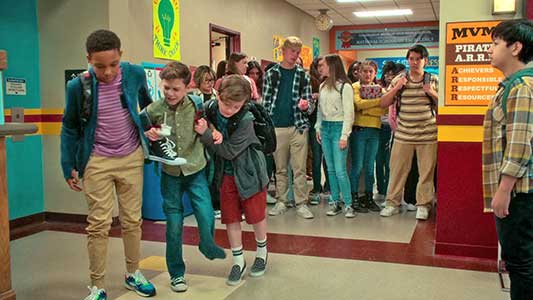 Kyle and Matthew help Josh get up from the floor.
Do you know of other television shows or series where a main character wears Converse All Star Chuck Taylors? Can you describe a favorite episode or two from the series, or do you have additional information about the shows described here already? Do you have videotapes, DVDs or shot captures of episodes from any of the series that haven't been given an in depth article on this site? If you do, email us at chucksphotos@chucksconnection.com and we will add the information to the television pages.