A ChucksConnection Film Review
John Patrick White wears black low cut Converse "Chuck Taylor" All Stars in the film.



Bloodfist VIII: Hard Way Out

by Hal Peterson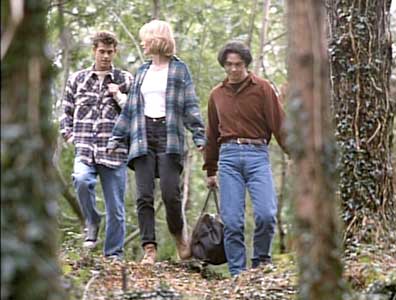 Chris and Rick Cowan travel to Ireland to escape determined assassins.
Sequels are as much a part of the film industry as any part of film. It's rare today that a film doesn't have a sequel. The vast majority of action, sci-fi, comedy, romance, and even drama films generate a sequel, or even two. However, rarely do you see more than a trilogy being made from the genesis of an original film. If it is done, you tend to see a drop in quality after the third or fourth film. Such exceptions to this rule can be found in the Harry Potter film series, and in the Marvel universe. With the 90's kung-fu/action series Bloodfist, the rule is put into full effect.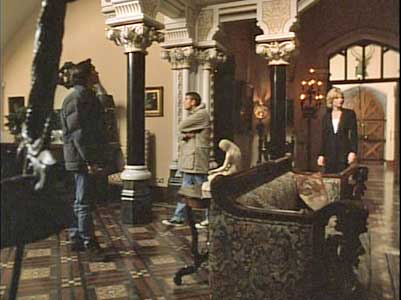 Rick and Chris admire the interior of the Major's house, Rick's former boss.
Bloodfist VIII: Hard Way Out stars Don "The Dragon" Wilson as a former CIA agent who is moonlighting as a high school math teacher. All the while, he is dealing with a rebellious teenage son (John Patrick White) who simply can't stand him. His foray into normal life is interrupted when Italian assassins attempt to kill him and his son. From there, Wilson travels to Europe with his son and a former colleague to figure out why these hit men want him dead.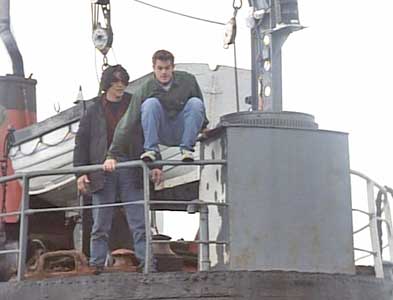 Chris climbs over the railing of the ship to dive off.
This film is pure 90's. From the clothing the characters wear, to the dialogue and sound effects, it's not hard to guess when this film was made. It's bland, tried "why do these guys want me dead? Who's ass should I kick next" story has been seen dozens of times before. Wilson certainly beats down a few bad guys here, but the action really isn't that exciting. They're formulaic, predictable and don't strive hard to make one say, "wow." The performances are wooden at best, and it's hard to care about these characters. The teen angst/father-son struggle feels forced and unnecessary. Having not seen the previous seven films is not a huge detriment to viewing this movie, as it's pretty easy to figure out how Mac's (Wilson) career has been going.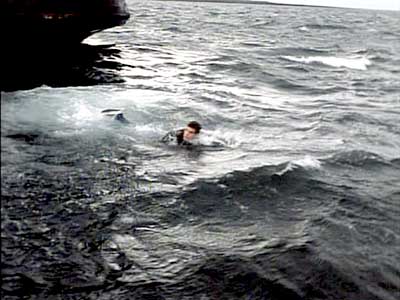 Chris is in the water swimming for help.
Some other notes: John Patrick White plays Rick's son Chris, who is supposed to be a high school student, although White was 26 at the time this film was produced. It would have made more sense visually and plot-wise to make him a college student since some of the story revolves around Chris' ability to build electronic devices (a self-shocking boom box for a school bully and a bomb made from a hair dryer). Screenplay writer Alex Simon could apparently see where this film was heading, so he added some insider humor to the script by naming several of the characters after famous filmmakers or actors. The two CIA agents are named after English directors Michael Powell and Emeric Pressburger, while Rick Cowan's CIA name is George Macready, after a noted actor who played villains.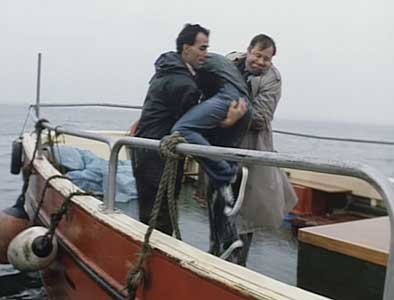 Chris is helped out of the water by the local authorities.
Best Chucks Scene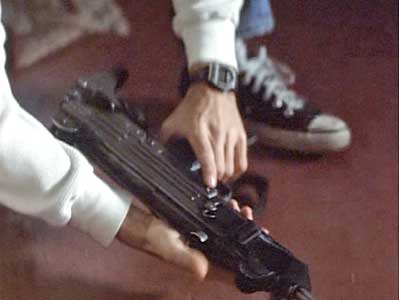 Chris picks up a machine gun on the floor of his house after being attacked.
John Patrick White in his role as Chris Cowan wears black low cut chucks throughout the film. Chucks are great footwear for Chris' characterization as a rebellious teenager. There are not many close ups during the film, and Chris is not involved in most of the fighting scenes which make up the bulk of the film. Probably the best sequence (although short) is at the beginning of the film when Chris and his father are first attacked by a team of assassins. As a squad of Italian killers attempts to take out The Dragon, his son grabs one of their submachine guns and attempts to mow the henchmen down. However, he fails miserably and falls over having not hit a single person. This scene is actually a tad funny.
Chris recoils after firing the machine gun.
Bloodfist VIII: Hard Way Out (aka Trained To Kill). (1996) Don "the Dragon" Wilson, John Patrick White, Jillian McWhirter, Warren Burton, Conor Nolan.
Directed by Rick Jacobson. Categories: Family, Drama.
ChucksConnection Rating:

MPAA Rating: R
Support the film industry by purchasing genuine DVD, Blue Ray, or streaming copies of these films. Illegal copies only help profiteers. Make sure your money goes to the producers and artists who actually create these films. Still images from the film are used here as teasers to get you to view an authorized copy. If you have information about a film where a main character wears chucks, contact us at films@chucksconnection.com.