A ChucksConnection Film Review
Barret Oliver and Danny Corkill wear navy blue and red high top Converse "Chuck Taylor" All Stars in the film.
D.A.R.Y.L.
by Hal Peterson
Daryl and his next door neighbor Turtle become best friends.
D.A.R.Y.L., an anagram for Data Analyzing Robotic Youth Lifeform, is a film about an android/robot in a nine-year-old kid's body. Daryl (Barret Oliver) was created by a top secret government project sponsored by the Pentagon, which is trying to create the perfect soldier by cloning robotic technology into a human body. But the scientists who have developed Daryl are beginning to have second thoughts about what they are doing. The movie opens with a car chase scene, where there is a helicopter chasing Daryl and one of the scientists into a wooded area. The scientist has Daryl get out of the car and then leads the helicopter away, eventually running the car over a cliff where it explodes. Daryl is shortly found by some campers, who bring him to a small town. Daryl winds up in an orphanage, where it is discovered that he has partial "memory loss". He knows just about everything except where he came from and who his parents are. Daryl is delivered to a foster home by social worker Howie Fox (Steve Ryan), who lives next door to Daryl's new foster parents, Joyce and Andy Richardson (Mary Beth Hurt and Michael McKean). The Richardsons are a childless couple desperately hoping to adopt a child. Daryl also meets the rest of the Fox family, Howie's wife Jane (Colleen Camp), his daughter Sherie Lee (Amy Linker), and son "Turtle" (Danny Corkill), who is the same age as Daryl. On Daryl's first day in his new home, Andy and Turtle teach him how to bat in baseball. Andy, who coaches a local little league team, finds out that Daryl, once he is shown how to bat, can hit the ball better than any kid he has ever seen. Daryl and Turtle's friendship grows quickly through the movie and soon they are inseparable friends. Joyce tells Turtle to not "ask about the memory loss," so of course, the first time Turtle and Daryl are alone, that is what they discuss. Turtle takes Daryl to his house to play video games, where we find that Daryl can play "Pole Position" unbelievably fast, and quickly breaks Sherie Lee's all time record. In fact, Daryl has a great affinity for quickly mastering anything involving technology or computers, which becomes significant later in the movie. Meanwhile, Joyce is getting worried about her "perfect kid". When Turtle overhears her discussing this with Elaine and Howie, he relays it back to Daryl during the big baseball game between Andy's team and his arch rival in the little league. Daryl has been the big star, hitting nothing but home runs. When Daryl hears that he is too perfect, he intentionally strikes out. When asked what happened by Joyce and Andy, he throws a small temper tantrum, curses at his parents and walks away. Joyce follows Daryl, calms him down, and finally gets to feel that she really is needed.
Daryl sitting in his living area in the secret government research lab.
Meanwhile, the remaining scientists, Dr. Jeffrey Stewart (Joseph Sommer) and Dr. Ellen Lamb (Kathryn Walker), have tracked down Daryl through the orphanage, and pose as Daryl's real parents to bring him "home" to the lab. Daryl reluctantly goes with them, as he still doesn't know who he really is, and his foster parents tell him that he needs to be with his real parents. Turtle is so upset by the sudden loss of his new best friend that he can't even bear to say goodbye, and runs away as Daryl gets in the car to leave. On the trip back, Daryl gets to fly in a plane, and he is allowed to spend most of the flight in the cockpit, asking all kinds of questions on how to fly the plane and about the autopilot and navigation. Once at the laboratory, Dr. Stewart and Dr. Lamb discover the memory module in Daryl's brain that was disabled by the other scientist, but as they begin to explore the experiences Daryl had (his computer brain records every moment) since his escape, they start to find out how really human Daryl is. Enter Air Force General Graycliff (Ron Frazier) who is uncaring about Daryl's development, because all he want's is a robotic soldier (Why the Air Force is running the project instead of the Army doesn't make much sense). He orders the D.A.R.Y.L. project terminated (along with Daryl), and tells the scientists that they are to start over and design an adult life form with less human attributes and more fighting abilities. At this point, Dr. Stewart and Dr. Lamb decide to bring Turtle, Andy and Joyce to the lab and show them what Daryl really is. They then make plans to get Daryl back to his new home with the Richardsons, so Daryl won't have to be destroyed. The two doctors "deactivate" Daryl in an operating theater, under the watchful eye of General Graycliff. Sensing their reluctance, General Graycliff checks the lab's computers, and finds that one backup copy of Daryl's programming has not been deleted. He then sends the military police out after Dr. Stewart and Daryl, who just narrowly get out of the lab before the alarm is sounded. The balance of the film is about how Daryl (with the help of Dr. Stewart and his own amazing command of modern technology) struggles to escape from the massive effort by the military to capture and destroy him so he can return to the Richardsons.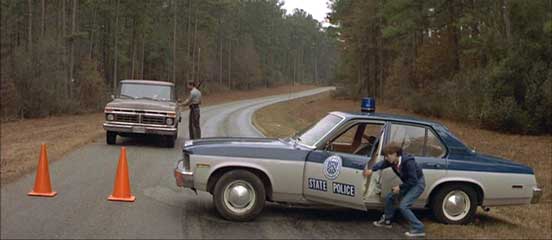 Daryl disables a police car at a roadblock while Dr. Stewart talks to the patrolman.
D.A.R.Y.L. is a good film for the family with its presentation of moral issues, lots of action but not much violence, and discussion of the relationships between parents and their children (mostly in commentary by Turtle). The film addresses two issues common in science fiction stories and children's fables. The first is how an android, puppet or other figure coming to life can become more accepted by humans when it takes non-logical chances or chooses to fail on occasion. The second is how exposure to human emotions can alter the way a robot behaves and eventually thinks about what its priorities are. When D.A.R.Y.L. is dealing with issues like these, and the relationships that develop between Daryl and the other characters, the film is at its best. When the film gets into its theme of the sinister government trying to capture and destroy an innocent alien or robot like Daryl, a cliché that has been seen in other science fiction films like Starman and E.T., it becomes more of a routine chase-scene thriller. Why does the government response to an unexpected development always have to be search and destroy? After all the research and investment in the project, you would think that at least the military could turn Daryl over to the C.I.A. or some other information-gathering agency for further use or study. The film is well produced and the cast assembled are very believable in their roles, with special kudos going to Barret Oliver for his straightforwardly simple portrayal of a child who is half-human and half-machine.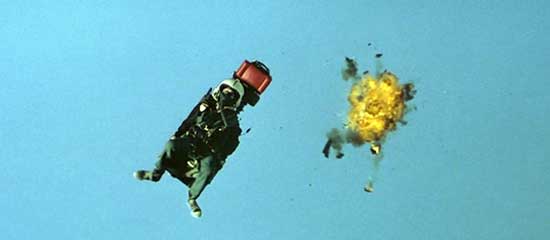 Daryl ejects from a Air Force jet.
Best Chucks Scene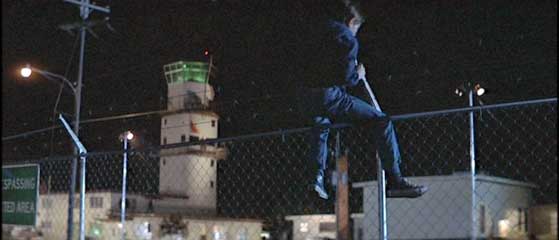 Daryl climbs a security fence to infiltrate an Air Force base.
Both Barret Oliver (Daryl) and Danny Corkill (Turtle) are seen wearing high top chucks in D.A.R.Y.L., with Turtle in red high tops throughout the film, and Daryl wearing navy blue high tops during the second half. There are very few close ups in the cinematography, although chucks are noticeable in most of the scenes where Turtle and Daryl are present. The best chucks scene is when Daryl infiltrates an Air Force Base to set up his escape from the military. Daryl, now alone, climbs a fence into the Air Base, avoids guard dogs, electric trip wires, and sneaks into the command center. His affinity with computers allows him to trick the base computer into showing that there is a major fire. During the confusion, Daryl sneaks into a hanger and climbs into a fighter jet.
Daryl stops just short of a trip wire.
D.A.R.Y.L. (1985) Barret Oliver, Mary Beth Hurt, Michael McKean, Kathryn Walker, Colleen Camp, Josef Sommer, Ron Frazier, Danny Corkill, Steve Ryan, Amy Linker, David Wohl. Directed by Simon Wincer. Categories: Drama, Science Fiction, Family.
ChucksConnection Rating:

MPAA Rating: PG
Support the film industry by purchasing genuine DVD, Blue Ray, or streaming copies of these films. Illegal copies only help profiteers. Make sure your money goes to the producers and artists who actually create these films. Still images from the film are used here as teasers to get you to view an authorized copy. If you have information about a film where a main character wears chucks, contact us at films@chucksconnection.com.