A ChucksConnection Film Review
Kea Peahu and Kyndra Sanchez wear mismatched blue and maroon high top Converse "Chuck Taylor" All Stars in the film.
Lindsay Watson wears optical white low top Converse "Chuck Taylor" All Stars in the film.


Finding 'Ohana
by Marcus Angulo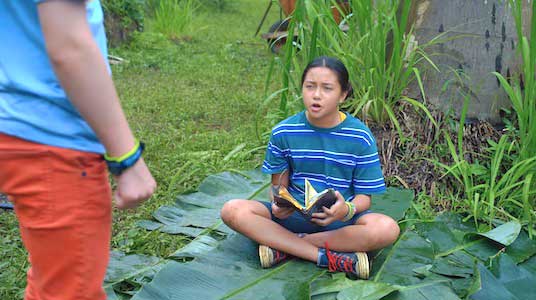 Pili tries to decipher the secrets of her grandfather's diary.
Hawaii may truly be the most beautiful place on Earth. The eight islands that make up this paradise are filled with some of the most beautiful sights and spectacles of nature you'll find anywhere on our little blue planet. However, what might make this place truly paradise is the Native Hawaiians that call these islands home. Their kindness, generosity, and sense of community are unmatched and it makes their history of colonization all the more tragic. Their stories are beautiful and deserve to be told unapologetically. So when a film inspired by the classic The Goonies but set in Hawaii, centered on Hawaiian folklore, and starring a Hawaiian cast, many were excited to hear those stories come to life. Finding 'Ohana is a family adventure film produced by Netflix and directed by Jude Weng. The film stars Kea Peahu, Alex Aiono, Lindsay Watson, Owen Vaccaro, Kelly Hu, Branscombe Richmond, and Ke Huy Quan and was released on January 29, 2021.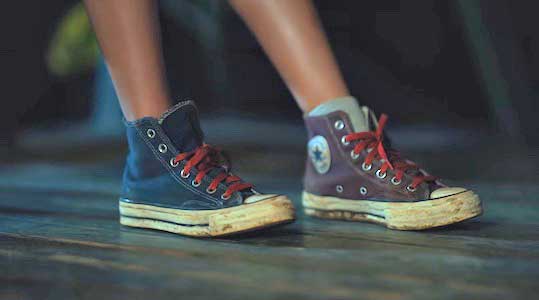 Pili's mismatched chucks are part of her tomboyish, adventurous look.
The film follows a family of three Native Hawaiians, siblings Pili (Peahu) and Ioane (Aiono), and their mother Leilani (Hu). They live in Brooklyn where Pili is a master GeoTracker. She loves looking for caches with her best friend, with whom she ends up winning a competition that earns her free tuition to a summer camp in the Catskills. However, she is unable to go after her mom takes her and Ioane back to O'ahu to help their grandfather, Kimo (Richmond), as his health and financial issues are becoming serious. Once there, the kids are less than enthused with the island climate, lack of internet access, and not being fluent in Hawaiian. Things change though when Pili finds her grandfather's old journal that tells the tale of a long-lost treasure hidden on the island. She meets a local boy named Casper (Vaccaro) who helps her read through the journal. That night, as Pili tries to read the diary secretly, Ioane catches her. He then tries to scare her by telling her of the Night Watchers, a local legend of ghosts of fallen warriors who protect the island. Ioane then meets a beautiful local girl, Hana (Watson), who is friends with Casper and delivers food to his grandpa. He is immediately smitten with her, but she is not impressed by his attitude towards the younger kids.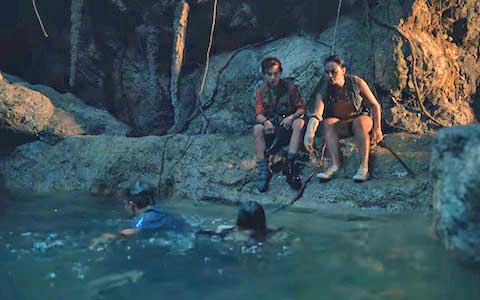 Hana also wears chucks in this fun adventure.
Kimo finds out Pili has the journal and while initially angry, he decides to take her to see some of the landmarks in it. While exploring, he falls and breaks a rib, putting him in the hospital. Leilani is furious with Pili and stays with Kimo in the hospital. Pili decides that she is going to go after the treasure in order to get the money to save Kimo's house. Casper joins her and they steal Kimo's truck while Ioane sleeps. They drive to Kualoa Ranch and follow the instructions in the diary to a cave. Ioane wakes up and sees that Pili is missing. He enlists Hana's help to find them and they soon follow into the cave. The floor crumbles beneath them and all four fall into the depths. Their only way out is to continue forward, hopefully finding the treasure and seeing beautiful Hawaii again.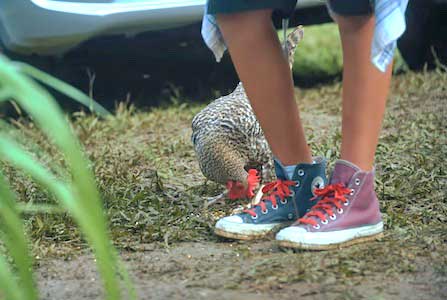 Chickens and chucks.
This film is a blast to watch. It is so effortlessly fun and it presents Hawaii and its native people in such a beautiful way that it makes it impossible not to smile while watching. The cast as a whole is so lovable and they all have such great chemistry with each other that the dialog feels organic. Kea Peahu and Alex Aiono have such great sibling energy and they play off each other well. Aiono also has a great rapport with Lindsay Watson and you totally buy their will-they-won't-they romance. The rest of the cast round out what is a film of really good performances. Hawaii itself is also treated like a character, with the film showcasing the natural beauty and rich culture perfectly. This is just a really solid film that fills a void we see a lot in Hollywood these days of lack of adventure films.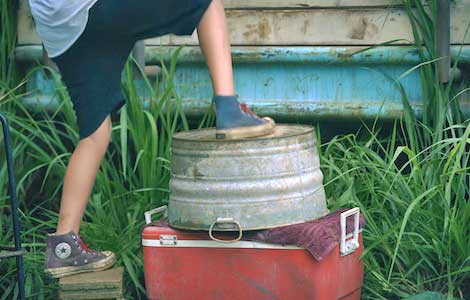 Nothing can stop Pili in her chucks!
Best Chucks Scene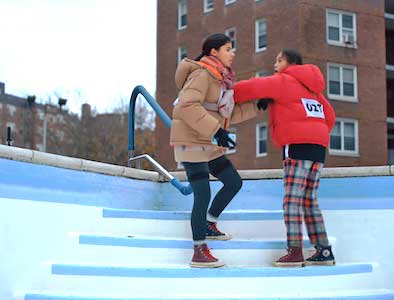 Pili and her best friend share their chucks.

The best chucks scene in the film is the very opening scene. In Brooklyn, Pili and her best friend Yoli are in a race with some other kids to find the grand prize in a geocaching competition. They ride their bike through the streets of the city and even through a laundromat. They end up at an empty pool and their clue says they have to reach the "bottom". Pili deduces that it means the tunnels under the pool. They go inside and find a puzzle that lets them unlock the final box that holds the treasure. They then celebrate on stage as they have won their dream trip to a geocaching camp. Throughout this scene, we get plenty of shots of the chucks that both girls wear. We see that they have actually split up two different pairs of chucks between them, giving them each a mismatched pair. This subtly shows the bond they share, which makes it even sadder when Pili leaves New York for Hawaii. Ioane even points out that her shoes don't match while they're on the island, asking what the point is of buying shoes if she is only going to wear one of them. Pili doesn't say anything, but the look on her face tells us that she knows she isn't "complete" without her best friend.
Pili and Yoli riding together.
Finding 'Ohana. (2021) Kea Peahu, Kyndra Sanchez, Alex Aiono, Lindsay Watson, Owen Vaccaro, Kelly Hu, Branscombe Richmond, Brad Kalilimoku.
Directed by Jude Weng. Categories: Action/Adventure, Family, Comedy.
ChucksConnection Rating:

MPAA Rating: PG
Support the film industry by purchasing genuine DVD, Blue Ray, or streaming copies of these films. Illegal copies only help profiteers. Make sure your money goes to the producers and artists who actually create these films. Still images from the film are used here as teasers to get you to view an authorized copy. If you have information about a film where a main character wears chucks, contact us at
films@chucksconnection.com.