A ChucksConnection Film Review

Katinka Evers-Jahnsen wears black high top Converse "Chuck Taylor" All Stars in the film.
Forsvundet til Halloween
(Missing for Halloween)
by Hal Peterson


Esther, Svend, and Asger search for Petra on Halloween.
It's Halloween in the Danish town where young Petra Lindqvist (Hannah Glem Zeuthen) and her older brother Asper (Storm Exner Fjæstad) live. But this year they are not much in the mood for celebrating due to the recent death of their father. Tina Lindqvist (Marijana Jankovic) is sad too, but wants to maintain their custom of spending Halloween with their neighbors John (Sami Darr) and Mary (Lise Baastrup). Their daughter Esther (Katinka Evers-Jahnsen) is not at all enthusiastic about the idea, as she has had a falling out with Asper, and angrily confronts her parents about having to get together with the Lindqvist family. Esther would rather spend Halloween with some of the other girls in her class who are having their own party. Asper doesn't even have a costume to wear; he wants to go with his friends at school who want to go out and commit pranks instead of trick-or-treating. Petra is the only one who wants to go out trick or treating, but needs a costume. Since their mom is at work, Asper makes her a simple ghost costume, a sheet with two eye holes. She persuades Asper to go to the costume store and get some makeup while she stays home alone.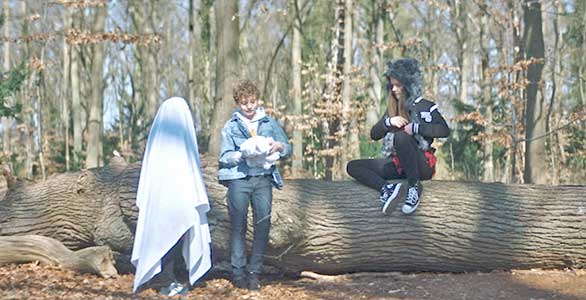 Svend, Asger, and Esther take a break in the woods.
When Asper returns to the apartment, Petra is not there, and there aren't any clues to her disappearance. Panicked, Asper starts to look for her; if Tina finds out that he left her alone, he will be in big trouble. He needs to find her quick, and he needs help doing that. Luckily he finds another kid, Svend (Max Kaysen Høyrup), who is the same size as Petra, and also has a white sheet ghost costume. He persuades Svend to impersonate Petra and is able to persuade Esther to help look for her as well. They are able to convince Tina that the ghost costume she sees is Petra. The three are allowed to go out trick-or-treating, with the admonition to be back by when it gets dark. Asper, Esther, and Svend are now off on their quest to find Petra. They have a number of adventures along the way.
Esther at her girlfriend's Halloween party.
While Asper was out at the store, two low level con men and thieves, Tyl (Jakob Fauerby) and Vikar (Simon Sears), looking for jewelry and small electronics are working where the Lindqvists live. Dressed in zombie costumes, Vikar acts as a trick or treater, engaging whoever answers the door, while Tyl sneaks inside, gathering up whatever valuables he can quickly grab. When they knock on Petra's door, Tyl is able to gain entry. Petra is only ten, but is not easily conned, and tricks Tyl into going onto her balcony, where she locks him out. This becomes one of the running bits in the film, which heavily borrows from Home Alone, a film that Petra's late father showed her several times. But eventually Tyl is able to get back inside and grab her, as she can now identify him to the authorities. Now she must work to escape from their hideout, while at the same time Asper, Esther, and Svend search through town for her. These two story lines eventually converge, along with some unexpected twists to the story.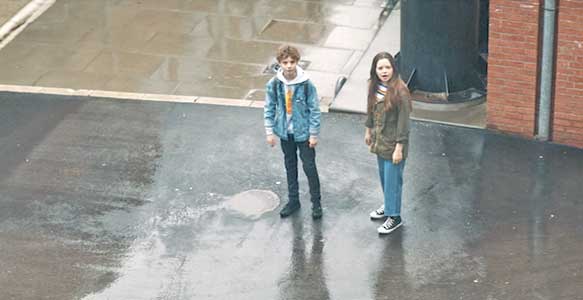 Asger and Esther in the courtyard of their school.
The young actress who stands out the most in the film is Hannah Glem Zeuthen. Much of the film is from her point of view, including flashbacks of the action in the form of a school oral report she gives complete with a slideshow. Katinka Evers-Jahnsen shows a lot of emotion in her portrayal of Esther as she relates to Asper, her girlfriends, and her parents in the film. Storm Exner Fjæstad is likable as Asper, and much more controlled in his emotions, typical of a boy his age. The adult characters were the usual stereotypes for this genre, which means we had clueless parents and bumbling crooks. The story line is all over the place, from clever twists to very unrealistic turns. There is good cinematography and direction. Over all Forsvundet til Halloween is certainly worth a look as a family film, but its main appeal is to young children. In Danish with English subtitles.
Anger and Esther confront the bad guys who have Petra.
Best Chucks Scene


A closeup of Esther's black high top chucks as she arrives at the Halloween party.

Katinka Evers-Jahnsen, who plays Esther, wears black high top chucks throughout the film. Over the past ten years unisex chucks have continued to gain popularity with teenaged girls throughout the world. You see hers framed in the camera work as she helps Asger search for his younger sister, Petra, and when she is hanging with her girl friends. When Esther arrives at the Halloween party the camera gradually pans up from a closeup of her black high tops to her somewhat frayed costume. There are also closeups when Esther falls down, in several instances during the film.
Esther struggles to get back up after falling down.
Forsvundet til Halloween (Missing for Halloween) aka The Seekers: Thrill Night. (2021) Hannah Glem Zeuthen, Storm Exner Fjæstad, Katinka Evers-Jahnsen, Max Kaysen Høyrup, Jakob Fauerby, Marijana Jankovic.
Directed by Philip Th. Pedersen. Categories: Adventure ,Family.
ChucksConnection Rating:

MPAA Rating: NR, would be PG
Support the film industry by purchasing genuine DVD, Blue Ray, or streaming copies of these films. Illegal copies only help profiteers. Make sure your money goes to the producers and artists who actually create these films. Still images from the film are used here as teasers to get you to view an authorized copy. If you have information about a film where a main character wears chucks, contact us at
films@chucksconnection.com.