A ChucksConnection TV Series Feature
Finn Roberts wears maroon high top Converse All Star "Chuck Taylor" sneakers in the series.
Ariel Mortman wears monochrome black low top Converse All Star "Chuck Taylor" sneakers in the series.
Greenhouse Academy
Alex and Hayley say goodbye to their mom for the final time.
Eight months after the tragic loss of their astronaut mother in a failed launch to the moon, a brother and a sister are enrolled into a private boarding school for gifted teens. Their relationship strained after the death of their mother, they end up joining two competing houses within the school, and become rivals. However, mysterious events soon draw them back together from their houses, and into a secret investigation. Can this fractured brother-sister team put aside the past to uncover the truth, and possibly save the world? This is Netflix's newest teen drama, Greenhouse Academy.
Hayley becomes a teen hipster after the death of her mom.
After the death of their mom, Alex (Finn Roberts) and Hayley (Ariel Mortman) have become distant with each other. Alex spends all of his time working on his basketball game and studying, in hopes of being accepted in the prestigious Greenhouse Academy, and making their athletic club, the Eagles. Hayley has become lazy, jilted, and adopted a "me against the world" type attitude. She spends most of her days in her room, listening to old vinyl records, and discussing how lame things are with her friends. Their father, Carter (Ishai Golan), has become aloof and vacant minded since his wife's death. This makes him unfit to take Alex to his Greenhouse Academy enrollment/tryout, so Hayley has to take him even though she despises the school and its "Big Brother" tendencies.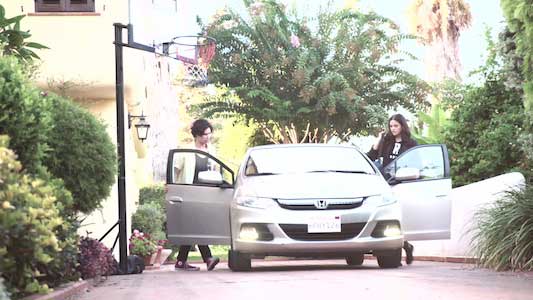 Alex and Hayley leave for the Greenhouse Academy.
The Greenhouse Academy is split into two rival houses. These houses are the Eagles, who specialize in grooming athletes bills itself as a leadership focused school that has help foster the birth of America's politicians, CEO's, athletes, and astronauts. We're introduced to many of these students, including basketball superstar Daniel Hayward (Chris O'Neal), and Leo Cruz (Dallas Hart), leader of the Ravens. After an eventful tryout, Alex is offered a place at the Greenhouse Academy by its founder and dean, Louis Osmond (Parker Stevenson). Osmond offers a place to Hayley, even though she says that she doesn't want to give up her "individuality". Osmond says for her to just give it a trial run, and if she decides it's not the place for her, she's free to leave. Hayley accepts, and her and Alex are sorted into separate houses: Hayley as a Raven and Alex as an Eagle.
Hayley and Alex doing some investigating.
The series is the typical teen drama that focuses on the problems of an everyday high schooler, while throwing in a bit of mystery about what really goes on at the Greenhouse Academy. Alex and Hayley deal with popularity, crushes, the future, while still dealing with the death of their mom. Throughout the show, Alex wears a pair of maroon chucks, which really help him fit into the look of a Southern California jock. Hayley also wears monochrome black chucks in some of the episodes, mostly when her and Alex are sleuthing around.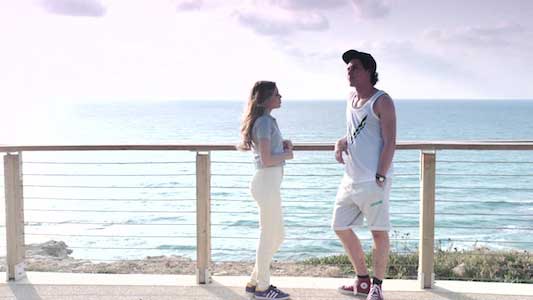 Alex wears maroon high top chucks throughout most of the show's first season on Netflix.
The show tends to be a bit overdramatic, but that falls in line with the teen drama genre. This show very much falls into the same category as Pretty Little Liars, Dawson's Creek, and One Tree Hill. It also tries to add some elements of Harry Potter via the wonderful, mysterious school, aloof headmaster, evil teachers, and houses based on personality that compete with each other. Overall, it's a perfectly fine teen drama that offers a bit of mystery to keep it interesting throughout your binge watch session.
Do you know of other television shows or series where a main character wears Converse All Star Chuck Taylors? Can you describe a favorite episode or two from the series, or do you have additional information about the shows described here already? Do you have videotapes, DVDs or shot captures of episodes from any of the series that haven't been given an in depth article on this site? If you do, email us at chucksphotos@chucksconnection.com and we will add the information to the television pages.