A ChucksConnection Film Review
Leah Lewis wears light blue high top Converse "Chuck Taylor" All Stars in the film.


The Half of It
by Marcus Angulo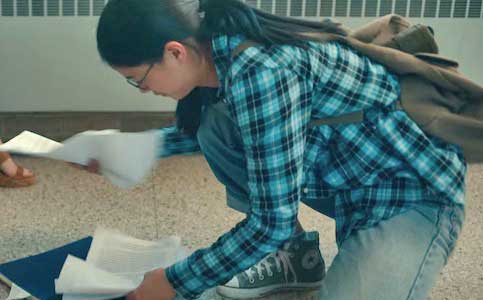 Ellie Chu wears light blue high top chucks throughout this film.
Friendships are serious relationships. They might not be romantic, but when they blossom, the love that comes with them is as real and important as any romantic pairing. The Half of It is a 2020 American coming-of-age comedy-drama film written and directed by Alice Wu. Starring Leah Lewis, Daniel Diemer, Alexxis Lemire, Collin Chou, Wolfgang Novogratz, and Becky Ann Baker, the film won the Founders Award for Best Narrative Feature at the 2020 Tribeca Film Festival and was subsequently released on Netflix on May 1st, 2020.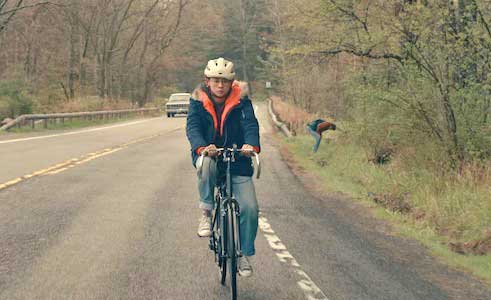 Ellie bikes everywhere in Squahamish in her chucks.
Ellie Chu (Lewis) is a high school senior in the small town of Squahamish, Washington. She has no friends but is well-known around her school for her successful side business of writing essays for fellow students. She lives with her widower father (Chou) down by the train tracks and performs most of his duties as station master and signalman. One day she is approached by Paul Munsky (Diemer), an inarticulate football player, to write a love letter to Aster Flores (Lemire), the most popular girl at their school. Ellie initially says no but changes her mind when she finds out her power will be turned off unless she pays the bill by the end of the week. Aster is currently dating Trig (Novogratz), the big man on campus who comes from a wealthy family, but despite this, Ellie begins a correspondence with her through letters and texts while pretending to be Paul. The two quickly bond over their shared love for art, literature, and culture, but Aster believes she is talking to Paul who has no interest in any of that. Paul is instead interested in sports and cooking, the latter of which has led him to create his masterpiece: the Taco Sausage.
You don't typically pass notes in confession.
Ellie's English teacher, Mrs. Geselschap (Baker), encourages her to apply to Grinnell College, the prestigious, private liberal arts college in Grinnell, Iowa. However, Ellie plans to stay in Squahamish and attend the nearby University of Washington both to save money and help her father. Ellie eventually sets Paul up on a date with Aster, but it goes poorly because he isn't the person she's been talking to. Ellie decides this should be the end of this, but after Paul defends her from some bullies, she decided to keep helping him. She gets Aster to go out with Oaul again, but this also goes poorly due to Paul's lack of interest in the things Aster likes. Ellie is able to save the night though by texting Aster and pretending to be Paul during the date. Paul ends up jumping the gun and telling Aster he wants to be more than friends, and he even kisses her. Paul and Ellie grow closer as friends, with Paul supporting her at the senior talent show and Ellie going to his football game. However, soon Ellie and Paul both realize that Ellie is the one who has real love for Aster. Will their young friendship survive?
Ellie is an incredibly talented musician.
Described as a different kind of love story, this film shows the power of the love that comes from friendship. The relationship between Ellie and Paul is so wholesome and it's beautiful to see this person come into her life and help get her to a place where she can finally be her true self. It is a testament to both of these characters that they can lie to Aster, who is shown to be a good, kind person, for the whole movie and you don't come away thinking that they're terrible people at the end. Aster is also a beautifully written character and her relationship with Ellie is really amazing to see unfold. This love triangle between them is what makes this movie a great watch, all because of the performances of Lewis, Diemer, and Lemire.
Ellie and Aster engage in a beautiful conversation through art.
Best Chucks Scene


Ellie prepares to leave for college.

Ellie has her own style that could be described as tomboyish, and this style includes wearing light blue high top chucks throughout the whole movie. This contrasts her with girls like Aster who wears a variety of heels and shoes in the film. The best chucks scene in the film shows this difference perfectly. (Spoiler Alert!) After it has been revealed that Ellie has been the one writing to Aster, Ellie visits her at her parent's restaurant. Ellie tells Aster that she's going to Grinnell and Aster reveals she has also applied to some art programs. Ellie apologizes for lying to her and tells her she never meant to hurt her. Aster says that it's not like she hasn't thought about being with her, but she isn't sure if she can be "different". Ellie playfully mocks her for being unsure and always worrying about how others perceive her. Aster retorts by telling her to just wait and in a few years she'll be so different. Ellie starts to leave but then kisses her and tells her she'll see her in a couple of years. She leaves on her bike as Aster smiles. Ellie is now confident in who she is in her chucks, while Aster is still unsure of who she is supposed to be but is ready to start her own journey.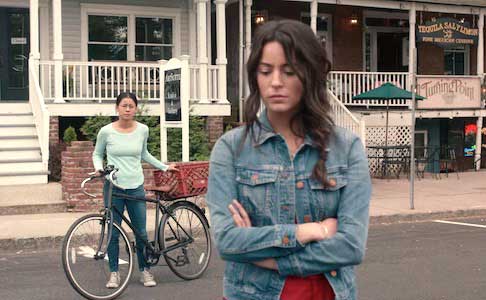 "Love is messy and horrible and selfish… and bold." —Ellie Chu.
The Half of It. (2020) Leah Lewis, Daniel Diemer, Alexxis Lemire, Wolfgang Novogratz, Collin Chou, Becky Ann Baker.
Written and directed by Alice Wu. Categories: Comedy, Romance.
ChucksConnection Rating:

MPAA Rating: PG-13
Support the film industry by purchasing genuine DVD, Blue Ray, or streaming copies of these films. Illegal copies only help profiteers. Make sure your money goes to the producers and artists who actually create these films. Still images from the film are used here as teasers to get you to view an authorized copy. If you have information about a film where a main character wears chucks, contact us at
films@chucksconnection.com.