A ChucksConnection TV Series Feature
James Majoos and Bryn Chapman-Parish wear black high top Converse "Chuck Taylor" All Stars in the series.
Heartbreak High
Darren is a queer non-binary student who wears black high top chucks in this series.
Reboots are all the rage these days. If you were a semi-popular show or film in the 1980s or 90s, chances are you have been or will be rebooted in some way or another for the modern streaming wars. Heartbreak High (2022) is a new Australian comedy-drama streaming television series created for Netflix by Hannah Carroll Chapman. It is a reboot of the 1994 series that ran for seven seasons and was first aired on the Australian television network, Network 10. The new show premiered on September 14th, 2002 for the streamer and amassed more than 42.6 million hours viewed in its first three weeks, putting it on Netflix's top 10 lists and trending. This led to Netflix quickly greenlighting Season 2. The reboot stars Asher Yasbincek, Gemma Chua-Tran, Josh Heuston, James Majoos, Chloe Hayden, Ayesha Madon, Sherry-Lee Watson, Will McDonald, Bryn Chapman-Parish, Brodie Townsend, Thomas Weatherall, and Chika Ikogwe.
An Ant and a Spider chilling at school.
The show is set in the fictional Hartley High in Australia. It opens with a young Amerie Wadia (Madon) and Harper McLean (Yasbincek) showing the beginnings of their friendship. They've been best friends since they were five and are now high schoolers. Over that time they've developed a hobby of watching people's relationships from the side-lines which led to the start of their infamous "incest map" drawn on an abandoned stairwell wall at school. The map is filled with details of their classmates real and rumored sexual escapades and has been a long gaurded secret between the two best friends. Now in the present, Amerie is headed to school alone, as Harper hasn't spoken to her since the music festival they attended over the summer. Things go from bad to worse when the map is discovered and revealed to the school and their classmates. The school is summoned to address the map, and afterwards Amerie takes the fall alone, omitting Harper's involvement. Amerie tries to make amends with Harper, as she can't remember the night in question and doesn't know what happened. However, Harper rebuffs her and gives her a bloody nose.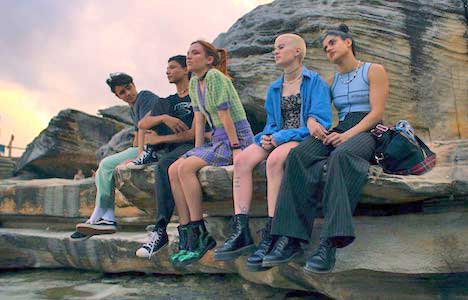 Amerie, Harper, Darren, Quinni, and Malakai hangout on a cliff.
Things get even worse for the kids at Hartley High when those that were on the map are summoned to a special class. Among them is a new student Malakai, the school's heartbreaker Dusty, a non-binary kid named Darren and their friend Quinn. There is also Douglas, the school drug dealer, Spencer aka Spider, Anthony, Harper, Amerie, and their friends Sasha and Misty. Many of the students in this group wear chucks, as a lot of them are rebellious and setting a new course in their lives. The school has established a special sex education course for this group and have called it Sexual Literacy Tutorial. The class is mandatory and their English teacher Jojo will teach it. She comes off as a modern progressive teacher and wants to be real with the kids about sex. This sets up the rest of the season as the students try to move forward while balancing the rest of the high school and teenage experience.
Quinni and Darren are best friends in the show.
This show has blown up since its debut a few months ago, developing a huge social media following. On TikTok, the hashtag #heartbreakhigh has amassed over 300 million views. There's been so much discussion of the characters' relationships and who they should be with, leading to a fervent fanbase that can't wait for Season 2. The show follows the formula of a lot of teen dramedies while it explores relationships and friendships. The inclusion of many different sexual orientations and ethnicities makes the cast of characters diverse and their stories more real. This is a fun show that offers a new spin on the typical teen high school drama.
The whole cast is very diverse.
Do you know of other television shows or series where a main character wears Converse All Star Chuck Taylors? Can you describe a favorite episode or two from the series, or do you have additional information about the shows described here already? Do you have videotapes, DVDs or shot captures of episodes from any of the series that haven't been given an in depth article on this site? If you do, email us at chucksphotos@chucksconnection.com and we will add the information to the television pages.