A ChucksConnection TV Series Feature
Bella Ramsey wears red low top Converse "Chuck Taylor" All Stars in the series.

The Last of Us
"I used to think that the day would never come, I'd see the light in the shade of the morning sun."
We have all experienced love in our lives. Unfortunately, we have all experienced loss as well. These are the two pillars of the human experience, and much of our time on this planet is spent trying to reason with them both. Time and time again, these concepts are explored through our greatest form of communication: art. So many stories, paintings, films, and shows are musings about our shared and personal experiences with love and loss, and we watch and take it all in, in hopes that we may feel less alone. That is what The Last of Us is. Sure it is an adaptation of a popular video game centered around a fungus-based zombie plague, but at its center, it is really a show about love and loss and how to survive through it all. The Last of Us is an American post-apocalyptic drama television series created by Craig Mazin and Neil Druckmann for HBO. Based on the 2013 video game developed by Naughty Dog, the show stars Pedro Pascal and Bella Ramsey, with an ensemble supporting cast that includes Nico Parker, Gabriel Luna, Merle Dandridge, Anna Torv, Melanie Lynskey, Murray Bartlett, and Nick Offerman.
Ellie's well worn red high top chucks.
The show begins with an ominous warning from the past. In 1968, a doctor on a talk show describes how a mutated Cordyceps could be the next great pandemic that could end humanity. In 2003, we spend a day with young Sarah Miller (Parker). She lives with her hardworking and loving father Joel (Pascal), and while he's at work, she repairs his watch in town as a birthday present. As the day goes on, weird things begin happening that hint that something is happening in the world. Eventually, Joel returns home with his brother Tommy (Luna) in a panic and they take Sarah, only telling her that something has happened. As they leave, they are attacked by an infected neighbor and we see what the fungus does to people. Chaos ensues as they try to escape, but in a tragic and heartbreaking moment, Sarah is killed.
Look for the light.
Twenty years later in 2023, Joel is now living in the Quarantine Zone in what used to be Boston. He works as a smuggler with his partner Tess (Torv), but when Tommy fails to contact them from Wyoming, they attempt to gather the resources to leave the QZ and travel West. In their search, they run into the rebel group, the Fireflies, and their leader Marlene (Dandridge). Marlene says she will supply them with the supplies they need if they take a young girl to a Firefly group outside Boston. That young girl is Ellie (Ramsey) and she is believed to be immune from the Cordyceps infection after having been bitten some time ago and not turning. They agree and sneak out of the QZ into the dangerous world. At the meetup place in the Massachusetts State House, the trio discovers that the Fireflies have been killed by infected zombies. Soon they are surrounded, and Tess reveals that she was bit previously in an earlier scuffle. She stays behind to sacrifice herself and buy the two time to escape. Now on their own, Joel and Ellie must move past their individual traumas and learn to trust each other so that they can survive. More than that, they need to learn to live again.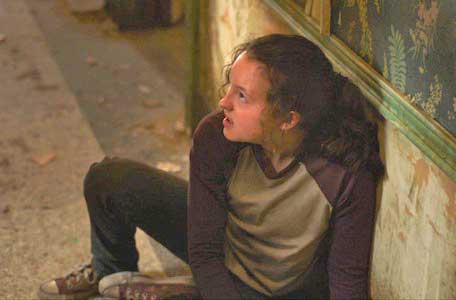 Bella Ramsey brings an incredible amount of fire, toughness, and heart to Ellie.
This is easily the greatest adaptation of a video game story ever. Video game adaptations have almost always suffered from diverting too much from the source material and not taking advantage of the medium of film/television. This show has not only been incredibly faithful to its source material, but it has also taken advantage of the new format by bringing new stories and expanding on existing ones. The costume design is impeccable and brings these characters to life. Ellie wears almost exactly what she wears in the game, and this includes her pair of well worn red high top chucks. Her outfit shows her rebellious, young spirit, and it contrasts with Joel's sensible and rugged attire.
Alone and forsaken.
The show also expands on storylines that the game did not, most notably in one of the season's standout and most beautiful episode, the story of Bill and Frank. This show, like the game, only works so well if the relationship between Joel and Ellie works, and in this show, it works incredibly well. Pascal and Ramsey are dynamic and complement each other so well, making their journey together throughout the first season rewarding and beautiful to watch. It might seem shocking that a show revolving around mushroom zombies may be the best representation of love and loss on television right now, but for those who played the game, this was always in the cards. It is amazing to see the vision realized, and with the season finale approaching, a beautiful yet tragic ending is in store. In the meantime, keep those you love safe, and endure and survive.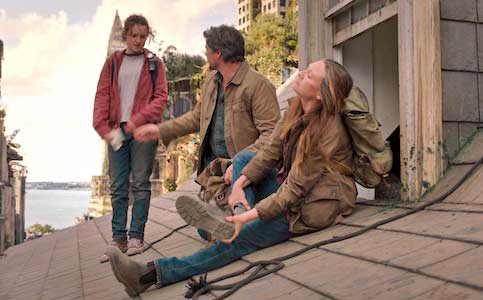 Ellie, Joel, and Tess try to make it out of the QZ.
Do you know of other television shows or series where a main character wears Converse All Star Chuck Taylors? Can you describe a favorite episode or two from the series, or do you have additional information about the shows described here already? Do you have videotapes, DVDs or shot captures of episodes from any of the series that haven't been given an in depth article on this site? If you do, email us at chucksphotos@chucksconnection.com and we will add the information to the television pages.