A ChucksConnection TV Series Feature
Iman Vellani wears red low top and white high top Converse "Chuck Taylor" All Stars in the series.
Ms. Marvel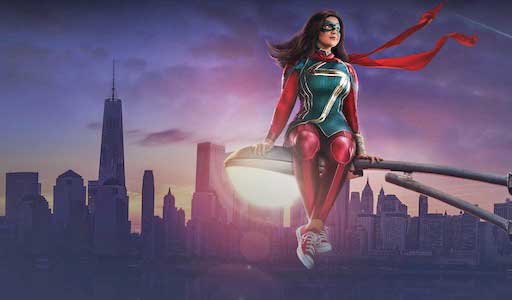 Ms. Marvel has big dreams!.
How much do you love superheroes? Would you call yourself a superfan? What would you do if you actually got superpowers yourself and were able to join the greatest pantheon of heroes the world has ever seen? Well, the newest Disney+ show aims to answer that question. In the latest installment in the never-ending Marvel Cinematic Universe, Ms. Marvel tells the story of 16-year-old Pakistani-American Kamala Khan as she navigates the troubles of high school along with all new troubles she never imagined having. The series premiered on June 8th, 2022, and stars newcomer Iman Vellani as Kamala, along with Matt Lintz, Yasmeen Fletcher, Zenobia Shroff, Mohan Kapur, Saagar Shaikh, Laurel Marsden, Azhar Usman, Rish Shah, Arian Moayed, Alysia Reiner, Laith Nakli, Nimra Bucha, Travina Springer, and Adaku Ononogbo.
The official poster includes Kamala in her chucks.
Kamala Khan is your average 16-year-old. She goes to high school at Coles Academy and has a nerdy best friend in Bruno (Lintz). She has an overprotective mother (Shroff) and goofy father (Kapur) that love her very much but are also very wary of the world they live in and of her interests. Kamala is also the biggest fan of the pantheon of Marvel heroes the world has ever seen. She writes Avengers fan-fiction and even dresses up as her favorite heroes. Kamala Khan loves superheroes. She loves the Avengers, Spider-Man, and the X-Men, but she loves Captain Marvel more than anyone. The upcoming Avenger Con, celebrating all things Avengers, is a dream come true for her. There's even going to be a costume contest for her favorite hero Captain Marvel that she is determined to win. The only problem is that her parents won't let her go and certainly won't let her dress up as an indecent superheroine.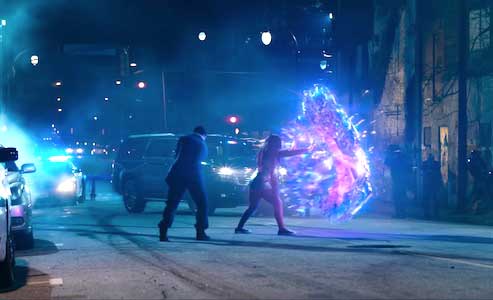 Using her new powers to save someone!
She decides that she is going to A-Con no matter what and concocts a plan with Bruno to sneak out and win the contest. The plan doesn't go as smoothly as she had hoped but she and Bruno are able to make it to A-Con and it is spectacular. Kamala enters the Captain Marvel costume contest but when she puts on the bangal that will make the costume her own, she gains superpowers of her own. These powers go awry during the contest and Kamala is forced to jump into action and save someone. Luckily, her captain Marvel costume covers her identity and she's able to make it back home to her very disappointed parents. Over the next few weeks, Kamala and Bruno test the limits of her powers and work on making her dream of being a superhero a reality. This includes making her own super-suit, and when making your own super-suit, which shoes do you go with? If you're Kamala you go with chucks obviously! Kamala actually wears different pairs of chucks through most of the show, with her white pair having her own designs on them. However, it's red chucks that she decides best to go with her new Ms. Marvel look.
Step by step!
This show is fantastic and is one of the best Disney+ MCU shows yet! Iman Vellani was born to play Kamala Khan. A superfan herself, she brings such unique energy and love for the character and the MCU, and also the warmth that Kamala displays in the comics. The show is so visually beautiful and vibrant. It displays aspects of daily life like texting in such an engaging way which makes it one of the most visually unique entries in the MCU. It also has such a love for Kamala's Pakistani culture and shows that side of her beautifully. It's simply a stellar all-around entry to the MCU that you should definitely check out! Ms. Marvel is airing now on Disney+!
Just a girl from Jersey City!
Do you know of other television shows or series where a main character wears Converse All Star Chuck Taylors? Can you describe a favorite episode or two from the series, or do you have additional information about the shows described here already? Do you have videotapes, DVDs or shot captures of episodes from any of the series that haven't been given an in depth article on this site? If you do, email us at chucksphotos@chucksconnection.com and we will add the information to the television pages.