A ChucksConnection TV Series Feature
Adam Savage wears red high top Converse "Chuck Taylor" All Stars in the series.
Kari Byron wears black high top Converse "Chuck Taylor" All Stars in the series.

Mythbusters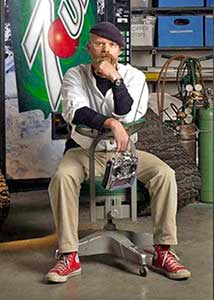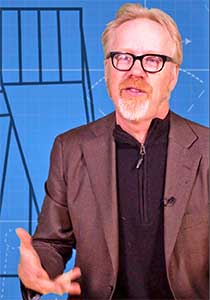 Adam Savage and Jamie Hyneman.
There's a myth out there that science is boring. That scientific discoveries can only be made by old dudes in white lab coats. However, in 2003, one Discovery Channel show changed the way we look at science, exploration, and discovery. Mythbusters was a science and education show that aired on the Discovery Channel from 2003-2016. The show used elements of the scientific method to test the validity of rumors, myths, movie scenes, age old adages, viral videos, and news stories.
Jamie wore red chucks throughout the show's 13 year run.
The show was hosted by Adam Savage and Jamie Hyneman, who between them had over 30 years of special effects experience. From the friendly confines of Jamie's workshop in San Francisco, M5 Industries, the duo would use the vast knowledge of special effects to conduct experiments in and out of the workshop. During the second season, the show added "The Build Team", a second team of hosts that would tackle myths separately from Adam and Jamie. This team was composed of Kari Byron, Tory Belleci, and Grant Imahara, all with their own unique styles and skill sets. Finally, the show was narrated by Robert Lee, offering more humor and puns over the show's experiments and tests. The setup and backgrounds of the hosts help the show make science approachable and fun. The hosts wore their usual clothes to conduct experiments, not lab coats and goggles. Jamie's outfit became part of his persona, as he was known for wearing his red high top chucks, work pants, white shirt, and black beret.
Kari often wore chucks in the show.
A typical episode of Mythbusters follows two separate myths, one conducted by Adam and Jamie, and one conducted by the B Team. The myths start out in the shop's blueprint room, where the teams break down the myth as it stands, and where it comes from. Then the hosts start small, usually conducting proof of concept experiments in the shop to work out how things will work in full scale. This is where the show is at its most scientific, as this trial and error stage sees multiple methods used to try and solve the problem. Using scientific principles, mechanical know-how, and good old fashioned ingenuity, the teams nail down how they think an experiment should go, and typically head to a bigger space in Northern California to conduct the real thing. This often means the bomb range, abandoned naval base, gun range, or even the desert.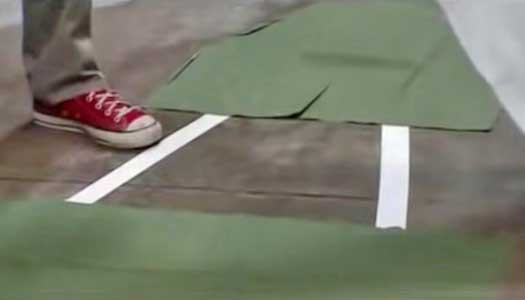 Laying down raft materials for the duo's escape from Alcatraz.
The show became known for its grand finales, which usually meant a large explosion. This became a running gag on the show, with Hyneman offering one of his iconic catchphrases like "Jamie wants big boom". Catch phrases like this were also a hallmark for the show, with phrases like "I reject your reality and substitute my own", "Failure is always an option", "Am I missing an eyebrow", and countless more being burned into the minds of fans everywhere.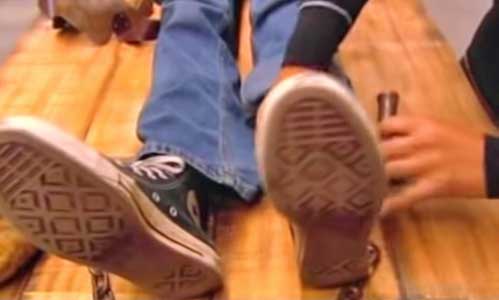 Kari gets strapped down for Chinese water torture.
Mythbusters was a cultural phenomenon for its entire run, and was by far Discovery Channel's biggest hit. The show was also responsible for Inspiring a generation of kids to explore the fields of science and technology, teaching them how to approach problems logically and to use the scientific method. "Failure is always an option" wasn't just a funny line, it was advice for science and life. You might fail, spectacularly even in the shape of a large cement truck explosion. However, if you get up and try again, you'll find the answers you're looking for. Science is life, and that's myth confirmed.
Jamie was always known for his iconic outfit, demeanor, and mustache.
Do you know of other television shows or series where a main character wears Converse All Star Chuck Taylors? Can you describe a favorite episode or two from the series, or do you have additional information about the shows described here already? Do you have videotapes, DVDs or shot captures of episodes from any of the series that haven't been given an in depth article on this site? If you do, email us at chucksphotos@chucksconnection.com and we will add the information to the television pages.