A ChucksConnection TV Series Feature
Lisette Olivera wears grey low top Converse "Chuck Taylor" All Stars in the series.
Jake Austin Walker wears black high top Converse "Chuck Taylor" All Stars in the series.

National Treasure: Edge of History
The main cast of the series.
Look we all know the line. It's the line that single-handedly started a film franchise that has grossed nearly $1 billion. It has been parodied, mimicked, and memed for the last twenty years after being originally delivered by Nicolas Cage. Say it with me: "I'm gonna steal the Declaration of Independence." The National Treasure franchise has been the source of endless memes and iconic quotes from one of Hollywood's most insane actors. However, the movie's staying power is partly due to its core idea that history can leave us clues to an incredible future. National Treasure and National Treasure: Book of Secrets offer the best of history, while not so subtly glossing over its ugly side. With a third film stuck in development hell for over a decade now, Disney decided to focus on a new original streaming series that will explore history and its many clues in a new way. National Treasure: Edge of History is a new Disney+ series that premiered on December 14th, 2022. A sequel and semi-reboot to the films, the show stars a new cast that includes Lisette Olivera, Zuri Reed, Antonio Cipriano, Jordan Rodrigues, Jake Austin Walker, Lyndon Smith, and Catherine Zeta-Jones.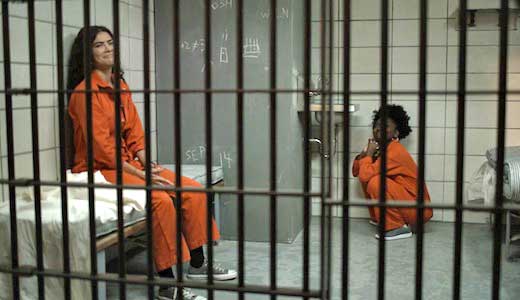 Jess starts the series by solving an "unsolvable" escape room challenge.
The show follows Jess Valenzuela (Olivera), a young DACA woman living in Baton Rouge, Louisiana. Jess is a hard-working, extremely intelligent girl who wears chucks and has a dream. She dreams of one day becoming an FBI agent and getting her citizenship, which she was on track to do until her mother got sick and passed away. Jess now works at a storage unit facility when one day she is tasked with tracking down the owner of a past-due unit. The owner turns out to be Peter Sadusky, a reclusive former FBI agent and master Freemason that handled Ben Gates' case and who is now suffering from dementia. When Jess confronts Sadusky at his Baton Rouge home, he notices her necklace that has a strange symbol on it. He reckons that she is descended from a long line of treasure protectors and gives her a letter and photo that will lead her to the combined treasures of the Mayan, Aztec, and Incan civilizations. He tells her to find the treasure before it's stolen and sold by the black market dealer Billie (Zeta-Jones).
Jess and Tasha elude agents by running through a kitchen.
Jess enlists the help of her friends: social media influencer and tech wiz Tasha, sneakerhead Oren (Cipriano), her oldest friend Ethan (Rodrigues), and Sadusky's estranged grandson Liam (Walker). Together, they solve the puzzle of the picture and find out that the treasure map is sealed in three separate puzzle boxes. Each is hidden in a different location, with the first being hidden by Sadusky in his local Masonic lodge. The search is then on to find the other two boxes before Billie does, and this journey will take this crew throughout the Americas and into history.
Jess and Tasha head to the FBI for help.
The show probably should have been a film, as it feels stretched out and forced. Jess flips back and forth between being in control of the treasure hunt and being captured a few times throughout the season, and while this might sound like a thrilling back-and-forth fit for a treasure hunt, in reality, these changes don't feel natural. Instead, they feel like plot stalling so the climax can be put off and the season can reach ten episodes. This padding out is also prevalent with the side characters, as Jess has four friends taking up the same two roles that the original films' side characters had: best friend/comic relief and love interest. The treasure hunt itself also feels less grand than its predecessors. While on paper it's much larger than the original National Treasure, in practice it feels much smaller. Nicholas Cage stole the Declaration of Independence and found the hidden city of gold in Mount Rushmore while all Jess does is solve a couple of puzzle boxes and briefly break into Graceland.
Jess searches for a clue, but it's not to what you think.
However, Lisette Olivera as Jess is the best part of the series, as she is incredibly smart, clever, and charming which is all you want in a treasure-hunting protagonist. Overall, National Treasure: Edge of History is a serviceable addition to the franchise, but it won't satiate the appetites of those hoping for a third installment in the treasure-hunting antics of Benjamin Franklin Gates.
It wouldn't be National Treasure without a cool contraption hiding a clue.
Do you know of other television shows or series where a main character wears Converse All Star Chuck Taylors? Can you describe a favorite episode or two from the series, or do you have additional information about the shows described here already? Do you have videotapes, DVDs or shot captures of episodes from any of the series that haven't been given an in depth article on this site? If you do, email us at chucksphotos@chucksconnection.com and we will add the information to the television pages.