A ChucksConnection TV Series Feature
Devon Werkheiser wears black low top and red high top Converse "Chuck Taylor" All Stars in the series.
Alex Black wears black high top Converse "Chuck Taylor" All Stars in the series.
Ned's Declassified School Survival Guide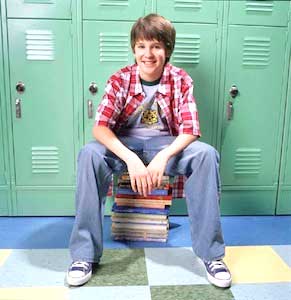 Ned Bigby wears chucks throughout the series.
When you really think about it, middle school is one of the craziest times in a person's life. You typically leave your elementary school for a brand new setting, transition from child to young adult by going through puberty, and prepare yourself for your high school journey all in the span of three years. This odd time in all of our lives made for a perfect setting for the classic Nickelodeon sitcom Ned's Declassified School Survival Guide. Starring Devon Werkheiser, Lindsey Shaw, Daniel Curtis Lee, and Daran Norris, the show ran for three seasons on Nick beginning in 2005 and is beloved by those that watched it during that time. The continued love for this show led Devon, Lindsey, and Curtis to launch a new podcast in January, 2023. The podcast, aptly called Ned's Declassified Podcast Survival Guide, focuses on the three reliving each episode, telling stories about their time on set, and offering advice they have for their now adult audience. So far, it has served as a very fun and worthy successor to the classic sitcom.
The first episode sees Ned wear chucks and Cookie wear one heck of a coat.
The show centers around the life of Ned Bigby (Werkheiser) as he enters the world of middle school. Ned is a pretty typical middle schooler who is trying his best to just survive the experience. He wears chucks through most of the series, which adds to his every-kid persona. He's extremely funny and outgoing and generally well-liked by his classmates. He takes his knowledge and lessons he's learned and puts them into his coveted School Survival Guide. He is joined by his two best friends: Jennifer "Moze" Mosely (Shaw), and Simon "Cookie" Nelson-Cook (Lee). Moze is the calm, level-headed one of the trio, but she can be indecisive and has a fear of public speaking. Cookie is the techno wiz of the school and also one of the most chaotic characters to come out of Nickelodeon's live-action sitcoms. His gadgets are often utterly insane and the situations he ends up in are incredible to watch.
The school's star athlete Seth Powers also always wears chucks with his green tracksuit and spinning basketball.
The show also is filled to the brim with amazing side characters. The most present adult in the show is Gordy (Norris), the school's lovable janitor. Rarely ever seen doing his job, he fits so well in the crazy world of the school, and is always so fun to see him engage in the trio's adventures. The student body is also just filled to the brim with great and memorable characters. There's Suzie Crabgrass, Lisa Zemo, Billy Loomer, Claire Sawyer (Future Lawyer), Seth Powers and his always-spinning basketball, and of course, Coconut Head.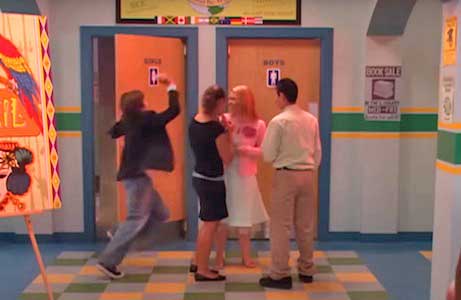 This is not the first or only time Ned has had to escape/be saved from the girl's bathroom.
This show was a staple for an entire generation going to middle school in the mid-2000s. This show has everything that made the live-action Nickelodeon shows in that time period so iconic. It is carried by incredible comedy delivered by insanely talented child actors. There are amazing side characters that are so memorable and meme-able. It also takes the super relatable setting of middle school and adds so many fantastical elements to show how crazy it feels to a young child. Everything is a big deal and a huge obstacle at that age and the show illustrates this through its zaniness. However, at the core of the show is the useful messages every episode fixates on. When Ned hits you with the actual guidebook entry at the end, you feel like you've learned something important as you go forward onto your own journey through middle school. This show has really stuck around in the minds of those that grew up on it because it showed them that what they went through in middle school was hard and weird at times, but you were never alone through it because it was weird for all of us.
Devon Werkheiser even carried Ned's look to the orange carpet at the Kid's Choice Awards.
Do you know of other television shows or series where a main character wears Converse All Star Chuck Taylors? Can you describe a favorite episode or two from the series, or do you have additional information about the shows described here already? Do you have videotapes, DVDs or shot captures of episodes from any of the series that haven't been given an in depth article on this site? If you do, email us at chucksphotos@chucksconnection.com and we will add the information to the television pages.