A ChucksConnection TV Series Feature
Zooey Deschanel wears black high and low top Converse "Chuck Taylor" All Stars in the series.
Jake Johnson and Damon Wayans Jr. wear black high top Converse "Chuck Taylor" All Stars in the series.

New Girl
Nick doesn't much care about his style on the show and is often wearing whatever's the most comfortable thing for him.
New Girl is an American television sitcom that originally aired from September 20, 2011 to May 15, 2018. Created by Elizabeth Meriwether, the show stars Zooey Deschanel, Jake Johnson, Max Greenfield, Lamorne Morris, Hannah Simone, and Damon Wayans, Jr. The show ran for seven seasons on Fox and has gained an even greater following by streaming on Netflix. Combining comedy and drama elements, as well as incredibly unique characters, the show is widely regarded as one of the best sitcoms of the 2010s.
Jess walks in on Cece's mess of a move.
Jessica "Jess" Day (Deschanel) is a bubbly and quirky teacher in her early 30s who comes home to find her boyfriend cheating on her in their home. She then embarks on a search for somewhere else to live, eventually finding a Craigslist ad for a room in a loft. Thinking it's three women looking for a roommate, she soon learns it's actually three men her own age: Nick (Johnson), Schmidt (Greenfield), and Coach (Wayans, Jr.). After the pilot episode, Winston (Morris), a former roommate and Nick's childhood friend, replaces Coach, who had vacated the apartment to live with his girlfriend (this was due to scheduling conflicts with Wayans, Jr. after filming the pilot). Cece (Simone), Jess's childhood best friend and a successful fashion model, frequently visits the loft.
Coach wears chucks when traveling with the gang to Portland, Oregon.
The series follows the group's interactions with each other as they become closer friends and through their romantic relationships. Much of Season 1 focuses on Jess becoming friends with the guys and making herself part of the loft. Midway through Season 1, Schmidt and Cece get involved in a mostly sexual relationship but end up breaking up by the end of the season. In Season 2, Jess and the gang go through a lot of unserious relationships and personal struggles, leading up to Cece entering an arranged marriage engagement to Shivrang that is broken up at their wedding in the Season 2 finale. Jess and Nick eventually become a couple at the end of Season 2, and it lasts through most of Season 3. Coach ends up returning to the loft in Season 3 after breaking up with his girlfriend and stays through Season 4.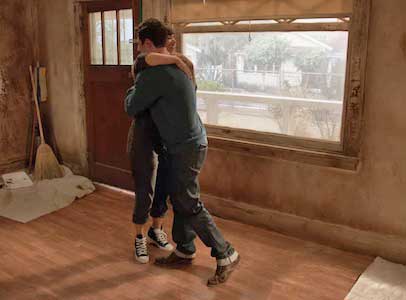 Cece hugs Schmidt wearing her black high top chucks.
Many characters end up wearing chucks throughout this show and every instance of the main characters wearing them fits in with their unique character traits. Nick wears them as part of his no-frills style, Cece wears them to be casual instead of fashionable, and Coach wears them for his athletic lifestyle.
Nick and Coach get arrested by Aly and Winston after trying to "protect" him.
This show lives and dies by this incredible cast and the characters they helped create. Each of the main cast is a standout performer who brings so much to their character. Jess is done perfectly by Zooey Deschanel, and she expertly threads the line between being annoying and lovable. Jake Johnson as Nick Miller has become a huge fan favorite and there has never been another leading man like him in sitcom TV. Schmidt in another actor's hands is a disaster and terrible, but Max Greenfield brings an earnestness to his crazed energy. Lamorne Morris's Winston Bishop starts out slowly but by Season 3 he's probably the most consistently funny character on the show. Cece could have been the character that had the least to do or be the most one-dimensional in a lesser show, but Hannah Simone adds so many weird layers to her that it makes this legit supermodel feel at home with this group of idiots. The show is also just bonkers funny. The jokes hit and they hit hard, and through it all there are incredibly well-done emotional moments that leave you hoping that somehow this group of roommates can figure it all out. Definitely check this show out if you have the chance, and stick around to see the journey these characters go through over the course of seven seasons.
True American!
Do you know of other television shows or series where a main character wears Converse All Star Chuck Taylors? Can you describe a favorite episode or two from the series, or do you have additional information about the shows described here already? Do you have videotapes, DVDs or shot captures of episodes from any of the series that haven't been given an in depth article on this site? If you do, email us at chucksphotos@chucksconnection.com and we will add the information to the television pages.