A ChucksConnection Film Review
Skylar Astin wears black high top Converse "Chuck Taylor" All Stars in the film.
The Bellas wear black high heeled chucks in performance
Many of The Treblemakers wear black high top chucks in performance.

Pitch Perfect
by Marcus Angulo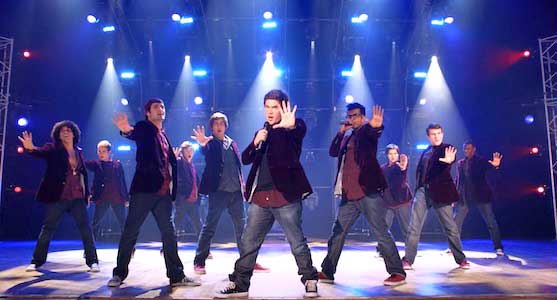 The Treblemakers are the big bad a cappella group on campus.
A cappella might be the most polarizing style of musical performance in the world. You either think it's charming and endearing, or you think it's corny and the bane of college campuses everywhere. If you lean towards the latter, then Pitch Perfect is NOT the film for you. Released in 2012, the film follows Barden University's all-girl a cappella group, The Barden Bellas, as they battle other a cappella groups for the National title. Based on Mickey Rapkin's non-fiction book, Pitch Perfect: The Quest for Collegiate A Cappella Glory, the movie tries to make a cappella cool and exciting in a way never really done before. The film is bolstered by an extremely talented cast that includes Anna Kendrick, Skylar Astin, Rebel Wilson, Anna Camp, Brittany Snow, Hana Mae Lee, Alexis Knapp, Ester Dean, Kelley Jakle, Shelley Regner, Wanetah Walmsley, Adam DeVine, Ben Platt, Utkarsh Ambudkar, John Michael Higgins, and Elizabeth Banks.
Chucks can be seen on many students during this film.
The film begins with the 2011 ICCA (International Championship of Collegiate A Cappella) Finals, where Barden University's all-female a cappella group, the Barden Bellas, lose to their all-male rival group, the Barden University Treblemakers after junior member Aubrey Posen (Camp) projectile vomits in the middle of her solo. Four months later, newly arrived freshman Beca Mitchell (Kendrick) is recruited by the Bellas to join their now depleted roster. Beca is an aspiring DJ who wishes she could just move to Los Angeles to pursue a career as a music producer, but she's being forced to attend school for at least one year by her professor father. She soon gets an internship at the school radio station, where she gets to know fellow freshman Jesse Swanson (Astin).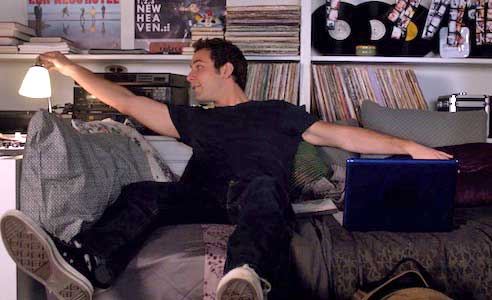 Jesse wears chucks as he gets ready to show Beca one of his favorite films ever, The Breakfast Club.
Beca is initially hesitant to join the Bellas, but is later convinced to audition by co-leader Chloe (Snow). At the audition, guys try out for the Treblemakers and the girls try out for the Bellas, with both groups singing Kelly Clarkson's "Since U Been Gone". Beca is late and misses the audition, but performs "Cups (When I'm Gone)" after Chloe vouches for her. Beca is brought into the Bellas along with Cynthia Rose Adams (Dean), Stacie Conrad (Knapp), Lilly Onakuramara (Lee), Jessica Smith (Jakle), Ashley Jones (Regner), and Patricia "Fat Amy" Hobart (Wilson). Meanwhile, Jesse joins the Treblemakers, while his roommate Benji (Platt) misses the cut. The two groups will battle multiple times on their way to Nationals, while Beca struggles with who she really is and what she really wants to do in life.
Steppin' up (or on) to the mic!
This is a film that lives and dies by the performances of the a cappella singers, and everyone who sings brings their A game. Anna Kendrick is always lovable and charismatic, and she brings heart that ties the film together. Everyone else gets memorable moments and is able to let their over the top characters get their chance to shine. Some of the dialogue can be a bit much, especially when it comes to the a cappella puns. However, it never crosses that line into annoying and cringeworthy except when it's meant to. Some of the music can feel a bit dated and is a product of the early 2010's, but for the most part the smashups and musical numbers are really well done. Overall, if you like a cappella and are looking for a fun college movie to watch, Pitch Perfect was made for you!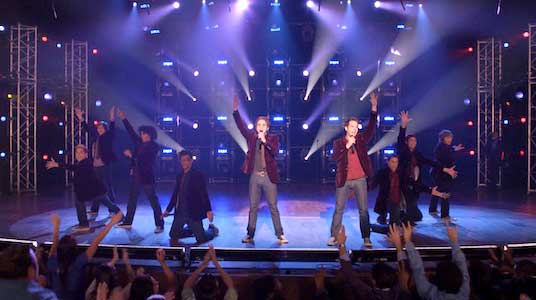 The Treblemakers rock Nationals while wearing chucks with their rendition of B.o.B.'s "Magic".
Best Chucks Scene
A new look for the Barden Bellas is complemented by black high heeled chucks.
Since this is a movie set on a college campus, pretty much everyone wears chucks at least once during the film's run time. Both the Bellas and the Treblemakers can be seen wearing chucks on and off the stage at various points in the film, but the best chucks scene comes during the Bellas big finale at Nationals. Having decided that they would finally buck tradition, the Bellas have turned in their traditional high heels for high-heeled chucks to complement their more casual look. They perform a modern medley arranged by Beca, and take home the title. This embrace of a new look and attitude is what the film has been building to, and the chucks are a great detail that show that these truly are a whole new Barden Bellas.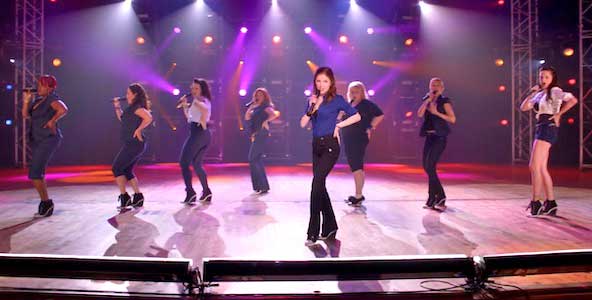 The NEW National Champs!
Pitch Perfect. (2012) Anna Kendrick, Skylar Astin, Rebel Wilson, Anna Camp, Brittany Snow, Hana Mae Lee, Alexis Knapp, Ester Dean, Kelley Jakle, Shelley Regner, Wanetah Walmsley, Adam DeVine, Ben Platt, Utkarsh Ambudkar, John Michael Higgins, Elizabeth Banks. Directed by Jason Moore.
Categories: Comedy, Musical.
ChucksConnection Rating:

MPAA Rating: PG-13
Support the film industry by purchasing genuine DVD, Blue Ray, or streaming copies of these films. Illegal copies only help profiteers. Make sure your money goes to the producers and artists who actually create these films. Still images from the film are used here as teasers to get you to view an authorized copy. If you have information about a film where a main character wears chucks, contact us at films@chucksconnection.com.