A ChucksConnection TV Series Feature
Henri Esteve wears black high top Converse "Chuck Taylor" All Stars in the series.
Stakia Lynn Washington wears black and red high top Converse "Chuck Taylor" All Stars in the series.
Primo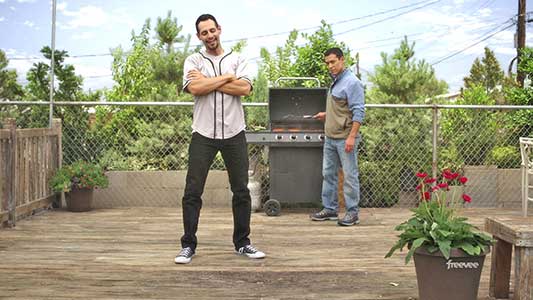 Uncle Rollie wears black high top chucks proudly as he contemplates whether or not he can punch a hole in the deck.
We all know how complicated family can be, but does your family have five uncles who are trying to help your single mother raise you? If it doess, or if you just happened to grow up in a close family where it felt like that was the case, the new Amazon FreeVee show Primo may be the perfect show for you. Created by acclaimed author Shea Serrano, Primo is based on his life growing up around his extended family in San Antonio. The show stars Ignacio Diaz-Silverio, Christina Vidal, Carlos Santos, Henri Esteve, Johnny Rey Diaz, Efraín Villa, Jonathan Medina, and Stakiah Washington and premiered on May 19th, 2023, streaming for free on the aforementioned FreeVee.
Mya, Rafa's new friend, also wears chucks in the show.
The show follows 16-year-old Rafa (Diaz-Silverio) as he grows up in San Antonio Texas. Being raised by his mom, Drea (Vidal), he struggles with everything that every high school junior struggles with. However complicating his life are his five uncles: Ryan (Santos), Mike (Esteve), Rollie (Diaz), Mondo (Villa), and Jay (Medina). Each uncle has their own personality and philosophy that they use to try and advise Rafa which means that getting any advice can prove to be a challenge. Ryan is the youngest and a financial advisor. He got a certificate from a tech school and he thinks of himself as the smart sibling. Mike is a Veteran and is disciplined in everything he does. Rollie is the wildcard of the bunch and has been to jail many times, but as he says, it was for the right reasons each time. He also wears high top black chucks through most of the show and honestly, they are the perfect shoe for him. Mondo is the calm one and very in touch with his spirituality and his oneness with the universe. Finally, there's Jay, the oldest and most pragmatic of the bunch whose deadpan voice cuts through any conversation. With decisions about college, girls, and friendships all on the docket, Rafa might just need all the help he can get.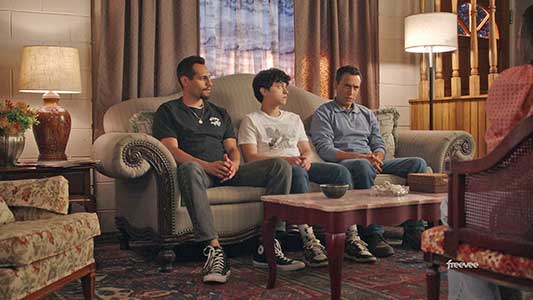 They say that the truth will set you free. "They" lied.
When it was announced that Shea was teaming up with Michael Schur for a TV show, fans of both knew that something good was cooking and this show does not disappoint. Shea has such a distinct voice in his writing and his conversational style from his books and articles works even better in the sitcom format. The characters all feel so real and if you grew up in a Mexican-American family, than at least one of the uncles in this show will remind you of one of your family members. Serrano has said that he pitched the show to Schur because he was "tired of waiting for there to be more Mexicans on TV."
Super important planning going on here
However, the beautiful part about these characters is that they aren't stereotypes. They're not speaking Spanish or talking constantly about how Mexican they are. They are just living their lives and the representation comes from their traits, culture, and familial bond. They have such memorable personalities and traits that make them unique characters in the world of modern TV. The jokes also land so much and at an impressive rate that it makes binging the ten episode first season so easy to do. Here's hoping Primo enjoys a similar success to Schur's other shows and is a long-running, beloved, classic.
Mya contemplates how she really feels about Rafa.
Do you know of other television shows or series where a main character wears Converse All Star Chuck Taylors? Can you describe a favorite episode or two from the series, or do you have additional information about the shows described here already? Do you have videotapes, DVDs or shot captures of episodes from any of the series that haven't been given an in depth article on this site? If you do, email us at chucksphotos@chucksconnection.com and we will add the information to the television pages.