A ChucksConnection TV Series Feature
Zoe Wiesenthal wears red, yellow, white and light blue high top Converse "Chuck Taylor" All Stars in the series.

Ruby and the Well
Ruby O'Reilly walks out her front door.
Widower Daniel O'Reilly (Kristopher Turner) and his fourteen-year-old daughter Ruby (Zoe Wiesenthal) have just arrived in the small town of Emerald to start a new life living in a rundown apple orchard that was left to him by his uncle. He apparently has some money of his own saved up, as he seems to be in no hurry to restart operations and there is plenty of work to do to get the orchard and house operational again. Soon Daniel enlists the help of older teen and handyman Ben (Joel Oulette) to help him, who the O'Reilly's discover is actually already living on the premises. As Ruby explores the property, she discovers a moss covered well that has magical qualities which are activated when she touches the edge of the well. The well lights up, visions appear, and writing appears on its side designating Ruby as its new "well-keeper". The main purpose of the well communicating to Ruby (and only to her as we discover later) is to tell her about unfulfilled wishes of people in the Emerald community. It is then her mission to figure out who each vision is about and to help that person gain his/her wish. In town Ruby meets two other teens Mina (Lina Sennia) and Sam (Dylan Kingwell) whom she enlists to help her with the detective work and doing what it takes to fulfill each wish.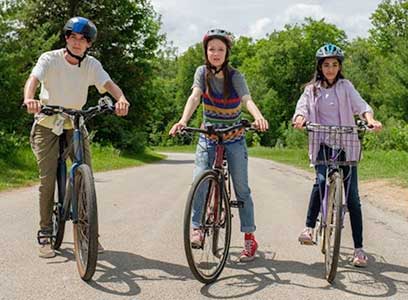 Ruby bicycling with her friends Sam and Mina.
In order to get Mina and Sam involved in helping her with her work to grant wishes, Ruby must confide in them where she gets her information and ideas about unfulfilled wishes in Emerald. They are quickly accepting of what Ruby tells them about the well and are excited about the new challenges this work entails. The three are quite compatible friends dressing in a similar manner of all modern teens (jeans, tee shirts, sneakers) as they bicycle around town. Zoe Wiesenthal who plays Ruby really likes wearing pairs of high top chucks. Although her favorite pair is red, she also is seen sporting white, light blue, and yellow high top pairs throughout the series. Confiding with her father is much more difficult decision for Ruby. On the one hand she wants to, but doesn't know if he will accept what she tells him, something made more difficult by the fact that the well visions only appear to Ruby when she is alone. The plot line also makes the point that well keeping is an Irish tradition, and that Ruby is the latest person in the family tree to occupy that position. Later Ruby discovers an ancient book written in manuscript that describes all of the past well wishes and this is something that Daniel can relate to.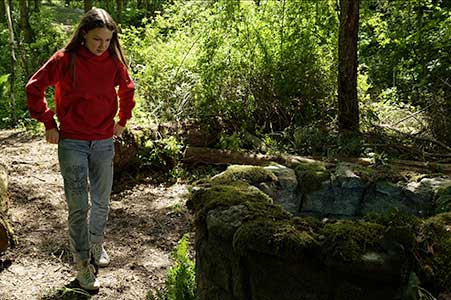 Ruby approaches the well.
Each of the ten episodes in the series focuses on Ruby's vision of someone's wish and then the follow through as she, Mina, and Sam work to discover who made the wish and how to fulfill it. This often involves them becoming very nosy in other people's private affairs and sometimes this causes overreach on their part requiring profuse apologies, but eventually their efforts result in a happy ending. Some of the wish story lines include helping a woman in town reunite her family — a story that includes Ben, helping the local librarian reopen the currently closed town library — a story that includes a treasure hunt, and helping a local beekeeper and science teacher get credit for research she did while a graduate student that was not given the proper credit. The series is designed to be very family friendly with no sex, violence, bad language, or even arguments. While that approach has its benefits and the lead characters have a lot of appeal, it also makes for some of the episodes lacking in pizazz which would be especially true if you took away the fantasy element, these days seemingly a requirement for this type of show. Real life small towns are often filled with all kinds of intrigue and we have some interesting characters to work with. Daniel, the now single father, Ben, the handsome handyman coming out of isolation, and even Sam, a quite attractive teenager in his own right certainly have the potential for romance. But nothing occurs along those lines and Ruby and Mina only see Sam as a friend at least at this stage of the series.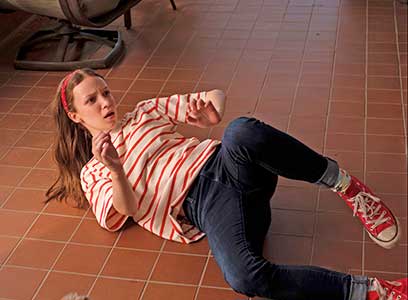 Ruby falls down on the floor.
Ruby and the Well is distributed by BYUtv, a media arm of Brigham Young University, but the series itself is produced and filmed in Canada by Brian and LeeAnne Adams. The first season of ten episodes is free to watch online from their website.
Ruby and her dad racing Sam and his mom.
Do you know of other television shows or series where a main character wears Converse All Star Chuck Taylors? Can you describe a favorite episode or two from the series, or do you have additional information about the shows described here already? Do you have videotapes, DVDs or shot captures of episodes from any of the series that haven't been given an in depth article on this site? If you do, email us at chucksphotos@chucksconnection.com and we will add the information to the television pages.