A ChucksConnection Film Review
Liliana Mumy wears blue and black high top Converse "Chuck Taylor" All Stars in the film.
The Santa Clause 3: The Escape Clause
by Marcus Angulo


Lucy wears blue chucks in most of the movie.
Have you ever wondered what it would be like to be Santa Claus? The responsibility of carrying the spirit of Christmas on your back would be such a struggle that you may one day look for a way out of being Santa. An escape clause if you will. The Santa Clause 3: The Escape Clause is the third installment in the Santa Clause franchise. It stars Tim Allen, Martin Short, Elizabeth Mitchell, Eric Lloyd, Wendy Crewson, Judge Reinhold, Liliana Mumy, Alan Arkin, Ann-Margret, and Spencer Breslin. It was released in theaters on November 3, 2006 and grossed $110 million worldwide.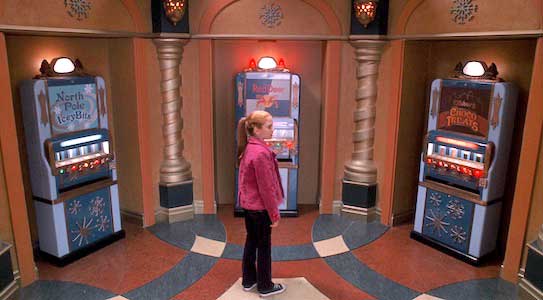 In the alternate timeline though, Lucy wears black chucks.
Scott Calvin (Allen) has been Santa Claus for twelve years, living in the North Pole with his wife Carol (Mitchell). Carol is now the school teacher for the young elves, and on Christmas Eve, she tells them a story from her life with Scott while expecting their first child. Carol is pregnant and very homesick. Scott then has the idea to bring Carol's parents to the North Pole for Christmas. However, Sylvia (Ann-Margret) and Bud (Arkin) don't know that Scott is Santa, they've just been told that he's a toy maker in Canada. So Scott has the elves decorate the North Pole in various Canadian-themed paraphernalia and pretend to be very short Canadians to keep up the ruse. Scott's ex-wife Laura (Crewson), her husband Neil (Reinhold), and their daughter Lucy (Mumy) tag along because they've always wanted to see the North Pole. Meanwhile, Scott is summoned to a meeting of the Council of Legendary Figures, which consists of Mother Nature, Father Time, the Easter Bunny, Cupid, the Tooth Fairy, and the Sandman. They are worried about the behavior of member Jack Frost (Short), who is jealous that he has no holiday or special occasion in his honor. He has been promoting himself during the Christmas season, attempting to overshadow Santa. Because of this, Mother Nature suggests sanctions against him, and Frost negotiates a light sentence of community service at the North Pole.
Scott consults with the Council of Legendary Figures.
While at the North Pole, Frost get Curtis (Breslin), the Head Elf, to reveal that there is an Escape Clause. The clause states that Santa can stop being Santa by saying the magic phrase while holding their sacred snowglobe. Jack makes this his goal while in the North Pole. He also goes about causing chaos at the workshop, malfunctioning machines left and right. This creates a headache for Scott who has to deal with all these issues, which causes him to ignore his visiting family and Carol. Scott goes on to show Lucy his snowglobe, and unbeknownst to him, Frost breaks in and snatches it after they've left. Lucy discovers this, but before she can warn Scott, Frost freezes her parents and locks her in a closet. Scott goes on to have a fight with Carol after he ruins the Christmas tree and breaks the star. Frost offers him a shoulder to lean on, but while comforting him, Frost tricks Scott into invoking the Escape Clause. They are then both sent to Scott's front yard in 1994, when Scott caused the original Santa to fall off his roof and had to replace him. This time though, Frost causes the Santa to fall, taking his coat and becoming the new Santa. Transported back to present day, Scott finds himself alone on Christmas, working his old civilian job. In this alternate timeline, the events of the franchise never happened, and everyone's lives are worse for it. Frost has ruined Christmas by making the North Pole open to the public, and it's up to Scott to somehow set things right, saving Christmas and his family.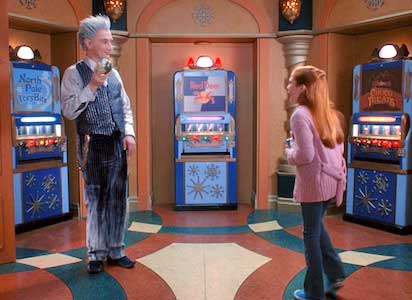 Lucy catches Jack Frost blue handed.
This film is definitely the weakest in the trilogy. Lacking the energy and character of the first two movies, this film is incredibly boring and lacks any sense of urgency. The plot is almost non existent as really only Jack Frost has a purpose. Carol and Scott's fight is over nothing and their conflict feels forced. It really doesn't feel like a big enough deal for Jack's plan to work. Jack's plan by the way, only lasts for eighteen minutes. He finds out about the escape clause, he tricks Scott, becomes Santa, loses the title of Santa, and everything is back to normal in under twenty minutes. So even the main conflict of the film is just so anti-climactic. The film also relies too much on silly slapstick and bland gags to ever really be funny. Martin Short is wonderful but he is always a welcomed sight. This is such a whimper of an ending for a franchise that had such a cool start.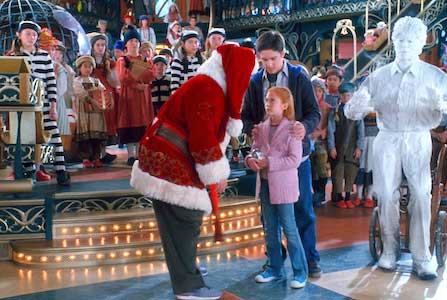 Scott and Lucy come up with a way to unfreeze her parents.
Best Chucks Scene


Lucy and Scott arrive at his snowglobe.

The best chucks scene in this film is definitely when Lucy and Scott visit the Hall of Snowglobes. Lucy wears chucks through almost all her scenes, wearing blue ones in the right timeline and black ones in the alternate tinmeline. In this scene though, we get our best look at them and they fit her personality perfectly. She's an adventurous, kind, and caring kid who is full of wonder for the world she knows. She also loves snowglobes and is blown away by the collection of snowglobes of all the Santa's there have ever been. She wanders around the room in awe of the collection, but finds her uncle Scott's in the middle and tells him it's her favorite. He then gifts her her own snowglobe where she hugs a snowman and turns him pink. Scott tells her it's because she gives "magic hugs". Lucy does act as the emotional center for this film so it's nice to give her a scene where we see why she's important to the films climax.
Lucy and Scott leave the Hall of Snowglobes with a special present.
The Santa Clause 3: The Escape Claus. (2006) Tim Allen, Martin Short, Elizabeth Mitchell, Eric Lloyd, Judge Reinhold, Wendy Crewson, Liliana Mumy, Spencer Breslin, Ann-Margret, Alan Arkin, Abigail Breslin, Art LaFleur, Aisha Tyler, Kevin Pollak, Jay Thomas, Michael Dorn, Peter Boyle.
Directed by Michael Lembeck. Categories: Comedy, Family
ChucksConnection Rating:

MPAA Rating: G
Support the film industry by purchasing genuine DVD, Blue Ray, or streaming copies of these films. Illegal copies only help profiteers. Make sure your money goes to the producers and artists who actually create these films. Still images from the film are used here as teasers to get you to view an authorized copy. If you have information about a film where a main character wears chucks, contact us at
films@chucksconnection.com.