A ChucksConnection TV Series Feature
Kristian Ventura wears black high top Converse "Chuck Taylor" All Stars in the series.
Kiara Pichardo wears print low top Converse "Chuck Taylor" All Stars in the series.
School Spirits
Simon, Nicole, and Maddie in front of the school auditorium.
This young adult drama stars Peyton List as Maddie, a senior at Split River High School, who discovers that she is now a ghost confined to the physical area of the school. She suffers amnesia from the event that changed her life which adds to her frustration as she begins to investigate what happened to her. But no one can see or hear her, given her ghostly status, except for a support group of other ghosts who also died on campus over the past sixty years, led by former chemistry teacher Mr. Martin (Josh Zuckerman). As the story begins we meet several of these other ghosts, Charley (Nick Pugliese) a friendly gay kid from the nineties, standoffish Rhonda (Sarah Yarkin) from the sixties, and late fifties campus jock Wally (Milo Manheim), as they help orient Maddie as to what she can and cannot do in her new ghostly life style. One surprising thing that Maddie discovers and that she initially keeps secret from the other ghosts is that there is one living human on campus that she can still communicate with, her best friend Simon (Kristian Flores). Not only can he see Maddie, he can talk to her, and quickly he becomes her main ally in her quest to find out was responsible for her death.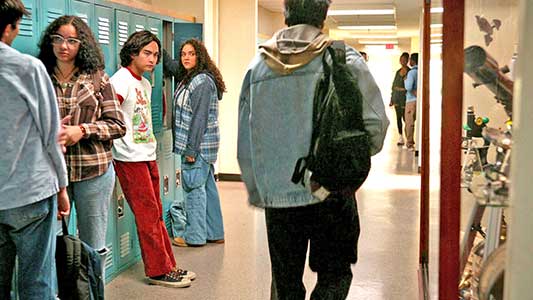 Simon and Nicole at their lockers in the hallway.
One of the interesting features of the series is how it shows the different eras of high school over the past sixty years. The high school scene as of today is where the murder mystery element of story line is carried out, with different friends and home life all coming under scrutiny, as Maddie and Simon try to figure out what happened to her in the boiler room of the high school, after waking up from being unconscious, and then discovering her new ghostly status. Meanwhile in the afterlife, Maddie attends regular support group sessions with the other ghosts and we learn many of their stories, how they died, and what their scene was at Split River high. The group does spend a lot of their time preparing for and attending school functions; they are invisible to the current school community but maintain the traditions that were part of their real life existences. A lot of this is do to the fact that they seemed resigned to their fate. Eventually we become to understand what their main concern is: "How do I transition out of this high school purgatory?"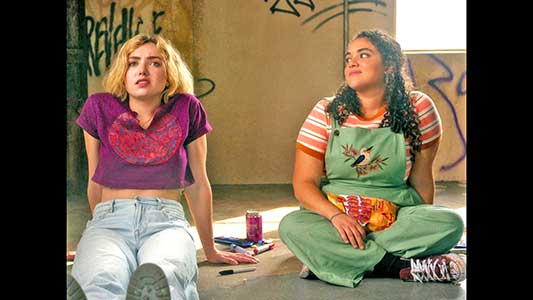 Maddie and Nicole seated on the floor of the crafts room.
In each of the eight episodes of the first season, the emphasis of its main story line is the investigation of a different potential suspect. The first of these suspects is Maddie's new boyfriend (Spencer Macpherson), especially when her cell phone is discovered in his backpack. There are many twists and turns in their investigation. But each episode ends with Maddie and Simon discovering a clue that clears the current suspect and casts suspicion on a new one. The police are involved but only peripherally, as they are tending to treat Maddie's disappearance as a runaway case, with no body yet found. The secondary story, Maddie's relationship with the other ghosts, is another element that keeps the series interesting and entertaining. It's not just another mystery story with a supernatural side; we see Maddie developing personal relationships with many of the ghostly characters.
Simon and Maddie meet at the bus stop during school.
School Spirits is the creation of brother and sister producers Nate Trinrud and Megan Trinrud. Written originally to be a graphic novel, the work has jumped ahead to become a successful streaming series on Paramount+ that has already been given the go ahead for a second season. An important part of its success is the excellent casting. School Spirits is a breakthrough role for lead actress Peyton List. While on the one hand she must deal with the trauma of being a murder victim, she never allows that side of her to become too maudlin. She stills maintains that sense of humor and cynicism that teenagers have which keeps things perky and light and makes her reactions to the many twists in the story line spot on. Kristian Flores' Simon has a lot of personality and emotion as he leads the investigation into what happened to Maddie, helping to ferret out clues as Maddie starts to remember some of the events occurring at or just before she wakes up in the boiler room, and fiercely going after each suspect. Simon is an independent force in the real life student body, emphasized by the black high top chucks with bright orange shoelaces he wears in in most of the episodes. Nick Pugliese's Charley is the first ghost we get to know in some depth, as he steps up to befriend Maddie and help her acclimate to her new situation. We get to know Milo Manheim's Wally as he pursues Maddie to build up a romantic relationship with her, as if ghosts could actually date. There is some wit and humor in seeing jock football player from 1957 trying to adapt to the mores of the 21st century. While mixing ghosts and real life humans to solve a murder mystery is nothing particularly new, School Spirits is worth watching because of its interesting mixture of humor, crime solving, and character development.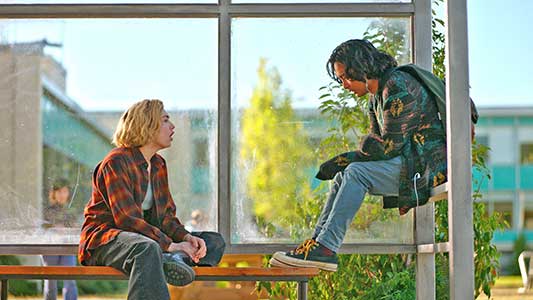 Simon likes to meet with Maddie while the two of them are alone so people won't think he is talking to himself out loud.
Do you know of other television shows or series where a main character wears Converse All Star Chuck Taylors? Can you describe a favorite episode or two from the series, or do you have additional information about the shows described here already? Do you have videotapes, DVDs or shot captures of episodes from any of the series that haven't been given an in depth article on this site? If you do, email us at chucksphotos@chucksconnection.com and we will add the information to the television pages.