A ChucksConnection Film Review


Jenna Ortega wears natural ivory high top Converse "Chuck Taylor" All Stars in the film.
Mason Gooding wears black high top Converse "Chuck Taylor" All Stars in the film.
Scream VI
by Marcus Angulo


After the events of the last film, Sam has become a social pariah.
What's your favorite scary movie? When that question was asked in the first Scream film 27 years ago, audiences were immediately hooked. The satirical take on the tropes of slasher films became an instant hit and spawned a franchise that has lasted nearly three decades. The franchise returned to form with a relaunch of the series with 2022's Scream which was a commercial and critical success. A sequel was immediately greenlit and filmed. Scream VI was released on March 10th, 2023, and stars Melissa Barrera, Jenna Ortega, Jasmin Savoy Brown, Mason Gooding, Hayden Panettiere, Courteney Cox, Josh Segarra, Jack Champion, Devyn Nekoda, Liana Liberato, Samara Weaving, Tony Revolori, and Dermot Mulroney. Notably absent is Neve Campbell who didn't return to due to a pay dispute with Paramount Pictures.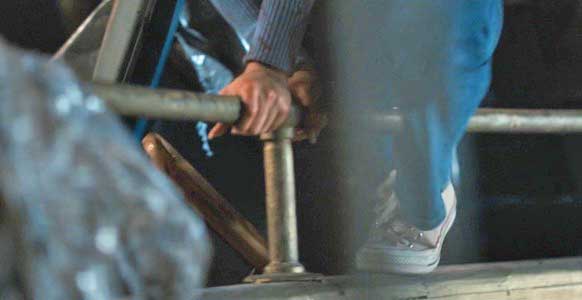 Tara wears these chucks through the entire film.
A year after the Woodsboro killings done by Richie Kirsch and Amber Freeman, Blackmore University professor Laura Crane (Weaving) is catfished by her student Jason Carvey (Revolori). He lures her outside a bar in New York City and murders her while wearing a Ghostface costume. He then plots with his roommate Greg to kill sisters Sam (Barrera) and Tara (Ortega) Carpenter to finish the "movie" that Richie and Amber started. However, before they can go through with their plan, Jason gets a call from a different Ghostface and learns that Greg is dead before this Ghostface murders him as well. Sam and Tara now live in New York City, with Tara attending Blackmore and Sam working multiple jobs. They live with fellow survivors Chad (Gooding) and Mindy (Brown) Meeks-Martin, alongside their roommate Quinn Bailey (Liberato), Mindy's girlfriend Anika Kayoko (Nekoda), and Chad's roommate Ethan Landry (Champion). In the year since the killings, Sam has become a public figure, and conspiracy theories that say she was the real killer have sprung up online. After Sam's ID is found at the scene of Jason's murder, she is brought in for questioning by Quinn's father, NYPD detective Wayne Bailey (Mulroney).
A new batch of killings starts and the "Core Four" are at the center of it.
At the station, the sisters meet with FBI special agent Kirby Reed (Panettiere), a survivor of the 2011 Ghostface killings. They also encounter reporter Gale Weathers (Cox), whom Sam and Tara resent for writing a book based on the events of last year. Mindy theorizes that the killer is following the rules of film franchises, specifically the rule that anyone can die while the franchise will still continue which means they're all expendable. Ghostface then attacks the group at their apartment, killing Quinn and Anika, and injuring the others. Detective Bailey is taken off the case since his daughter is now a victim, but he vows to help the group catch the killer. A showdown is eminent after Gale finds the killer's hideout in an abandoned cinema which is filled with memorabilia from all the Ghostface murders.
Chad also wears chucks in this film, even when fighting off Ghostface.
This film is such a fun thrill ride from start to finish. Melissa Barrera is a great lead for this franchise as she has the right mix of charisma and edge. You can believe that she's tough enough to do the more violent scenes the role requires. Jenna Ortega is a superstar she really shines as Barrera's younger sister. Their chemistry is the lowkey heart of this film and you buy their relationship the whole time. The supporting cast is very fun and they all have great moments. While Neve Campbell is missed, the film didn't really need her and the best part of the story is its focus on Sam and Tara. There is a level of disbelief with the reveal in that the person playing Ghostface goes from being a normal person to a psycho cartoon villain once the mask comes off, but that's more a trope of the franchise. Overall, this is a great entry into the franchise and keeps hope alive that whatever is next for these characters will be a worthwhile tale to tell. So, with all that being said, what's your favorite scary movie?
Sisters stick together.
Best Chucks Scene


Sam and Tara take cover as Ghostface has them cornered in a bodega.

The best chucks scene in the film comes when Ghostface first attacks Sam and Tara. After learning that Ghostface is in New York City, Sam and Tara debate leaving. Sam's phone rings and the call comes in from Richie Kirsch's (Sam's ex and the killer from the previous film) phone number. Ghostface says he is going to expose Sam for the killer she is before appearing before the pair. He chases them into a bodega where the girls try to ask for help from the guy behind the counter. Ghostface walks in and immediately kills one of the shoppers. The clerk pulls a shotgun out and tries to shoot Ghostface, but he's stabbed and then shot by his own gun. Ghostface, now armed with a shotgun, stalks the girls through the aisles. In an incredibly tense and well-staged scene, Sam and Tara eventually get away from Ghostface, but he escapes out the back before the police can nab him. This scene is a great set piece and a unique setting for the franchise. It's tense and thrilling, and we get plenty of great shots of Jennas Otrega's natural ivory high top chucks as she scoots around the store.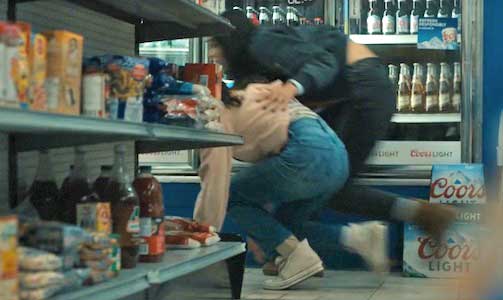 Tara and Sam barely escape this bodega with their lives.
Scream VI. (2023) Melissa Barrera, Jenna Ortega, Jasmin Savoy Brown, Mason Gooding, Hayden Panettiere, Courteney Cox, Josh Segarra, Jack Champion, Devyn Nekoda, Liana Liberato, Samara Weaving, Tony Revolori, and Dermot Mulroney.
Directed by Matt Bettinelli-Olpin and Tyler Gillett. Category: Horror.
ChucksConnection Rating:

MPAA Rating: R
Support the film industry by purchasing genuine DVD, Blue Ray, or streaming copies of these films. Illegal copies only help profiteers. Make sure your money goes to the producers and artists who actually create these films. Still images from the film are used here as teasers to get you to view an authorized copy. If you have information about a film where a main character wears chucks, contact us at
films@chucksconnection.com.