A ChucksConnection TV Series Feature
Lukita Maxwell wears black and optical white high top Converse "Chuck Taylor" All Stars in the series.

Shrinking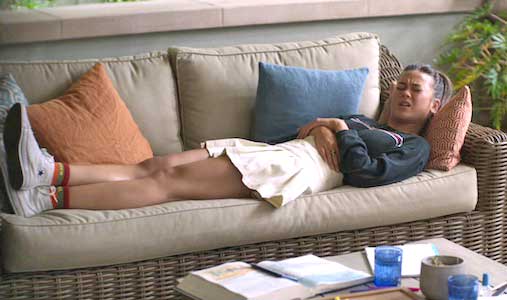 Alice lounging in a pair of optical white high top chucks.
How is one supposed to grieve? How long is it OK to not be OK? How long do you let life pass you by before you get back up? There isn't a right answer to any of these questions and that's what makes grieving seem impossible. The new Apple TV+ show Shrinking attempts to tackle what it means to grieve and what it means to live when your world is shattered. The show stars Jason Segel, Jessica Williams, Luke Tennie, Michael Urie, Lukita Maxwell, Christa Miller, and Harrison Ford, and it just completed its ten-episode first season. The series has been renewed by Apple for a second season.
Alice playing basketball in her black high top chucks.
Jimmy Laird (Segal) is a man who has been devastated by the loss of his wife a year ago. Dealing with severe grief and depression, he has neglected everything in his life including his teenage daughter Alice (Maxwell). He spends most of his days in a drunken haze as he numbly "lives" his life. He also works as a therapist at the Cognitive Behavioral Therapy Center with fellow therapists Gaby (Williams) and Dr. Paul Rhodes (Ford). One day while seeing a patient he finally reaches a breaking point. He grows tired of advocating for incremental self-improvement and tells Grace, a woman in an emotionally abusive relationship, to cut her husband out of her life. "Leave him, or I'm done being your therapist," he blurts, and before he can apologize for crossing the line, she responds with "Okay", and walks out of the appointment. She ends up moving in with her sister, and this confirms to Jimmy that maybe he's onto something here. "Psychological vigilantism" he calls it and this reinvigorates him. However, Jimmy is clearly using this new method of therapy to fix something that's been broken inside himself since his wife died.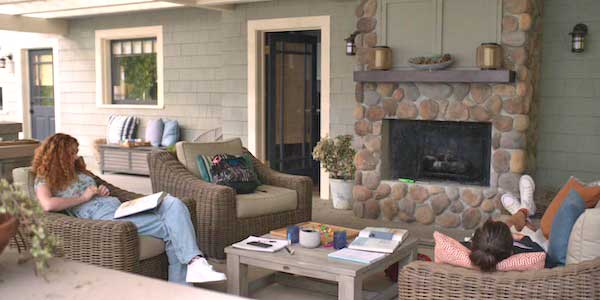 Kicking back in chucks..
This "breakthrough" leads him to try and get his life back on track, starting with his relationship with Alice. For the past year as Jimmy has devolved into booze and drugs, Alice has been left basically on her own to grieve and care for herself and Jimmy. This has left them with little to no relationship and you can tell that Alice truly resents him. Alice herself seems to be doing well away from Jimmy. She's a star soccer player and spends most of her nights with their empty-nester neighbor, Liz (Christa Miller). She's very smart and funny and wears chucks throughout most of the first season which fit really well with her personality. Jimmy is so eager to repair this relationship and fix himself that you can easily see why he jumps headfirst into this new rushed method of therapy. However, that is the problem with grief and mental health. You can't rush it, and if you do there can be disastrous results.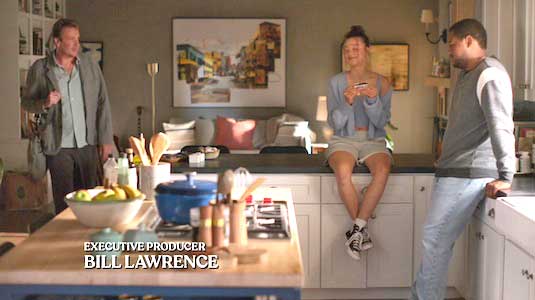 Alice grows closer to Shaun over the course of the season.
This show has an absolutely incredible cast. Jason Segal is so good at balancing the raw emotional moments with an endearing aura that keeps you rooting for Jimmy to get it together. Lukita Maxwell also shines as Alice and she balances the angst and anger with humor and love perfectly. The rest of the ensemble is also stellar with Jessica Williams and Harrison Ford being the other standouts. This cast carries the show and their chemistry makes all the emotional moments hit really well. It will be interesting to see how season two handles the consequences of Jimmy's choices with his patients, and how that affects the place he gets to by the end of season one. This show is definitely comforting though, and worthy of a watch.
Alice has a heart-to-heart with Gaby.
Do you know of other television shows or series where a main character wears Converse All Star Chuck Taylors? Can you describe a favorite episode or two from the series, or do you have additional information about the shows described here already? Do you have videotapes, DVDs or shot captures of episodes from any of the series that haven't been given an in depth article on this site? If you do, email us at chucksphotos@chucksconnection.com and we will add the information to the television pages.