A ChucksConnection TV Series Feature
Nick Purcha wears unbleached white high top Converse "Chuck Taylor" All Stars in the series.
Keean Johnson wears black low top Converse "Chuck Taylor" All Stars in the series.
Spooksville
The three main characters of Spooksville.
Spooksville is a combination family grade horror and live action television series that first aired on the Hub Network from October, 2013 to May, 2014. The show is based on the book series of the same name by Christopher Pike. Although described as a family show, a notice at the beginning of each episode suggests that families with young children watch it together as many of the scenes are frightening for younger viewers. The series covers a wide variety of subjects unusual for a family show. For example Adam Freeman, the main protagonist in the series, discovers a spider-lizard in his bedroom trying to take away his teddy bear, is hit by a car whose driver works for the town witch, then is menaced by screeching flying creatures on his way back home. Later with his new friends Sally and Watch he discovers a stake where witches were once burned, and a ruby stone that can transport people back in time. And all this occurs in the opening two part episode.
Searching for buried treasure.
Spooksville focuses on teenager Adam Freeman (Keean Johnson), who arrives in the small New England town of Springville with his widowed father (Steve Bacic), to start out a new life. Quickly Adam discovers that Springville is the hot spot for a wide variety of supernatural and extraordinary occurrences, which is why the locals call the town Spooksville. As the series progresses, the viewer is made aware that Adam is a conduit to the battle between good and evil forces that has been going on in Springville since colonial America. As a result, he and his friends become involved in the many strange events that happen there on a regular basis. On his very first day in town, Adam meets Sally Wilcox (Katie Douglas) and Watch Waverly (Nick Purcha), who immediately sense that there is something special about Adam and aggressively promote becoming his friends. Their friendship turns out to be very important for Adam, as they understand what is going on in Spooksville, and they help Adam get through the events of his first days (as described above) and beyond.
Sally, Watch, and Adam discover a strange heat source.
The four main characters in the series are Adam, Watch, Sally, and Ann Templeton (Morgan Taylor Campbell). Ann is actually a witch, but a good witch who gradually develops a crush on Adam. A teenager like the other three main characters, Ann lives alone in a mansion estate called Shadowmire, along with her servant Moorpark. Her lineage extends back to the Salem Witch trials, where ancestor witch Madeline Templeton was tried for witchcraft and later placed a curse on the entire town of Spooksville. Sally has a cynical and fearless personality, unafraid of authority and clever at manipulating people to get her way. Sally is suspicious of Ann, but as the series progresses they develop an uneasy friendship, especially when Ann uses her powers to help her discover the many secrets of Spooksville. Watch is a boy genius who got his nickname from the pair of watches he wears on both wrists. His technical skills and knowledge are a great asset in their war on evil. Watch also wears natural ivory high top chucks throughout the series. Adam seems easy-going and sometimes is unwilling to try and fix supernatural wrongs unless pressured by Sally and Watch. He says he just wants to be just a normal teen playing on the high school football team, but he does have another important hidden agenda. Adam's supposedly deceased mother, formerly lived in Spooksville and is one of the few people who knows its strange and dark secrets. He eventually finds out that his mother is still alive from Ann Templeton, through a magic spell.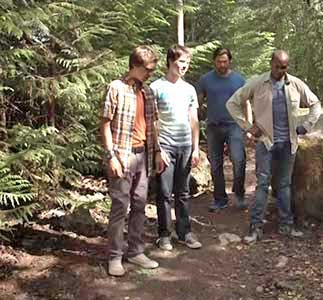 Watch, Adam, Adam's father, and Moorpark at the dig.
Often episodes in the series take Adam, Watch and Sally into other dimensions, or alternate realities of Springville. For instance, after knocking on the door of what appears to be an abandoned house while trick-or-treating on Halloween, they discover a carnival of costumed adults trapped inside under the control of a child magician called Marvin the Magnificent who it turns out just wants to go home to his parents. In another episode the three go exploring a cave after hearing that Adam's mother had saved some kids trapped inside and had it sealed. Once inside they discover that the cave is actually a living entity greatly upset when people walk inside it. In a third episode, Ann tries to help Adam find his lost mother. Unfortunately her attempt to do so sends all of them into a parallel universe where Springville has been turned into a Walking Dead wasteland and they are pursued by zombies.
Watch, Sally, and Adam see something strange at the library.
Spooksville explores many other common horror themes, although nothing particularly violent. There are aliens trying to take over the residents of Spooksville, and even a plant that does the same thing. There is a strange fog that picks off students when they use their cell phones. There are tonsils just removed during a hospital operation that somehow run away, and our lead characters even encounter Bigfoot. The series is well cast, with a lot of action and plot variety from creators Dan Angel and Billy Brown. Between that and the intensity of many episodes, there is a lot going on visually, with many scenes that may be disturbing to younger viewers. Probably this series is best viewed by kids at least twelve and older. Episodes of Spooksville or the entire season can be purchased for streaming through Amazon Prime.
Morgan Taylor Campbell plays Ann Templeton.
Do you know of other television shows or series where a main character wears Converse All Star Chuck Taylors? Can you describe a favorite episode or two from the series, or do you have additional information about the shows described here already? Do you have videotapes, DVDs or shot captures of episodes from any of the series that haven't been given an in depth article on this site? If you do, email us at chucksphotos@chucksconnection.com and we will add the information to the television pages.