A ChucksConnection TV Series Feature
Finn Wolfhard wears black high top Converse "Chuck Taylor" All Stars in the series.
Maya Hawke wears black high top Converse "Chuck Taylor" All Stars in the series.
Charlie Heaton wears natural ivory high top Converse "Chuck Taylor" All Stars in the series.
Stranger Things, Season 4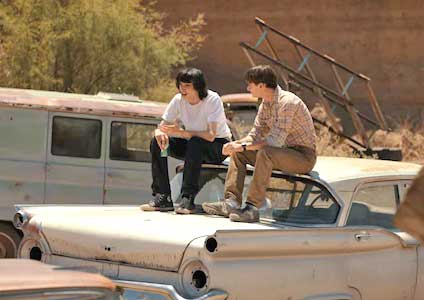 Mike and Will ponder what they're next move is going to be.
It's mind-blowing that the Netflix phenomenon Stranger Things has been streaming in our homes for six years now, debuting in 2016 and immediately taking the world by storm while making stars out of its incredibly talented young cast. The sense of childhood wonder combined with 80's sci-fi nostalgia ingrained the show in pop culture. Each subsequent season has been bigger and pushed the story forward. This brings us to the premiere of the penultimate fourth season, which dropped Part 1 on May 27, 2022, and Part 2 on July 1, 2022. The stellar cast returns and also adds a few new members. Season 4 stars Winona Ryder, David Harbour, Finn Wolfhard, Millie Bobby Brown, Gaten Matarazzo, Caleb McLaughlin, Sadie Sink, Natalia Dyer, Charlie Heaton, Noah Schnapp, Joe Keery, Dacre Montgomery, Maya Hawke, Brett Gelman, Priah Ferguson, Matthew Modine, Paul Reiser, Jamie Campbell Bower, and Joseph Quinn.
Robin also wears black high top chucks this season.
This season picks up eight months after the end of Season Three. Mike (Wolfhard), Lucas (McLaughlin), and Dustin (Matarazzo) all now attend Hawkins High and are all part of the Dungeons and Dragons group, The Hellfire Club, which is led by Eddie Munson (Quinn). Nancy (Dyer) is still running the school newspaper, while Robin (Hawke) and Steve (Keery) work at Family Video. Meanwhile, in California, Will (Schnapp) and Eleven (Brown) are having a hard time adjusting to a new school, and Elle hasn't regained her powers since defeating the Mindflayer. Joyce (Ryder) has started a new telemarketing job when she learns that Hopper (Harbour) may still be alive and taken prisoner in Russia. Back in Hawkins, Max (Sink) is suffering from PTSD and depression after the death of her brother Billy last season. Chucks are aplenty in this season as Mike, Jonathan, and Robin all wear chucks at various points throughout the story and all three fit perfectly in them as chucks fit with their outcast and rebellious personalities.
Mike sweeps up in his black high top chucks.
Everything seems like normal high school problems until one night after the big game. Eddie is selling drugs to local cheerleader and "it girl", Chrissy, when she suddenly starts levitating while stuck in a trance. She is taken to the Upside Down where she meets Vecna (Bower), the ultimate big bad of the series who's been controlling the Demogorgons and Mind-Flayer in previous seasons. He savagely kills her and leaves her mangled corpse in Eddie's trailer. Eddie is suspect number one in the minds of the people of Hawkins, with the D&D club being labeled a satanic cult. Dustin, Steve, Robin, Nancy, Max, and Lucas work to prove Eddie's innocence in Hawkins, while Mike flies to California to reconnect with Eleven and Will. After an incident with bullies at the roller rink, Elle is taken by the same government officials who originally experimented on her. Mike, Will, Jonathan (Heaton), and Jonathan's friend Argyle race to find her and free her. While all this is happening, Joyce and Murray (Gelman) fly to Russia to try and free Hopper from the gulag he was taken to after his near death in the Season 3 finale. These three storylines intermingle and culminate in the ultimate showdown in the season finale.
Jonathan Byers wears natural ivory high top chucks.

This season may be the best season of Stranger Things yet. It's epic and harrowing and features maybe the best performance of the show from Sadie Sink. Max's journey is one filled with depression and PTSD, and Sink brings such raw emotion and sadness to her performance. Her finest moment comes in her own showdown with Vecna. Trapped by an embodiment of her own depression, guilt, and regret and looking death in the face, Max chooses to fight and she chooses to live. With Kate Bush's iconic "Running Up That Hill" playing in her ears, Max runs through the Upside Down and away from Vecna back to her friends. It's an incredibly powerful scene for anyone who's fought with their own depression to see someone who was wanting death end up fighting to free themselves from it instead. Some other standout performances come from Caleb McLaughlin, Natalia Dyer, Noah Schnapp, Joe Keery, Jamie Campbell Bower, and Joseph Quinn. The villain of Vecna being the big bad of the show and the one who's been behind everything since the start also breathes new life into the show and brings everything together really nicely. The end also sets up season five to be an epic conclusion to this beloved show.
Robin, Dustin, and the rest of the Hawkins gang plan their fight against Vecna.
Do you know of other television shows or series where a main character wears Converse All Star Chuck Taylors? Can you describe a favorite episode or two from the series, or do you have additional information about the shows described here already? Do you have videotapes, DVDs or shot captures of episodes from any of the series that haven't been given an in depth article on this site? If you do, email us at chucksphotos@chucksconnection.com and we will add the information to the television pages.