A ChucksConnection TV Series Feature
Drake Milligan wears black high top Converse All Star "Chuck Taylor" sneakers in the series.
Sun Records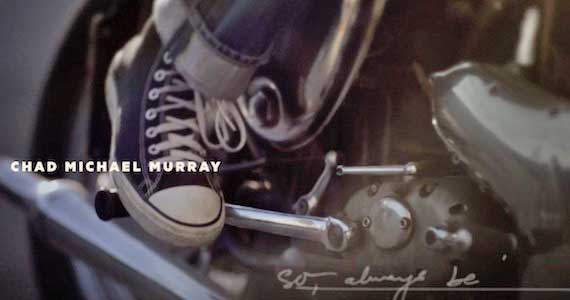 The opening credits feature a shot of Elvis' chucks.
Before the Beatles, Rolling Stones, AC/DC, Led Zeppelin, Jimi Hendrix, and Queen were playing rock music in sold out stadiums around the world, there was a small studio in Memphis, Tennessee that created the rock and roll sound from the guitars, pianos, and vocals from four guys named Jerry Lee Lewis, Carl Perkins, Johnny Cash, and Elvis Presley. Drake Milligan stars as Elvis and wears black chucks in Sun Records, a music industry drama about the birth of rock and roll. The show premiered on CMT in February of 2017, and is based on the play Million Dollar Quartet.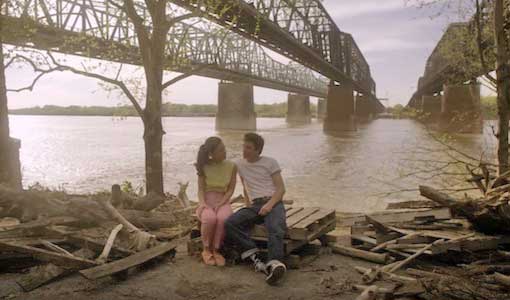 Elvis and Trixie sit by the bank of the Mississippi River.
The show follows rock and roll pioneer Sam Phillips (Chad Michael Murray) and his secretary Marion Keisker (Margaret Anne Florence) as they open up the Memphis Recording Studio in Memphis, Tennessee. Sam has dreams and aspirations to create hit records with a new sound that no one has ever heard before. With the help of local radio disc jockey Dewey Philips (Keir O'Donnell), they start bringing in some big name artists from big labels, such as B.B. King, to record. However, the bills quickly start to pile up as their own homegrown acts aren't charting or selling. Sam is at the end of his rope and bank account, and in need of a megastar to help save his dream.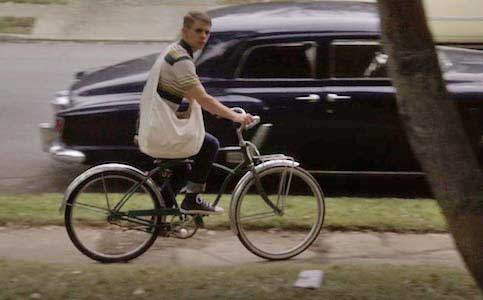 Many minor characters wear chucks in the show, which helps bolster the 1950's aesthetic.
Elsewhere in Memphis, a young, poor Elvis Presley (Drake Milligan) is trying to find himself in a world that doesn't see things the way he does. He loves singing songs and listening to music, but his dad wants him to ditch that nonsense and get a good paying job to help out around the house. Elvis is also seeing a girl by the name of Trixie, who he wants to see the world with. However, after her daddy sees young Elvis strolling out of a "colored" church, he forbids her from ever seeing him again. This helps Elvis realize that Memphis is too small for him, and one way or another, he is going to leave town and see what the world has to offer.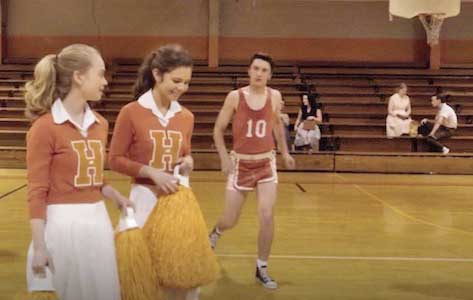 Elvis wearing the basketball gear of the time, including chucks.
In rural Arkansas, Johnny Cash (Kevin Fonteyne) is having the same realization that Elvis is about his home. His dad is small minded and bitter, and there's nothing left to farm on the dirt he was raised on. However, unlike Elvis, Cash thinks joining the Air Force is his best option, and ships off to Germany where he uses music to cope with his loneliness. Back in the United States, Colonel Tom Parker (Billy Gardell) is making the fairground circuit with his artist Eddie Idol, and we see his business savvy along with his larger than life personality.
Elvis has to sneak out of Trixie's room after her daddy forbids her from seeing him.
The show captures the look and feel of 1950's Memphis perfectly, and you get the sense that the city is an integral part of the story. The actors chosen to play the parts of Elvis, Cash, Jerry Lee, Carl Perkins, and all the other musicians on the show do an excellent job bringing these legends to life. Chad Michael Murray does a good job of making Sam Phillips a character we should root for, and never lets him get upstaged by the King. As this show follows Elvis before he became the King, he spends the majority of the show in blue jeans and black chucks, the predominant style of the time. One criticism that can be placed on this show is that there simply isn't enough time to flesh out all of these major characters. The first eight episode season is primarily focused on Sam Phillips and Elvis' journey together in Memphis. Because of this, characters like Johnny Cash, Col. Parker, Carl Perkins, Ike Turner, and Jerry Lee Lewis (Christian Lees) are given the short straw when it comes to time, and often feel shoehorned into a Sam Phillips/Elvis Presley biopic. The second season of the show is currently being shopped by the producers to Amazon and The CW, as CMT chose not to renew it on their network. Here's hoping it gets picked up, as it would certainly be interesting to see where these icons of rock and roll go from here.
Do you know of other television shows or series where a main character wears Converse All Star Chuck Taylors? Can you describe a favorite episode or two from the series, or do you have additional information about the shows described here already? Do you have videotapes, DVDs or shot captures of episodes from any of the series that haven't been given an in depth article on this site? If you do, email us at chucksphotos@chucksconnection.com and we will add the information to the television pages.