A ChucksConnection Film Review
Joel Courtney wears black low top Converse "Chuck Taylor" All Stars in the film.
Gabriel Basso wears black high top Converse "Chuck Taylor" All Stars in the film.


Super 8
by Hal Peterson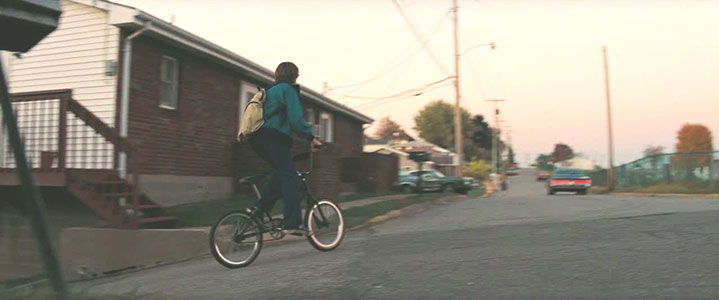 Joe biking around the town of Lilian, Ohio.
Super 8 is set in the small town of Lillian, Ohio in the year 1979. As the films opens, Deputy Sheriff Jack Lamb (Kyle Chandler) and his 14-year-old son Joe (Joel Courtney) are mourning the death of Elizabeth, his wife and Joe's mother, who was killed in a factory accident. Jack blames her co-worker, Louis Dainard (Ron Eldard), for her death because she was covering his shift while he recovered from a hangover. When Louis arrives at the Lamb home to offer his condolences, an angry Jack hauls him away in handcuffs (although he was later released). The Lamb family is in crisis. All the main job of raising Joe was handled by Elizabeth. Jack Lamb is too preoccupied with his work as a deputy sheriff, and he and Joe have become estranged. Jack's answer for how Joe should spend the summer is to pack him away to baseball camp. But Joe has other ideas about how he would like to spend his summer.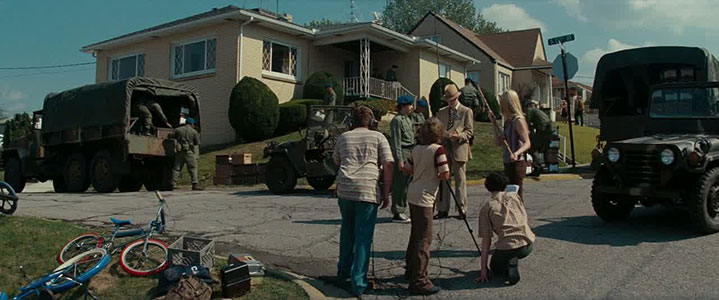 Charles and his friends continue to film despite the presence of Air Force trucks.
Joe's best friend Charles Kaznyk (Riley Griffiths) wants to make a low-budget zombie movie for an international film competition. Charles enlists the help of Joe, Preston (Zach Mills), Martin (Gabriel Basso), and Cary (Ryan Lee), as well as Dainard's daughter, Alice (Elle Fanning). It is a big deal for Charles to land Alice for the film. She is older, can drive, and is considered one of the cool girls at school, generally off limits for freshmen boys like Charles and Joe. Joe serves mainly as the makeup and set design person for the films. He is talented in building models and has learned how to apply makeup and create special effects like gushing blood for the movie. Joe and Alice or Allie as she prefers to be called, end up falling for each other during the film shoot. When their fathers hear about this, they are both furious, and tell their offspring in no uncertain terms that they are forbidden to see each other. But their love for each other is not to be denied, and later in the film pays great dividends for Allie, after she goes missing. The main action of Super 8 begins when Charles wants to film a scene for his movie at the town's train depot, enlisting a passing train to add authenticity. While manning the camera, Joe witnesses a pickup truck drive onto the tracks and ram the train, causing a massive derailment that the friends barely escape from. Although Charles and the film crew drop everything and run in panic, the camera shooting the scene continues to roll as the train wreck throws all kinds of debris around the area. The details of the wreck are very strange. There is a large cargo of strange metal cubes in the wreck. Joe takes one along and later discovers that it seems to have a life of its own. The truck driver, barely alive from the crash turns out to be Dr. Woodward (Glynn Turman), their biology teacher at the local high school. Woodward warns them at gunpoint to forget what they saw that night, or else they and their parents will be killed. Joe, Charles, Allie and the others are able to drive away just as a special Air Force convoy, led by Colonel Nelec (Noah Emmerich), arrives at the crash site. Nelec discovers an empty box of Super 8mm film on the ground, and assumes the event was captured on camera.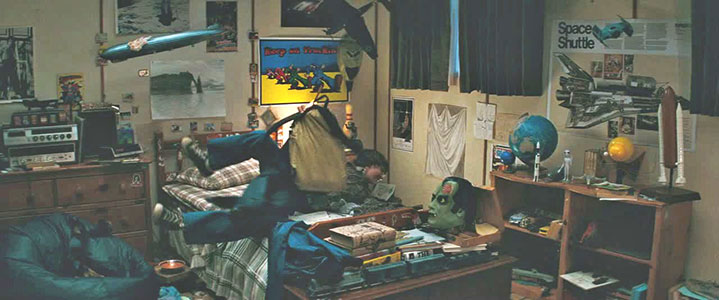 Joe is a talented builder of models, as seen in his room.
While Joe and Charles wait for their film to be developed, the town of Lillian begins to experience strange events: All the dogs and many other animals run away, several people go missing, including the sheriff, and car engines and other electronics from all over town are mysteriously stolen. Overhearing military communications, Jack, now in charge of the local sheriff's office, approaches Colonel Nelec to address the rising panic in town, but Nelec instead orders him arrested. Nelec orders the use of flamethrowers to start wildfires outside of town, as an excuse to evacuate people to the Air Force base. Soldiers sweep into town to begin the evacuation. Meanwhile, Joe and Charles watch the derailment footage and discover that a large creature had escaped from the train. At the base, Joe learns from her father that Alice is missing, possibly taken by the creature. Joe, Charles, Martin, and Cary find a hole in the base's fence and slip back into town, intent on rescuing Alice. They break into Dr. Woodward's storage trailer at the local high school and discover films and documents from his time as a government researcher that explain the story of the alien and what it is trying to do. Now that they understand what is going on, Joe and the others go on a mission to find Allie and help the alien creature return home. Joe realizes that the creature is holed up in a building at the local cemetery, something he accidentally discovered when he was visiting his mother's grave but didn't realize the significance of at the time. But first they must deal with Colonel Nelec and his soldiers, who take them prisoner. Nelec all along knew about the alien, and is determined to keep it prisoner and under his control. That is why he has done everything he can to take over the town of Lillian. Jack is able to escape from Air Force custody and starts working to gain control of his town back and find the missing townspeople. Joe and his friends are also able to escape when the prison bus they are riding in is attacked. The balance of the story is how all this action and set up is resolved.
Charles and Joe pick up the developed film shot during the train wreck.
Super 8 was one of the best action adventure films of 2011. The kids in the film, especially Joel Courtney and Elle Fanning are well cast and have the camera presence to pull off their quite demanding roles. They are ably assisted by the main adult actors. The film has a lot of heart and so doesn't need to rely on special effects for interest, although are plenty of those to spare. J.J. Abrahms has come to dominate the science fiction movie scene with films like this and his new series of Star Trek movies. Interesting scripts and good interaction of the characters make his work interesting to watch. One of the best touches of this film is seeing the finished zombie film that Charles wrote and directed during the ending credits. Touches like this make this a film worth remembering.
Joe prepares to go into the cemetery building to try and find Allie.
Best Chucks Scene
Charles stays to help Martin when his leg is injured in an explosion.
Throughout the film, Joel Courtney in the lead role of Joe Lamb, is seen wearing black low top chucks. The cinematography isn't particularly chucks friendly, so it is hard to tell for sure if they are actually chucks or a wannabe brand. Since Joe turns out to be a pretty cool and clever kid and Joel Courtney wears black low top chucks in several of his other films and tv series, we will assume that they are.
The explosions and ordinance are quite loud.
Gabriel Basso, in his role as Martin, definitely wears black high top chucks. The best scene he has for showing off his chucks is when he gets injured from an explosion in town when he, Joe, Charles, and Cary are trying to find and rescue Allie.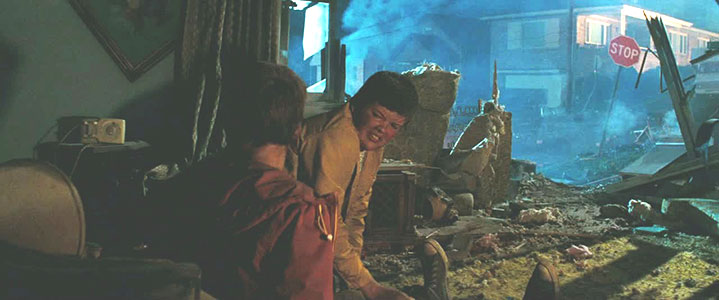 Another shot of Martin and Charles.
Super 8. (2011) Joel Courtney, Gabriel Basso, Kyle Chandler, Elle Fanning, Ron Eldard, Noah Emmerich, Riley Griffiths.
Written and directed by J. J. Abrams. Categories: Drama, Action/Adventure, Science Fiction.
ChucksConnection Rating:

MPAA Rating: PG-13
Support the film industry by purchasing genuine DVD, Blue Ray, or streaming copies of these films. Illegal copies only help profiteers. Make sure your money goes to the producers and artists who actually create these films. Still images from the film are used here as teasers to get you to view an authorized copy. If you have information about a film where a main character wears chucks, contact us at films@chucksconnection.com.