A ChucksConnection Film Review

Thomas Saraby Vatle wears black high top Converse "Chuck Taylor" All Stars in the film.
Svein and the Rat
(Svein og Rotta)
by Hal Peterson


Svein and his best friend Dan walking their bikes and pet rats.
Svein (Thomas Saraby Vatle) is a nine-year-old Norwegian boy who is totally devoted to his pet rat, Halvorsen. Halvorsen is a "hooded" rat: white with a black upper body. Svein carries his pet around with him and is constantly chasing after Halvorsen when he runs away or gets into trouble for gnawing on electric cables, water hoses, or other things important to humans. Luckily for Svein, his best friend Dan (Luis Engebrigtsen Bye) also has a pet rat. Pretty much everyone else in his life — his family, school officials, and schoolmates — consider rats to be pests. That is why Svein is pleasantly surprised when a new girl in his class, Melissa (Celine Louise Dyran Smith), thinks that his pet rat is okay. Eagerly he shows Halvorsen to her.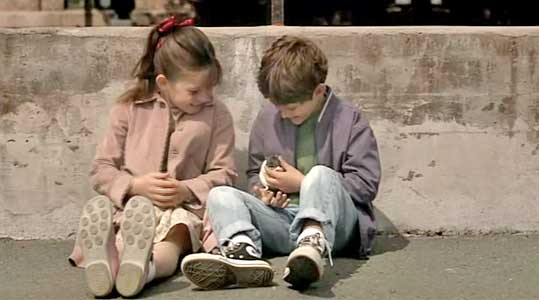 Svein shows Melissa Halversen, his pet rat.
Later when Melissa, Svein, and Dan are confronted by bullies at school, Melissa stands up for them, and fights back, embarrassing the bullies. But later when she is alone, they chase after her and eventually she falls to the ground, injuring herself and causing her to be hospitalized. Things aren't going well for Svein at home either. Svein never keeps Halvorsen in a cage, and he constantly is nibbling at things around the house. Svein's parents finally get fed up with Halvorsen after he damages their TV cables and one of the hoses to their washing machine. They tell Svein that he cannot keep Halvorsen any more, and return him to the pet shop. Svein is devastated by this turn of events.
Class bullies confront Svein, Dan and Melissa.
Happily for Svein, his friends stand up for him. Dan goes to the pet shop to buy Halvorsen back. At first he is prevented from doing so; the shopkeeper tells him that only adults can buy pets. But Dan sees her selling an untrained dog to a blind man, and to avoid word getting out about her duplicity, she gives him Halvorsen. Now Svein can be with Halvorsen again at Dan's house. Melissa discovers that there is an upcoming pet competition in town, and registers Halvorsen for the contest. Svein didn't believe that rats would be accepted so is pleasantly surprised. Now he must train Halvorsen to do tricks required for the contest. Will Halvorsen be able to perform the tricks? Will Halvorsen stay out of trouble and not continually run away? And what will his parents say when they find out? These are some of the plot threads making up the balance of the film.
Svein visits Melissa in the hospital.
Svein and the Rat is based on the popular Norwegian children's book by Marit Nicolaysen. The film features typical growing up themes with a focus on feelings that children develop for their animals, even when the animals are pet rats that face hostility from most adults and many of their peers. The story lines are pretty simple, and the main actors in the film, Thomas Saraby Vatle, Luis Engebrigtsen Bye, and Celine Louise Dyran Smith, give credible performances. Apparently there was a dispute about the way the film was edited between the director Magnus Martens and the production company, causing Martens to remove his name from the credits. Luckily that didn't affect the cinematography by Marius Johansen Hansen. The film was successful enough to warrant a sequel. In Norwegian, with Danish and Swedish subtitles.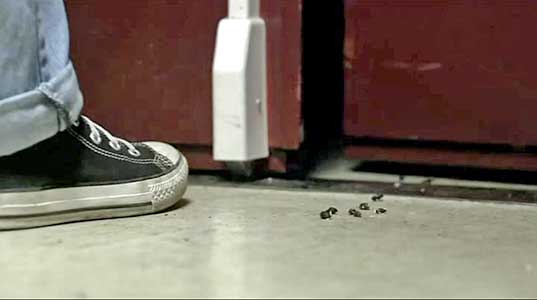 As Svein searches for Halvorsen, tell-tale droppings provide a clue.
Best Chucks Scene


Svein laces up his black high top chucks.

All throughout the film, Thomas Saraby Vatle, who plays Svein, wears a pair of black high top chucks. The cinematography in this film is very chucks friendly, and you see them well framed in most of Svein's scenes. As a result this film receives an extra 1/2 chuck in its rating. There are good closeups of him lacing them up and searching for Halvorsen. Additionally during one of the pursuits of Halvorsen in their school, you see Halvorsen leap onto the unbleached white high top of another (not identified) student.
Halvorsen leaps up on another student's white high top chucks.
Svein og Rotta (Svein and the Rat) (2006) Thomas Saraby Vatle, Luis Engebrigtsen Bye, Celine Louise Dyran Smith, Benjamin Gulli, Miriam Sogn, Aslag Guttormsgaard, Rasmus Hoholm, Jan Gunnar Røise.
Directed by Magnus Martens. Categories: Comedy, Family.
ChucksConnection Rating:

(2.5 chucks for the film, plus an extra half chuck for the great chucks cinematography.) MPAA Rating: NR, would be G
Support the film industry by purchasing genuine DVD, Blue Ray, or streaming copies of these films. Illegal copies only help profiteers. Make sure your money goes to the producers and artists who actually create these films. Still images from the film are used here as teasers to get you to view an authorized copy. If you have information about a film where a main character wears chucks, contact us at
films@chucksconnection.com.