A ChucksConnection Film Review
Vitor Morosini wears unbleached white high top Converse "Chuck Taylor" All Stars in the film.
Tainá 2: The Adventure Continues
by Hal Peterson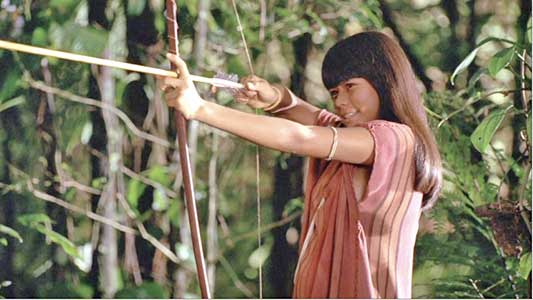 Teenager Tainá fights to protect her Amazon Jungle home.
There have been several movies about the native Amazon Indian warrior Tainá, along with two television series, one acted and one animated. Tainá 2: A Aventura Continua is the second in the series of films, based on a screenplay by Cláudia Levay that is mostly a remake of the first film. In this film Tainá (Eunice Baía) is now a teenager and the caregiver for a large group of young native children who live with her in their Amazon jungle village. The main adult in her life is her grandfather and village shaman Vó Tigé (Ruy Polanah) who possesses a potent shaker capable of transforming people and animals into other bodies. Tainá is a very accurate archer, and uses her skills to fend off animal poachers who set traps and make attempts to steal wildlife and the pets of the tribal children. The poachers are led by the evil Zuzu (Chris Couto), who does things like order her henchmen to kill a female jaguar so she can take its cub to sell on the black marker. Other members of the gang include gunmen Lacraia (Aramis Trindade) and Carcará (Roney Villela) along with Zé Grilo (Leandro Hassum), who likes to set traps to capture rare specimens from the rain forest. We also meet Catiti (Arilene Rodrigues) who follows Tainá around, wanting to become a warrior just like her.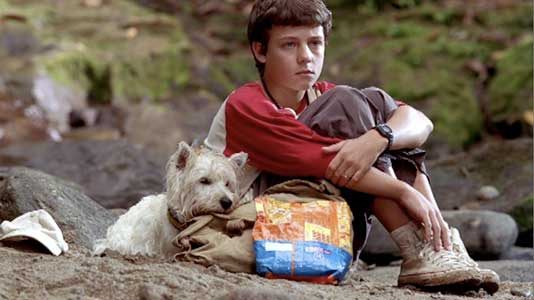 Carlito and his dog Bóris relax together after being reunited.
The other main character in the story is Carlito (Vitor Morosini), a young teen from the city who has come to the rain forest to visit his father, Professor Gaspar (Kadu Moliterno). Gaspar is doing research on the Amazon region, and lives right on the edge of the water. He drives around in a heavy rubber raft fitted with a helicopter motor that allows him to fly around. Carlito has brought along his pet dog Bóris. While on the river boat transporting Carlito and others down the Amazon River, Bóris manages to escape from his cage, just before they are about to arrive at their destination. He chases a scarab beetle that he sees on the deck and when the beetle leaps off the boat, Bóris follows. When Carlito discovers that Bóris is missing, it is too late to do anything about recovering his dog. A heart-broken Carlito arrives at his father's house desperately wanting to search for Bóris. Eventually Carlito persuades his father to mount a search around the area in his flying raft, but with no success. Carlito is still determined to find Bóris, so he sneaks off in a rowboat in a pre-dawn rainstorm the next morning to continue searching.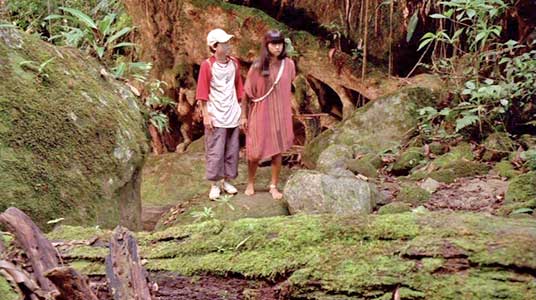 Carlito and Tainá soon become friends.
Meanwhile Bóris has managed to survive his leap into the water, taking refuge on a lily pad that floats to the shore. Bóris manages to get through the jungle escaping from crocodiles and snakes, and eventually arrives at the Amazon village. Catiti first finds Bóris and Tainá tells her that the dog can now be her pet, as she has been desperate to have one of her own. A little later Carlito stumbles into the village, spurred on by the discovery of a tuft of Bóris' white fur and his dog tags. When he sees Bóris, the two are reunited. But Catiti insists that Bóris is her pet, and when Carlito tries to leave with Bóris, he gets a couple of warning arrows shot at him by Tainá. An equally worked up Carlito shows his proof of ownership, and Tainá tells Catiti that Bóris is the white boy's pet. Things are smoothed over and Tainá and Carlito become friends. She even begins to guide Carlito and Bóris back to Professor Gaspar's home. But they are interrupted by attacks from Zuzu and her gang to capture all the village pets and wildlife, along with Tainá and Carlito. They even attack Vó Tigé and steal his shaker. Luckily Bóris helps Tainá and Carlito escape, and the two join together with Catiti and all the village children to fight back and rescue the animals. This struggle makes up the balance of the film.
An exhausted Carlito and Bóris nap on the beach.
The struggle for the survival of the Amazon River and preservation of its rain forest wilderness areas is a big deal in Brazil and for that matter in Peru, Columbia, and the other South American countries that the Amazon River flows through. The Tainá stories are a way to show what is at stake in a way that appeals to children, and meant to educate and get them involved in the struggle. That is the importance of having a partnership between native Indian people like Tainá and people from the urban areas like Carlito. One can see from the credits of the film about all the institutions and creative talent that are supporting this cause. There are some fantastical elements to the story that would require explanation to younger kids, but certainly the older kids would understand what is real and what is not. The film is well shot and brings out the beauty of the rain forest. Director Mauro Lima keeps things moving along at a good pace. Well done acting performances by Eunice Baía and Vitor Morosini add to the enjoyment. The dialogue is in Portuguese with English and Spanish subtitles.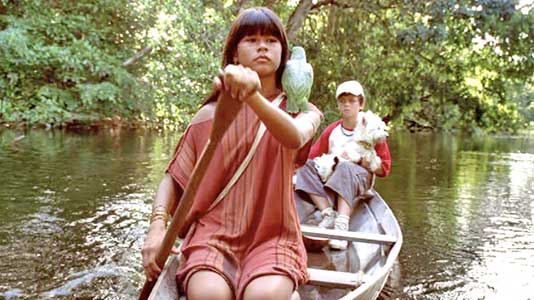 Tainá begins to row Carlito and Bóris back to his father's home on the water's edge.
Best Chucks Scene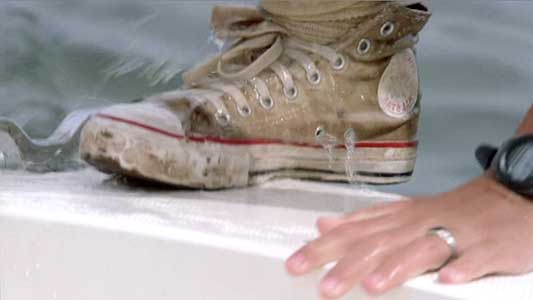 After holding on to a tow line in the water to pursue a poacher, Carlito climbs onto his boat after the poacher bails.
In his role as Carlito, Vitor Morosini's natural white high top chucks get quite a workout. As we have seen in Anaconda, chucks are quite a practical shoe in the jungle, both in and out of the water, and seeing them is a reminder of the popularity of chucks all over the world. The cinematography is chucks friendly in places, including the scene where Carlito pursues a boat filled with stolen jungle animals, and another when he is able to recover his lost dog Bóris in the jungle.
Bóris huddles between Carlito's legs.
Tainá 2: The Adventure Continues. (2004) Eunice Baía, Vitor Morosini, Ruy Polanah, Arilene Rodrigues, Aramis Trindade, Roney Villela. Directed by Mauro Lima. Categories: Family, Action/Adventure, Fantasy.
ChucksConnection Rating:

MPAA Rating: NR, would be PG
Support the film industry by purchasing genuine DVD, Blue Ray, or streaming copies of these films. Illegal copies only help profiteers. Make sure your money goes to the producers and artists who actually create these films. Still images from the film are used here as teasers to get you to view an authorized copy. If you have information about a film where a main character wears chucks, contact us at films@chucksconnection.com.