"Ways to Go" by Grouplove
Grouplove is a band that holds a special place in the hearts of us here in the ChucksConnection community, as they are the artists responsible for inspiring the "In Your Shoes" benefit auction for breast cancer (see Chuck Talk article "Chucks for Charity"). A five piece band featuring two singers, they're known for their catchy, indie tunes, and "Ways to Go" is no exception. With its mellow verses and upbeat chorus, it's sure to brighten up your day a bit, and if you watch the video it will brighten up your day a LOT.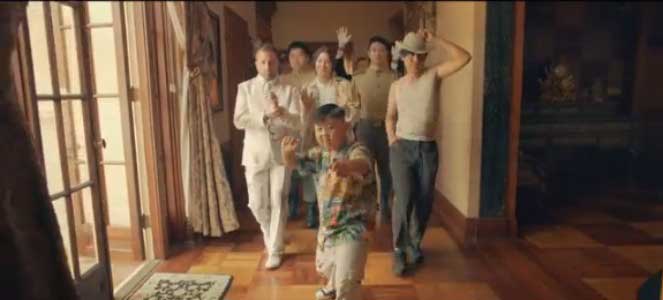 A "young Kim Jong-uh" dancing down the hall in his chucks with what used to be hostages.
There is no hemming and hawing and wondering about the message of the video, as it is pretty in your face that it's a cry for peace in North Korea. While this cry is, in nature, a parody, it is a very tastefully done parody.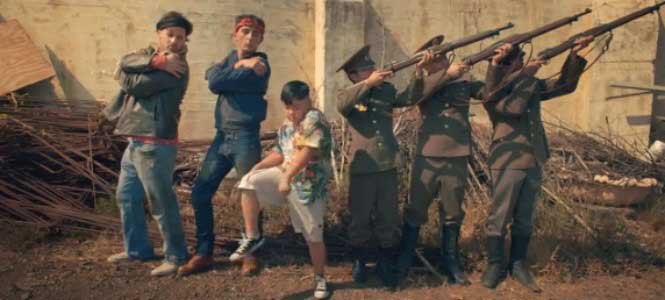 After stopping a possible shooting of a prisoner.
The plot features what is supposed to be a young Kim Jong-un walking around stopping acts of violence known to be commonly happening in North Korea. In one instance, he places flowers in the muzzle of a gun to stop people from being shot. In another, he saves a prisoner being tortured by unlocking his handcuffs. He does all of this wearing a flowered Hawaiian shirt and a pair of basic black chucks, an outfit that member Hannah Hooper could have taken a few tips from when she decided to wear a full body skeleton suit. Of course, in a world where Lady Gaga wearing a meat dress is acceptable, this small fashion mishap can certainly slide in light of such a powerful music video.
Dancing with his servants.
| | |
| --- | --- |
| | If you have information about specific videos where chucks make an appearance, please contact us at mail@chucksconnection.com. |
Buy some pairs of chucks for your band and video.