"Fire Fly" by Childish Gambino
Childish Gambino is one of the most unique hip-hop artists going today. He is known to many outside the hip-hop community as Donald Glover, for his roles in film and TV. His appearances in The Martian, Community, ATL, and Spider-Man: Homecoming, and his recent win of the Golden Globe for Best Actor in a Comedy Series have garnered him much critical and commercial acclaim. However, Gambino is loved by many not for any of those accomplishments, but instead for his amazing musical talent. His first two albums Camp and Because The Internet were released to critical and commercial success, and his third album, Awaken My Love, was recently released in December of 2016. The 2011 track "Firefly" is the second off his first studio album, Camp.
The main protagonist in the video wears a pair of gray chucks.
Gambino has greatly evolved over the course of his career. When he started, his rhymes were more focused on punchlines, metaphors, and similes. As he grew as an artist, his music became more focused on an artistic vision and the actual composition rather than rhymes. Since the song is off Gambino's first album, Camp, it is decidedly more focused on lyrical punchlines, metaphors, and similes. Subject matter wise, the song deals with Gambino's outcast status. This takes two forms. First he refers to when he was called an "Oreo" for being a black kid who had "white kid interests" and second to how he wasn't taken seriously as a rapper at first because of his background as a comedian and a TV writer.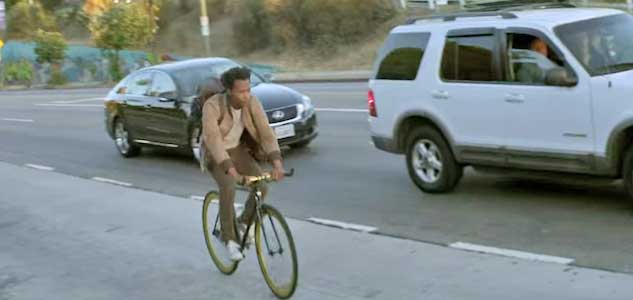 He also rides a bike everywhere.
The video does not actually star Gambino. He only makes a brief cameo when the music video for his song "Freaks and Geeks" is playing on a laptop. The video instead follows a young man wearing gray chucks riding his bike to a mostly empty warehouse. On his way there, we see that there is a strange red planet in the sky above. This explains why what appears to be a spaceship of some kind is being built by the protagonist and his squad. They leave to get a part from a shady organization, where they are double crossed. However, a mysterious woman saves them, kissing our protagonist, and giving him the part they need. The video ends with him getting in the spaceship, and leaving for the red planet. The video is more a sci-fi short film with music over it than actual music video, but it works for Gambino because of his artistic background.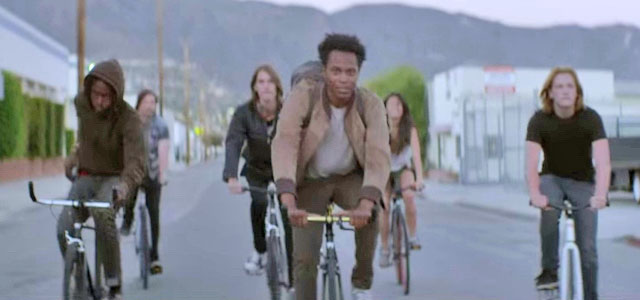 This is what Squad Goals are.
| | |
| --- | --- |
| | If you have information about specific videos where chucks make an appearance, please contact us at mail@chucksconnection.com. |
Get a new pair of chucks to wear in outer space by clicking on the links below.