"Girls @" by Joey Purp
Joey Purp is an up and coming rapper from Chicago, Illinois. He is a founding member of the group Savemoney, and is known for his work with Vic Mensa, Nico Segal, and Chance The Rapper. "Girls @," is from Joey Purp's second mixtape iiiDrops. Released in 2016, the song features a guest verse from fellow Chicagoan Chance, and a music video that features a cameo from Janelle Monáe was also released in 2016..
The man dressed in a red sweatshirt wears black chucks in the video.
The song is an ode from Purp and Chance to their types of girls. Purp's flow is on the brink of sounding like mumble-rap, but it's clear enough that you hear all his great one liners. It's more reminiscent of the laid back flows of Snoop Dogg than today's current crop of mumble rappers. Chance's type of girl is the girl that rejects the club life and instead embraces the nerd life. Chance's verse details this girl, then shifts to him spitting game to the girl he's talking to. He tries getting her number, but his phone dies. He tries to put her number in his friends phone but his phone died as well. Now he can't get her number or an Uber to get them home since his friend's car died. Now he asks the girl to give them both a ride home back to his humble abode. The sly, playful way that Chance tries to take this girl home is so charismatic and charming you can't help but smile through it. This whole song is quirky, and works well with both of their vocal stylings and flow. It's also completely different from anything else you'll hear in rap today, and that is immensely important.
Wondering where all the girls are.
The music video features a lot of vibrant colors, with everyone in it wearing bright blues, reds, and yellows to contrast with the plain parking garage setting. The image of Chance laying on the hood of the car is absolutely adorable, and fits perfectly with his joking and playful verse. There are a lot of cool images here for Purp as well, with him rotating 360 degrees on a checkerboard floor coming to mind first. There are also plenty of cool shots of the group speeding around in the car, and dancing. One of the members of the group carries Chance around on his shoulders at one point, and we see that he is wearing chucks. The video is vibrant, colorful, quirky, and playful which fits perfectly with the beat and rhymes of the song.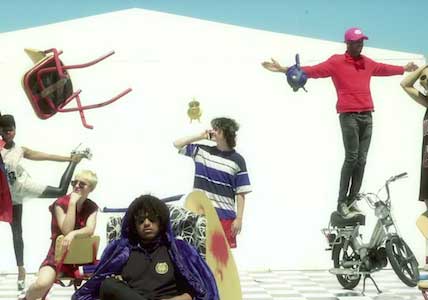 The video is colorful and has great moments like this.
| | |
| --- | --- |
| | If you have information about specific videos where chucks make an appearance, please contact us at mail@chucksconnection.com. |
Get yourself a new pair of chucks to go courting in by clicking on the links below.