"Greatest Love Story" by LANco
LANco is an up and coming American country music band consisting of Brandon Lancaster (lead vocals), Chandler Baldwin (bass guitar), Jared Hampton (keyboards), Tripp Howell (drums), and Eric Steedly (guitar). The band released their first four song EP, Extended Play, in 2016, and released the song "Greatest Love Story" as the second single from that EP in 2017. The song has peaked at #1 on the Billboard Bubbling Under Hot 100 chart, and at #20 on Billboard Hot Country chart. The song has also been featured on the Netflix show The Ranch.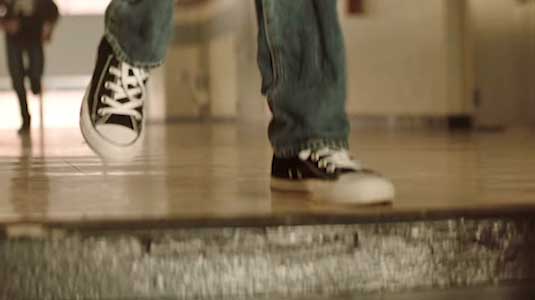 The young boy wears black chucks in the video.
Songwriter Brandon Lancaster has stated that "It's a story of two people getting together and then separating and then realizing through that separation that what they needed in life was each other." This is predominantly a country song, but it has some pop sensibilities when it comes to lyric structure. The track is reminiscent to other pop country acts such as Taylor Swift (before she made the crossover to just straight pop). The track really hits a nerve if you've ever been someone who loved another person your whole life, and you thought you were meant to be. That kind of destined love can be hard to find, and this song shows how it also needs time to play out.

Running away from a fight, only stopping to see the girl he loves.
The video is set in a 1980's small town, and tells the story of the song. We see a boy fall in love with a girl at a very young age, and then how their relationship blossoms into their teens. The girl goes away to school while the boy stays behind to work a 9-5 job. She falls for another boy at college and stops writing and calling her longtime love. We see how hard this affects him, and how much he really needs her in his life. Four years later, he's sitting in a dive bar grabbing a drink with a friend when she returns, her college relationship not working out. The reconnect, and he ends up proposing to her fulfilling his promise that they are the greatest love story. This narrative is cut with shots of the band performing the song in an empty high school gym which hammers home the small town setting. The boy wears a pair of black chucks in his younger years, where we see the couple first fall in love as he gets in a fight with another boy. Overall, it's a cute video that paints a perfect picture of the song's lyrics, and it shows that some things are just truly meant to be.
True love was formed in these halls, and in these chucks.
| | |
| --- | --- |
| | If you have information about specific videos where chucks make an appearance, please contact us at mail@chucksconnection.com. |
Click on the links below to get a pair of chucks for your true love.