"Sugar We're Goin Down" by Fall Out Boy
Fall Out Boy fans tend to categorize their lives in two sections: before their dreaded hiatus, and after. But what was it that kept the diehards wanting more, even after years of non-existence? While their post-hiatus hits such as "My Songs Know What You Did In The Dark" and "Alone Together" certainly prove that the band knows how to make a comeback, looking back on their roots shows why they got put on the map in the first place.
  Some kids staring as the boy with antlers walks past them.
"Sugar, We're Goin Down" is one of their classic and most beloved songs and the video that goes along with it, though a little strange, is something to definitely be looked at. It's a "Beauty and the Beast"-esque concept, with a girl falling for a boy with very large antlers. Of course, being with a half-man-half-deer is not very thrilling to the girl's father and he does what he can to keep them apart, only to end up revealing that, too, is part deer—however, instead of antlers he has two stubby hooves.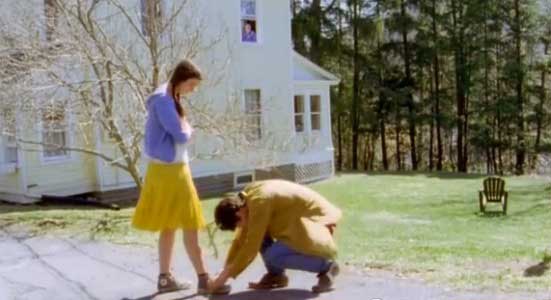 Being a gentleman and tying her chucks.
It's romantic, it's abstract, and be warned; your heart will break into a million pieces when you watch the deer-boy try to shamefully cut off his antlers. Fall Out Boy was also sure to add the only thing that could make any love story complete which is, of course, a pair of high top gray chucks on our heroine!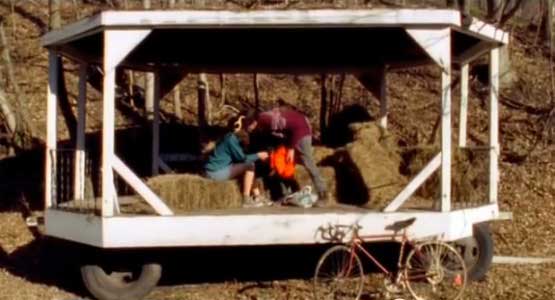 The girl wearing her chucks on their first date.
So if you're in the mood to watch something romantic but aren't up for sitting through a two hour chick flick, "Sugar We're Goin Down" is definitely the video for you.
| | |
| --- | --- |
| | If you have information about specific videos where chucks make an appearance, please contact us at mail@chucksconnection.com. |
Buy some pairs of chucks for your band and video.