"Kid In A Candy Store" by JoJo Siwa
There's been a trend online lately of fast rising, very young musicians. These kids never chart on Billboard, or sell many records. They don't reach "success" in the conventional way that most musicians do, but they somehow gain hundreds of millions of views on Youtube either through their rabid fandom or through those who mock their lack of "talent". The list of these "Justin Bieber-esque" is long and includes such artists as MattyB Raps, Jacob Sartorius, and the latest star, JoJo Siwa. Her song "Kid In A Candy Store" has garnered 40,000,000 views on Youtube since its release in June of 2017. It has also racked up 377,000 likes and 57,000 dislikes. So is she another flash in the pan Youtube star, or the next Justin Bieber?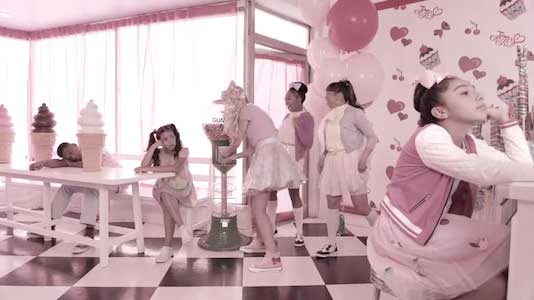 This video is very, very pink.
The song is the a very stereotypical pop song that sounds like it was churned out by the same music factory that created Rebecca Black's "Friday". The beat is a generic dance beat, and the lyrics rely very heavily on candy terms and puns. The positives are that JoJo's voice isn't actually that bad, and she has a ton of charisma for someone so young. She may evolve into a great artist, but she just isn't there yet.
JoJo busts a move in the middle of this candy store.
The video obviously takes place in a candy store where there are a bunch of kids JoJo's age. JoJo is dressed head to toe in pink, an ensemble which includes a pair of pink chucks with pink bows on the sides. The first scene of the video is shot in this weird, bright pink filter that over saturates the screen. It's also got a lot of candy and sweets in the foreground, and background. Basically, there's candy everywhere. JoJo has some serious moves though, as the choreography is on point from her and her backup dancers. Her smile and energy are infectious and add a lot to what is otherwise a pretty visually grating video
JoJo wears pink high top chucks while dancing in this sweet candy store.
| | |
| --- | --- |
| | If you have information about specific videos where chucks make an appearance, please contact us at mail@chucksconnection.com. |
Click on the links below to get a new pair of pink chucks.