"Marmalade" by Macklemore
Macklemore is a rapper from Seattle, Washington who achieved massive, mainstream success in 2013 with producer Ryan Lewis on their debut studio album The Heist. The album was bolstered in popularity by its hit singles "Thrift Shop", "Can't Hold Us", and "Same Love". Macklemore has become known for his strong stances on issues like gay marriage and white privilege, while also maintaining his status as a fun loving rapper that can appeal to the masses. His latest single, "Marmalade", is off his second solo album Gemini, and adds to his catalog of fun rap tracks.
Mini-Macklemore hops his own fence.
First things first, this is not a song about jam. "Marmalade" is a track that covers Macklemore's love of being alone on the road, with nothing but loud music to keep him company. This seems to be a recurring theme in Macklemore's music, as he's covered his love of the road in similar tracks like "White Walls" and "Downtown". While those were similarly upbeat hits, "Marmalade" may edge them both out in its bounce and joyfulness. The song features a guest verse from rapper Lil Yachty who adjusts his flow to bounce on the beat nicely. The beat is piano heavy, which really make it sound full of life and happiness. It's appropriate that the song is titled "Marmalade" because it is a certifiable jam.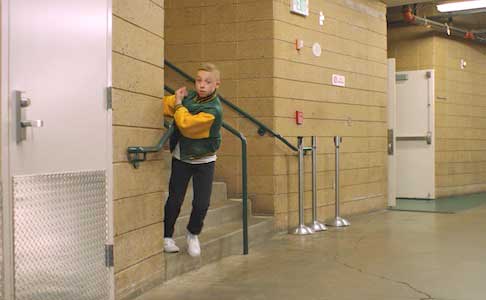 Mini-Macklemore wears white chucks in the music video.
The music video stars kid versions of Macklemore and Lil Yachty. Mini Mac and Lil Lil Yachty spend the day cruising through town in a black Maybach, enjoying life and the music blaring on the radio. It's a pretty straightforward video that showcases the message of the song really well. Having kids portray Macklemore and Yachty also fits the fun and bouncy vibe of the song, adding youthful exuberance to the video. Mini Macklemore is dressed in typical Macklemore fashion, wearing a Seattle supersonics jacket, blue jeans, and optical white high top chucks. The chucks are a nice touch to this retro looking ensemble. Overall, this video shows off why Macklemore has been successful for the past five years: his music and style is just good ol' fun.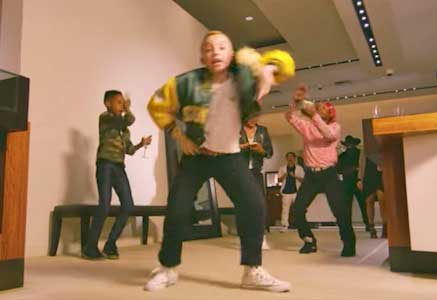 Busting a move in chucks.
| | |
| --- | --- |
| | If you have information about specific videos where chucks make an appearance, please contact us at mail@chucksconnection.com. |
Click on the links below to get a new pair of chucks to cruise your town in.