"Play It Again" by Becky G.
Becky G. is an up and coming singer from Los Angeles, California. Known for her cover videos on Youtube, she broke out a few years back with her cover of Jennifer Lopez's "Jenny From The Block" (aptly titled "Becky From The Block"), the music video of which had J. Lo herself make a cameo. Since then she's made quite a name for herself with her hits "Shower" and "Mayores", and by starring in the 2017 blockbuster Power Rangers as Trini the Yellow Ranger. The song "Play It Again" is off the 2013 EP of the same name, the music video for which was released in May 2013.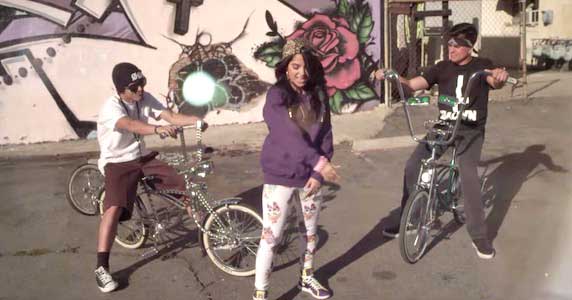 Becky tells the DJ to play it again while dancing in the street.
Becky G.'s style of music is a blend of pop and rap music, with her switching between singing on the hook and rapping on the verses. The beat is very upbeat and fast paced, which makes this song feel like a dance track. This lends itself to the lyrics which are all about how Becky just needs a good beat to get through life. This is probably one of Becky's more generic songs, as the beat is fairly unmemorable, and the lyrics are pretty standard "DJ play me a beat" stuff. That being said, the lack of lyrical depth lends the song to being a dance track that could possibly be played at a club or party.
Becky is surrounded by friends and family in the video.
The music video is very much like many of the videos Becky G. made when she was starting out. It's set in her Inglewood neighborhood where she is surrounded by family, friends, and neighbors. She spends most of the video dancing in the street with her friends and family, while also taking a ride in a lowrider. This being Los Angeles, quite a few of the people surrounding Becky are wearing chucks. One of the guys riding a bike has a few good close up shots of his black, low top chucks, while a young boy wearing a kid size version of those breakdances on the street. It's a cool video that highlights where Becky comes from, and shows how her music has moved those around her.
Bikes are a big part of the cultural identity for Latinos in Los Angeles.
| | |
| --- | --- |
| | If you have information about specific videos where chucks make an appearance, please contact us at mail@chucksconnection.com. |
Click on the links below to get a new pair of chucks to dance in.