"Let Me Go" by Hailee Steinfeld
with Alesso, Florida Georgia Line, and Watt
Hailee Steinfeld is a young American actress and singer, who's achieved quite a bit of success in her short career. Her breakout film role was starring as Mattie Ross in 2010's True Grit, for which she was nominated for the Academy Award for Best Supporting Actress. She then had several prominent roles in films like Ender's Game, Romeo and Juliet, Begin Again, and 3 Days to Kill. She starred as Emily Junk in both Pitch Perfect 2 and 3, and also received a Golden Globe Award nomination for Best Actress for her portrayal of Nadine Franklin in the 2016 film The Edge of Seventeen. She's achieved all this and more before the age of 21, all while steadily recording new music. Her latest track is "Let Me Go", a collaboration with country music artists Florida Georgia Line, and producers Alesso and Watt. The single was released on September 8th, 2017, and has reached number 40 on the Billboard Hot 100, and number 17 on the Mainstream Top 40.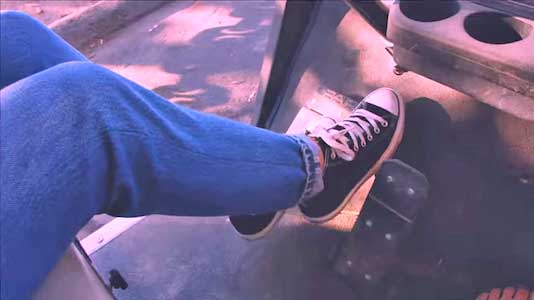 Pedal to the metal!
The lyrics make this a breakup song but the up tempo beat, with its feel good and upbeat style, makes the breakup much easier to cope with. Hailee's vocals are light and airy, and fit perfectly with the instrumental. Florida Georgia Line come in for the second verse, and their Southern sound surprisingly fits very well with the up tempo, airy pop beat. Alesso and Watt are the featured producers of the song , and they have produced a sound very reminiscent to that of The Chainsmokers, a style which has become insanely popular over the past few years. It makes for a good "song of the summer" type track, and that vibe fits with the music video.
Sliding into the DMs like....
Taking place on a beach and at a beach house in sunny California, the music video gives off the perfect vibes for the summer. It follows a group of friends as they party it up at the beach house, and chill at the beach. They ride in gold carts, play ping pong, run along the beach, shoot hoops, and do some light graffiti in a park. It features a lot of first person shots which make it feel like you're actually hanging out with this group of friends at their beach house. Hailee Steinfeld is in the video, but Florida Georgia Line do not make an appearance which makes sense considering they're much older than this group is. It's a fun video that definitely fits with the vibe of the song, and offers a positive image when going through a breakup like the lyrics suggest.
Doing some light graffiti in black high top chucks.
| | |
| --- | --- |
| | If you have information about specific videos where chucks make an appearance, please contact us at mail@chucksconnection.com. |
Click on the links below to get a new pair of chucks for your summer fun.