"Cecilia" by Sugar Pine 7
Sugar Pine 7, also known as "SP7", is an American entertainment company founded by Steven Suptic, Clayton "Cib" James and James DeAngelis in 2017. They are primarily known as a "vlogging" channel, with their vlogs being shot in the style of a mockumentary web series. As of March 2018, their YouTube channel has over one million subscribers and over 672 million video views. Sugar Pine 7 is also a member of the Rooster Teeth Let's Play Family since May, 2017, and the company was just recently fully purchased by Rooster Teeth on January 11, 2018. The YouTube channel used to host the content previously published by Steven Suptic, primarily consisting of let's plays and gaming content. However, after the closure of SourceFed, which had previously been Steven's day job, the channel was rebranded as "The Steven Suptic Experience", and Suptic began started videos he had dubbed "Alternative Lifestyle", which were in the style of vlogs with exaggerated personalities, subtitles, and freeze-frame narration. Steven brought on board Clayton "Cib" James, James DeAngelis, Parker "ParkerGames" Coppins, and later on Autumn "Rufhaus" Farrell as regulars for the videos.
Two of the dancers in the video wear chucks.
The song begins with a narrator (played by James Buckley) saying that what we're about to hear is the tale of two lovers who have been separated for years, and are attempting to get back together. Cib provides the vocals for the track, and he actually has a very good singing voice. Throughout the song, Cib says that Cecilia is the only girl he has thought about since their breakup and that she is the only one he wants to be with. That is until a girl named Amelia comes up to him and says she wants to be with him, and this sends him into a debate as to who he really wants. He then makes the mistake of asking Cecilia if she'd be willing to have a threesome, and that ends both the song and the possibility of them being together. The chorus of the song is actually really catchy, and is reminiscent of an 80's ballad.
The video for "Cecilia" is shot with a purple light on throughout the whole video.
In the music video, Cecilia is played by fellow Youtuber Grace Helbig. The rest of the Sugar Pine 7 cast also appears in the video, often in the background and as dancers. These dancers are dressed in all white morphsuits, and two of them are seen wearing black and gray chucks as well. The video is shot in what appears to be an empty warehouse or office of some kind. There is also a constant purple light that kind of give the video a hazy vibe. Cib spends the whole video serenading Cecilia, while she acts very disinterested in him which tells the viewer that this is very much a one-sided love. This makes Amelia's introduction that much better because she is absolutely head over heels for him. Amelia is played by SP7's James, and he does a very good job of being infatuated with Cib. The video is very funny, and fits perfectly with Sugar Pine 7's aesthetic and brand of comedy.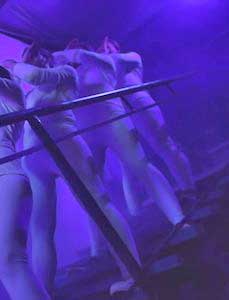 The dancers do choreography on a staircase behind Cib.
| | |
| --- | --- |
| | If you have information about specific videos where chucks make an appearance, please contact us at mail@chucksconnection.com. |
Click on the links below to get a new pair of chucks to wear in your YouTube video.