"Safe and Sound" by Capital Cities
The music industry is an unpredictable one. You never know which new artists will be one hit wonders and which will go on to release hit after hit. In the case of Capital Cities, they released a song in 2011, but it wasn't until 2013 that it got the recognition it deserved. "Safe and Sound" made its way on every radio station, and near the top of countless charts. It's an upbeat tune with mellow vocals and iconic trumpet riffs. That being said, it would only make sense that a great song would have a great video.
  A dance off between decades!
The awesome thing about "Safe and Sound" is that literally anyone of any age can find something of interest in the video because it tackles every decade from the 20s until now in the form of dance. Not just any dancing either, but dancing with fantastic special effects. While each decade obviously has its proper clothing and dance moves, all the actors have been edited to look as if they were being filmed in the time period they are from. Black and white flapper girls do the Charleston next to grainy Technicolored disco queens and modern looking break dancers. The best part is that no matter what decade they're from or what moves they're showing off, they all fit in to the beat of the song.
 Can you spot which decades are wearing chucks?
Not only does this video show the history of dance, but the history of chucks can be seen too! There is at least one person from each decade starting from the 70s that struts their stuff in a pair of chucks. So whether you want to check out the way that converse have evolved over time, or you're just interested to have the most unique history lesson you've ever seen, this is a video that definitely needs to be checked out.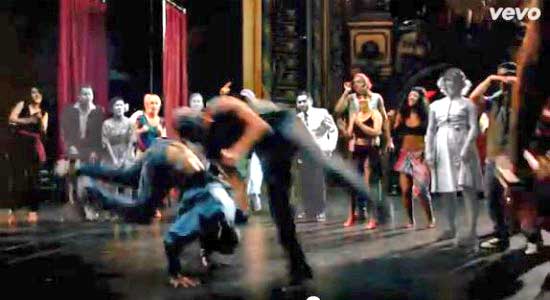 Another dance off! Which decade are you rooting for?
| | |
| --- | --- |
| | If you have information about specific videos where chucks make an appearance, please contact us at mail@chucksconnection.com. |
Buy some pairs of chucks for your band and video.