"2002" by Anne-Marie
Anne-Marie is an English singer-songwriter who has been steadily releasing music since 2013. She's worked with many prominent artists including Sean Paul, Clean Bandits, Snakehips, and Joey Badass, and is well known for her song "Friends" with electronic music producer Marshmello. The song "2002" was released on April 20th, 2018 as the sixth single to her debut album, Speak Your Mind. The song peaked at number three on the UK Singles chart, and also reached Platinum status. The music video was released in early May of 2018, and has accumulated over 80 million views.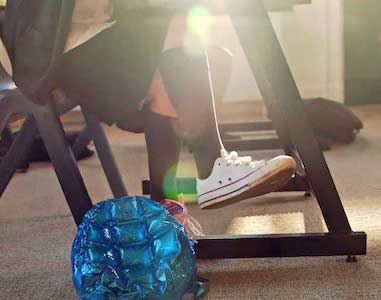 The video opens with this shot of a pair of optical white low cut chucks that takes you back to your days on the playground.
The song was written by Anne-Marie with her longtime friend and collaborator Ed Sheeran, who encouraged her to release the song as a single after she had her doubts. It's an upbeat pop track that relates a lifelong love story to the music they grew up on, specifically the most popular tracks of 2002. Anne-Marie reminisces about their early romance, dancing in the woods and singing the lyrics to the songs that would be the soundtrack to their love affair. This includes singing snippets of songs like "Oops I Did It Again" by Britney Spears, "Bye Bye Bye" by NSYNC, "99 Problems" by Jay-Z, and "Ride Wit Me" by Nelly on the chorus. This section of the song is insanely catchy, and Anne-Marie somehow blends these completely different tracks together perfectly with her soulful vocals.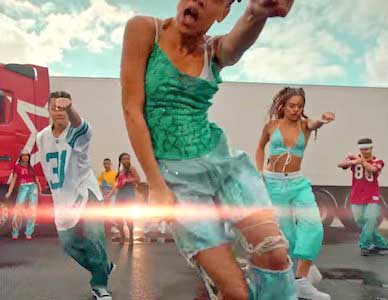 Many of the background dancers wear chucks in this music video.
The music video starts with a shot of a young girl wearing a pair of low cut white chucks that have a streak of fresh playground dirt on them, instantly taking you back to your school days. We see young versions of Anne-Marie and her lover, who then turn into their adult selves for the rest of the video. The video then pays homage to all the songs name dropped in the chorus. The first scene is reminiscent of the "Oops I Did It Again" video, with Anne-Marie wearing Britney's school girl outfit. We also see Anne-Marie stage a performance of a do it yourself version of the puppet scene from NSYNC's "Bye Bye Bye" video. The video then shifts to the black and white aesthetic of Jay Z's "99 Problems" video, and then concludes in a parking lot of trucks like Nelly's "Ride Wit Me" video. The video brings so many nostalgic feelings, but the love story of the song is at the center of it all.
This guy does an impressive spinning flip in his black chucks .
| | |
| --- | --- |
| | If you have information about specific videos where chucks make an appearance, please contact us at mail@chucksconnection.com. |
Use the links below to get yourself a new pair of chucks to reminisce in.